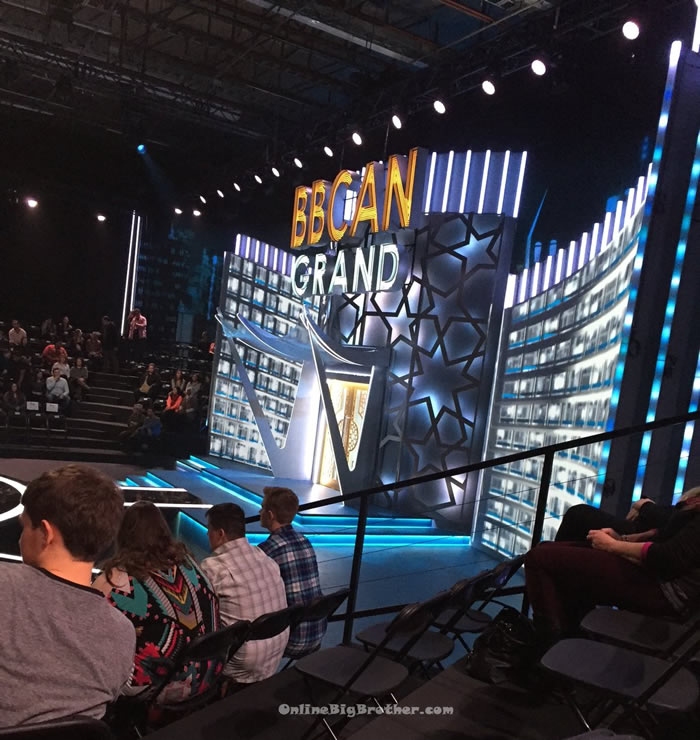 The first episode of Big Brother Canada 4 is beginning to be taped today with an audience showing host Arisa Cox letting the 14 new house guests enter the house in groups. The newly redesigned house still hasn't been released and won't be until Monday, February 29th. However, due to having a studio audience of Big Brother fans its inevitable that spoilers about the house and first episode would be leaked. The première episode is still 5 days (Wednesday, March 2) away and if you're like Simon and I you just can't wait that long to find out more about the house, theme, cast, etc. Don't continue reading if you don't want to spoil the first episode 🙂
A special thank you to hamsterwatch on twitter for posting the following spoilers:
The newly redesigned house has a luxury hotel/casino theme with 2 bedrooms plus the Head of Household room. (In the previous 3 seasons there's only been 1 bedroom + the HOH room.)
The Have-not room has a Vegas wedding chapel theme.
The 14 New House Guests Enter the house:
Group 1: Dallas (1st), Loveita, Maddy, Philippe, Cassandra
Group 2: Joel, Kelsey, Jared, Raul, Sharry
Group 3: Ramsey, Paige, Christine, Mitch (they were delayed because a fan stormed the doors lol!)
Additional episode spoilers:
No Head of Household yet (it will likely be an endurance competition)
No wildcard hints for the house guests but something about one will be "doubled down"
*** UPDATED SPOILERS ***
Philippe's brother Nicholas joined the cast! they'll play as one, >alternating weeks for comps
they aren't swapping – they're both in all the time, and everyone knows
HOH comp was One Night Stand, endurance-ish, hamsters voted Joel most likely to be out 1st & Nicholas to win
if Joel isn't 1st out, he gets 1st week immunity – if Nicholas doesn't win, he gets a night in solitary
I don't know HOH winner.. supposedly Phil/Nick didn't know the other was going in (yeah right) #DoubleDown
that's it, but WOW huh? btw the hamsters all know Phil & Nick are brothers #DoubleDown
they aren't twins, and they're playing together as one hamster
one vote, one nomination if/when they're nom'd, both are HOH if they win that, etc
@hamsterwatch here's a pic of the stage if you wanna use it. You'll find out Monday but the house looks amazing pic.twitter.com/ruS5LwiMv7

— #BBCan4 (@GoobiBBCAN) February 27, 2016
Want to watch the Big Brother Canada 4 live feeds?
Bypass the geoblocking with HideMyAss VPN and be Canadian Anywhere: VPN Help Guide

Follow hamsterwatch on twitter as her spoilers are always reliable. Also make sure you follow us as well for all our live feed updates and spoilers: OnlineBigBrother, Dawgs Big Brother