POV Holder:
?
Next POV
?
POV Used
?
POV Ceremony
?
HOH Winner:
Jared
Next HOH:
?
Original Nominations:
?
Current Nominations:
?
Last Evicted Houseguest
Paige
Have Nots
Loveita, Sharry, Joel, Cassandra
Want to watch the Big Brother Canada 4 live feeds but live outside of Canada?
Bypass the geoblocking with HideMyAss VPN and be Canadian Anywhere: VPN Help Guide
ALLIANCES IN THE HOUSE
There will likely be a lot of alliances during the season – keep track with our alliance help guide.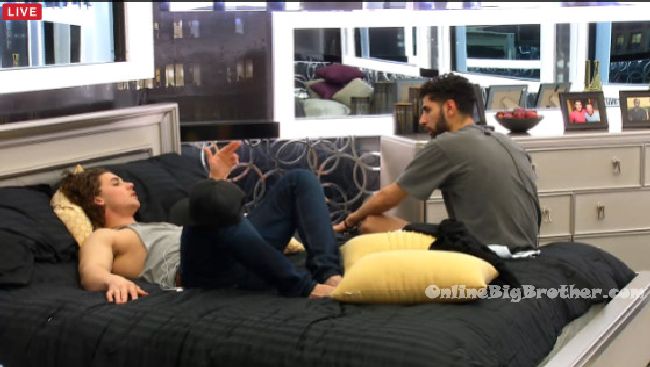 2:10pm till 8pm Big Brother blocked the live feeds for the house guests to compete in the have / havenot competition.
HaveNots:
Loveita, Sharry, Joel, Cassandra (she talked about throwing it)
Nominations are later tonight:
Loveita & Sharry are the plan
8pm HOH room – Jared is talking to Ramsey. Ramsey says this is your HOH and you and I know I'm not a threat to you. Jared says when this game changes we can utilize each other. Ramsey says I can so without a doubt if I was HOH I would not put you up. Jared says I am for sure putting up Sharry and Loveita. We look out for each others best interests and take other people out. Ramsey says I am just worried because you're in an alliance with Kelsey. Jared says she has no influence on me. No one does. Ramsey says that Cassandra had given her word about her vote and then went back on it. It comes down to 3 people Mitch, Dallas, Cassandra. Ramsey says I don't see why everyone see's me as a threat. Jared says they don't see you as a threat. Jared says I have no interest in taking you out because I can see us benefiting each other in the future. Ramsey says I will do my best to influence them not to put you up if they win. Its unfortunate that we are on opposing sides but lets try and make sure we're the last on each side.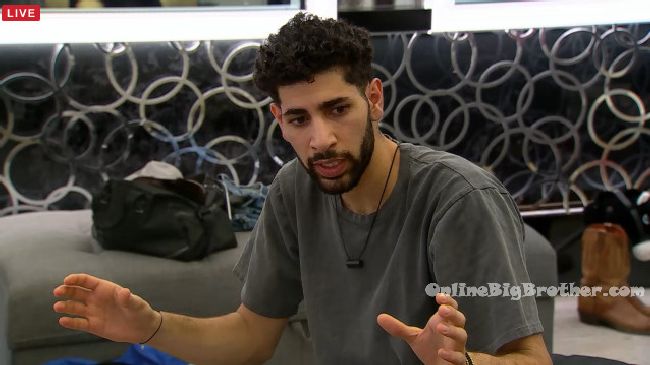 In the kitchen – The house guests are making dinner. There are large slop buckets out on the counters. The "Little Chapel of Havenots" room hasn't been revealed yet.
8:20pm – 8:40pm In the bedroom – Loveita "If I win the veto and Sharr is the other person up, I am going to use it on her." Ramsey tells her no you're not doing that. Sharry joins them and Loveita tells her she will use the veto on her if they're up together and she wins it. Sharry asks why would you do that? Loveita says because you're my friend. Sharry says don't use your POV on me. Loveita says if I won it, its mine to use how I want.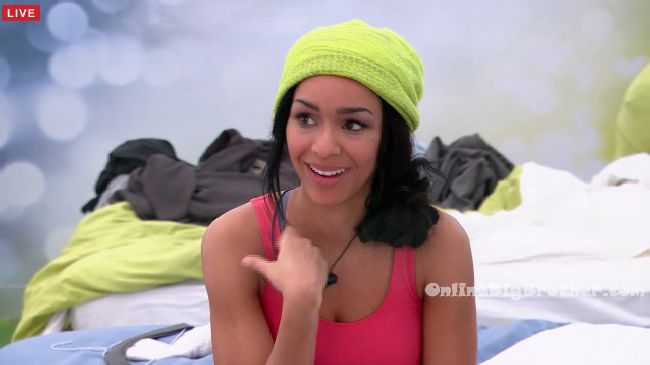 9pm HOH room – Phil tells Jared and Kelsey that he threw the last HOH after he took out Joel. "I didnt want to win it" Phil thinks Sharry should leave over Loveita because she's given up. Jared and Kelsey disagree and want Loveita out. Jared says he wants Loveita, Sharry, Maddy, and then Ramsey out in that order.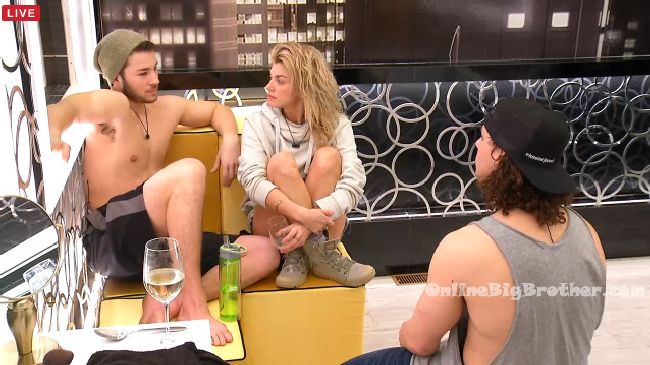 #BBCAN4 BURN @bigbspoilers pic.twitter.com/uFHePex1yK

— Dawg (@DawgsBigBrother) March 5, 2016
9:40pm – 9:50pm Big Brother gets all the house guests to go the the havenot room for the reveal of the "Little Chapel of Havenots" that Loveita, Sharry, Joel, Cassandra will be spending the next week. Joel is too long for the benches and isn't allowed to sleep on the floor.
The following video is processing and will be viewable soon :)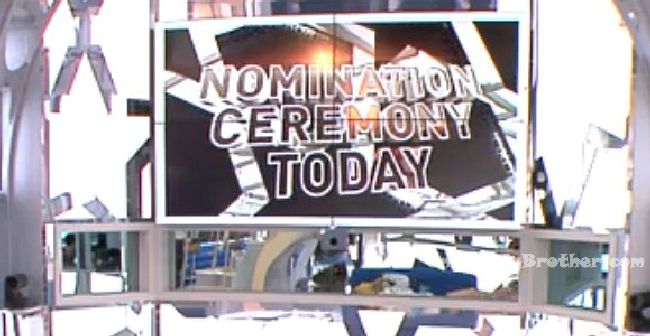 10:20pm Pink Room Joel and Mitchell
Joel keeps reminding everyone he wasn't the fourth vote..
10:25pm Cassandra and Tim have nots room
10:35pm Dallas and Cassandra. Dallas apologizes for teasing her.
12:46am Feeds have been down for hours..
If you're using an Adblocker, you're making a kitten cry! PLEASE consider disabling it for www.onlinebigbrother.com by adding us to your whitelist.
This is very easy to do: simply load www.onlinebigbrother.com in your browser, left click the adblocker and click "disable for this site"
[polldaddy poll=9324196]