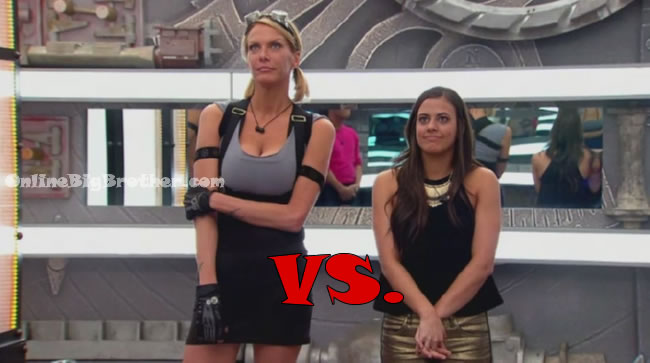 Monday's premiere showed the 16 players entering the house for the first time. They soon found out that the house is a) Amazing and B) lacking their personal belongings, food, and furniture. The details were vague but from what they were told on the show they will have to earn these items, nothing comes free in the Big Brother house. Another Twisto twist of the season was for each houseguests to nominate two players for eviction. The two houseguests with the most votes will be nominated and given the chance to play for the Power of Veto. The breakdown of the votes can be seen here. The outcome was Cindy and Risha holding the majority of the votes. The POV was played and Cindy came out with the win. Cindy was then instructed to pick a replacement nominee and her pick was Pilar.
For this week Canada was given the vote to who will be evicted. (Hopefully this is the last time) Without feeds it was hard to judge who to vote for. Our humble little poll at OBB showed Pilar as the one most of you want sent home. Tonight we'll find out who is evicted and maybe who wins the next HOH of the season. It's been rumored that the feeds start after the show airs. The show airs on the east coast @ 6pm PST then again on the west coast @ 9pm PST. So expect the feeds to start either at 7pm PST or 10pm PST.
How to watch the live feeds?
If you are in Canada go to https://bigbrothercanada.globaltv.com, the feeds are free. If you are outside of Canada the feeds will be blocked, To get around this you can to use a VPN service. We recommended a service called https://www.hidemyass.com/vpn/r16399/ This service is cheap, reliable and safe. We've used it in the past and it works! If you have any more questions Dawg has written up a FAQ and how to for setting up a VPN here
Spoilers from the Twitter
Risha evicted, First 5 to leave have a chance to come back in (unconfirmed). Thanks @hamsterwatch
Confirmed Results from the Show
*Houseguests think they will be voting this week.
*Live feeds start tonight and there's a fan feed.
Canada votes to evict Risha
* There may be a way for Risha to re-enter the house
New HOH winner is BOBBY