POV Holder:
Allison
Next POV
?
POV Used
Yes
POV Ceremony
March 24
HOH Winner:
Racehlle
Next HOH:
March 27
Original Nominations:
Allison & Heather
Current Nominations:
IKA & Heather
Last Evicted Houseguest
Paul, Kyle, Anick
Have Nots
Adel, Sabrina, Heather, Arlie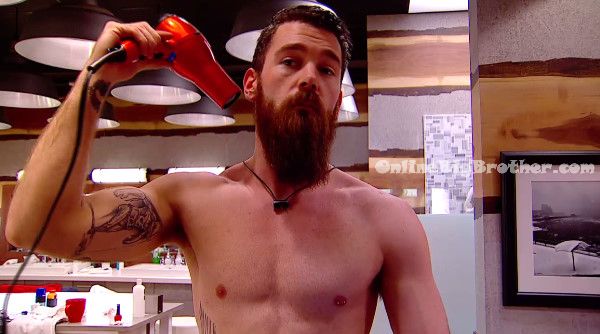 4:25pm In the bathroom – Kenny gives his beard a bl*w j*b. Meanwhile – Out in the backyard by the pool Adel is talking to Jon about Sabrina and how he can't stand her. Jon says I can't stand her either. Adel asks Jon who Sabrina is working with because I don't want to say things to the wrong person. Adel talks about how Sabrina told Rachelle that she would introduce her to her agent. Adel asks what kind of agent does Sabrina have.. she's a f**king MUT! Adel says the good thing that I have going is with you and Andrew. Jon says I can't stand the thought of being in the jury house with Andrew. Adel and Jon talk about making their backup plans solid. Adel says I think we have to keep gonads. I think no matter what they are going to put up gonads and Heather. Adel says I hate Heather .. she keeps telling me their going to put me up. Adel says if Kenny and Andrew go and you, me make it to the end .. everybody likes us for jury votes. Adel and Jon head inside the house. All of the house guests head into the diary room to wish Sarah's man a happy birthday.
Adel asks what kind of agent does Sabrina have.. she's a f**king MUT! @bigbspoilers #bbcan2 pic.twitter.com/xfFkjZkA0X

— Dawg (@DawgsBigBrother) March 24, 2014
5:35pm – 5:45pm In the bed room – Neda talk game with Jon. Neda talks about how annoyed she is with Rachelle. Neda brings up how Rachelle and Sarah made comments about her (Neda) and Jon needing to be separated when they were drunk. They talk about how Neda says that if Andrew wins he would put me up because he knows I am with you. Jon says I think you are giving him way too much credit ..he isn't smart at all. They only smart decisions he made were the ones Kenny told him to make. Sabrina joins them and JOn gets called to the diary room. Sabrina follows him. She asks him if he knows if anyone is after her. Jon says no. Sabrina asks is Allison? JOn says no.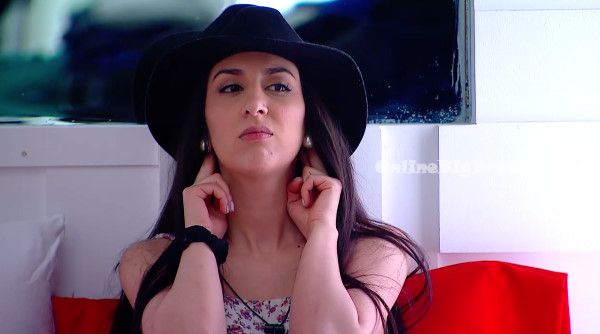 Up in the HOH room: Rachelle sheds her hot dog bun..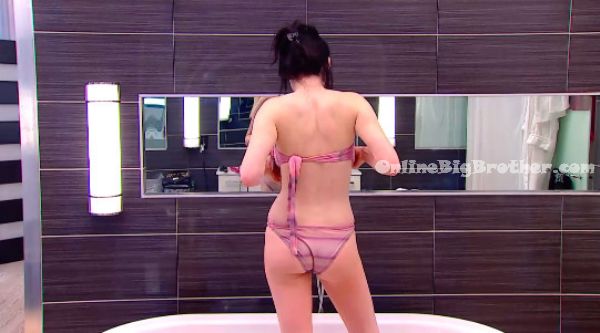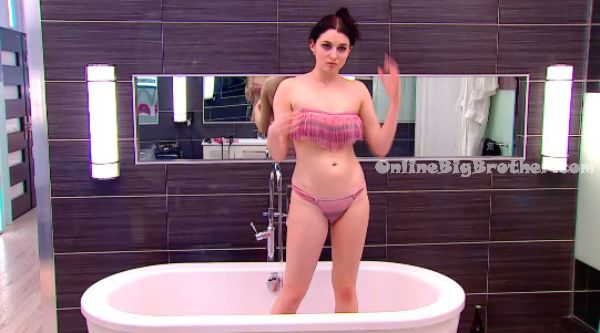 6pm – 6:30pm In the storage room – Sarah and Kenny talk Sabrina thinking she is running the house. Sarah comments on how Sabrina is building one heck of a resume for the end. Kenny talks about how he's been trying to stress to Andrew not to trust Allison. We can never be to sure if she can be trusted or not because if she's America's player then she's not even doing what she wants to do. He needs to hold on to her and pull her in but not pull her in too close. Kenny talks about how Andrew is worried about how he'll be perceived. Arlie joins them and the conversation ends. Arlie leaves. KENNY asks Sarah do you & Jason have a list? (Celebrities the can do) Sarah says yeah but all of his are like the neighbour, the 7/11 girl .. Andrew joins them. Andrew comments on how Neda commented that Talla (BBCAN1) was a floater. Andrew says that he asked the question to them after Neda said that who do you think the floaters are on our season. (Meaning he thinks she's the floater). He comments that Neda is just Jon's pillow. Sarah says that Neda contributed to the girls group when she was a part of it. Sarah brings up how annoying Heather is complimenting them all the time. She says that when Heather told me good job for making the orange juice. I wanted to f**king beat her!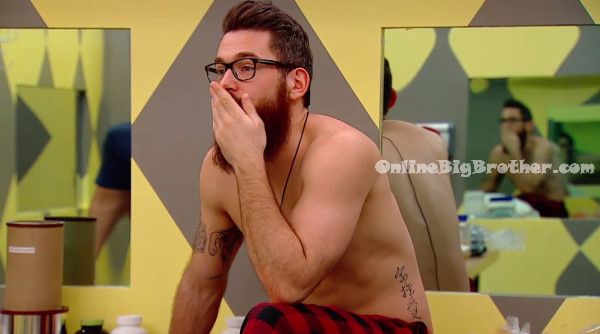 KENNY FARTS in the storage room – Sarah GRABS PROTECTION @bigbspoilers #bbcan2 pic.twitter.com/MWvQP2EuPR

— Dawg (@DawgsBigBrother) March 24, 2014
The conversation turns to being caught n@ked. SARAH shows her reaction and talks about how she was CAUGHT N@KED by the mail man: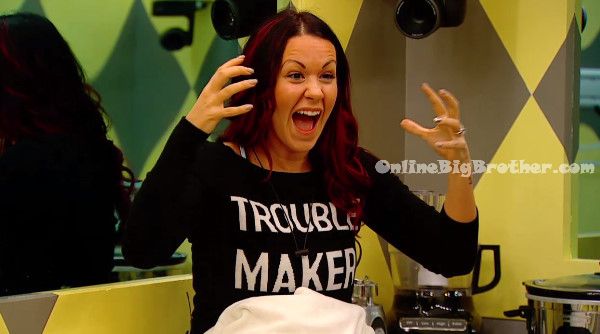 6:35pm – 7pm Out in the hot tub – Ika, Neda and Adel talk game:
SARAH says Rachelle – Kenny doesn't like WEINERS! Rachelle says ok! Kenny says yes he does!! @bigbspoilers #bbcan2 pic.twitter.com/MXN33nJRDh

— Dawg (@DawgsBigBrother) March 24, 2014
Stay connected and interact with other Big Brother Fans on our Facebook page.
And Follow: @BigBspoilers and @Dawgsbigbrother on Twitter for the most up to date spoilers.