POV Holder:
IKA
Next POV
?
POV Used
No
POV Ceremony
March 17
HOH Winner:
IKA
Next HOH:
March 20
Original Nominations:
Paul & Heather
Current Nominations:
Paul & Heather
Last Evicted Houseguest
Kyle, Anick
Have Nots
Jon, Allison, Paul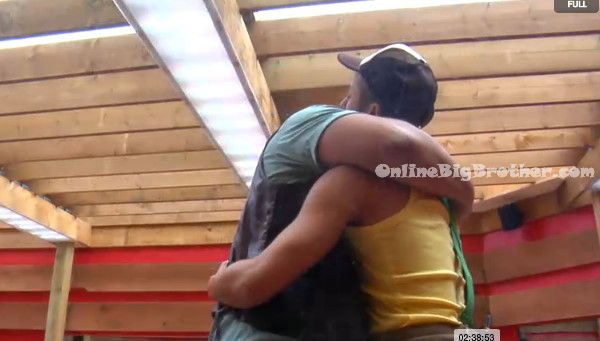 Want to watch the Big Brother Canada 2 live feeds? Bypass the geoblocking with HideMyAss VPN and be Canadian Anywhere. Be able to watch the Big Brother Canada Episodes and the Live Feeds for ONLY $11 per month
10:45am – 12:20pm Big Brother blocks the live feeds for the Power Of Veto Ceremony. When the live feeds return – we learn that Ika as the Power of Veto holder and Head of Household chose to keep the nominations the same and not use the veto.

Out in the hot tub room – Paul and Adel are talking. Paul asks Adel to swear that he didn't know that Ika was keeping the nominations the same. Adel swears and tells Paul to not to worry. Paul says I am trusting you 110%. Adel says I have never lied to you. They hug and Adel heads back inside. Adel says keep cool with everyone ..everyone thinks that Heather and Rachelle are the two main ones you know. Or else we're the next main targets. Everyone see that Sarah wants Heathers head on a plater. Andrew & Kenny come out to smoke as Paul paces back and forth. Up in the HOH room – Ika, Sabrina, Neda and Rachelle are talking. They talk about how Allison will be voting out Heather. They talk about getting Adel out next week. Sabrina then starts talking about her conversation with Andrew last night. She says he told her that he liked her the first time he saw her and how if she doesn't want him to talk to Allison any more he won't. Sabrina brings up how Allison came into the house with a boyfriend. Paul comes up and hugs Ika saying its okay, I understand. Paul leaves. Neda asks so its 100% we're voting out Heather? Ika says yes as long as we have Adel. If just the girls vote then we don't have the votes. Sarah joins them. Ika says that she will talk to Adel but that she's sure he will vote out Heather. Sabrina says by the way I can get Andrew to vote out Heather because he didn't promise anything. Sarah comments that Adel did vote against Paul last week. Jon joins them and they talk to him about how he promised Heather he wouldn't vote her out so he can't.
12:40pm – 1:10pm Adel comes up to the HOH room to talk to Ika alone. Ika tells Adel that they need his vote to vote out Heather and keep Paul. Ika tells Adel that if next week he goes up on the block the girls will have the votes to keep him. Adel says I hope so. Adel says that he is going after Andrew and Kenny. Ika says if I had the power behind me I would have taken off Paul and put up Kenny but the girls were not comfortable with it. Adel agrees that it was too risky. Adel says I hope these people realize that Kenny and Andrew are a power bro alliance. Andrew is a true power house. Ika tells Adel that he and Paul have to try and win next week. Adel says that he will and that he can't wait to see their faces when he puts them up. Ika tells Adel that whoever he wants out that's who the girls will vote out. Adel says I never swore on my religion to those guys .. those f**King f@g*ts! (Adel says this at 10:14 minutes into the video below.) Ika says that Kenny has to go. Adel says Jon is a big dumb dumb. Andrew is a power house that annoys everyone. Adel asks what if Allison votes out Paul. Ika says then it would be a tie and I would break the tie to vote out Heather. Ika and Adel high five. Adel says that he is worried he is still going I just hope he doesn't do anything. After Paul realizes you did this I will need to get him his heart medication. Sabrina joins them. Adel comments on how Paul is mentally disabled. Sabrina and Ika tell him that a bad term to use. Sarah joins them. Sabrina says that she already talked to Allison and she said she's voting out Heather. Adel tells the girls that he will talk to Paul and tell him to lay low. I'll just make sure he doesn't eat a steak before the votes. The girls laugh.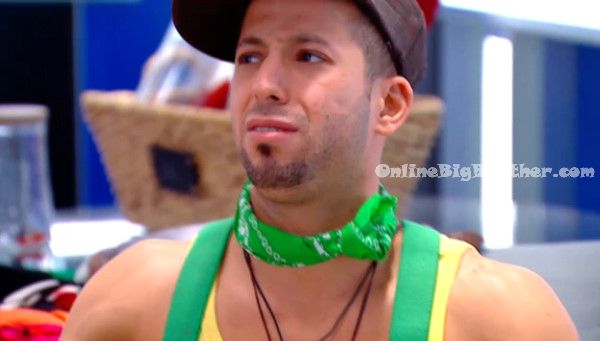 1:40pm Jon joins them up in the HOH room – Jon comments on how he didn't tell his girlfriend Janelle that he was coming on Big Brother. Sabrina asks him why he didn't tell her when he was a finalist. Jon says that he didn't think being a finalist was that big of a deal. Sarah says there were only 15 finalists. Jon says I was just worried about the million dollar lawsuit .. if she decided she hated me she could say f**k you. Sarah agree's with Jon and says he did the right thing. Sarah talks about how Heather's been sleeping in the HOH room every night. She tells Ika that they'll tell her the other girls are going to sleep up here Wednesday night. Heather joins them. The girls are plucking hairs. Jon asks if they have hair on their n!pples. Sarah and Rachelle says yes. Heather says I kind of want to look at my n!pples now. Sarah asks Heather if she's going to sleep in the HOH room all week. Heather says that Ika said she didn't want to sleep alone so I said okay.

[polldaddy poll=7877882]
Stay connected and interact with other Big Brother Fans on our Facebook page.
And Follow: @BigBspoilers and @Dawgsbigbrother on Twitter for the most up to date spoilers.