POV Holder:
?
Next POV
?
POV Used
?
POV Ceremony
April 7
HOH Winner:
Heather
Next HOH:
Apr 10
Original Nominations:
Kenny & Allison
Current Nominations:
?
Have Nots
Sarah (didn't use slop pass), Kenny, Rachelle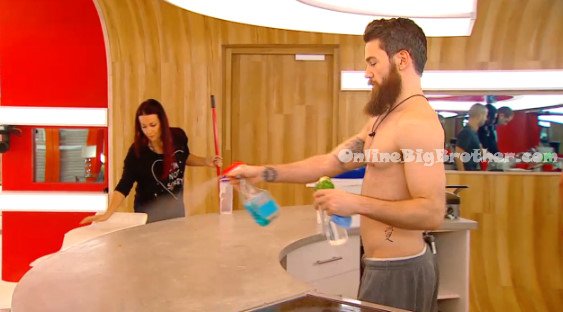 POWER OF VETO Players: Heather, Allison, Kenny, Arlie, Rachelle, Sabrina
POV Host: Jon
2:45pm – 3:10pm Big Brother blocks the live feeds for the house guests to pick players for the Power Of Veto Competition that will be held some time today. Arlie comes into the bedroom and tells Neda and Adel that everyone needs to clean the kitchen. Big Brother told us told to clean. Adel asks Arlie if he is going to try for the veto? Arlie shrugs his shoulders. They head down stairs. In the kitchen Kenny freaks out on Jon asking him if there's a reason he is leaving when you're supposed to clean up? Jon says that he never heard the announcement. Kenny says you've been running your mouth since day 1. Jon says settle your D! Jon comes back and tells him to f**k off. Jon calls Kenny a f**king loser! Kenny says go f**k yourself. Jon walks away and heads up to the HOH room and talks to Heather. Heather and Jon comment on how Kenny just can't win the veto. Heather says and even if he does I'll put up Sarah. Jon says he is worried that if Kenny wins and comes off and Sarah goes up ..if we don't have Arlie on board with us then we can't get Sarah out. Heather says we should just wait until after the POV. I know I am just a little girl but I'm going to try and win it.

In the kitchen Adel and Sabrina get into a fight. Sabrina asks if Adel wants her to take the mirror and tweezers that Sarah put on the kitchen table. Adel says that people in this house have no brains. Sabrina stops and asks what?! I am just asking! Adel asks what do you want me to do micro-mange you!? Sabrina is confused and says she was just asking. Sabrina walks off. Sabrina goes into the havenot room with Sarah. Sarah tells her that she is so proud of how she handled that situation. Sarah says that she almost went off on Adel.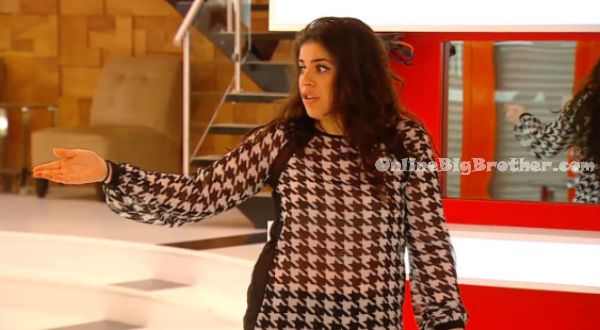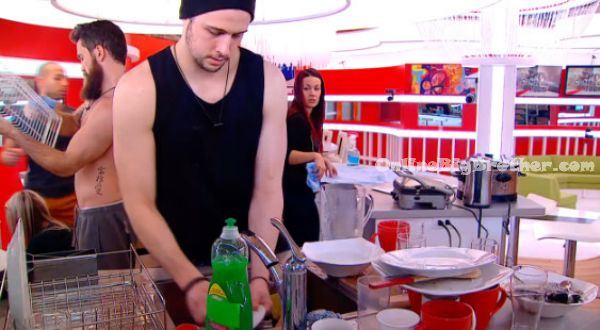 4:15pm Jon is now in the kitchen cleaning the dishes. Up in the bathroom – Heather tells Neda that they hid a bottle of syrup in the HOH room. They talk about the tension between everyone.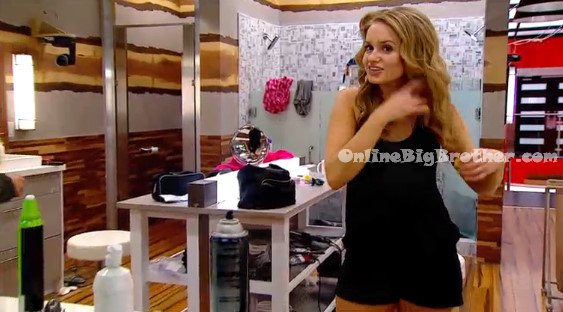 4:30pm In the havenot room – Rachelle tells Sabrina about the fight between Jon and Kenny. Sabrina hadn't heard the fight so Rachelle tells her what happened. Kenny joins them and talks about his fight with Jon. Rachelle talks about Heather complimenting her hat. Kenny calls Heather an a$$ hat. Kenny says I don't even know why I was fighting with that giant man baby. Kenny says so if noms stay the same.. Sabrina says I'm voting to keep you. If it was Rachelle up there that was the only situation that I didn't know but anyone else there is no question I would vote to keep you. They talk about what the POV competition might be. They all think it going to be a water competition. Sarah joins them and talks to them about her plan to get Heather to nominate her if Rachelle or Sabrina win the veto. Sabrina shoots down her plan and Sarah leaves.
Kenny and Sabrina comment on how they wouldn't be surprise if Jon didn't have a girlfriend when he gets home. Kenny says he tries to hump and rub his d**k on all the girls in here. It is so clear he has a thing for Neda. Sabrina jokes where did he get that yeast infection?!


4:45pm – 5pm Adel says just wait until one of us win .. I am going to be a psychopath that rubs sh*t in your face! Jon says that he is so pissed that he doesn't get to play in the veto because if I won it I would dangle it on my di*k right in his face! Neda says that Kenny is just in your face because he knows your not playing in it. They comment on Sabrina and Rachelle practically aren't in it any ways because they aren't going to win it. Meanwhile in the kitchen – Arlie talks Sarah out of trying to go up on the block the try and save Kenny. He tells her that her going up directly affects his game. Sarah wonders if Arlie will throw the competition. Arlie says that's an option but I don't know .. If I won it I would consider using it to take Kenny off. Arlie says this is the only time I've seen you at risk in the game ..and it only due to your relationship with Kenny.

5:35pm Up in the HOH room – Heather, Jon, Neda and Adel are hanging out. Adel comments on how Rachelle has the weakest story line of anyone on here, she's like a little pet. He says all she does is follow Sabrina around. Adel says Sabrina tells her what conversations she can be a part of and tells her to come with her all the time. Adel says we're supposed to be on here to show Canada who we are. Jon leaves. Neda and Heather talk about Arlie. Neda is worried that if the power flips next week Arlie will go to the other side. Neda says that Arlie has put himself in the best position in this game. They talk about how being a floater isn't easy. Jon joins them again. Neda asks if they think Kenny was faking his head ache today. Heather says he's never complained about a headache before but doesn't understand why someone would lie about that. Neda says to appear weak. Heather says I still don't get why.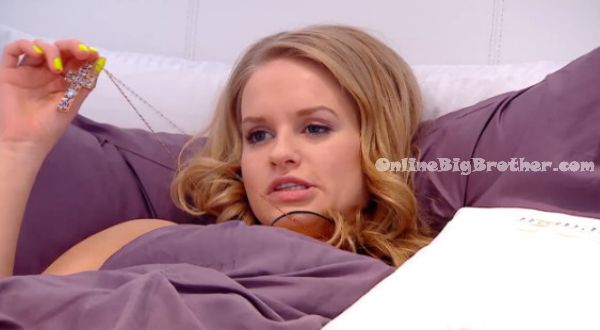 In the kitchen – Allison talks to Adel about how she thinks she is going home. Adel tells Allison no way .. there are so many little alliances with in the alliances. He tells her that there are 2 people within that alliance that want Kenny out! 2 of them! 2 of them that want him out! I can't wait for it to happen. WAKE UP CANADA! WAKE UP CANADA! Meanwhile up in the HOH room Heather and Neda are talking. Heather says I know this is bad but I didn't want Rachelle to play in the POV just in case we got cute outfits. Neda says you look better than her. Heather says she really wants to get to jury. Neda says I think you and I will definitely get to jury but my fear is that Adel and Jon don't make it.


The Gremlins both comment on how they don't feel like competing.. They head out of the bathroom and Sabrina asks if it looks like she has 72 chins. Rachelle laughs and says no. The cameras switch to Arlie, Jon and Adel in the main bedroom. Arlie tells them that he will never campaign for Sarah because he would never want them to question him. Adel says that will never happen.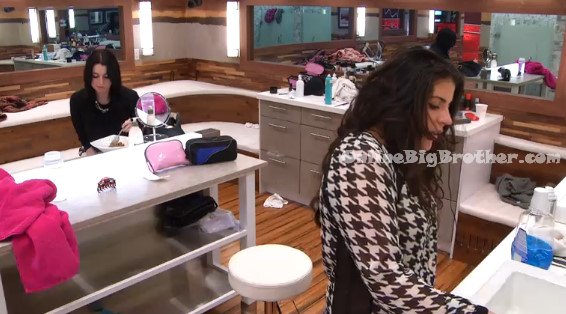 6pm In the kitchen – Sabrina tells Kenny and Sarah that Allison is in the bedroom with Jon and Adel. Sarah says that she's worried she will flip to the other side. She says that next week she could definitely go to either side.

If you're enjoying the live feed updates this season, please consider donating. Simon and I work 24/7 all season long to keep you updated on everything that happens inside the BBCAN house. Any amount is greatly appreciated! Your donations go directly to paying the server and bandwidth fees required to run this site.
Stay connected and interact with other Big Brother Fans on our Facebook page.
And Follow: @BigBspoilers and @Dawgsbigbrother on Twitter for the most up to date spoilers.