POV Holder:
?
Next POV
?
POV Used
?
POV Ceremony
?
HOH Winner:
Andrew
Next HOH:
March 13
Original Nominations:
Paul & ?
Current Nominations:
Last Evicted Houseguest
Anick
Have Nots
Rachelle, Neda, Heather and Sarah
Check out the NEW OBB Forum https://forum.onlinebigbrother.com/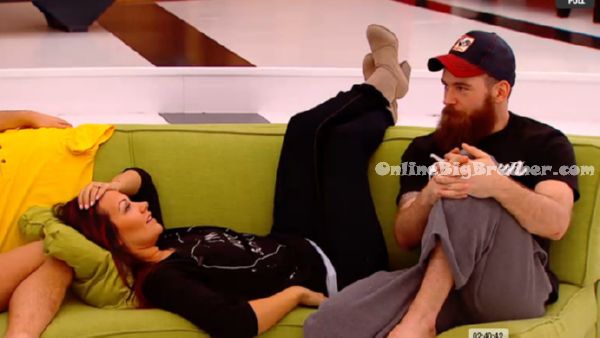 9:10am Big Brother blocks the live feeds for Andrew to nominate two house guests for eviction.
1:50pm – 2:10pm When the live feeds return we learn that Andrew nominated PAUL & ??? (The other nomination isn't confirmed yet).
Adel, Neda, Heather, Rachelle and Arlia are in the kitchen making lunch and talking about random things. Meanwhile in the living room – Kenny, Sara and Jon are talking about movies. In the bathroom – Kyle, Neda, Rachelle and Sabrina are talking. The girls confront Kyle of something he said during the nominations by calling people out. Kyle says he put me on blast because I'm honest. He says that if they don't believe him, they will see he's telling the truth when they go home and watch it. Paul joins them and says that he knows no one wants to be seen with me. I feel like a virus .. no one wants to be close to me. Paul then starts talking to Sabrina and then big brother cuts the feeds again..

2:15pm – 2:40pm Only cam 5 is on of the war room showing Allison, Scott and Nate trying to figure out what is going on in the house from what they're seeing on the spy cams. Big Brother then blocks cam 5 so now all 5 cams are blocked..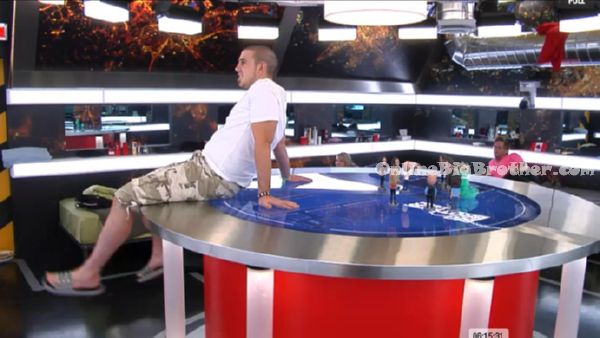 3pm – 3:20pm Only the war room cam 5 is live right now showing Allison, Nate and Scott watching the spy screens. Nate comments on how Paul looks tired after the fight with Ika in the bathroom. Nate comments how how they're eating slop now. Nate, Allison and Scott believe from watching the spy screens that Paul and Neda are nominated. Allison says everyone looks pretty chill right now. Allison and Scott try and take a nap as Nate continues to comment on what's happening in the house.
3:55pm Allison comments that Kenny and Ika are blindfolded as well as others. They're making them do things. I thought they were picking players for the veto competition but they're not. The blindfolds are like ours but blank. Alison says they're doing chores. Scott says they're making the beds. Allison says Sabrina, Sarah, Neda, Ika, Kenny and Arlie are all blindfolded. Allison says they were all sitting on the living room couch and then they started doing stuff. Scott thinks Jon is Emmett's BBCAN1 brother because Emmett always used to wear a toque. Nate says that Heather is blindfolded too. Scott says that he wants to be manhandled by Andrew. Scott says yeah clean that house you dirty pigs! Nate asks how did they pick who was blindfolded? Allison says that they picked names out of the bag. Allison says its not hard to see that Kenny worked in a restaurant.
Scott says eww.. gross Jon just picked his nose and then grabbed Neda's hand. Nate says eww yeah when you guys were asleep I watched Jon take a piss and then put his hands under the water in the sink and splash his face.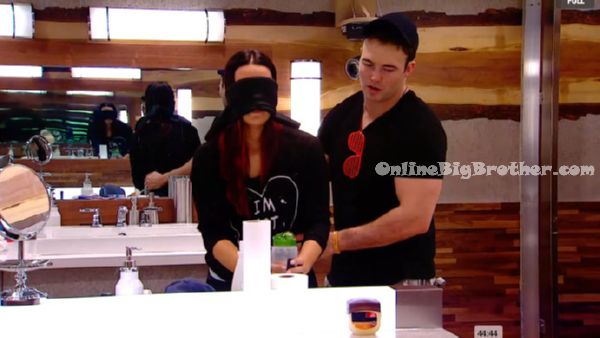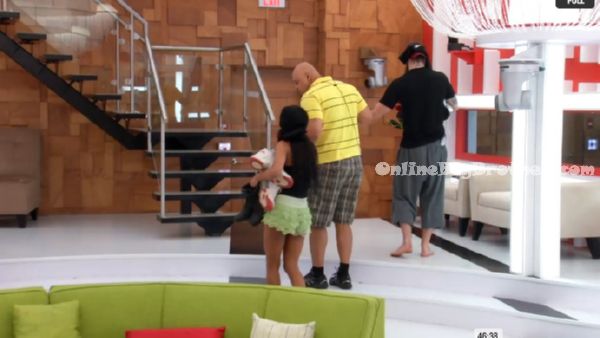 4:10pm The live feeds come back on showing some of the house guests blindfolded being lead by others to clean the house. Paul is leading Ika and Kenny to clean up the house of their things. Jon is in the bedroom helping Neda. Neda says you're so sweaty its so gross! Adel is leading Arlie. Sabrina is in the kitchen helping Heather who is blindfolded do the dishes.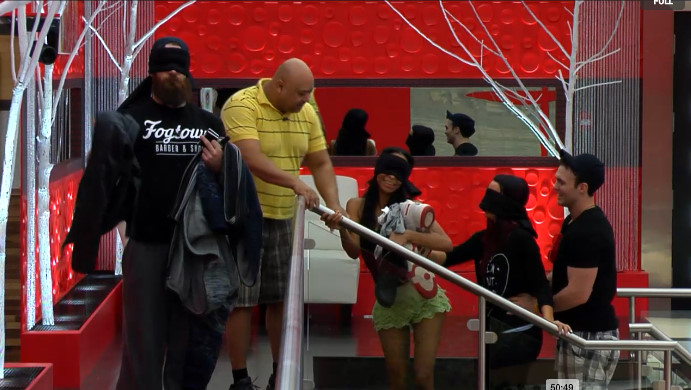 4:35pm In the bedroom Arlie apologizes to Adel about yesterday and says that he doesn't like the way Adel was treated by the other guys and says that he isn't like that. Arlie tells Adel that he feels like the guys are now starting to treat him like that too. Adel says its okay if Kyle or I get HOH we are going after them. Jon and Neda come into the room and start laughing / joking around. Arlie comments how they want to complete the challenge because its for BOOZE! ANDREW comments on how they are almost done the 1 hour of cleaning and says that there are 2 more challenges to complete.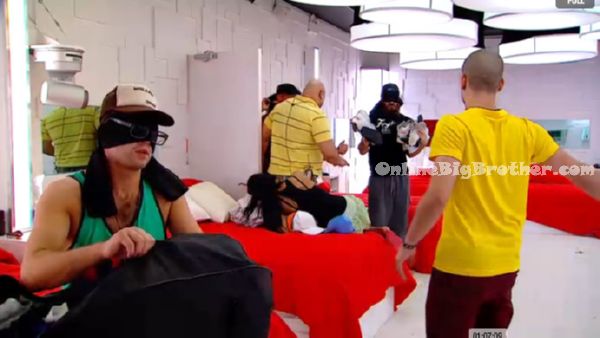 https://youtu.be/l54srjEEB28
Stay connected and interact with other Big Brother Fans on our Facebook page.
And Follow: @BigBspoilers and @Dawgsbigbrother on Twitter for the most up to date spoilers.