POV Holder:
?
Next POV
?
POV Used
?
POV Ceremony
March 24
HOH Winner:
Racehlle
Next HOH:
March 27
Original Nominations:
Allison & Heather
Current Nominations:
?
Last Evicted Houseguest
Paul, Kyle, Anick
Have Nots
Adel, Sabrina, Heather, Arlie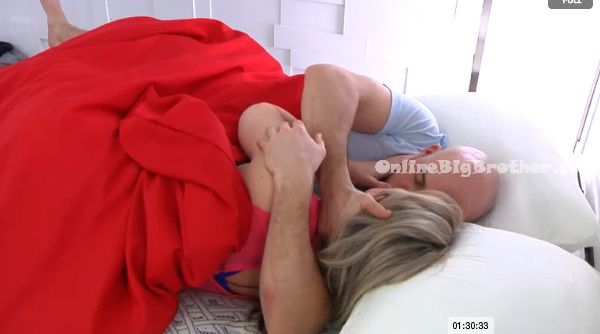 Want to watch the Big Brother Canada 2 live feeds? Bypass the geoblocking with HideMyAss VPN and be Canadian Anywhere: For ONLY $11.00 A month Sign up here

10am – 12:10pm Big Brother blocks the live feeds for the nomination ceremony to take place. When the live feeds return we learn that as expected Rachelle nominated Allison and Heather for eviction. In the bedroom – Andrew and Allison are making out in the bed. They stop for a second and Allison sings "Doing exactly what I said I wasn't going to do on TV!" Allison says I want to win that veto so bad! Andrew says I hope I compete in it with you too! Allison asks would you use it if you won it? Andrew says yes. Allison says even if one of the boys goes up in my place. Allison says Ika could be the replacement. Jon joins them and talks about his hang over. The cams switch to Sarah hiding behind the laundry machine doors while she talks to Kenny. Sarah wonders if they are still thinking about getting rid of Jon. Kenny says yes next week. Sarah wonders if Andrew is really willing to get rid of Allison. Kenny says yes. Kenny comments how he doesn't really trust Arlie.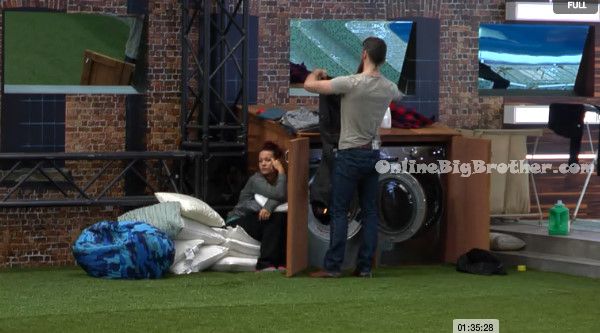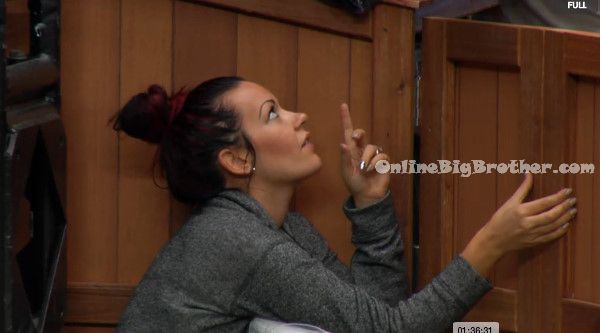 12:10pm – 12:30pm In the havenot room – Ika talks to Heather about being nominated and about how she had wanted Paul to stay last week because he was a bigger target. Ika tells Heather that she did talk to Rachelle about not nominating her. It made it easier to want to get rid of you last week because I thought you were being fake to me. Keeping Paul was more of a strategic move. Ika tells Heather that EVERYBODY makes fun of you in the house! You are going to see when you go home. It's not just two people! Heather says I know. I did not say Sabrina and Rachelle make fun of you .. everybody makes fun of you. Heather says I don't care, I am done with the he said she said. This game is base on lies and deceit .. and what you choose to believe in. I appreciate you coming to tell me that. Ika says me getting you out of here had nothing to do with me not liking you .. it had more to do with keeping Paul was a better game move. Heather tells Ika I don't hate you. What happened, happened. I'm not one to dwell on it. I could be really mean to Rachelle right now but I am not going to.. They leave the havenot room. Heather talks to Sabrina. Heather tells Sabrina that she was told she had a huge influence in Rachelle's decision to put me up. Sabrina tells her that's not true. Rachelle doesn't like you and she made her own decision. Heather then walks away saying the people in this house can get straight f**ked.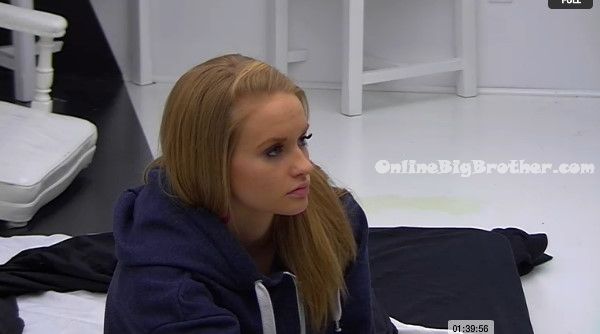 12:40pm – 12:50pm Ika, Neda, Rachelle and Sarah are talking out in the hot tub. Ika tells them about the conversation she had with Heather in the havenot room. They comment on how they think the Veto competition will be in 4 hours. They all head inside because Big Brother puts them on an indoor lock down. Neda and Sabrina hold back for a minute to talk about how they

Out in the backyard – Allison and Adel practice using the lacrosse sticks as the house guests believe they will need to use them in the upcoming veto competition. Big Brother tells them the backyard is off limits.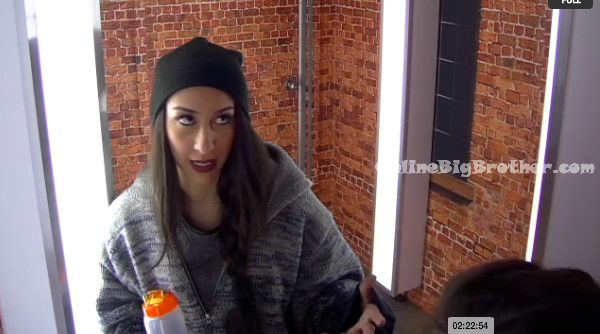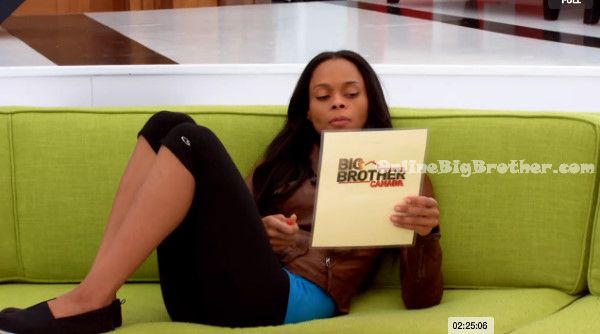 1:10pm Underneath that stairs – Jon asks if he was good last night. Sarah says that he jumped on her and dry humpped her saying look at this Jason (her man back home). Sarah says but between that and Andrew/Kenny licking my face .. I think I'm in trouble. Sarah says Jason is a strong, strong man he can take it. Sarah says I hope no one I know ..watched the live feeds last night. Jon thinks their drunkenness wasn't shown because they wouldn't have shown the task.
Meanwhile in the bedroom – Sabrina talks to Andrew about how she thinks Allison and Jon are in an alliance together now called "The Two New Neufs". She says that she saw them talking to the camera yesterday and going into the diary room. She says she thinks they started it two days ago. They talk about the condom beside Andrew / Allison's bed and Sabrina can't believe the he would have s*x with her while she sleeps right beside them. Allison joins them. Andrew and Allison doing some fake-mancing.. They talk about having s*x in the big brother house. Andrew jokes about them doing it and then says he can wait. He then asks what about in the shower…

1:20pm – 1:30pm The live feeds are blocked right now..
1:45pm When the live feeds come back. Neda and Jon are in the bathroom talking. Neda is painting Jon's nails. Neda tells him that she thinks Arlie is a BIG fan of the show. She says that he slipped up and guessed Ivette from season 6 when they were talking about past seasons. Jon agrees that Arlie is a lot smarted than he leads on to be. Up in the HOH room – Rachelle, Kenny and Sabrina are talking. Kenny says that once we get rid of Allison, Andrew will be a lot more controllable. In the storage room – Adel and Arlie talk about keeping their alliance with Jon and Heather as secret as possible. Adel asks are we going to try and save Heather? Arlie says I'll figure it out. Jon and Neda agree that Arlie will need to eventually go. Neda says I kind of want to keep Ika around. Jon agrees and says if he wins HOH, he wouldn't put her up. Adel leaves the room.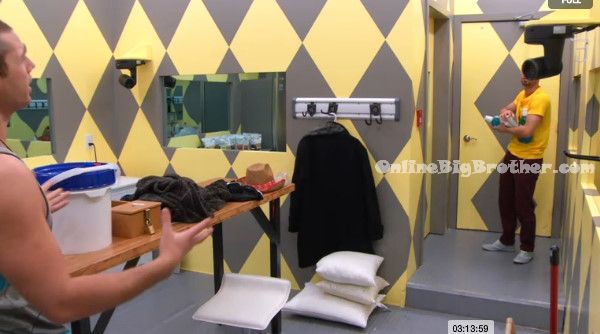 1:50pm – 2:15pm Up in the HOH room – Sarah talks about how drunk Andrew and Allison were last night and how he was trying to kiss her when she so obviously didn't want to. It was so awkward and was bordering on harassment. Sarah comments on how its like when her man Jason is so drunk and she tells him to get to bed. Sarah says its like trying to fit a marshmallow into a hole.. Sarah stops herself and says sorry. But you know what I mean. Kenny says yeah I think all guys know what you mean.. Sarah says that she doesn't think Jon would purposefully try and hurt his girlfriend Janelle .. but he was aggressively dry humping everyone! Sarah says that she is glad Neda and him didn't sleep in the same bed because they were so obliterated. Sarah says and you can tell that Neda is a freak in the bed. Kenny says that he got that feeling from her too. Sarah brings up how Allison cried last night. Kenny says that she came up to him and said that she knows he doesn't trust her.. he says that she swore on her family and he told her not to do that. Kenny says then she ran off crying.
Stay connected and interact with other Big Brother Fans on our Facebook page.
And Follow: @BigBspoilers and @Dawgsbigbrother on Twitter for the most up to date spoilers.