POV Holder:
?
Next POV
?
POV Used
?
POV Ceremony
March 24
HOH Winner:
Racehlle
Next HOH:
March 27
Original Nominations:
Allison & Heather
Current Nominations:
?
Last Evicted Houseguest
Paul, Kyle, Anick
Have Nots
Adel, Sabrina, Heather, Arlie
Sabrina is the HOST of the Power of Veto
POV Players are: Rachelle, Heather, Allison, Jon, Kenny, Sarah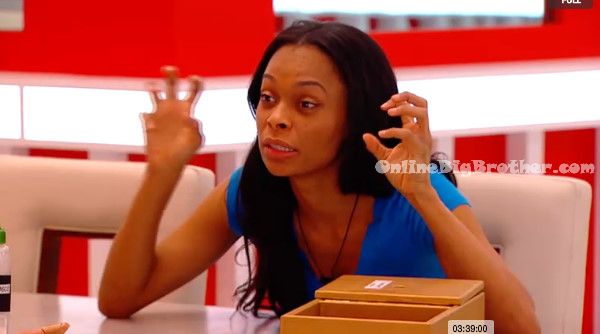 Want to watch the Big Brother Canada 2 live feeds? Bypass the geoblocking with HideMyAss VPN and be Canadian Anywhere: For ONLY $11.00 A month Sign up here

2:15pm Sabrina is really hung over and complaining about not feeling well. She tries to get into the diary room numerous times and Big Brother keeps denying her access. She tries to sleep in the havenot room and Big Brother keeps waking her up.
2:20pm In the kitchen – Adel and Ika are talking about how they need a name, some thing better than "The Misfits". Ika says we need a good name. If we pick a good name we will be the name. We need something good. Adel says what about "The DEMONS". Adel and Ika head up to the main bathroom. Adel says he is trying to get JOn and Arlie to spread rumors about Andrew & Kenny to put the target on them. Adel tells Ika to stick with the girls and pump them up saying that the girls need to win this for Canada.. Girl Power! Adel says you can't cut up Sarah. Adel says I am going to try and get Andrew and Jon to stir up sh*t with the girls. Adel says that Kenny is good looking he's a hunk. Ika says Kenny is ugly with his pimple a$$ back! Heather comes in for a second and the conversation ends. When she leaves, Ika says if I win the veto should I take her off? Adel says I don't know, we got to think about it. Ika and Adel continue to talk. Adel says if we win HOH next week we just need to put up who we want and hope the house votes out the right person. Adel tells Ika that he is putting it in Arlie and Jon's head that your not that good to take the target off of you. Ika says okay good. Ika leaves to go bond with the girls. Ika runs into Sabrina and tells her that they need to stick together .. we are all we have. We can't let them break us up.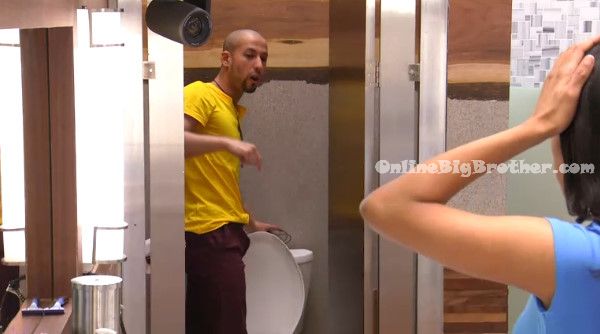 2:40pm – 2:45pm Up in the HOH room – Ika, Sabrina, Rachelle, Kenny, Jon and Neda are talking about random things. Neda comments on how she really does think the area downstairs under the stairs is a secret door. Big Brother cuts the feeds.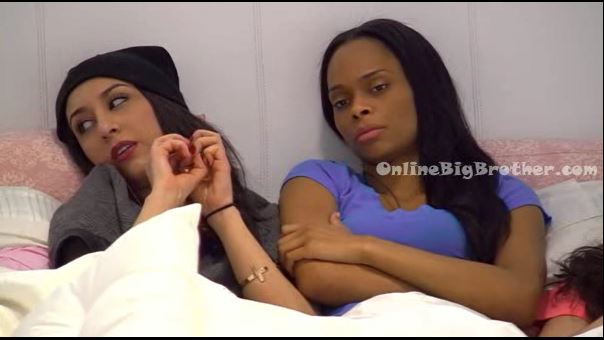 3pm – 3:40pm Big Brother blocks the live feeds… When the live feeds return Sabrina, Allison, Ika, Kenny and Andrew are sitting on the living room couch. The living room TV's show that the POV Competition is TODAY! Sabrina is complaining about how she hit her head on the havenot ceiling and needs meds for her headache but Big Brother won't let her in the diary room. Jon gets into the diary room and Sabrina asks him to ask them for meds. Jon comes out and gives meds to Sabrina. She asks about if she needs to see them about a concussion. Jon is complaining about his leg hurting and thinks he has nerve damage.
Sabrina is the HOST of the Power of Veto
POV Players are: Rachelle, Heather, Allison, Jon, Kenny, Sarah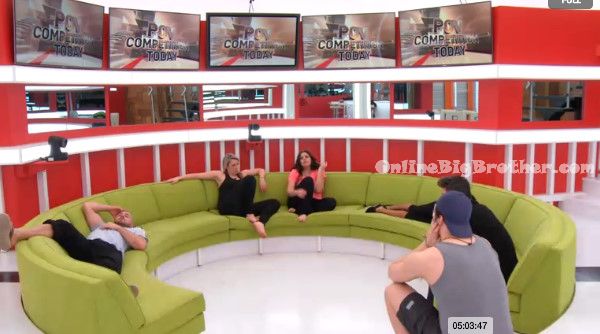 4:15pm In the HOH room – Sabrina is with IKA and Rachelle getting ready for the POV competition. Sabrina is doing her make up and tells them that she used to be model back in high school. She says her boyfriend at the time got jealous of the attention she was getting. Sabrina narrates what she's doing as she does her own makeup. She then does Rachelle's make up.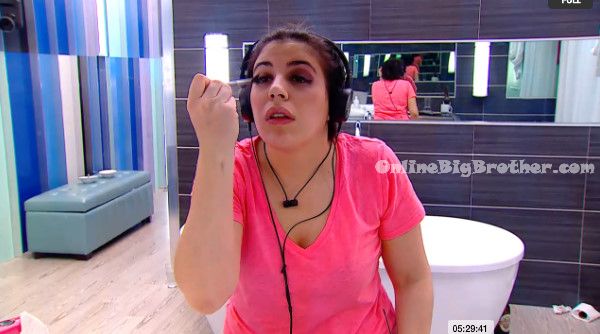 4:20p – 4:30pm In the living room – Allison says that her a$$ tingles when she's nervous. She says its tingling because she's nervous about the POV. Andrew asks so your a$$ tingles when your near me? ALLISON says no not now .. ..when I first met you my A$$ TINGLED. Andrew says I actually thought I was cast as the d*uche bag … but I wasn't ..Kyle was. Heather says yeah he played that role well.

4:50pm At the bar in the kitchen – Neda is helping Arlie take the nail polish of his toenails.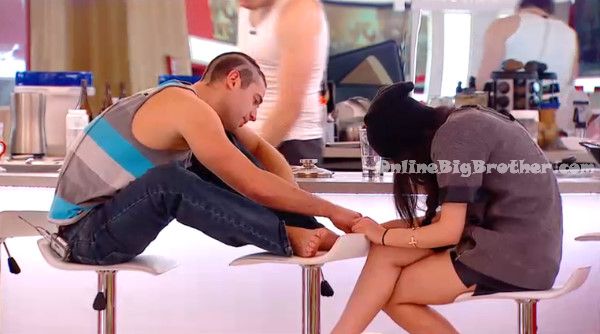 4:55pm IN the havenot room – Adel and Heather are trying to nap but big brother wakes them up. Adel tells Heather that she has to try hard for the Veto. He gets up because he if he lays there he will fall asleep again. He tells Heather to not fall asleep again either because if she gets the house punished she will put a bigger target on her back.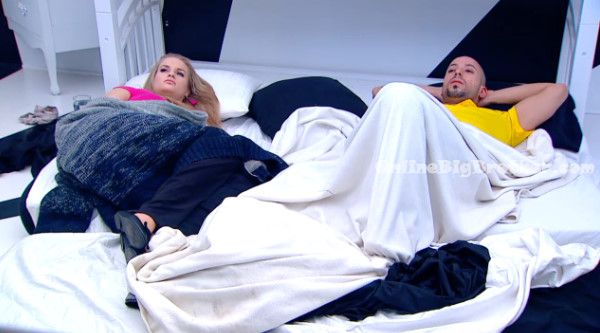 5:15pm In the kitchen – Ika tells Allison she should come up to the HOH room to visit. Ika asks where Heather is? Allison asks if she's up in the HOH room? Ika says no, I was just up there. Ika says I kind of feel bad. I did try to evict her a few days ago. Allison says I think she's doing well coping well. They head up to the HOH room. Outside the HOH room door – Ika tells Allison "Either way I am voting for you to stay ..either way ..I don't want you to go.. because I don't have anyone." Allison says I appreciate that I really do… that's a very good decision. In the HOH room – Neda, Allison, Arlie, Ika watch Sabrina do Rachelle's makeup.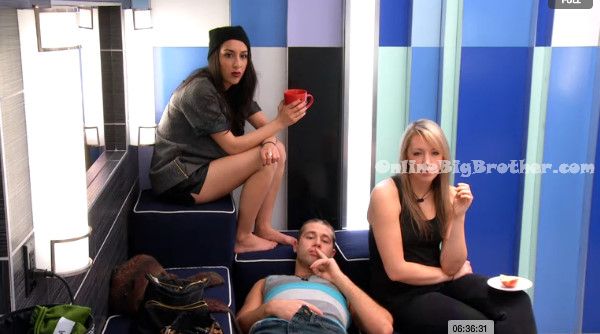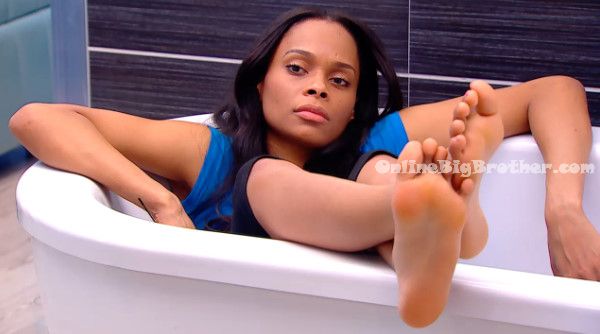 5:30pm – 5:40pm In the living room – Kenny is drinking coffee and spills some on the circle couch. He jumps up and grabs windex from the kitchen. He sprays the stain, rubs it for a second with a cloth and then sits on it. He says this is how I clean. Sarah comments how she is shocked there aren't more self evictions. Adel says if this was $500 G's can you imagine how much more competitive this would be. Kenny says he thinks by season 5 they'll bump up the prize money. They talk about who would come back for all-stars.
6pm In the main bedroom – Sarah is crying.. She says "SO EMBARRASSED!" Allison comes in and says do you want me to leave you alone? Sarah says sorry I just need a minute. Allison leaves. Kenny comes in and asks what's wrong? Sarah says she's just so embarrassed because Andrew asked her about her Ativan medication and she doesn't want people to think she's weak.. Big Brother then cuts the feeds.. (Ativan medication is often used to treat anxiety disorders.)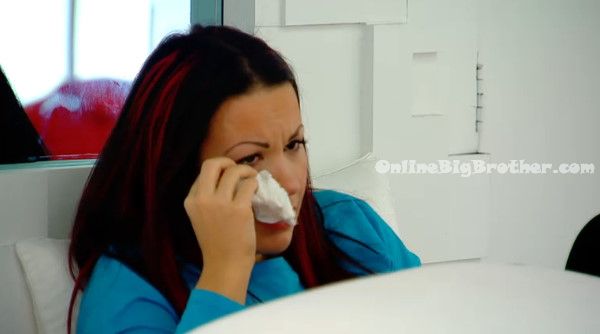 Check out the NEW OBB Forum https://forum.onlinebigbrother.com/
Stay connected and interact with other Big Brother Fans on our Facebook page.
And Follow: @BigBspoilers and @Dawgsbigbrother on Twitter for the most up to date spoilers.