POV Holder:
Kenny
Next POV
?
POV Used
?
POV Ceremony
April 7
HOH Winner:
Heather
Next HOH:
Apr 10
Original Nominations:
Kenny & Allison
Current Nominations:
?
Have Nots
Sarah (didn't use slop pass), Kenny, Rachelle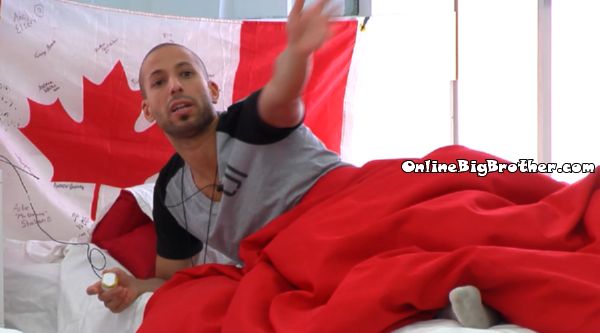 6:02pm Adel and Allison
Briefly talk about their new alliance. Allison says she is 100% trustworthy here but come Thursday she wants them to prove it.
Adel thinks Kenny is going to "Sh1t" himself when Sarah goes up.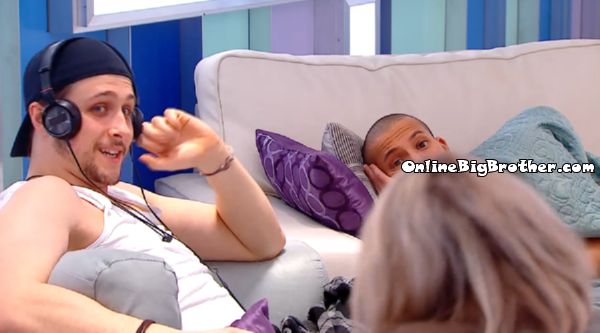 6:04pm Jon and Allison HOH
Allison says she's happy but it's Big Brother you never know what will happen. Allison says she's so glad Jon isn't the guy the other side made him out to be. He's the kind of guy that she would be friends with outside the house.
Allison says she heard so much sh!t about Jon and it all came from Momzi. Jon mentions how Kenny will be lost once Sarah leaves. He'll just have the gremlins.
Adel joins them.
Jon says it's obvious that Canada know JOn isn't the type of person the other side is making him out to be. He thinks this helps in his popularity because canada see's him being slandered for no reason.
JOn doesn't think Gordo was portrayed nicely and once Kenny latched onto him it's negatively affected his popularity as well.
Adel says Gordo is an awesome guy but his personality wasn't good for the Big Brother game. Allison agrees. Jon points out that Andrew was much worse before Allions came into the game. Adel adds that Andrew told the house twice to not talk to him.
They agree Sabrina was only a social threat but her social game is over. Adel tells them if they win HOH they put up the two gremlins and if POV is played KEnny goes up.
Allison moans.. says the game is hard.
They comment on how Rachelle and Sabrina are stuck together like glue. Allison explains they are both very emotional people so now with Gordo gone they've gotten close than before.
Jon – "Holy f** she (Sabrina) hated you"
Alison – "I know… it hurts because I really love her"
Adel thinks Sabrina would throw Rachelle under the bus to stay in the game.
Jon thinks they can convince the gremlins to put up Kenny but if Kenny win HOH they are all f****ed.
They agree if Kenny is every on their teams for a competition they throw it.
Allison mentions how Arlie threw the Head of household, Jon "Ohh Hundo"
Jon keeps playing up their Alliance and how if they stick to the plan they will cruise 3 more weeks in the house, "Guaranteed hundo percent".
Jon makes it clear he's not taking anything in the house personally after the show is over it's over for him. Just like when he played Hockey.
Jon mentions Sabrina telling Arlie she played a perfect game so far and people are catching on.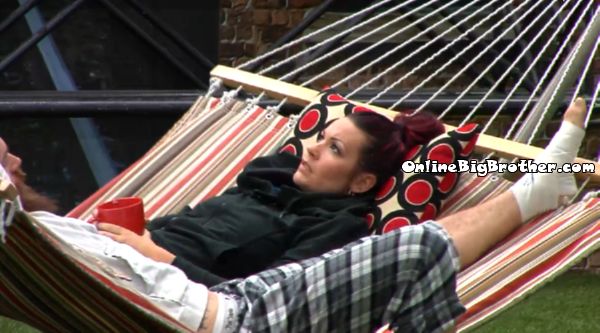 6:20pm Hammock Sarah and Kenny
THey think Allison is a wildcard and will go with the numbers, depends if Arlie flips. Kenny says it so important for them to get HOH.
Sarah – "Regardless if someone in the group flips we're fu***"
Kenny doesn't know if Arlie has it in him to flip. Sarah mentions how Arlie is at the top with both groups she doesn't think he would want to be at the top with Kenny and Sarah.
Kenny warns Adel has to leave before jury or he will get voted back in. Sarah doesn't think they will do that this year. Sarah think Jon is much more dangerous than Adel.
Kenny agrees.
Sarah – "We just got to make it through this week.. "
Kenny knows the other side is going to attempt to backdoor him next week that is why they need to win HOH. They agree Jon is great in front of the camera and is probably getting a great edit. Sarah says sh'e been grumpy in front of the cameras' Jokes that she;'s always saying "I hate them all". Kenny hopes Some of Jon's less stellar moments are shown.
Kenny says JOn is the worst sore loser and the worst winner ever along with incredibly insensitive and immature, "Who f** calls a girl a sl*t because they won't come over and sleep with them.. But that storey Obviously didn't make it on the show"
Kenny and Sarah agree the stories they've heard from JOn confirms he's an a$$ in real life. They think the way he is in the house is all an act.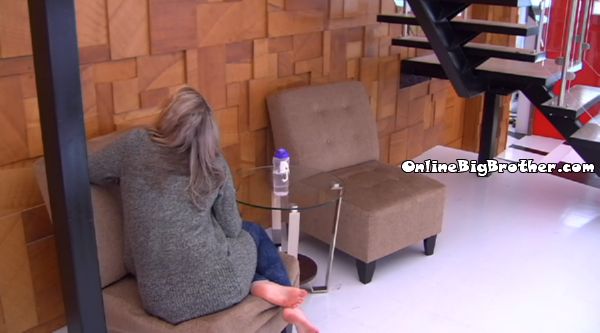 Allison looking around for the secret door.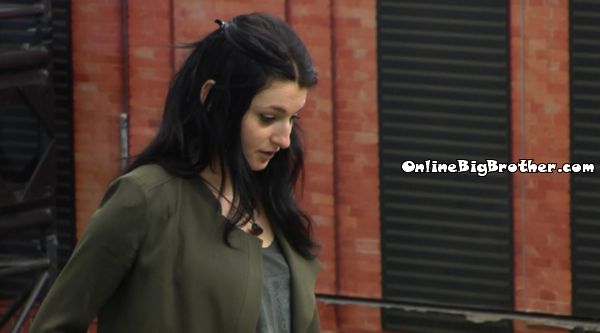 6:37pm Hammock Kenny, Momzi and Rachelle
Rachelle tells them Arlie told Allison she's not the lowest person on the totem pole.
Sarah – So She is saying it's me or Sabrina that are the lowest on the totem pole"
Rachelle – I don't know'
Sarah thinks Allison telling them that is very odd
Kenny says he's so glad they have coffee again.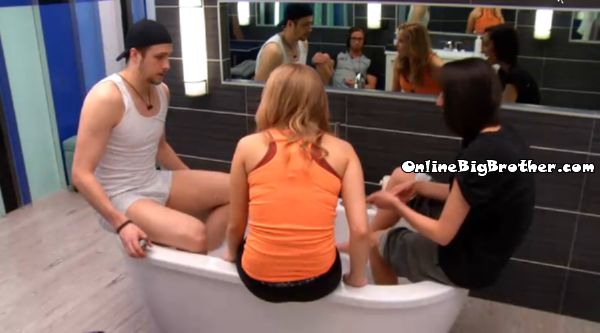 6:43pm HOH Bathroom Jon, NEda, heather and Adel
Neda says the good thing is Kenny's ankle is f*** (He hurt his ankle and it's wrapped up in a tensor bandaged)
Jon – he's going home in four days..
Heather points out how Kenny was so cruel to the havenots and now he's finally a have nots himself.
Jon mentions how Kenny would always put Cinnamon in the coffee so that have nots were not allowed to drink it.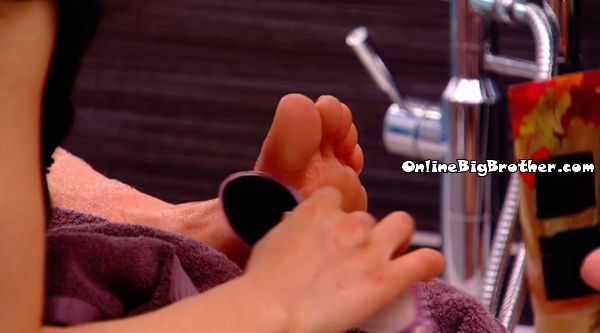 6:50pm Jon's feet
[polldaddy poll=7935497]
Share it YO!!
Tweet