POV Holder:
Kenny
Next POV
?
POV Used
Yes
POV Ceremony
March 10
HOH Winner:
Andrew
Next HOH:
March 13
Original Nominations:
Paul & Neda
Current Nominations:
Paul and Kyle
Last Evicted Houseguest
Anick
Have Nots
Rachelle, Neda, Heather and Sarah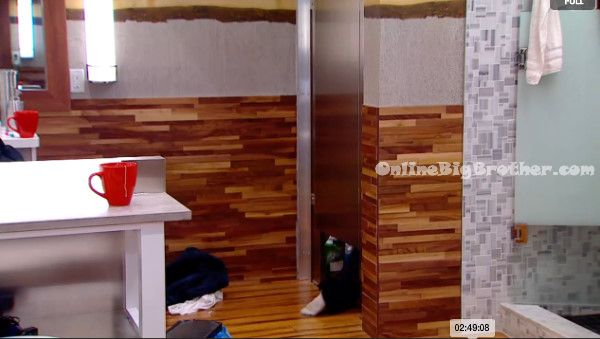 10:45am Out in the backyard by the Hot Tub – Andrew and Kenny talk about when they think they'll learn about the BBCAN2 TWIST. Kenny thinks Arisa the BBCAN Host will tell them about the twist this week. Andrew wonders if they won't know till week 3.
IN the bathroom – Sabrina, Ika, Arlie and Heather are getting ready. Ika and Sabrina comment on something and about Sabrina. Sabrina says that she doesn't want to talk about it. It gets awkward and Ika says that she doesn't want to talk about it. Heather thinks they're talking about her and ask them to say it. Ika says no its something personal about Sabrina and I don't want to say it with boys (Arlie) around. Heather clearly thinks they're talking about her. Ika and Sabrina leave the bathroom. Neda talks to Heather and tells her to go talk to Ika and Sabrina so Heather heads to the bedroom to find out if the girls have a problem with her. Sabrina says that what she didn't want to talk about with the boys around was that was a bruise in her a** h*le that she got in the hot tub. Sabrina says that's what I didn't want to talk about. Heather/IKA/Sabrina and Neda talk it out. After Heather sits there in silence. Neda then asks Heather to leave so they can talk. Neda, Ika and Sabrina talk about how they're annoyed with each other. Sabrina tells Neda that she doesn't need a mother. Neda apologizes to Sabrina.
Want to watch the Big Brother Canada 2 live feeds? Bypass the geoblocking with HideMyAss VPN and be Canadian Anywhere: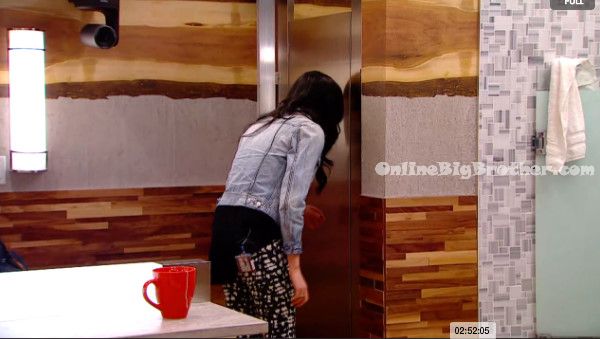 11:40am They leave the bedroom and head to the bathroom. Sabrina finds Heather in the bathroom stall crying. Sabrina joins her and tries to calm her down and explain the situation to her. Sabrina tells Heather not to talk bad about Rachelle because she's my friend and I like her. (Rachelle is in the bathroom and possibly heard Sabrina talking about her.) Ika then joins them in the stall. Rachelle then spies on them. Sabrina and Ika give Heather space. Sabrina then tells Ika that she needs to be more sensitive about others feelings. Ika says I don't care about her! I care about you and Rachelle but not her! She has no idea what I was talking about! Sabrina says I defend your a$$es and then I get s**t on!

GIRL DRAMA continued – HEATHER CRIES / RACHELLE SPIES / IKA doesn't care: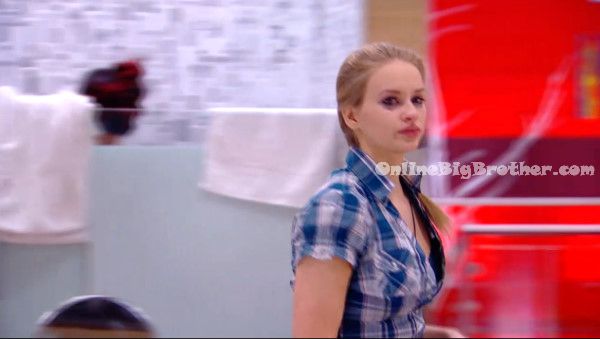 11:55am – 12:25pm Heather asks Neda if she can talk to her. Neda says yeah. Neda says I really need to stop trying to fix things. Heather says I don't not like Rachelle. She's a nice girl. Heather explains that she is just overwhelmed with everything. Meanwhile in the bathroom – Sabrina, Rachelle, Sarah and Ika talk about the conflict between them and what happened.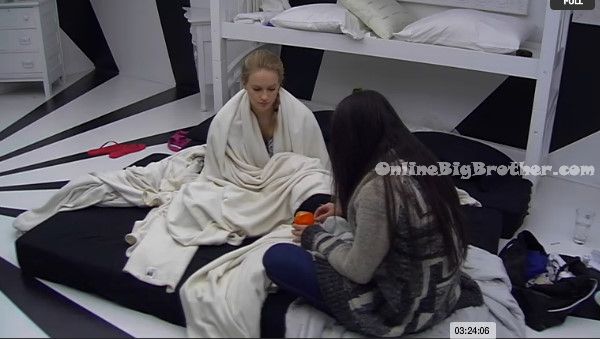 12:35pm The girl drama continues as the bros practice the backyard games. Ika and Kyle are in the storage room. Kyle campaigns to Ika about keeping him and how people should be going after the strong players in the game. Ika agrees. Heather goes to the storage room and asks Ika if she wants to go somewhere and just sit and talk about other things like life. Ika says I'm okay, you don't need to. Heather says I want to. Ika and Heather head to the chairs on the balcony. Heather tells Ika that she was her first friend in the house and that she really likes her. Meanwhile out by the pool – Sarah and Sabrina are talking about life inside the house. Sarah says that she will never audition again. She says its a lot like being pregnant and giving birth… you hate it when its happening but enjoy the experience of it after.

1:15pm The girls continue to talk about all the drama between them. Neda talks to Ika about how Sabrina had a problem with her. Neda says I waxed your v@gin@!


1:45pm The house guests in the kitchen notice that there's water leaking into the house near the living room/kitchen. They use a pot to catch the leaking water. Meanwhile in the living room Ika, Rachelle, Jon Sarah, Neda and Andrew are talking about random things on the circle couch.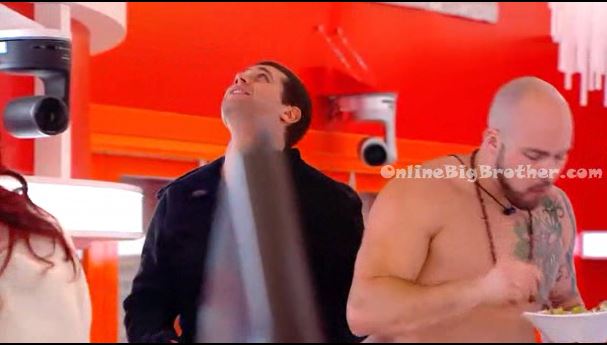 2:15pm Kyle and Paul are in the bedroom talking game. Kyle says that he wishes he was going to be here for the drama that's going to go down next week. Paul says what if someone gets to come back into the house.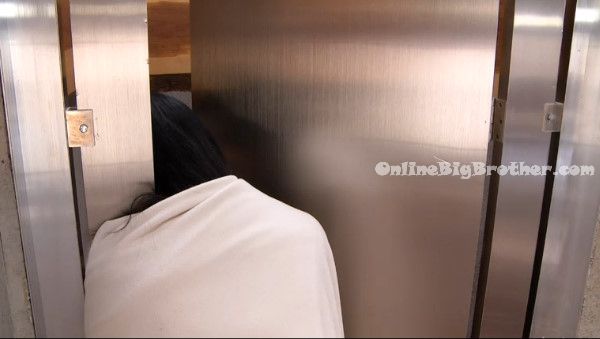 2:40pm – 2:55pmIn the bathroom Sabrina goes into the bathroom stall and starts talking game with Rachelle's head in the stall. Sabrina asks Rachelle to promise her that she won't vote her out if Paul or Adel win HOH next week and put her on the block. Rachelle says that she promises she won't vote her out. Sabrina is really worried one of them will win HOH. They head up to the HOH room and lay in bed with Andrew. Sabrina talks to Andrew about how worried she is about being nominated and voted out. Andrew tells her he won't. Trust me you're safe. Sabrina says I just need to win HOH, I'm the only person I can trust. Andrew says I'll look after you girls! I am a protector. Sabrina laughs. Andrew says I am, a big strong protector. You know my name means big strong manly protector. Sabrina leaves. Rachelle says all the girls are pretty right, like more than last year. Andrew agrees. Rachelle says Jillian was pretty but really anyone else. I can't really remember. Rachelle says I want a showmance to brew between people who are single .. that would be entertaining. Big Brother tells them that the house is off limits. They all need to head out to the backyard for the lockdown.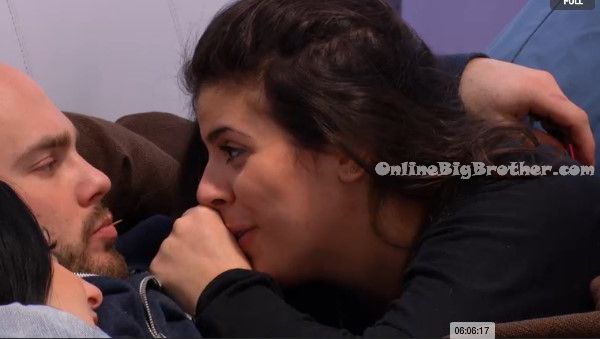 )
Check out the NEW OBB Forum https://forum.onlinebigbrother.com/
Stay connected and interact with other Big Brother Fans on our Facebook page.
And Follow: @BigBspoilers and @Dawgsbigbrother on Twitter for the most up to date spoilers.