POV Holder:
?
Next POV
?
POV Used
?
POV Ceremony
March 24
HOH Winner:
Racehlle
Next HOH:
March 27
Original Nominations:
Allison & Heather
Current Nominations:
?
Last Evicted Houseguest
Paul, Kyle, Anick
Have Nots
Adel, Sabrina, Heather, Arlie
POV players are Rachelle, Heather, Allison, Kenny, Jon and Sarah and the host is Sabrina
6:31pm Storage room
Kenny, Neda and Racehlle talking about how much fun last night was.
Out in the living room random conversations.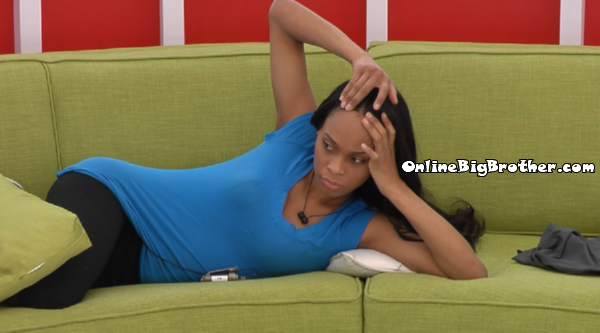 6:39pm IKA and heather
IKA says her decision during HOH was not supported, she didn't feel bad because she thought Heather didn't like her. IKA – "I do regret my HOH.. though"
Heather says she's one of those people that believes things happen for a reason. Heather thinks IKA made a personal move. IKA didn't want Heather on the block she wasn't in control. Heather says she figured because it wasn't a logical decision.
IKA says all she has is Adel in the game.
Heather is surprised she thinks IKA has the girls to.
IKA says there wasn't a fight or anything she's just not with the girls anymore.
Heather tells her she wouldn't have gone after Rachelle. IKA – "I know"
IKA is certain she is going next week, she understands how Heather feels.
IKA -"I Swear on my kids I regret it"
IKA says everyone thinks HEather is a liar and is being fake that is why IKA never believed her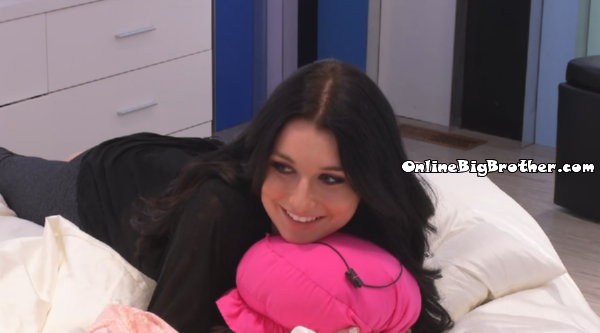 6:47pm Sabrina and Rachelle HOH
Rachelle asks when she should start telling people she wants IKA gone
Sabrina- "When you put up IKA everyone will know"
Rachelle is scared that IKA will stay in the game and she'll be f***
Sabrina says HEather will "Lick your bu**" after we tell her you saved her.
Sabrina gives her the speech to say to IKA…
"I don't want to have this discussion with you and this is the exact reason you are going on the block.. You try to intimidate me and I'm fed up with it. I want to play my own game and with you here you keep influencing me and I realize we are a sinking ship and there is two people that are going to protect me more than you can… SNAP tell her that.. and say leave me alone.. "
Rachelle adds "You said it yourself we're a sinking ship and you don't trust us"
Sabrina tells her not to worry they are in it together IKA is going to freak out on her to.
Rachelle nervous they won't have the votes and the house will flip.
Sabinra counts the votes tells her Sabrina, Sarah, Alison, Kenny, Andrew, and Arlie to evict IKA
the people that may vote to Keep IKA are NEda, JOn, and Ade.
Rachelle and Sabrina agree telling Kenny that JOn was targeting Andrew was a great idea.
Rachelle wonders what they should do if Heather wins and comes off the block. Sabrina doesn't think that is a problem they'll just stick with the plan and put up IKA. Rachelle is worried the house will decide to take out Allison.
Adel joins them says there is no way he's using his power. He promises he'll only use the power if him or Rachelle are in danger. Rachelle reassure him he is not going up no matter what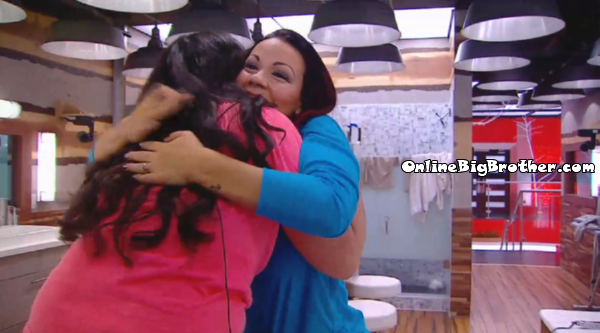 7:08pm Sabrina, Sarah and Andrew
Sabrina tells Andrew and Sarah the plan is to backdoor IKA this week so they have to make sure the POV is played.
Sabrina says she told Rachelle to do this yesterday and she listened.
Andrew – "Good"
Sabrina – "Kenny knows… But we have to keep this secret"
Andrew is happy starts dancing around..
Sarah is worried about JON not using it the power of veto
Sabrina agrees says they have to make sure Jon does not win it.
Andrew say theres no way Jon will NOT use the POV, He's sure Jon will use it to save Allison. The girls are relieved.
Sabrina – "I got her to put her friend up on the block .. you gotta remember theses things.. if me and her are in the line of fire you put out your f*** dick on the line .. BUt Allison has to go next week"
Andrew says ya sure perfect.
Sabrina points out 2 more people have to go for them to have complete control of the game.
Andrew leaves.. Sabrina and Sarah talk about Kenny telling too much sh!t to Racehlle. Sarah knows points out how Kenny has fixed it a bit today. Sabrina agrees.
Sabrina brings up that she thinks Kenny hates her.
Sarah swears on her F***" kids he doesn't hate her. Sarah thinks it's because Sabrina has it stuck in her mind that Kenny hates her so when he's joking around sarcastically it she doesn't think it's a joke.
Kenny joins them and describes how he says things joking around and people take is seriously..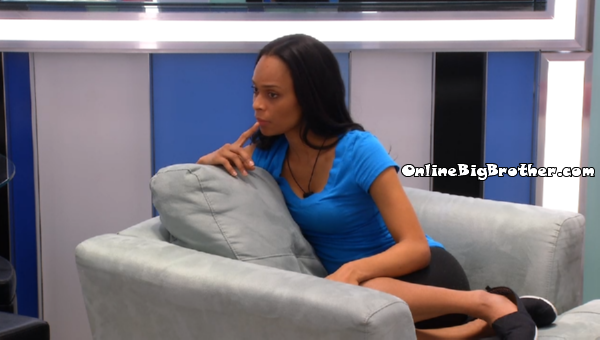 7:47pm HOH Sabrina, NEDA, IKA and Rachelle (Feeds cutting in and out a lot in the video.. )
IKA thinks it's awkward right now, She wants to know where they all stand. NEda says if she wins HOH she will not put any of the girls up because the three girls in the room are the only ones she can trust.
IKA wants the girls alliance to get back together says it's their only hope, "If Rachelle didn't win two of us would go up.
Rachelle is just worried now because IKA said day one if anyone turns against the girls alliance IKA is done, "You said that day one"
IKA says Heather isn't a threat because she can't even "Walk or talk" Ika say the guys will keep her around.
Rachelle says she's still got everyones back but in terms of the girls alliance she doesn't know.
IKA thanks god that Rachelle one the HOH but even if she did win she still feels off.
Sabs Asks if they should go their separate ways
NEDA doesn't want to she still wants to work with the girls
Neda proposes they continue to work with other people but still work together.
IKA says she doesn't want to work with people that do not want to work with her.
Kenny rolls in looking for some toilet paper.
IKA completes her thought says she is not the type of person to force herself onto people or to have people feel obligated to work with ehr or talk to her.. She wants to know "Straight UP"
IKA saying she only trusted Sarah because Sabrina trusted her, "I trusted her through you". IKA is made that Sarah did a major betrayal to them and everyone in the house is nice to her about it, "Including you three"
IKA – "I barely had two conversations with Sarah.. I barely spent time with her.. All she was doing was getting information from me for the guys.. "
IKA starts raising her voice when addressing SAbrina.
Rachelle feels that IKA doesn't trust her, "Do you trust me"
IKA – "Not 100% not after what happened I don't trust anyone 100%.. I never saw that coming AT ALL"
Feeds cut to HUSH HUSH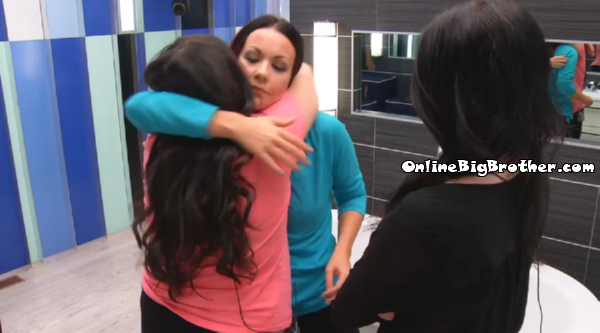 8:46pm HOH Bathroom Sarah, Rachelle and Sabrina
Sarah says she's going to tell them something and she doesn't want them to freak out and she'll understand if they don't believe them but she swears it's the truth.
Sarah – "I just want you to know obviously she's worried"
Sarah "She sat beside me and said Girl if I knew the things I know now I would have done the same thing you did… she's very sneaky but when you are making your decisions.. think about it"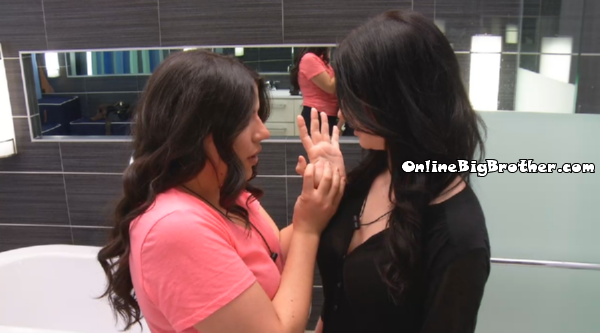 Sarah leaves.. Sabrina says they have to get IKA out
Rachelle – "You think it's the smartest thing to do"
Sabrina – "yes it's the smartest thing to do"
Rachelle – "better than Allison"
sabrina – " better than Allison.. "
IKA, Jon, Allison, Heather, Adel, Neda then it'll be down to us six (First 5 plus Rachelle)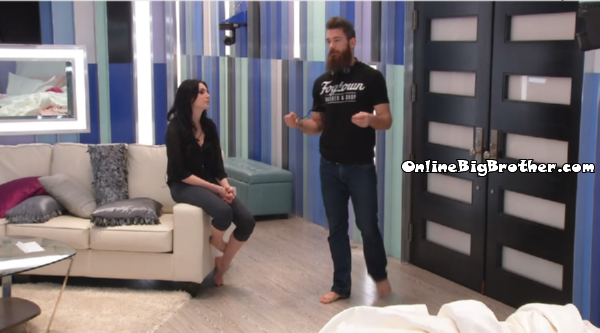 Kenny comes up Sabrina says the plan is to take out IKA.
Kenny – "Ya it should be, great IDEA.. Everything IKA says is a lie.. she's shown it to us time and time again"
Sabrina tells Kenny if they do this and get out IKA he's gotta look out for her and her girl Rachelle.
Rachelle says it's going to be a awful day tomorrow. Kenny tells her not to worry they'll all hang out with Rachelle making sure she's not alone.
Rachelle – Hmms and haws
Kenny – "Oh my GOd everyone is going to vote IKA out"
Rachelle says she's not going to tell IKA she's the target until the POV has been used and IKA is on the block. (LOL good plan) Rachelle tells him about IKA trying to reform the girls alliance. Kenny says she's been lying day in and day out to everyone.
Kenny is going to murder himself to get this POV, his only competition is JON and jon's tired and hungover. They both agree that they can't look at Jon the same way.
Rachelle – "We're going to take off Allison right"
Kenny – YA"
KEnyn – "She's going to f** flip"
Rachelle -" Everyone is going to be confused.. nobody knows" (Kenny acts like Andrew doesn't know)
Kenny says if he wins HOH he's going to go after Jon. Rachelle says it should be Jon and Allison next.
Kenny starts talking about how much of a beast he is in competitions. Rachelle thinks she's the second strongest girl. Kenny points out how strong IKA is in competitions says she more reason to get her out. Kenny doesn't think Adel is much of a threat in competitions, "not the sharpest tool in the shed"
11:10pm Hush hush They must be playing the POV
12:25am HUSH HUSH
[polldaddy poll=7898587]