Quick Big Brother Spoilers
Head of Household:  Michael
Nominees: Terrance, Monte & Joseph
POV Players: Terrance, Monte, Joe, Brittany, Michael Jasmine, Turner Taylor is hosting
POV Winner:
Veto Ceremony:
Havenots:  None so far
Lock your ranks in before midnight
Festie Besties:
Turner & Jasmine
Joe & Monte & Terrance
Daniel & Kyle
Brittany & Michael
Alyssa & Indy & Taylor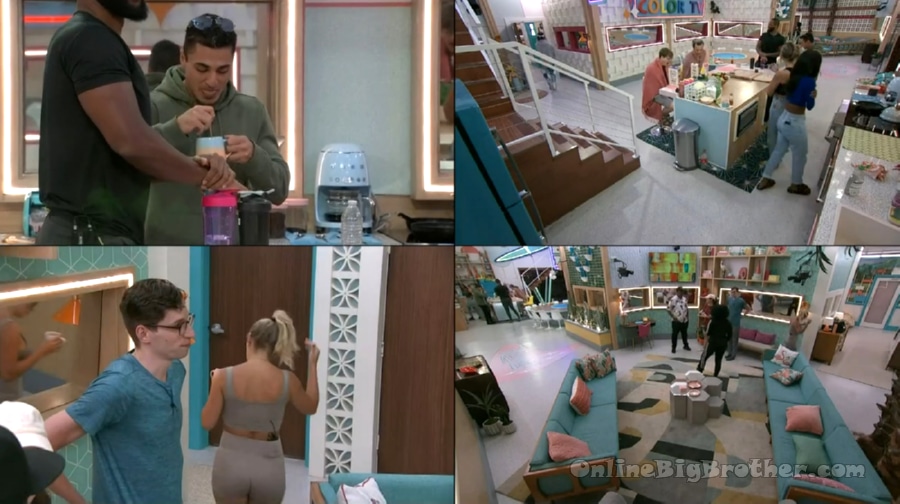 9:18 am Feeds return. Power of Veto players have been picked
Players are Terrance, Monte, Joe, Brittany, Michael Jasmine, Turner Taylor is hosting
Terrance and Monte speculating about veto. Sounds like the competition is going to involve prizes and punishments. Houseguests talk about a "trip to Hawaii"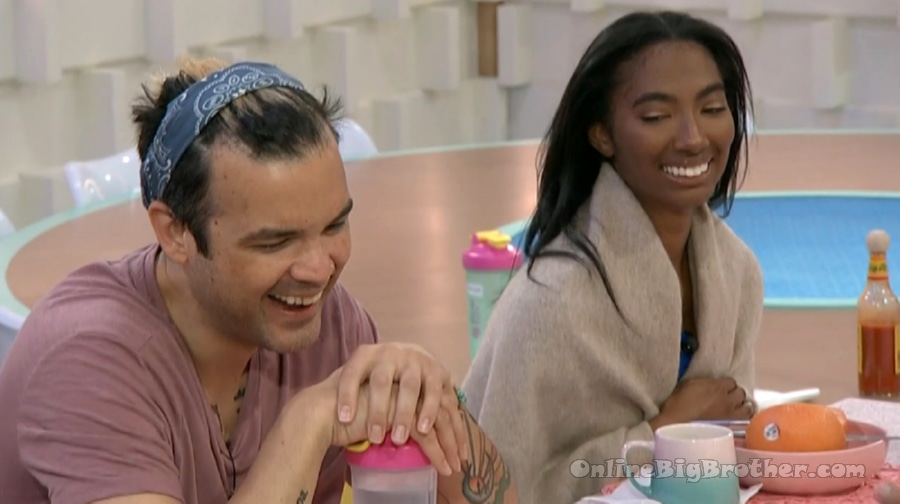 9:21 am chit-chat.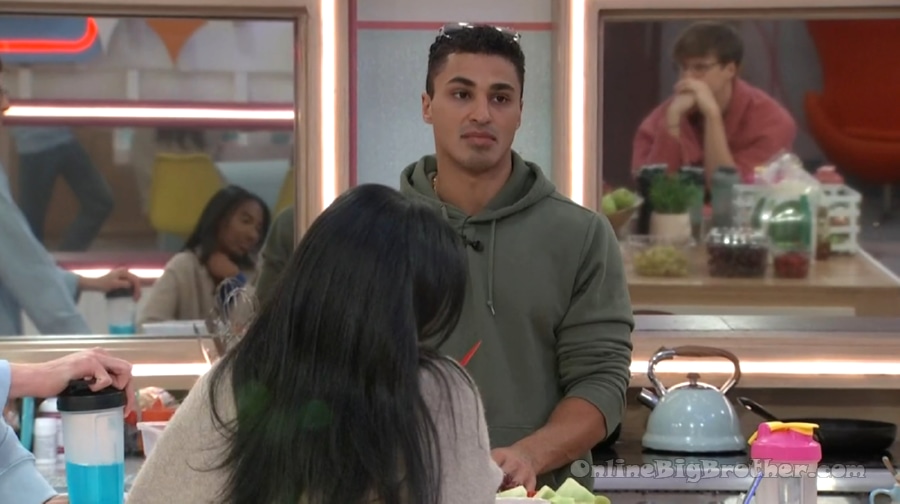 9:38 am
Joe is sharing stories about all the trouble his family had at airports when he was younger. Being Middle Eastern and speaking poor English his father would always get "randomly" selected for security reasons. Brings up when he was 8 his father was arrested for no reason.
Feeds flip.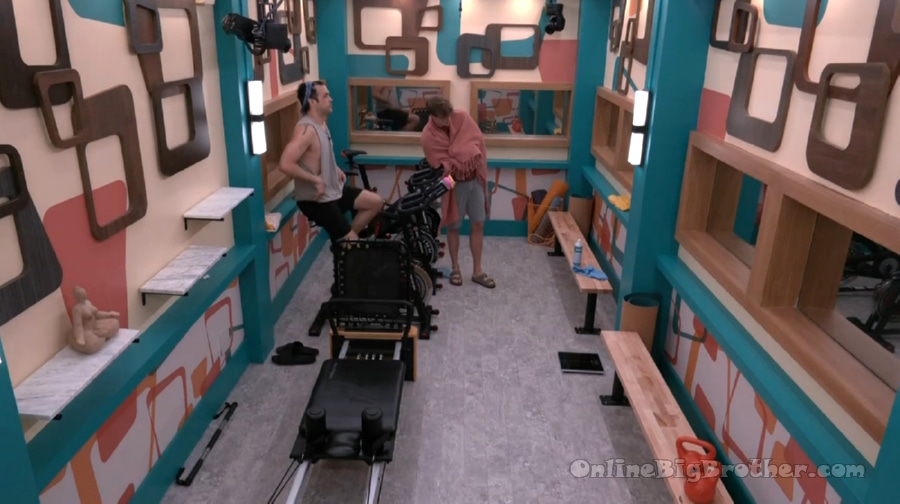 9:52 am Kyle and Daniel
Kyle – if JAsmine and Turner win and use the veto on them there's literally only us and the girls as an option to put up on the block. That's what's crazy about this festie bestie thing. It's so small of a group.
Kyle – that sucks we didn't get picked
Daniel – I'll start packing my bags now
Kyle – don't say that honestly..
Daniel – I don't know why I'm even a target. I don't get it
Daniel – Michael told me I'm the target of the house. Why? I have nothing. It's such a dumb move
Daniel – Maybe Michael winning it I can think it through
Kyle – yeah. .. I don't know dude.
Daniel – it sucks.
Kyle – Jasmine and Turner. Jasmine might not be able to play in it. There might be an option.. I don't know dude.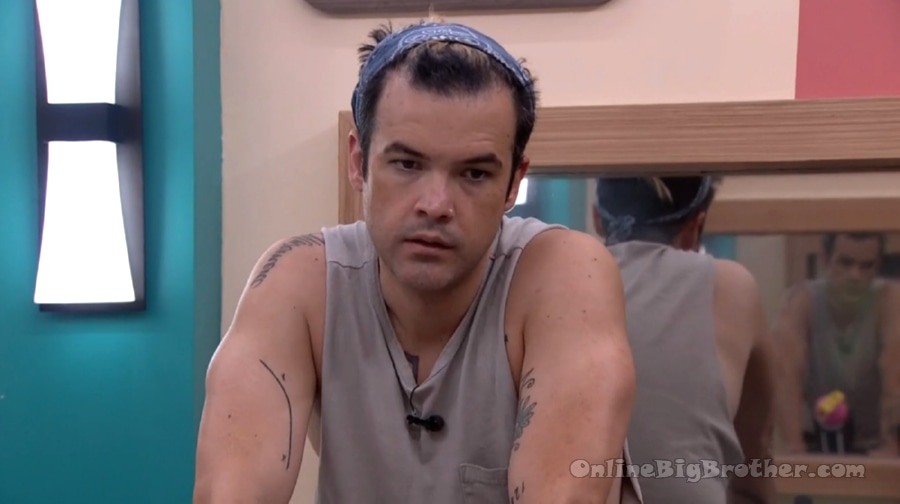 9:58 am Daniel
"I'm going home. Wait for me Nicole I'll be home soon. WE had a shot at this and it just didn't pan out. I'm happy to have been given the opportunity to walk through that door. It's a dream come true.. A Dream come true and I'm damn proud of it"
"I did it the best I could it just didn't work out. F***ing sucks man. Michael is a super fan he has to understand the two biggest threats are on the block you got to leave it the same. "
"She's working with him I mean C'mon.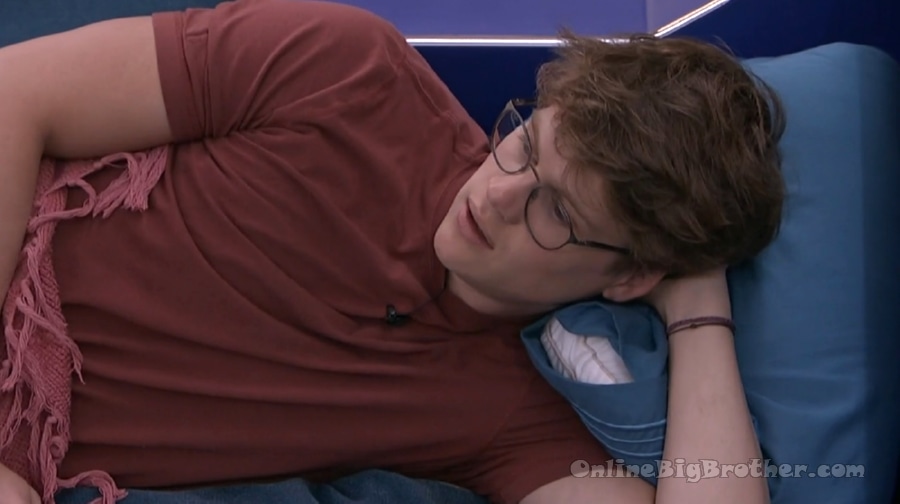 10:10 am Brittany and Kyle
Brittany says she and Michael talked and in regards to the people outside the leftovers Alyssa is last on their list. They go over the jury votes and agree on they want to keep Alyssa in the game.
Kyle – Jasmine is never voting for me in the end and I don't think she's voting for you and Mike. I look at indy. same thing
Brittany – maybe Michael but not me
Kyle – Michael over Monte? Joe? I don't think so
Kyle – that is why i'm struggling with.. having Daniel leave this week. Once he's gone.. I just think Monte, joe have that whole other alliance now as an option. They are not going to want to target any of those people.
Brittany – why would they eliminate Jasmine with a bum leg
Kyle says he's getting that feeling like when they started the Leftovers. "Uneasy.. where do I fall in that lineup"
Kyle – there's 7 people in the Leftovers and there are three people on the other side, Indy, Jasmine, and Terrance. it's going to be hard for people to say I want to take a Kyle a Brittany a Michael for these 3 very weak players.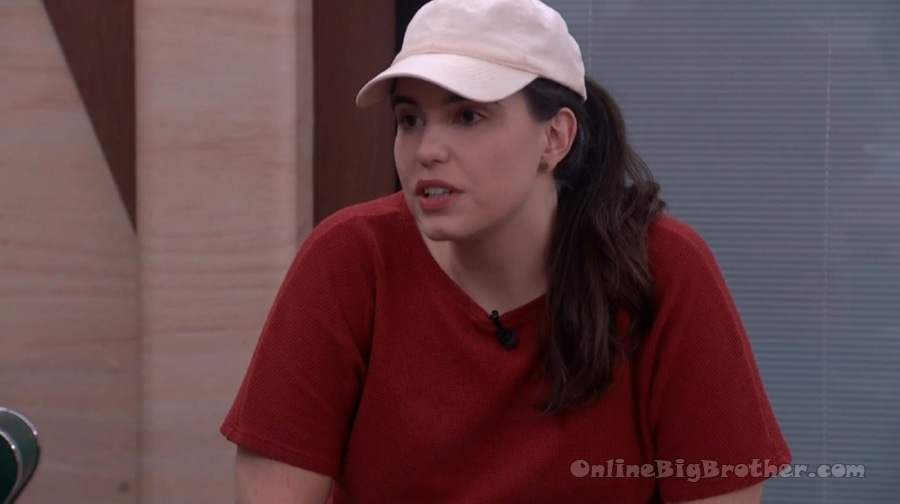 Brittany says Alyssa told her she feels that Indy and Jasmine are pulling away.
Kyle – I feel bad because I've leveraged a lot of information she's told me to move us further and her lower.
Brittany – I just wish we really knew the leftovers are good till 7 I would ride with that
Kyle – Me too
Brittany – if we look back. how stupid would we feel? Me and Michael will be particularly vulnerable next week it's up to just me.
Kyle is worried if Daniel goes home this week it's 7 to 4. "I'm just worried Monte, Joe, and Taylor might look at Indy, Terrance, and Jasmine who Monte and Joe already have an alliance. They bring in Taylor. that's six people"
Brittany – I just don't see Jasmine and Indy letting Taylor in.
Brittany – I see where you are coming from but I would be shocked by that.
Brittany says withing the leftovers it's all of them vs Monte and Joe.
Brittany says Taylor has also gotten closer to Turner because they stay up late. She really thinks Taylor is leaning more to the Brittany /Michael side
Brittany – I like the leftovers I'm just nervous that people outside the leftovers Monte/Joe are closest to. It doesn't make game sense for them to be with us.
Kyle – I know.
Kyle is worried that Monte/Joe are trying to make Alyssa the next target. Brittany knows she points out the rest of the leftovers don't want that and they have the majority.
Monte joins them.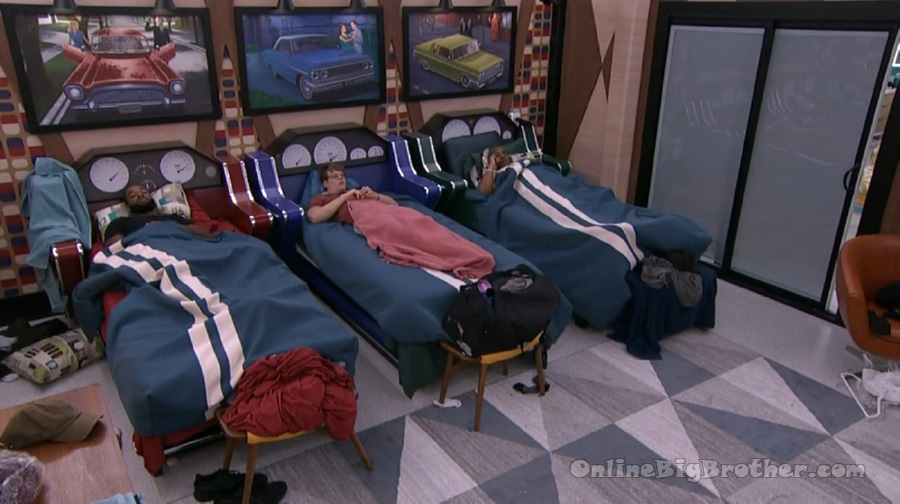 10:40 am Chit chat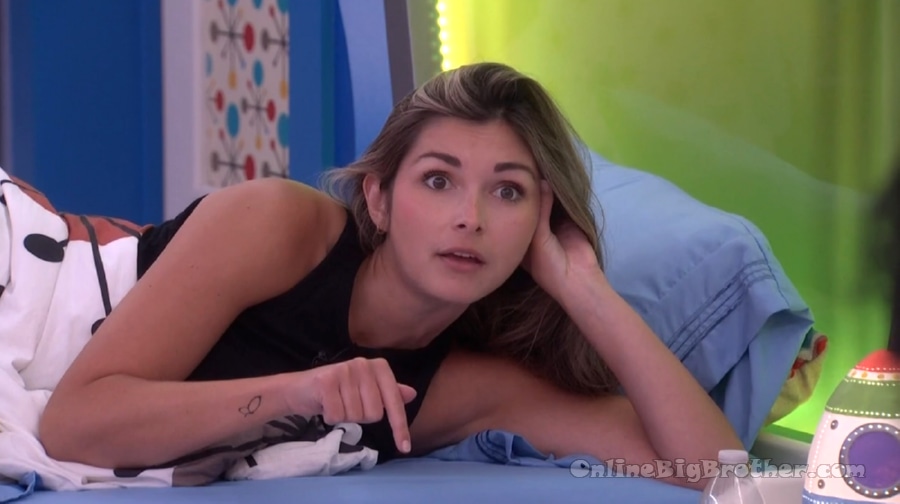 10:46 am Jasmine and Alyssa
Jasmine goes on about how Turner can win this game "he's smart as sh1t"
Alyssa – you are my number one.. my core people in the game. If you win the veto will you use it?
Jasmine grumbles that she got picked for veto "Why was it me"
Alyssa doesn't want the veto used. "Whatever Michael wants he's HOH"
Jasmine – Turner is a wild card.
Alyssa says Michael has won 4 out of the last nine competitions
Jasmine points out that Michael has been on the block a whole heap of times so he's played in more
Jasmine goes on about Turner. "I don't know why I get picked for these vetos"
Alyssa – you might win Money.
Jasmine – I don't want to be a have not (LOL jasmine as a have not put that energy out there)
Jasmine – if I leave noms the same that will mess up my game. Do you think I should throw it?
Alyssa – I don't mind Daniel going
Jasmine – but Getting MONTE OUT OH MY GOD
Alyssa says Daniel and monte would be the two people that'll put her up
Jasmine – I don't think Daniel will put me up. He still talks to me.. he talks to Terrance a lot.
Jasmine says Nicole told her something before she left "I won't say anything.. he won't mess with me"
Alyssa – was it game-wise?
Jasmine – Mmmmm no just something she thinks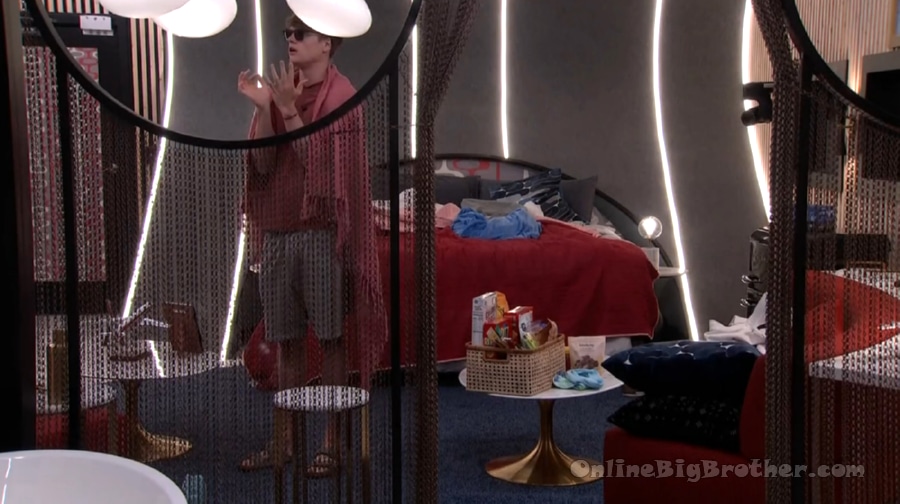 11:00 am Kyle talking to the camera
Kyle – within the leftovers we have the pound which is me, turner, monte, and joe then Monte told us yesterday there's an alliance with Terrance, Indy, and Jasmine started with Joe and Monte.
Kyle – he told us about it which means his allegiance is still with the leftovers but I am worried about that. Me, Michael and Brittany kinda have a final three called the outcasts but basically that became the leftovers. Alyssa is on an island has no one, and Daniel is on an island and has no one.
Kyle – Terrance, Indy, and jasmine will never side with me. If they win HOh they are coming for me I know that for a fact because they are with Monte. Alyssa will target Monte and Daniel, Daniel won't target me he'll go after Monte and Joe.
Kyle – the next two targets according to Monte and Joe are Alyssa and Daniel which puts me in a tough position Two weeks from now because we have a 7 person alliance, 3 people that are left targets. What is stoping Monte and Joe from jumping ship over to those three weak players who they can easily beat and ride to the end. So that's where I'm nervous
Feeds flip
When we're back. Kyle is talking about a 7 person alliance being unsatiable
Kyle – if we can get rid of Monte or Joe that would be crazy this week. What would that leave us this week? Taylor would have to be involved in that decision though. If I get caught talking about that I could be the target this week instead of Daniel.
Kyle – hopefully, the festie bestie thing ends this week.
Kyle – I've talked to Michael and Brittany. They don't want Alyssa gone which is good. Daniel is the easy target this week. We'll see how things play with the veto. If Michael and Brittnay win the veto I'll go through the options with Michael. If Monte, Joe, and Terrance win the veto there are no options if the girl's group Alyssa probably goes home I don't think I can get indy.
Kyle – we could put up Jasmine and Turner.. ohh maybe that's the move she just has the bum leg. she's not really a threat but she's so sneaky. Good at lying I don't trust her at all. She has a history of making alliances with Monte and Joe. That'll be my pitch probably. That will leave Daniel and Alyssa who are not coming after me and Michael. That would leave Indy and Terrance who won't go after Monte and Joe.
Kyle has already talked to Turner he's happy to get rid of her before Jury.
Kyle – I have an asset with Daniel I have to build on that relationship more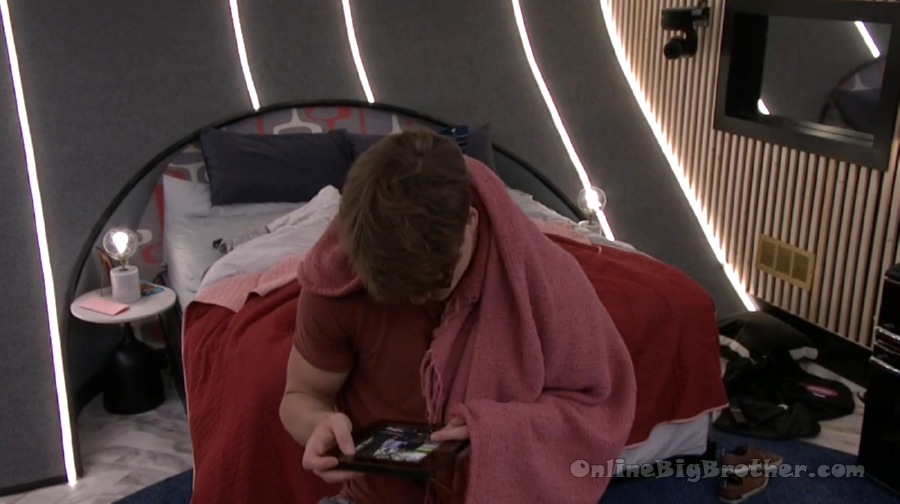 Kyle says he's getting no sleep because of Terrance's snoring. He's going to sleep up in the have-nots tonight.
Kyle starts shoutouts to his family. He gets emotional starts to cry. "Hopefully you guys are proud of me.. I'm trying… one more week. get to Jury.. "
"Kyle c'mon.. oh my gosh I'm such a baby"
he picks up Michael's HOH picture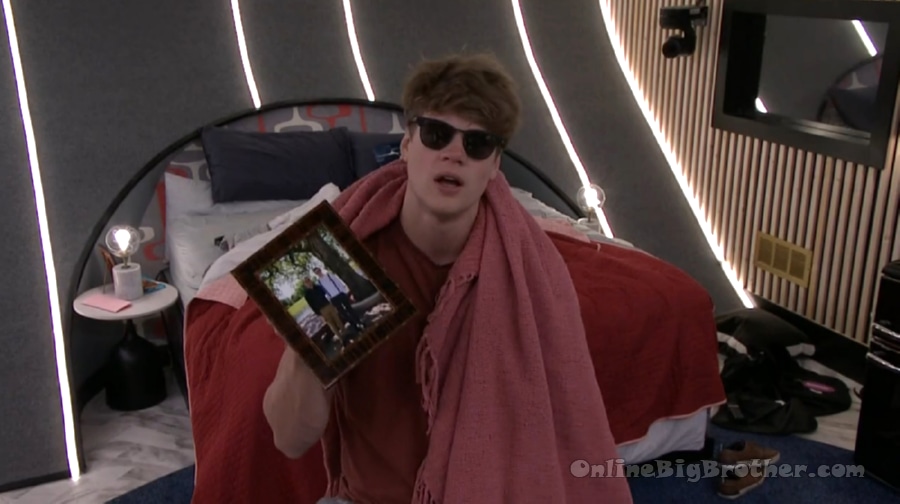 "Look at Michael and Hayden I just want to be happy and find freaking a girl like this freaking Alyssa.. Look how happy they are.. (BIG SIGH) maybe one day
Now he dances… "I feel better"