Quick Big Brother Spoilers
Head of Household:  Michael
Nominees: Terrance, Monte & Joseph
POV Players:
POV Winner:
Veto Ceremony:
Havenots:  None so far
Lock your ranks in before midnight
Festie Besties:
Turner & Jasmine
Joe & Monte & Terrance
Daniel & Kyle
Brittany & Michael
Alyssa & Indy & Taylor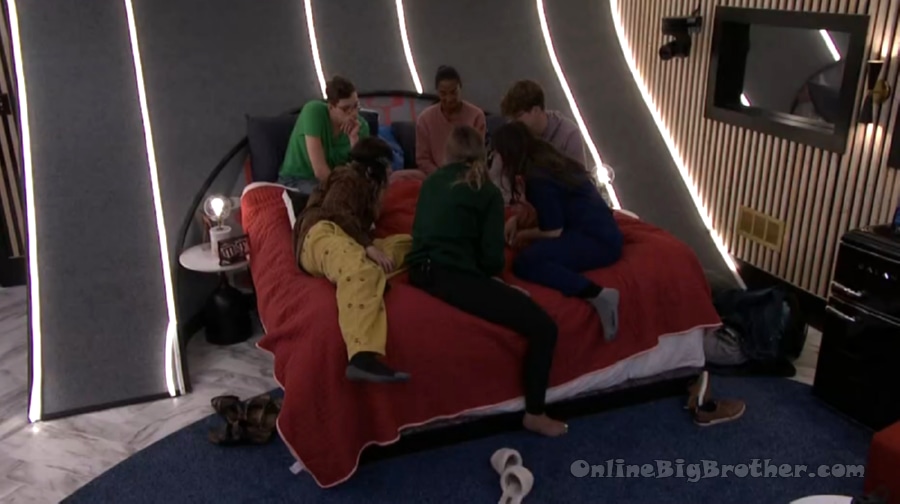 10:00 pm – 11:00 pm Chinese Checkers
11:06 am
Jasmine takes off her boot and gobbles down some chips before bed. starts choking
Taylor – Are you ok?
Jasmine – yeah.. I should be standing up eating these anyways..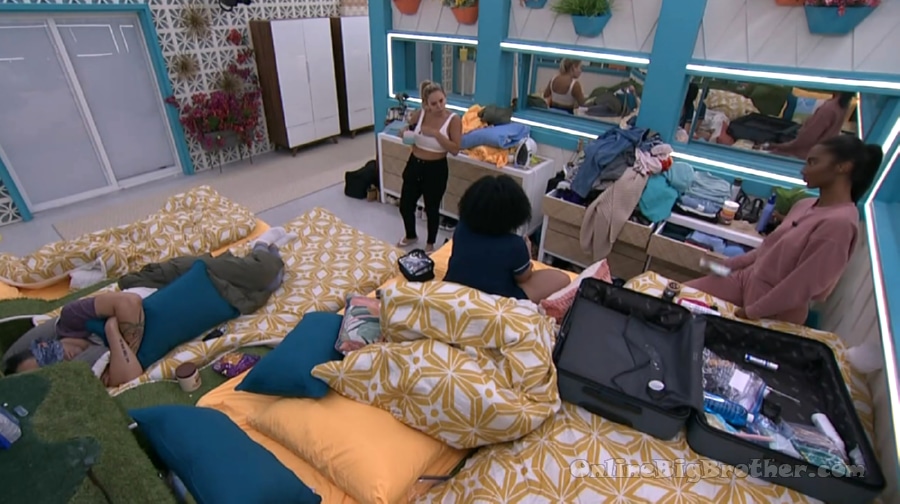 11:17 pm cam 2 Taylor unpacking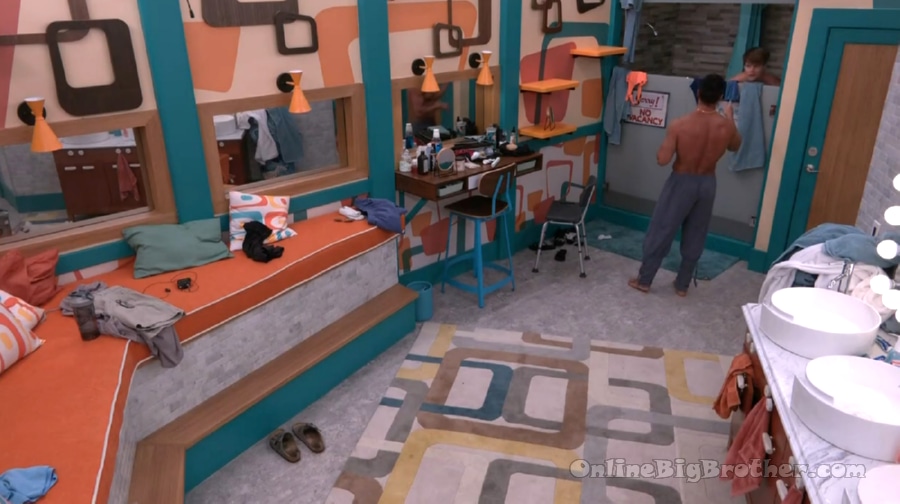 11:58 pm Joe and Kyle (hard to hear from the shower running)
Kyle – there is no way you are staying on the block what are you stressing about?
They are laughing
Joe – if Daniel leaves this week the only threats are Alyssa, Indy, and Jasmine and I, and Monte for sure can keep JAsmine and indy from putting up two leftovers. Alyssa is the only one I can't tell. Not saying she would.
Kyle – I don't know what she will do she's not with the girls anymore.
joe thinks next week is double eviction. "they can't do it with festie bestie going one"
Joe says the twist ends this week then next week is a double.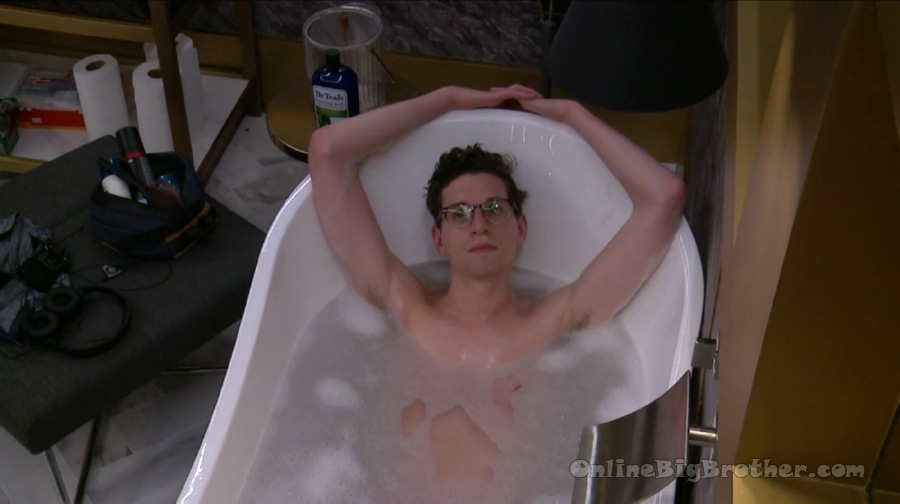 12:26 am Michael alone in the tub
Muttering about past seasons of Big Brother "I like SarahBeth.. In season 20 I liked Tyler, Kasey, and Scottie.. Haleigh. I liked Rockstar" (Sh!tstar?)
"Season 15 I liked McCrae and Amanda together" Starts talking about Big Brother Canada. Says he loves Garry from Season one, Thinks Suzzette is "ICONIC"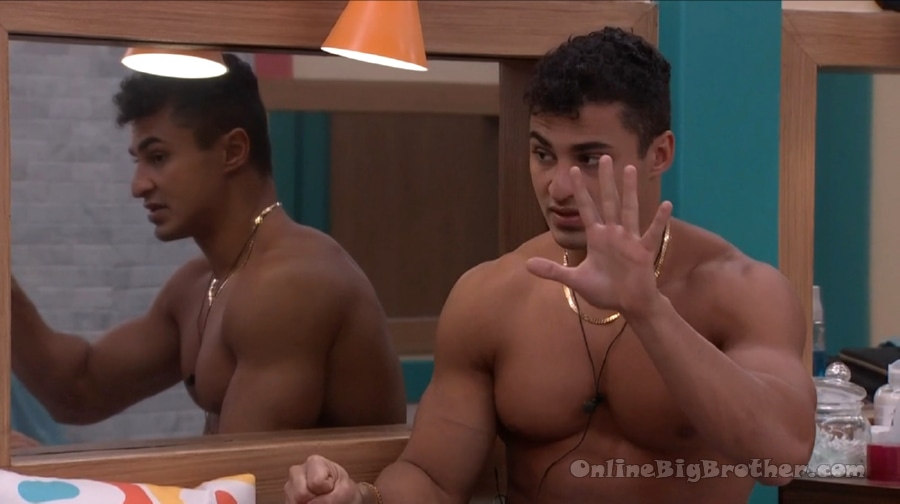 12:28 am Joe, Taylor and Turner
Taylor is sharing a story about meeting JA RULE at the craps table in vegas. "Nice young man"
Taylor – good luck tomorrow in the veto.
Taylor – good luck If I am playing
Turner – good luck if I'm playing
Joe – Michael only pulls one chip tomorrow
Taylor – what if he wins tomorrow then HOH (Daniel)
Turner – ohh f***
Joe – he blames Nicole leaving on Monte
Turner – there's a 5% chance of that happening.
Taylor – he would be crazy to target me again. It would be funny. I do want to have a conversation with him so if Doomsday happens he can't say 'I was alone, I am a lone wolf'
Joe – I've been talking to him too we've been hanging out acting normal he doesn't trust Taylor, doesn't trust me doesn't trust anyone. He's like ohh you are part of a big alliance I don't have numbers I can't do anything. Indy confirmed with me that he's been pushing that around.
Joe – she doesn't tell me she believes it. Everyone knows Michael put us up to win the veto.
Joe – if Daniel goes up again I feel he'll have another emotional outburst
Joe – if he's not selected and doesn't win it he's not going to take it well
Taylor – Brittany really thinks he won't have a job
Joe – really?
Taylor – really .. I don't think so
Joe – depends on how they portray everything that is going on.
Joe – he's a decent guy .. He feels then acts which isn't always a good thing
Joe – he's 100% sure that you (turner), Michael, Brittany, and Taylor are a thing.. he's 100% sure. Indy told me.
Joe says once he and Kyle started pushing let's get Nicole out the rest of the house started flipping from getting Taylor out to getting Nicole.
Joe says he was closest to Ameerah and it broke his heart seeing her go.
Turner says he's close to Alyssa it'll be hard to have to vote her out "it's a bullet to bite"
Joe – the worst thing is if Daniel wins (Veto) Kyle will need to override it and be like.. if Daniel is not using it and we stay up Terrance would go home which would leave Monte and I open. I think if Daniel were to win HOH he backdoors Monte and I for sure.
Joe – we need Terrance here 100%
Turner – or maybe Terrance goes home.. I don't know if I'm biased I get annoyed by Jasmine
They laugh
Turner says Jasmine's birthday is next week.
Joe asks if there's is a chance "the girl with a BOOT can win HOH and take control"
Turner – she already won a HOH with the boot there's a 100% chance it happens.
Joe – Terrance has a higher chance to win HOH than Jasmine. Even though Terrance hasn't won one.
Joe says Jasmine and Terrance "cancel out" Terrance on competition threat and Jasmine on Social threat.
Joe – they are low threats. Terrance lies to me all the time it's wild
Taylor – Jasmine, her birthday is Wednesday..
Turner – the 17th NEXT Wednesday. If she goes home next week she's in jury if she goes this week she's out of jury.
Turner – living with Jasmien for the next two months would be a living hell
Joe – I love Indy but it's in doses.. I have a lot of patience that is one thing but the come here.. clean this da da da da ..
Taylor – it's like shes your nanny
Joe – I can take her on doses if I can could up drive away I would
Joe – you think I'm close with Indy but I would rather live with Alyssa for sure.
Joe – if indy played as good as Alyssa maybe she would be next I dunno
Turner says a jury vote coming from Alyssa would be more reliable than from Jasmine, 'If you did anything she would never vote for you'
Joe – what scares me are the people that are smart enough to hide that they know what is going on. They will take a shot at us before. The lowest chance of someone doing that would be Indy.
Joe – the problem is if it's only Indy and jasmine left and if Indy wins HOH I don't think she would put up Jasmine
Joe – Alyssa knows what is going on from all the points. Terrance is very familiar with what is going on. jasmine knows.. they all are. but as far as taking action it would be Daniel first, Alyssa, then Indy and JAsmine tied.. maybe Jasmine before Indy.
Joe – hopefully, it's Daniel this week then the rest of them go to Jury and we call it a day.
Joe says that Indy and Jasmine won't vote for him in the finals "They will feel too betrayed"
Taylor says Indy will be hot at first but after two months in Jury she'll come back to her relationship with Joe.
Joe says if Taylor, Indy, and Alyssa go up this week they have 7 votes this week distributed among 3 people. They just have to lock four votes to take out Alyssa.
Joe – all five of us vote out Alyssa to ensure your safety. Let the other two votes be scattered.
Taylor – At least we can promise my safety
Joe goes on that Monte will be targeting MOnte "he thinks you (Taylor) and MOnte are running things behind the scenes"
Joe laughs what if Daniel uses the veto and Alyssa, Indy, and Taylor go up then they send Alyssa out.
Turner – that would be so good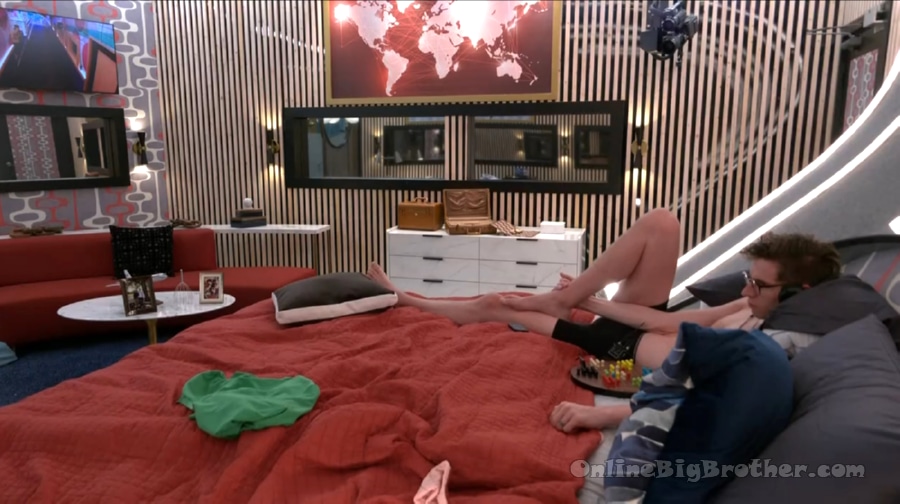 1:00 am Strategy time with the Checkers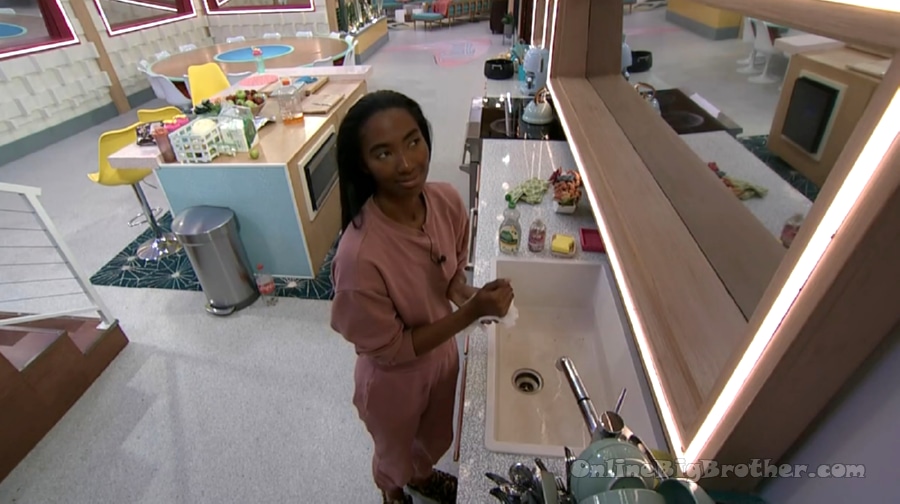 1:29 am Taylor alone
"Low Key, I'm kinda rooting for Daniel to win the veto so I can take him out myself later in the game"
"If I play and win the veto.. how serendipitous we'll see what happens tomorrow.. good night."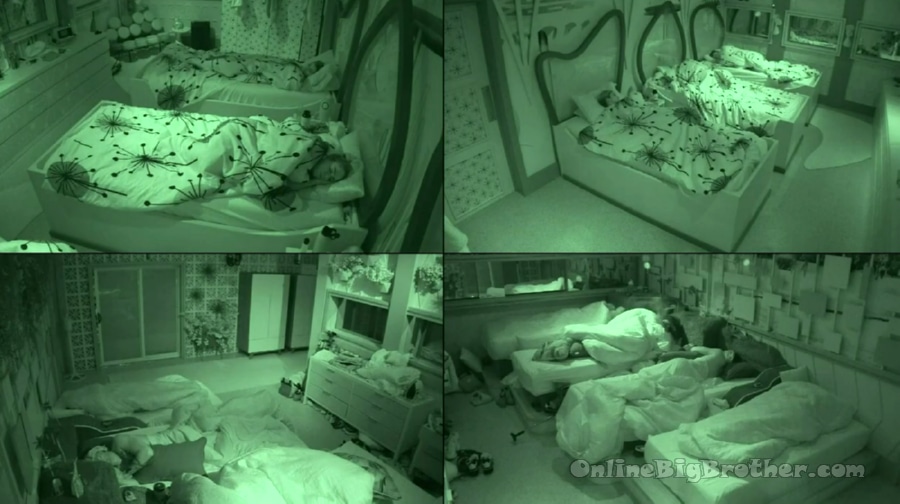 1:37 am Zzzzzzzzz (WOW early bedtime)