Quick Big Brother Spoilers
Head of Household:  Michael
Nominees: Terrance, Monte & Joseph
POV Players: Terrance, Monte, Joe, Brittany, Michael Jasmine, Turner Taylor is hosting
POV Winner:
Veto Ceremony:
Havenots:  None so far
Lock your ranks in before midnight
Festie Besties:
Turner & Jasmine
Joe & Monte & Terrance
Daniel & Kyle
Brittany & Michael
Alyssa & Indy & Taylor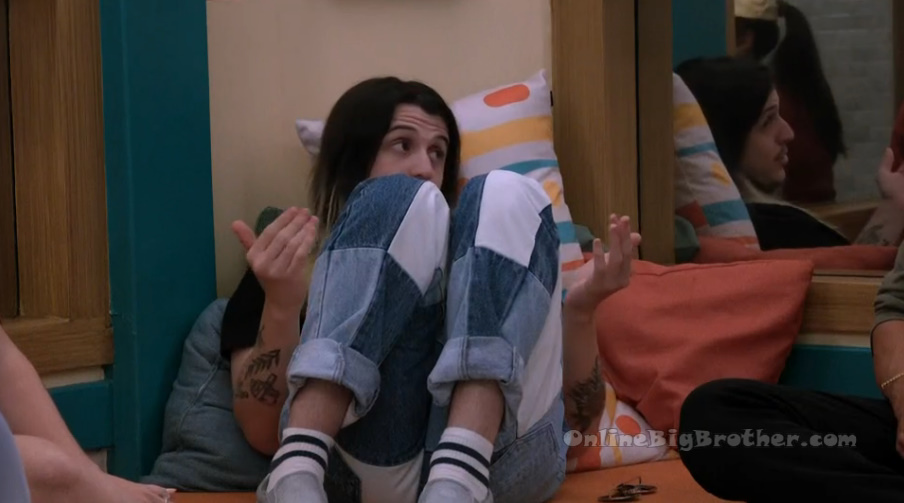 11:40am Bathroom – Turner, Joseph Michael & Brittany.
Joseph – Michael/Brittany if you guys win the veto.. Like are you guys gunning for it obviously? Its like you (Michael & Brittany) and Jasmine… Turner – the good thing is that everyone is our alliance is playing. Michael – yeah. Turner – Like that is frikin' awesome! Michael – just go out there and have fun. Turner – yeah. Joseph – I am hoping us three (Terrance, Monte and Joseph) win it because that would make the most sense… the only awkward thing is if you guys win it. Michael – yeah, it might be where we don't get to see each others progress so if it happens it happens … it is what it is. When I was swirling the chips (veto player chips) around I was like I know I'm going to pull his (Daniel's). Joseph – I was thinking that too.
12:30pm Outside the HOH room – Brittany and Michael.
Michael – how are you feeling about the veto? Brittany – Are we winning it or not? Michael – that's what I wanted to ask you too. I don't really care but I am not just going to throw it. Brittany – I am thinking no. Michael – I mean we will see what it is. I don't want to obviously throw it but if its something where we can. If the guys (Terrance, Joseph & Monte) win it they'll pull themselves down. If Turner & Jasmine win it and don't use it, its not the end of the world. That is fine too. Brittany – I think he would. Michael – I think he would too but if he decides he doesn't want to … that's fine too. Is there any world where we would not want them to use it? Brittany – I think it would be to get Terrance out. Michael – do we want the choice? Brittany – oh yeah if we win it. That's a lot of blood on our hands. Michael – I mean even if we win we don't have to use it. Or we don't have to not use it. Its just nice to have the option because I don't know a lot can change in 24 hours. I think we should go for it because if we're backdooring Daniel everyone knows that's the plan and if not at least we've built some trust and repour within the alliance to be like we followed through. We could have left you up there and we didn't. Brittany – that's true. I mean its not like a must win situation but.. I think this is a good way to build trust. Michael – yeah. At least we try, if we get it, we get it. Indy joins them and the conversation ends. Michael leaves. Brittany – this will be a good week. Indy – Amen! I am so glad. But I am already worried who is next. Brittany – I know. I have no idea who is next.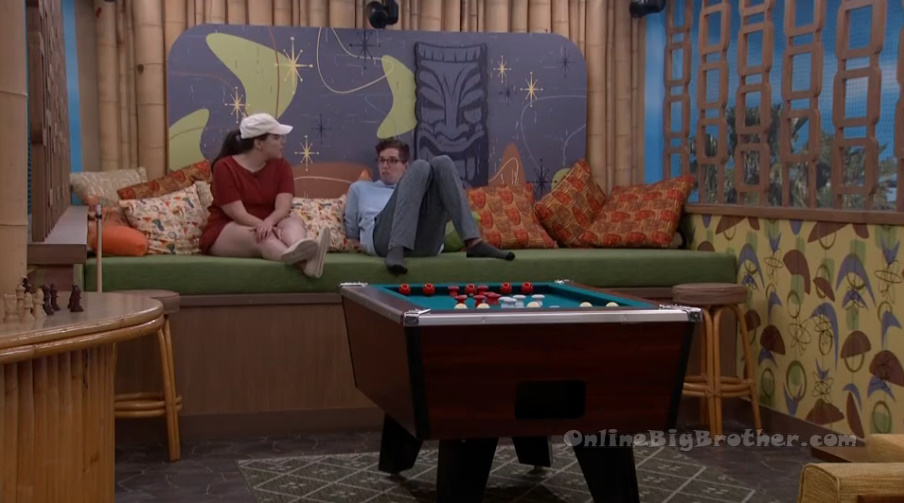 12:53pm – 1:43pm HOH room – Brittany & Michael.
Brittany – this is something I was thinking .. in the veto Jasmine is probably going to get out first so she is going to get the veto (steal a veto comp). I know all of us are comfortable and stuff but could there be a situation where there is only one veto? Where only that person of the Bestie pair can decide to use it. Michael – yeah we don't know. Hopefully we'll know if that's the case. Hopefully we will know when she pulls it out and it says its a solo veto. Brittany – if that's the case we just can't have her or Terrance win it. Michael – I think its just good that if say Jasmine and Turner win it, I didn't want to put them up anyway. Brittany – no. Last night Alyssa said that she really likes you and I. Michael – okay that is good because I've talked to her and shes said that but when I've initiated the conversation. So its good that she came up to you and prompted that. Brittany – I could tell that, the past couple of days she's been really trying and I've been getting a long with her. And the other thing she said was she liked the whole group playing Chinese Checkers last night and I was thinking well the whole group is together just not you. Michael – If we stay as Festie Bestie's and she doesn't put us up that is huge because then we only have to worry about Indy and Jasmine next week. Kyle joins them. Michael – talking about the veto, do we want to win? / do we not want to win? .. and I want to win. At least it gives us options. Kyle – say best case scenario seven of us get to final 7 where do you guys think the pecking order would be? Michael – I mean I think I kind of see how it would divide a bit… like Monte and Joseph would be close duo.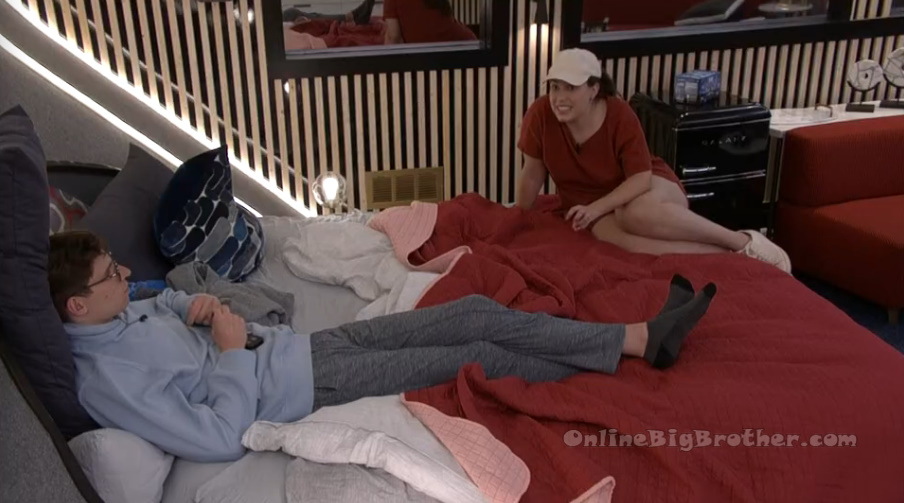 Kyle – I just don't know where Taylor falls. Brittany – I think she would be more on our side. Michael – the only thing that scares me … like he (Daniel) has said he is not winning the game ..like if you don't think you're winning .. you're like well I am going down anyway. What is stopping him, like you know what would be good tv, he could be like Michael.. I've got his back and then next week he backdoors me. Brittany – and he is our most immediate threat. Michael – if he was like here is how I could help your game but like Brittany was saying if he isn't even having those conversations when we have power.. Brittany – he isn't going to hold to them when we don't (have power). Michael – that has been my issue with Daniel this whole game. Any conversation we've had, I've had to initiate with him. Kyle and Brittany – same. Kyle – I am so worried that I am portrayed as the biggest douche bag. Brittany – Kyle if there is anyone in the house that is not portrayed that way .. it is you. Kyle – well I just think of the first two weeks where Alyssa kind of fell for me hard, way harder than I fell for her. And then shared all that information which resulted in Ameerah going, Nicole going.. like that side of the house getting annihilated. Brittany – that is all due to her. Kyle – I know but I have feelings for her and want to work with her. Brittany – you made it really clear you didn't want a showmance. Kyle leaves. Brittany – I find it funny that we have Kyle and Taylor saying this… like why would anyone want to go to final three with us? Like wouldn't they know they're third? Michael – you would think?! Brittany – like I am all for it but I think its just funny. Its just who wants to go to final 3 with a very obvious pair? Michael – unless they think they can beat us. Brittany – true. Michael – which we just have to study and know our stuff.
2:10pm Showmancing and bumper pool.. while the HG's wait for the veto to start.

2:40pm Bedroom – Daniel talking to the cameras and then joined by Terrance.
Daniel – I want to stay. I want to win HOH and get pandora's box! That's it, I want a battle back! I want Nicole back in here. I need Michael to win the veto today. For two reasons, to convince him to keep the nominations the same … it would be a huge move as a superfan.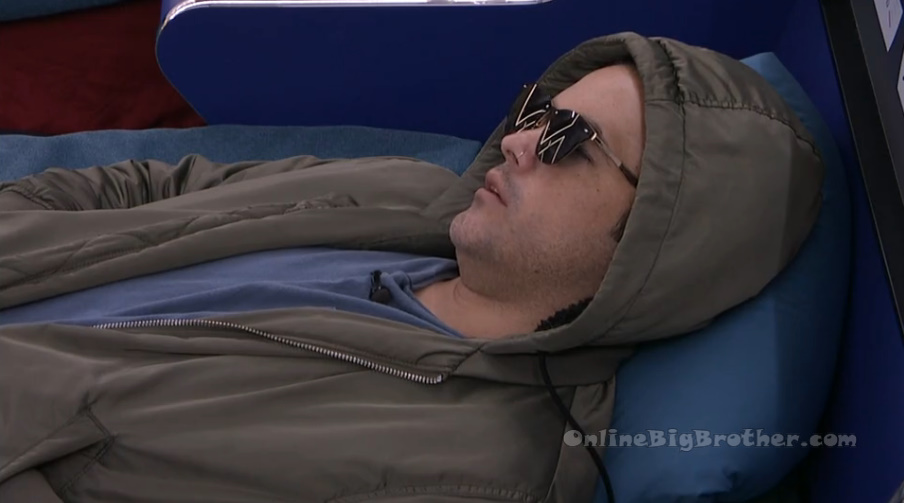 3:01pm The feeds switch to the kitty cams for the power of veto competition..
5:16pm The feeds are still blocked..