Head of Household Winner – Cody
Have nots – Ian, Kevin, Memphis, Nicole A
Nominations -?
Power of Veto Players are -?
Power of Veto holder -?
Power of Veto Ceremony -?
Live feeds —-> Grab your Live feeds here. Try it free.
Rank the houseguests —-> Big Brother 22 Ranking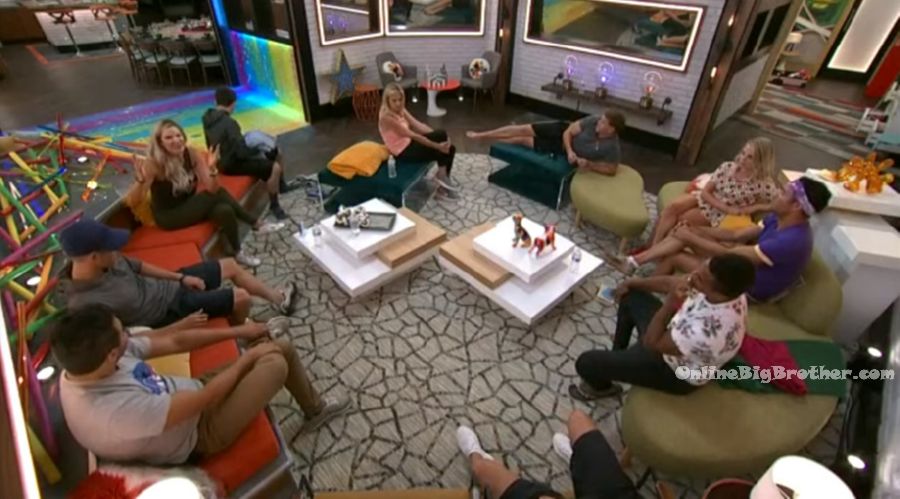 11pm The Big Brother 22 All-Star live feeds turn on!!!
Most of the house guests are sitting around the living room chatting.
Janelle – who are you happy to not be here? Tyler – no one. Who are you happy to not be here? Dan? Janelle – no we're friends. He called me before coming here and told me I had to do it.
Cody talks about not having alcohol in sequester but wished he did. He says that on his season he blacked out after drinking 5 beers. He said he woke up the next morning and was like never again. This was the longest I've gone without a drink.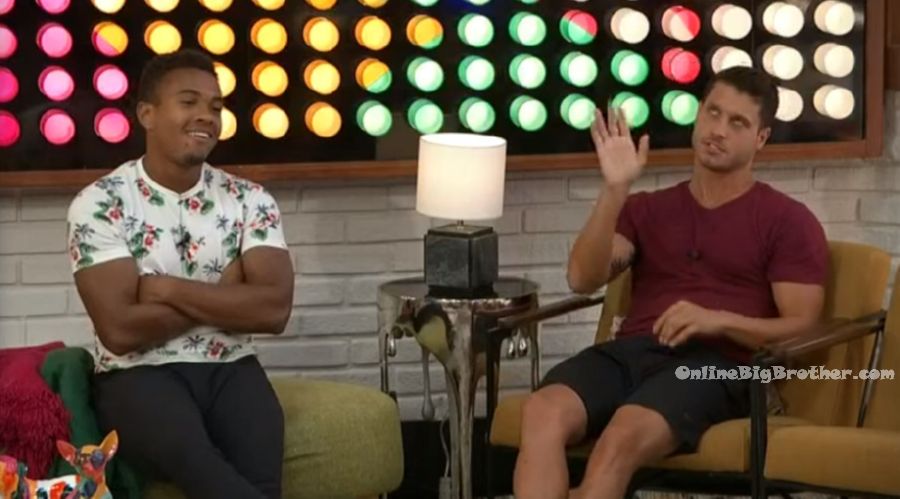 Bedroom – Christmas, Nicole, Daniele, Da'Vonne. Da'Vonne tells Daniele that she already saw ants in the bathroom. Christmas, Nicole leave. Daniele – who do you not like? Da'Vonne – Nobody. I was very shocked by that. I was expecting to hate a lot of people but like nobody. Nobody. Daniele – yeah everyone seems really nice which is worrisome too. Da'Vonne – yeah because when the table shakes .. they don't shake! They are going to shake! Bay and Nicole A join them again.
11:25pm – 11:40pm In the bedroom. Kevin, Daniele, DaVonne, Bay, Enzo. DaVonne – how was it playing with Chima, Kevin? Kevin – She's amazing. She's a strong woman. Janelle joins them. Kevin – we're talking about people kicked off the show. DaVonne – I would have loved to be a fly on the wall just for that week. Kevin – she didn't throw it (her mic) in the pool .. she threw it on the grass and it bounced. Kevin – There was a player that was actually racist .. he called me a racial slur on the show.. Like not even suggesting. He called me a racial slur to my face. Janelle – I remember that .. the surfer guy right? Kevin – yeah. He told me to go back to whatever country I came from. So me and Chima were like oh hell no!! Daniele – how do you get into that like week one?! Especially with you? Like?! What did you do to upset him? Janelle – didn't he leave week one!? Kevin – yeah? And she didn't take it well. She wanted to do a speech like there are racists and misogamist and then she took in a way that she spiraled. And I was like nope! Not going to catch me. Keep moving .. I just kept moving. She just kept thinking it was rigged. I was just glad this time they did that bias training.. DaVonne – they went DEEP! Kevin – the sexual harassment thing was good too. Good job Big Brother.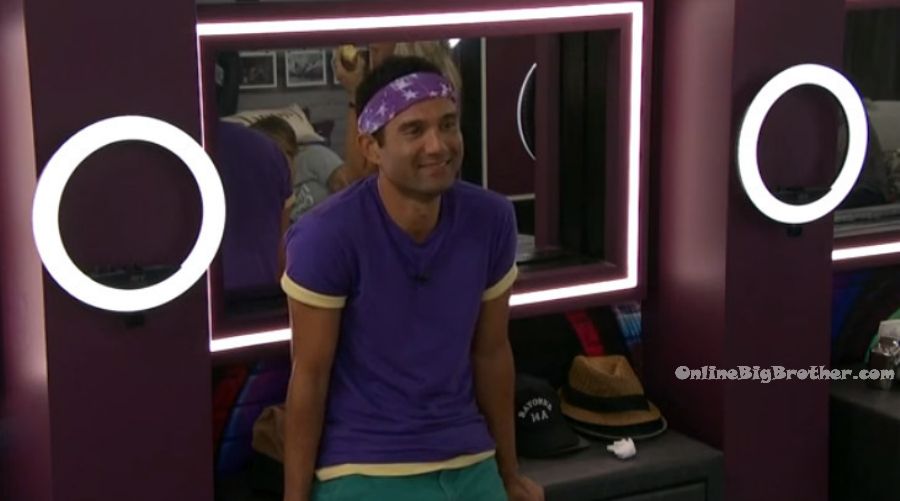 11:50pm Bedroom – Christmas is talking about her wervice in the military.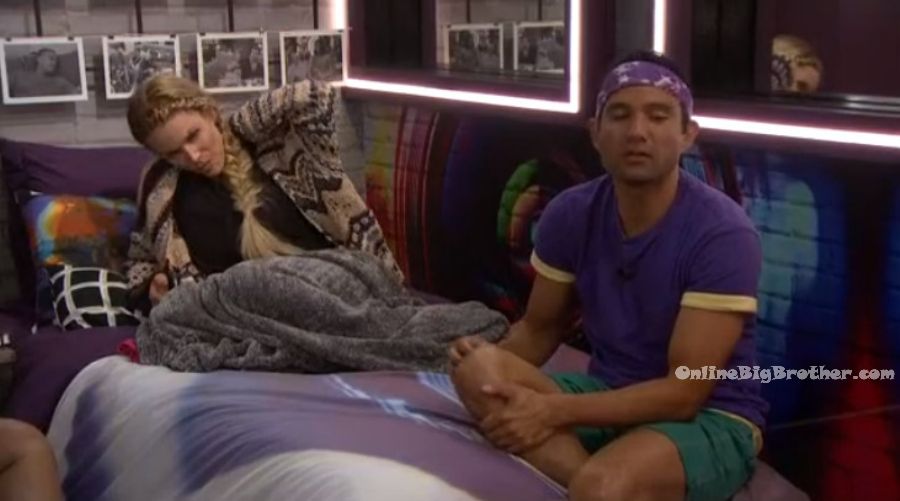 11:53pm Storage room. Kaysar and Nicole A.
The cameras switch mid conversation. Nicole – that really means a lot coming from you. Kaysar – what really irritated me and pissed me off was when you were telling the truth and trying to set the record straight and they were just absolutely mean to you. And at the end of the day I'm a nerd at heart.. just trapped in this body. I just don't appreciate people treating people that way. Nicole – Kevin was asking me why didn't I defend myself. And I was like its different than in the real world. Kaysar – its a mob mentality. Everyone feels like they're on the side of the right. And its okay when you're in a group to treat someone poorly. Its just not okay. And you handled yourself so well. Nicole – thank you. That means a lot coming from you. Kaysar – you have such a trusting demeanor. Nicole – and so do you. Kaysar – I appreciate it. I've been told I was too trusting. Nicole – I am what I am. I can't be a puppet master. I like you so much. Kaysar – the feeling is mutual. They hug.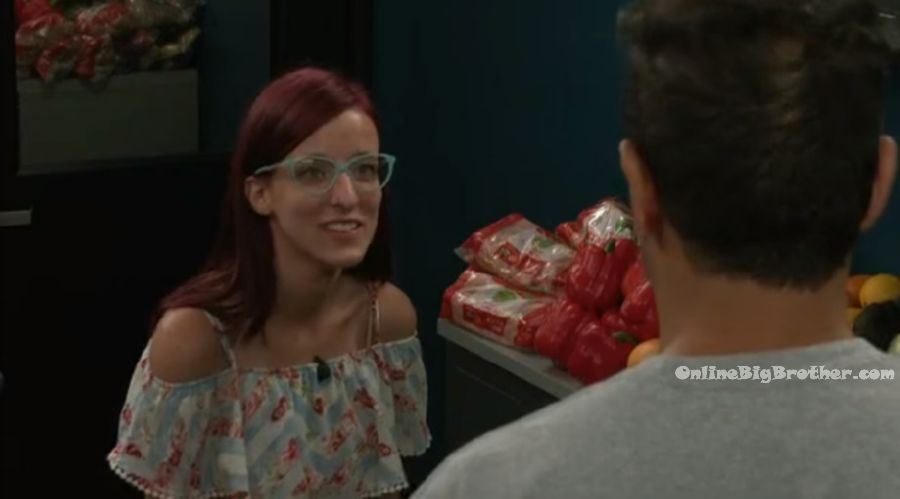 12:08am – 12:20pm Nicole F. and Daniele talking about going into sequester. They both agree it was so hard. Daniele says that Dom taught their daughter to say love you mama. She says when she heard it she just balled. Nicole says that she watched two episodes from her season and wanted to barf. I was disgusted. I opened my mouth when I shouldn't have. I needed to watch the turning point in my game and see who I got out of that. They talk about how its good they're both in different rooms. Daniele – everyone is fangirling over her (Janelle) and Kaysar. They agree they like Keesha. Daniele – are you cool with Cody? Nicole – yeah. Daniele – he seems really nice. I've never talked to him before. Nicole – I've got to make sure we're cool but.. Daniele – I just didn't want Nicole A. to get it (HOH) .. she's the only one I didn't want to get it. Nicole – me neither! Daniele – she wanted me to be on her pod cast and I ghosted her. Nicole – me too!! I didn't even open the DM. Daniele – I did and then ghosted her. And David is here? I was really confused by that! Nicole agrees. Nicole – I am glad I am not HOH. Like who is he going to put up? Daniele – I know because the people I would put up are not here. Nicole – I had it planned.. I had a speech planned. Daniele – that's aggressive. Nicole – I thought Josh was supposed to be in here for Christmas.. Big Brother cuts the feeds.
12:40am – 12:50am Cody comes out of the diary room "Who wants to see my HOH room!!!?" All the house guest head up to the HOH room. Cody can't seem to get the key to work. DaVonne – are you sure you live here? He finally gets it and they head inside. They all check out his room and basket. Nicole – man there's no fish in here either?! I guess there's no fish this season. I guess they couldn't go to the fish store.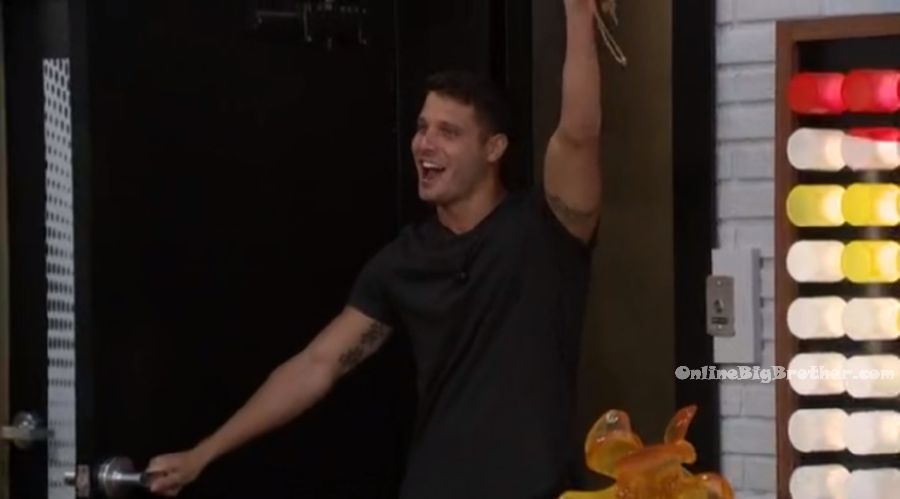 1am HOH room. Most of the house guests are sitting around in the HOH room chatting. They talk about their experience coming out of the house on their past seasons. Memphis talked about how paranoid he was thinking people were following him or filming him. Enzo says the first night out of the house with his wife in the hotel room was "just weird!" Memphis – you never recovered from that one. (because he and his wife divorced after.)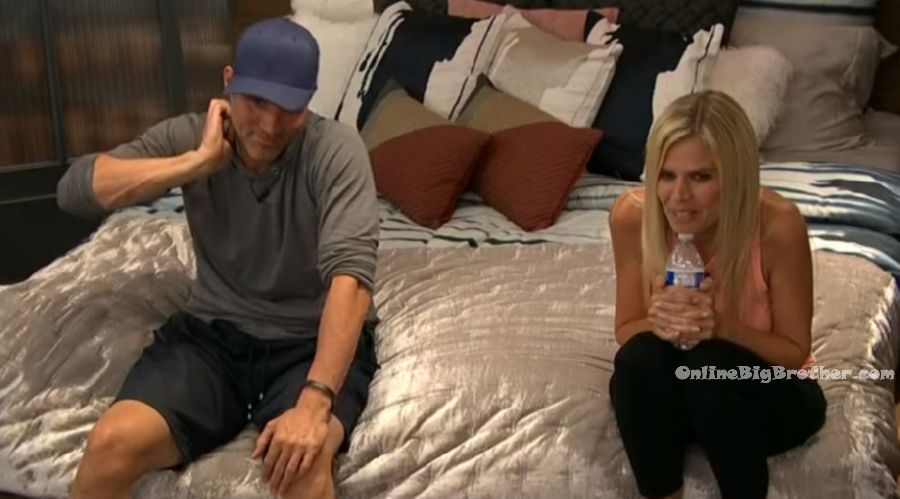 1:23am Janelle, Ian, Kaysar and David are talking about past house guests. Ian says that
2:20am Janelle and Memphis are talking. Memphis – what are you thinking? Janelle – Don't know. Memphis – I think everything this week just needs to shake out. Janelle – yeah. Memphis – I feel like every time someone pulls the trigger ..its like see ya! I don't know about Cody. Like he is going to want to find someone next week knowing that he can't compete. Janelle -right. Memphis – there might be some leverage there. Memphis – I don't know. I can't believe we're back in this house!
2:25am Bedroom. Janelle and Kaysar.
Janelle – what do you think will happen? Kaysar – with noms? Janelle – yeah. Kaysar – I don't know but I am trying to play a better social game this time. Janelle – I think its me. I just have a bad feeling. Kaysar – is anyone going up there talking game? Janelle – In Cody's HOH room? No. Kaysar – Everyone is just pretending everything is fine? Janelle – yes. Kaysar – noms are tomorrow? Janelle – they are? Oh I don't know. Kaysar – I am guessing because we are going into straight one week ..into eviction. You've got to talk to him. Janelle – Yeah I know. I feel like he is going to want to work with someone strong because he is going to want to be protected next week because he can't play obviously.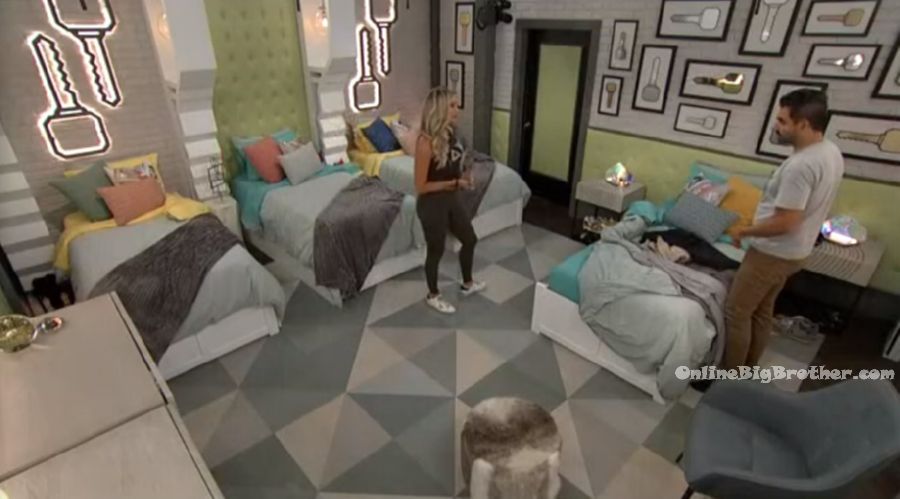 3:15am HOH room. Cody and Tyler. Cody – you know I got you. Tyler – when I walked in I was like yo lets go dude! Cody – I wanted no part of this first HOH …and then I walked out and the people that were lined up .. I dunno bro I can't trust this stuff. Tyler – I know man. Cody – when I saw the people lined up I was like I am not going to end up going up on the block the first week. Tyler – no its good man. You're going to get everyone's stories pitching to you. Cody – but I am more laid back. I am not the one that is going to initiate the convos. That's why I just wanted to see who is talking. Who is hanging around here. Who is not trying to make my job as easy as it can be this first week and don't come and talk .. I have no problem. I just wanted you to know. I wanted to say something to you in this storage room. Tyler – okay thanks! Tyler leaves. Cody – lets go!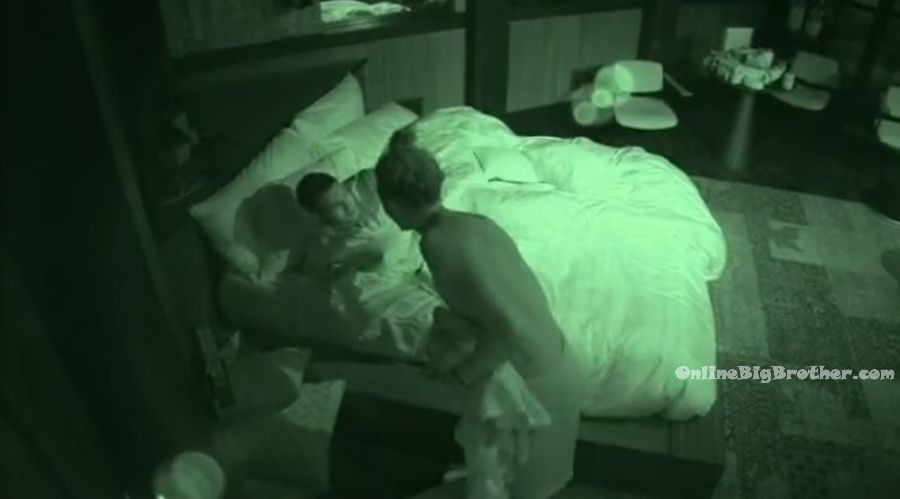 3:35am Most of the house guests are in bed or getting ready for bed..

3:53am Havenot room.
4am All the all stars are sleeping..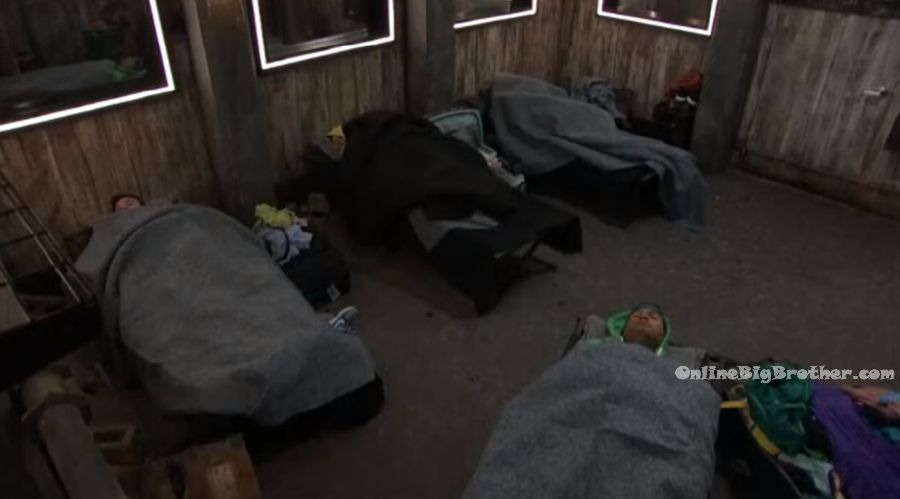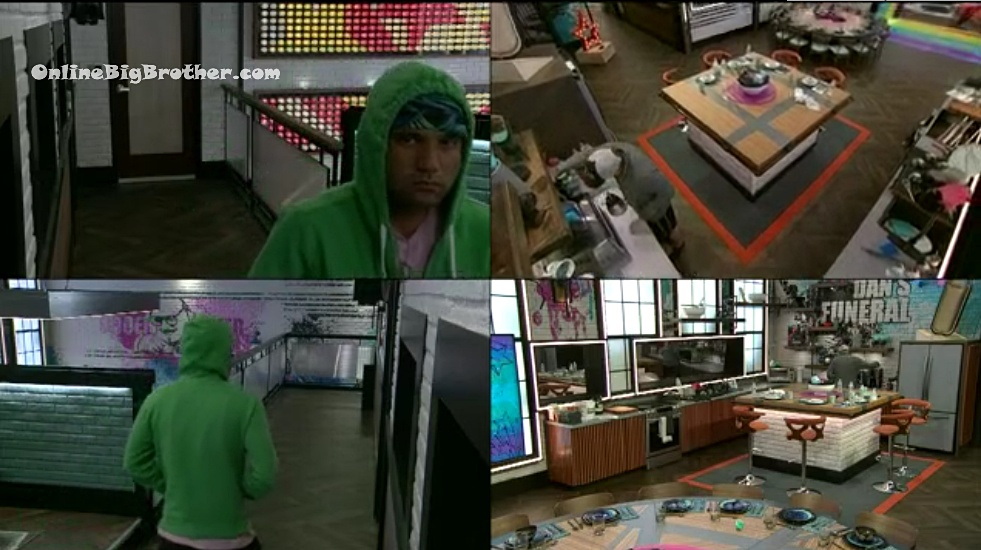 7:08 am – 8:40 Memphis and Kevin look to be the first two up.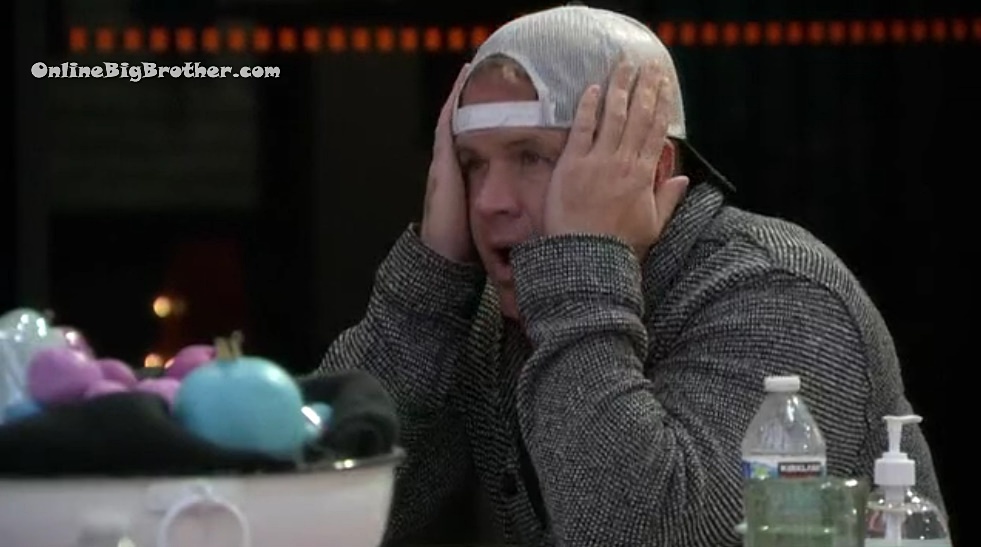 Just chit chat between Memphis and Kevin for the first hour.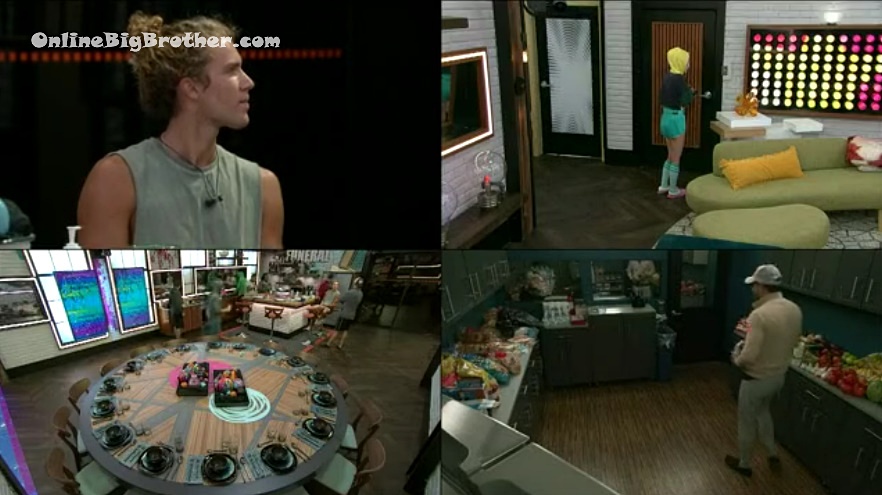 9:00 am wake up!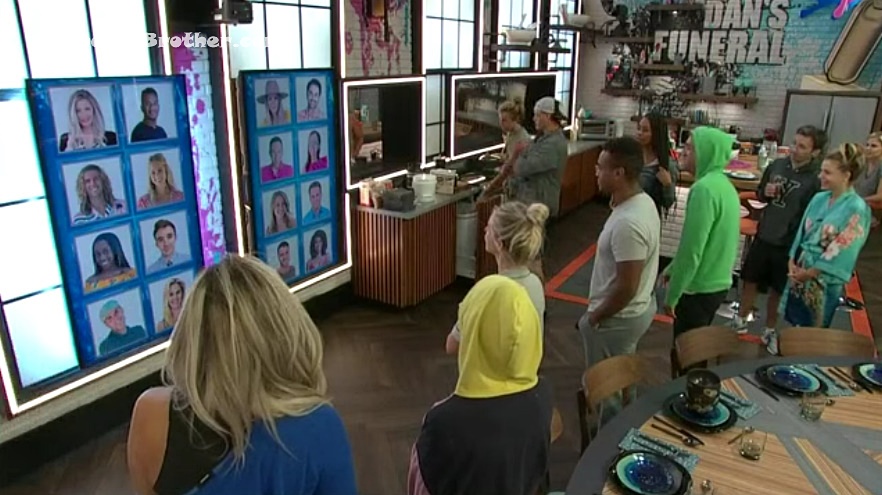 Memory wall