Head of Household Winner – Tommy
Have note are: No Have nots this week, Jack, Tommy and Jackson were given punishments as part of the veto.
Nominations are: Cliff, Kat & Christie
Power of Veto Players are –
Power of Veto holder –
Power of Veto Ceremony –
Powers in the game *** LINK ***
Grab your live feeds —-> BB21 Live Feeds Subscription Link
Rank your houseguests —-> Big Brother 21 Ranking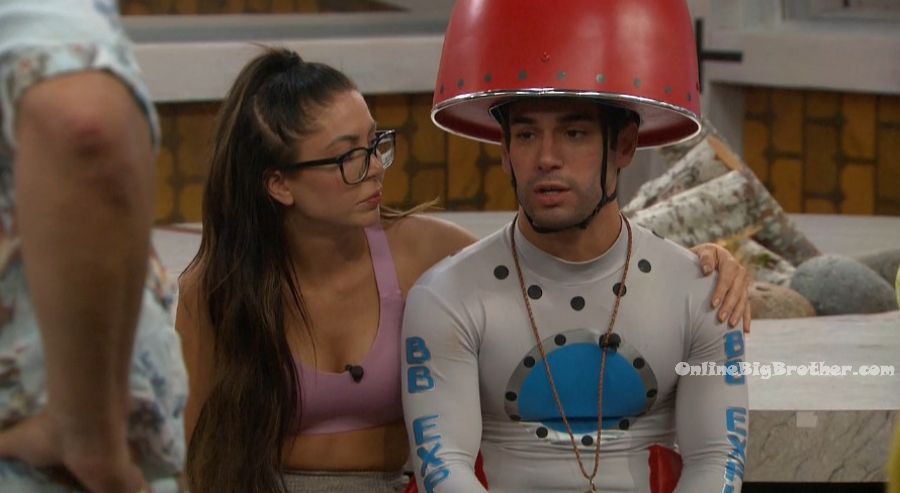 5:07pm – 6:33pm Big Brother blocks the feeds for the nomination ceremony. When the feeds return all the house guests are in the living room.
Tommy has Nominated: Cliff & Kat
Christie is also nominated from field trip.
Tommy to Cliff – I am so sorry. Cliff – you know, nothing changes what we've got. We're playing a game. Like I told you beforehand we're good. If I go out the door on Thursday, you and I are still tight buds. I don't take the game as a personal thing at all. Tommy – good. Cliff – I'll play, if I win, that's good. If I don't whatever, we're buddies right? Tommy – yes. Cliff – no we're coll Tommy.
Holly to Tommy & Cliff – I am just kind of embarrassed by her response. Jack – that was classic Kat. "Its alright. I'm just on my period." Nick – I didn't know what to do when she started crying. I gave her a pat on the back. Cliff – there's not much you can to, just give her some time. When my daughters cry its not because they want me to fix something .. they just want someone to listen to them vent a little bit. Its a stressful game.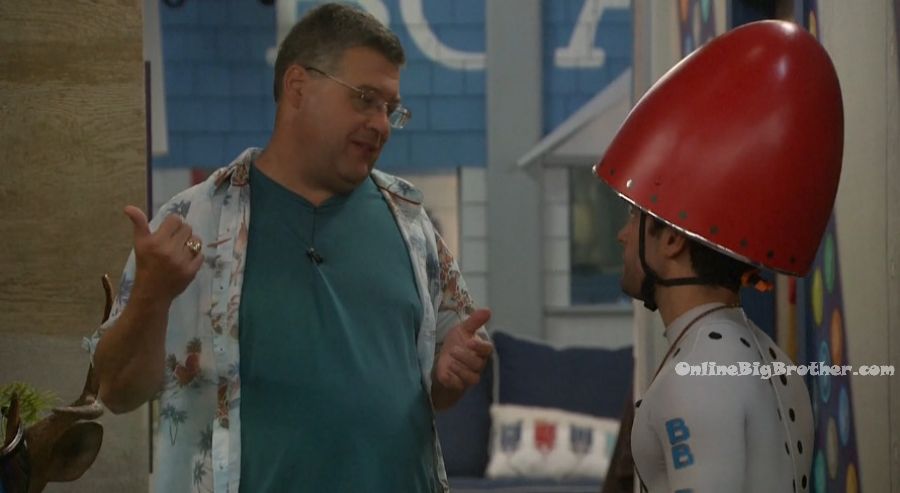 Boat room. Kat is crying to Jackson and Jess. Jackson – if I hadn't won today I would be right up there with you. There's still the veto and there are 3 nominees. You went from a 50/50 to 33% chance. As long as Christie is up there that takes her vote away.. where she would have voted. Kat – if Christie comes off I don't want to be up there against Cliff. I don't want to campaign against Cliff. Jess – you don't have to campaign against him. Michie didn't campaign against Jack. Kat – I don't want to be up there against Cliff. Jackson – we will cross that bridge when we get there. If you want me to play in the veto I will for you. Kat – thank you. Jackson – I don't want you to go home. Kat – I think I have PTSD from it.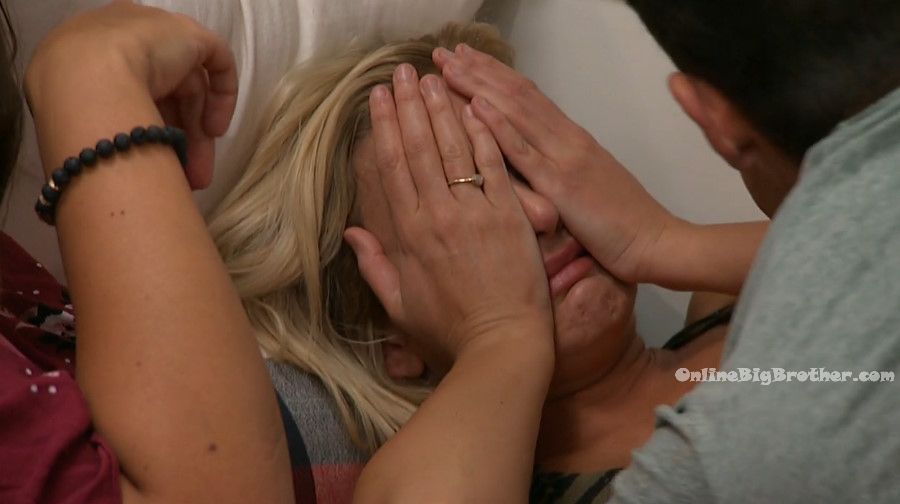 Cliff joins Kat and Jess in the boat room. Cliff – I hurt when you hurt. Kat – I am embarrassed that I cried. Cliff – its okay, its a game. Kat – I hated seeing my picture up there next to yours. Cliff – everyone understands. That's what makes you kat. You're full of passion and emotion. Kat – I don't really want to be up on the block next to you. Cliff – there are three people up on the block.. we've got two chances to win the veto. Worst case, its just a game. I am not sure what Tommy would do if he won (veto). Jess – I think she would take Christie off. Cliff – maybe it depends on how tricky he wants to be. If we're still up there I will probably go. Kat – I don't want you to go. Cliff – everyone but two of us will go. Jess – no more crying, no more taking game until the veto is played. Kat – I am sorry I cried. Cliff leaves. Nicole joins them. Kat – I just don't know who Tommy's target is.. me or Cliff. I am sorry that I cried during the nomination ceremony… I'm embarrassed. Nicole – its okay. One step at a time. Kat – I just don't want to go to the jury house with Jack. That would suck. Christie joins them and hugs Kat.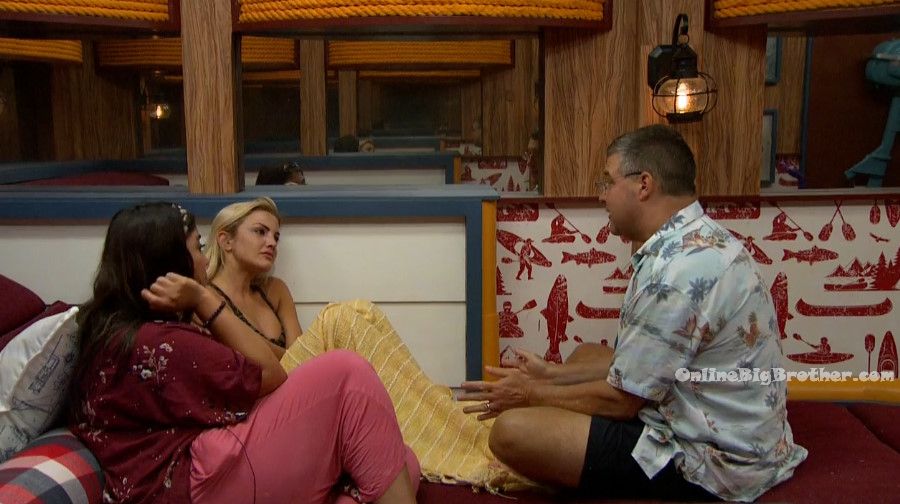 6:59pm Bedroom. Christie starts crying – this just sucks .. like why does there have to be 3 nominations.. that's not fair!!! Nick – it could have been like vote for your favorite house guest to get safety. Christie – Its just f**ked up! I am sorry. I don't want to be the victim. Nick – its okay, its not like you're up because of something you did this week. Christie – With Tommy HOH I was like .. this is a week that I won't have to worry … and it was out of my game play and out of my control and it just sucks. One of the reasons I decided to keep Jack is I just believe in karma and I believe in when you stay true to yourself the universe or god rewards that and has your back in return. .. and I am just like pissed at that .. like why do I even believe in it .. Cliff – you don't know that you won't still be rewarded. Paths are interesting and rewards you get aren't always the ones you expect. It means the success story becomes that much sweeter.. Christie – you're right.
Christie – and I feel terrible for you and Kat too. Cliff – there are only going to be two of us at the end… and the rest of us will be hugging and laughing. Its just a game. Its a stressful situation we've put ourselves in. How many people would kill to be in the position we're in.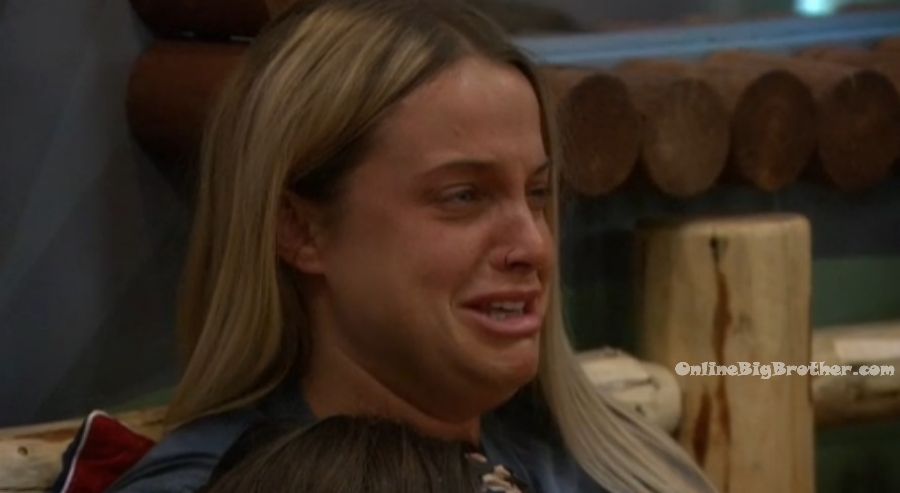 7:22pm Bedroom. Kat and Nicole. Kat – Like I know that Tommy had limited options but he still picked me. Nicole – you have a right to be angry. Kat – at the beginning of the season I never would have thought that Tommy would have put me up. I thought we were cool. It doesn't make me angry .. it just makes me sad. But in his defense I did verbalize that if I won HOH I would put him up. He's not wrong. Nicole – I am glad to see you better.
7:40pm The house guests are lazing around chatting about random things.

7:52pm – 8pm Storage room. Kat, Jackson and Holly.
Kat – I don't think I'm f**ked. Holly – no I don't think you're f**ked at all. I think Cliff is the target between the two of you. Obviously tomorrow will be telling if anyone wins veto. Kat – if Cliff wins the veto and its me, a replacement nom and Christie.. Holly – you still wouldn't be f**ked. I think you're fine either way .. its just who's better to go Cliff or Christie. Kat – probably Christie. Holly – I think so. I don't know. But Tommy still wants to work together. Kat – you b***hes have my back right!? Jackson – Yup! Holly – Duh! Jackson – goes without saying. Kat – because if I have you and Jess.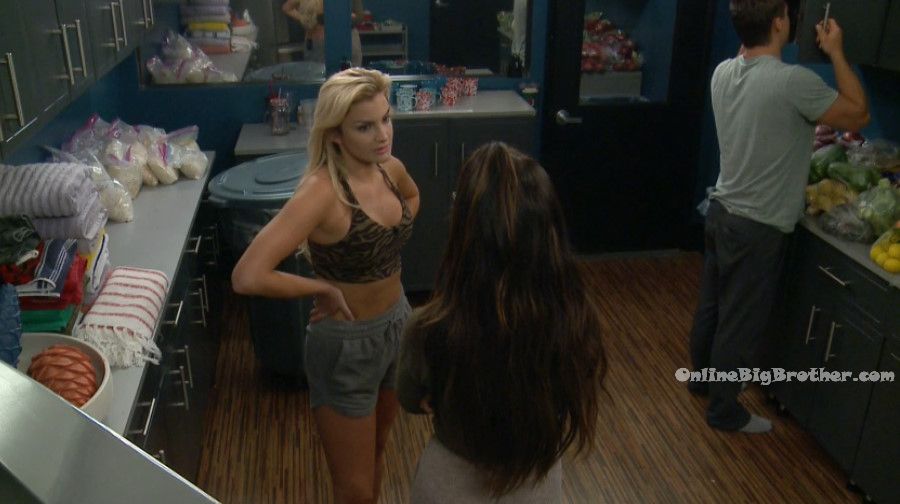 8:20pm Boat room. Jackson and Holly. Holly – I've been more and more worried about perception. I just need to stay true to myself and really be careful of things. And knowing how things are edited and spun. Jackson – same. Holly – I need to not talk about how much Christie is frustrating me. I need to stop and not be negative. I think we just need to lay low and be neutral. It sucks because between Christie and Cliff its going to be two very opposite sides of the house and we will have to choose. But I don't think its worth having this conversation fully until after tomorrow happens. If Christie takes herself off then.. F**K! .. but then it would be easy.. if we should stick with the same side of the house .. it would be a little sus (suspect) if we didn't. Jackson – very. Holly – it might make more sense if we go with Cliff's Angels .. but do not tell Kat I told you that. Don't tell anyone. Jackson – I won't tell anyone. Holly – it might make sense to go with Cliff's Angels and turn that into 6.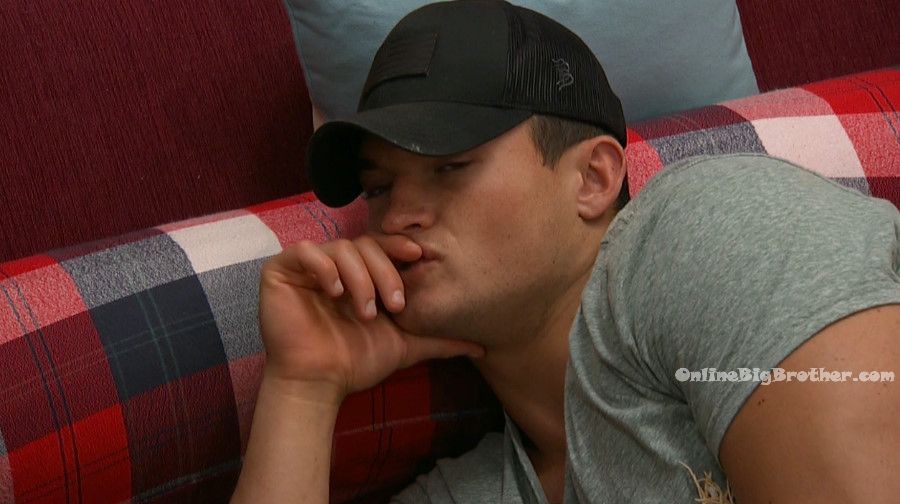 8:40pm Bedroom. Christie and Nick.
Christie – nothing can be done till after the veto. Nick – best case is you or Tommy win this f**king veto. If I win I will take you off. I don't give a f**k. Because I don't ..you're not going home. If it makes me a target next week, it makes me a target. I still don't think Cliff will come after me next week. Christie – I can't believe Michie won. Nick – he f**king killed it! I have so many ideas in my head. You guys kicking me out of the alliance is the best thing that could have happened because now I'm good with a couple people on the other side and I can swing some magic. You just have to trust me if it comes to that. Sis joins them. Sis – what are you worried about? Christie – Michie and Holly are voting me out. Christie – worst case scenario is I go to jury with Jack. If I stay on the block I am getting voted out. Nick – I will tell Cliff to pick me if he gets house guest choice. I just won't win it, I'll give it to her (Christie).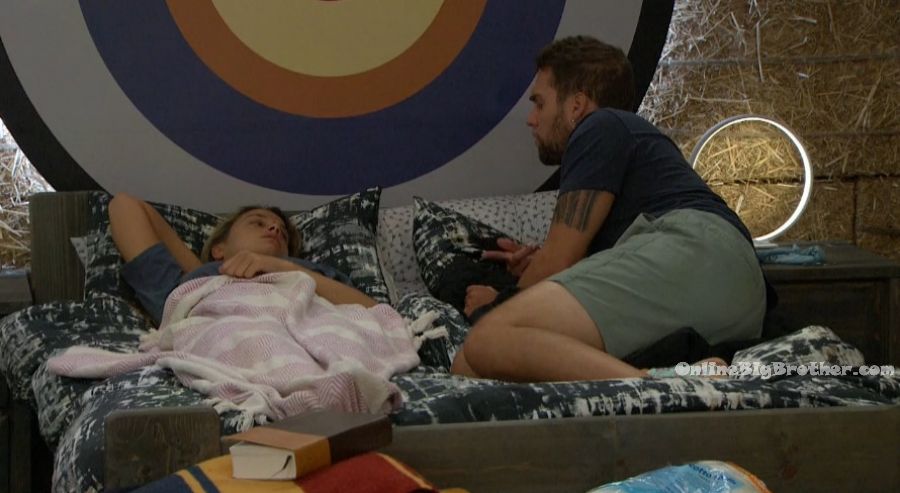 9:10pm Christie and Jess. Christie is crying. Christie is crying. (its going to be a long week if Christie stays up on the block.) I will talk to whoever the f**k I want to without it being a question. I feel like that is so annoying.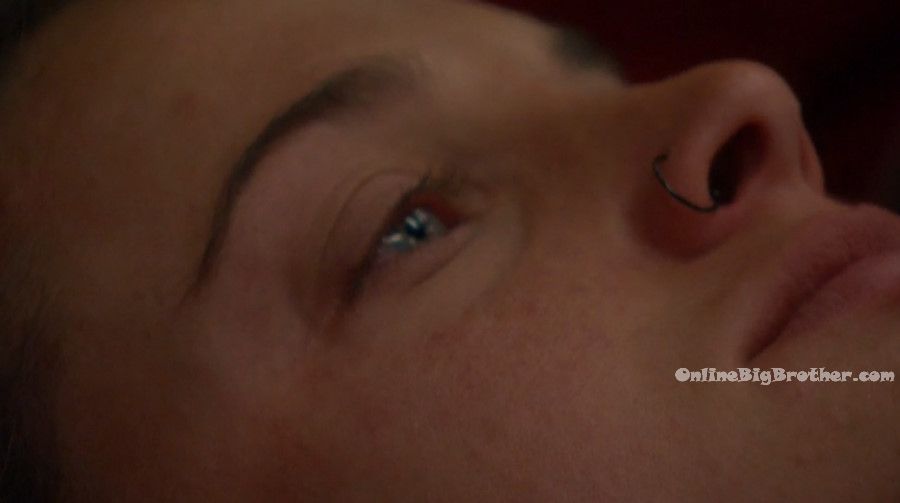 9:40pm Nick and Nicole. Nick – If I tell you this and you tell anyone I will never trust you again. Nicole – I promise I will not say anything. Nick – I am telling you .. if you f**king bury me from this I will never f**King talk to you again. Nicole – you're scaring me. I wouldn't bury you. I told you I respect you so much in this game and I want to see you at the end. Nick – when Holly was HOH she said it was Christie's idea to put you up. Holly said that she wanted you up because she wanted to give Sam the best chance to stay and number two .. Holly told them that if you went up she wanted you to go. And Tommy and Christie were the ones that actually talked her out of it. I didn't want to tell you because I didn't know who you were close with. I found out 5 days ago. Nicole – from? Nick – Tommy. Thats why you have a big desision with this vote. Nicole – I don't know who to believe. Nick – me.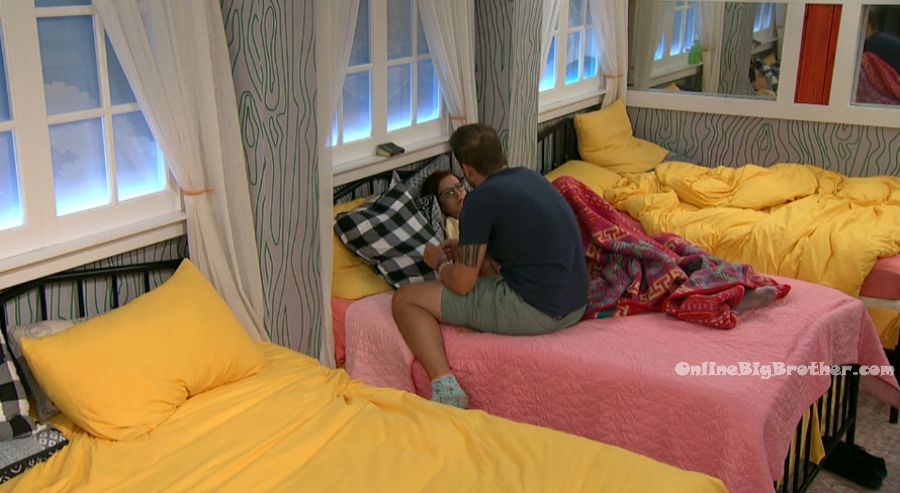 10:10pm – 10:40pm Tommy's pasta dinner is finally ready. The house guests sit down to eat. HOH room. Tommy – I really don't want the noms to ache
10:55pm Bedroom. Nick tells Cliff – if someone House Guests choice picks me I will take that person down. And I already explained that to him (Tommy). And if it was me and you at the end I could just let you win it. Cliff – I appreciate that and I might just do that. I would love to do that if you're willing. I would love to have you in my corner.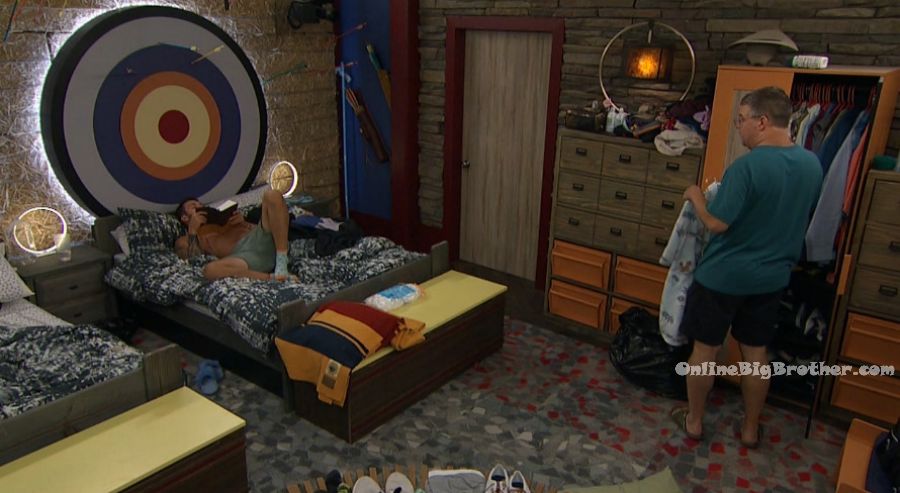 11:10pm HOH room. Tommy, Cliff, Jess and Nicole. Cliff and Tommy are talking about which seasons of big brother they've watched / which were your favorites.

11:23pm Bedroom. Christie comes out of the diary room and is crying again. Christie -its the contrast of you winning, Jack leaving and now being on the block. Its okay its just really high and then low. Tommy – its okay, we'll get you off.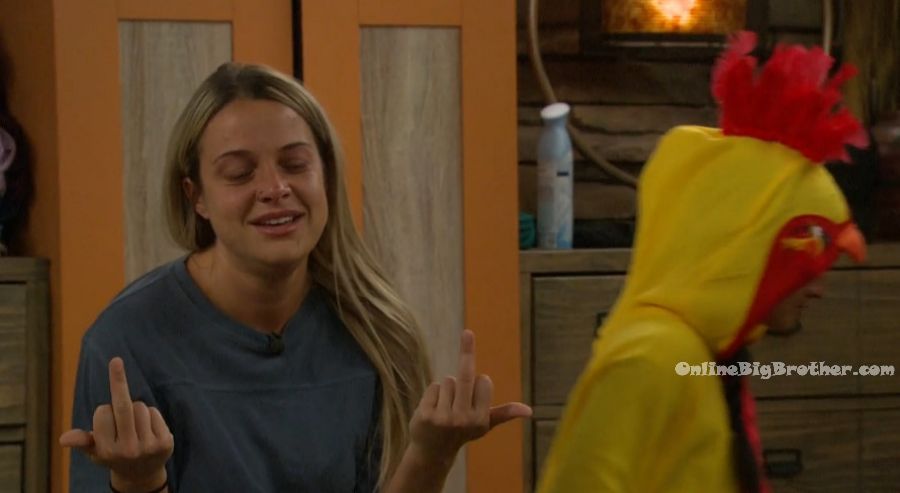 Christie sums up her week so far #bb21 @bigbspoilers pic.twitter.com/sWpH2JNMGi

— Dawg (@DawgsBigBrother) August 10, 2019
Chicken rides the Rocket #BB21 @bigbspoilers pic.twitter.com/FqzaaeoytU

— Dawg (@DawgsBigBrother) August 10, 2019
11:43pm – 11:56pm Christie, Tommy, Nick and Sis chatting. Christie comments again about how she thinks Jackson and Holly are voting her out. Tommy – don't even put that out there. Christie – I'm not, I'm just saying it in front of you. Tommy – I heard you say it out loud down stairs too. They talk about how Jess needs to go. Christie – I really really really hope if that if I come off the block that Cliff stays because Kat is so f**king dangerous and the fact that no one sees that. Nick – I am going to take you off tomorrow and then I am going to convince Nicole that she is the bottom of the totem pole.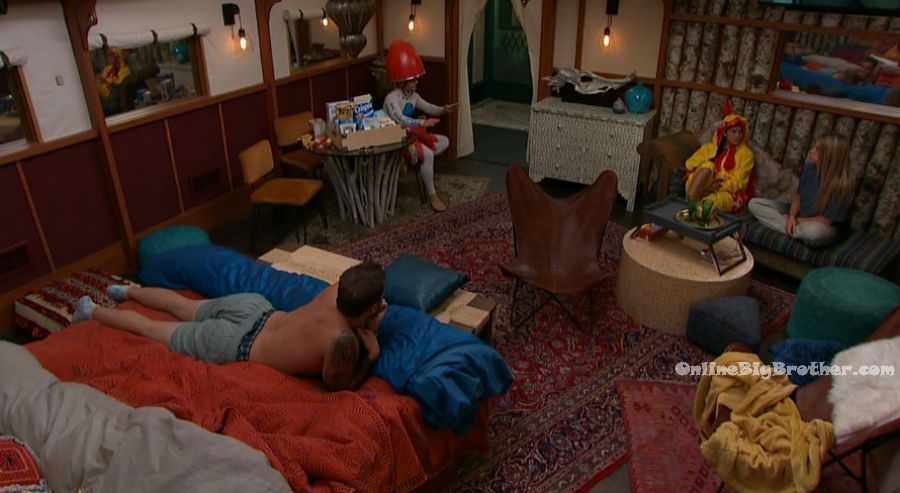 OBB wouldn't be possible with our your support!
If you are one of the generous people that donate to help keep the updates coming, we're giving out a bit more this year. Check out this page for more details: OBB Members