Head of Household Winner – Tommy
Have note are: No Have nots this week, Jack, Tommy and Jackson were given punishments as part of the veto.
Nominations are: Christie
Power of Veto Players are –
Power of Veto holder –
Power of Veto Ceremony –
Powers in the game *** LINK ***
Grab your live feeds —-> BB21 Live Feeds Subscription Link
Rank your houseguests —-> Big Brother 21 Ranking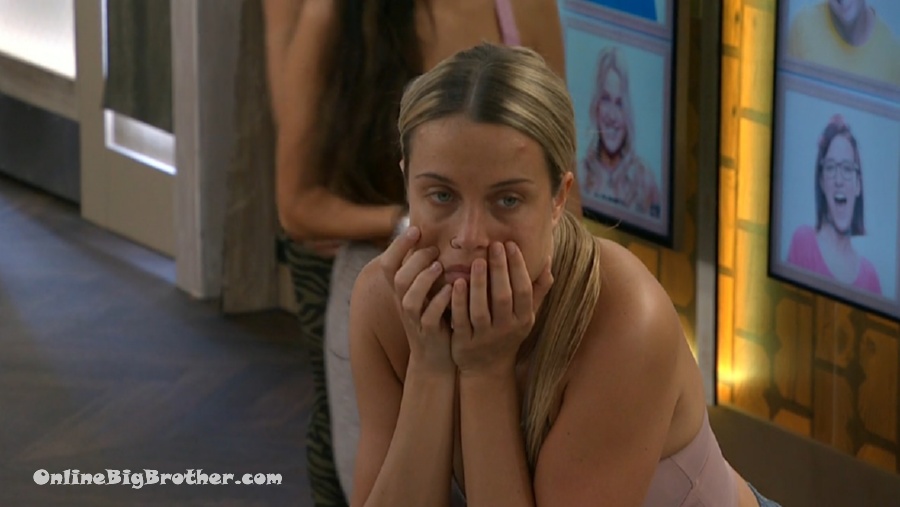 3:11 pm Feeds back
Jackson, Christie, and Sis went on the field trip. Jackson won safety, Christie was nominated and Sis got a punishment/costume
The noncompeting houseguests got to watch on the screen.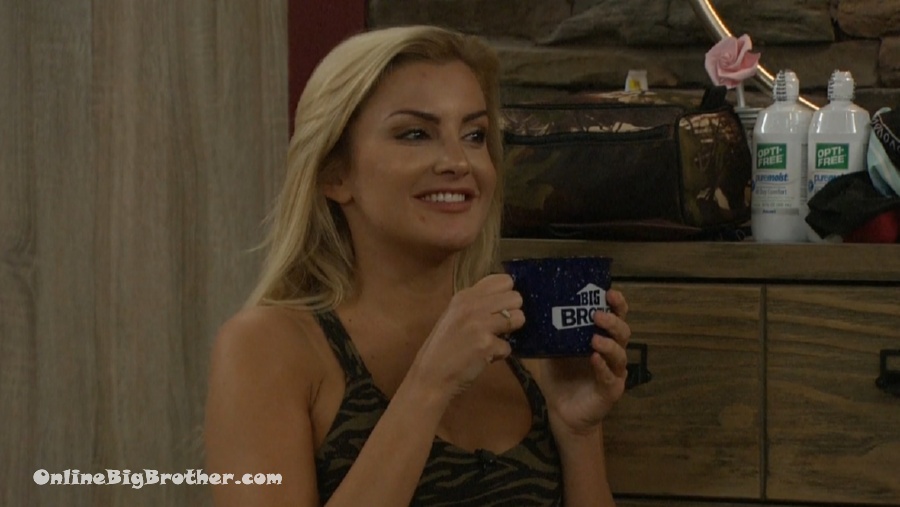 3:12 pm Kat, Christie and Sis
Christie – "I don't have enough time to play this game and redeem myself.. it sucks"
Kat – Unless I'm missing something you both are outstanding game players it's not like America isn't seeing something we're not.. well within reason
Christie – I'm having a mini pity party and then I'll fight for the veto.
Nominations will be later today.

Tommy tells Nick he's still thinking Kat and Cliff with Kat being the target.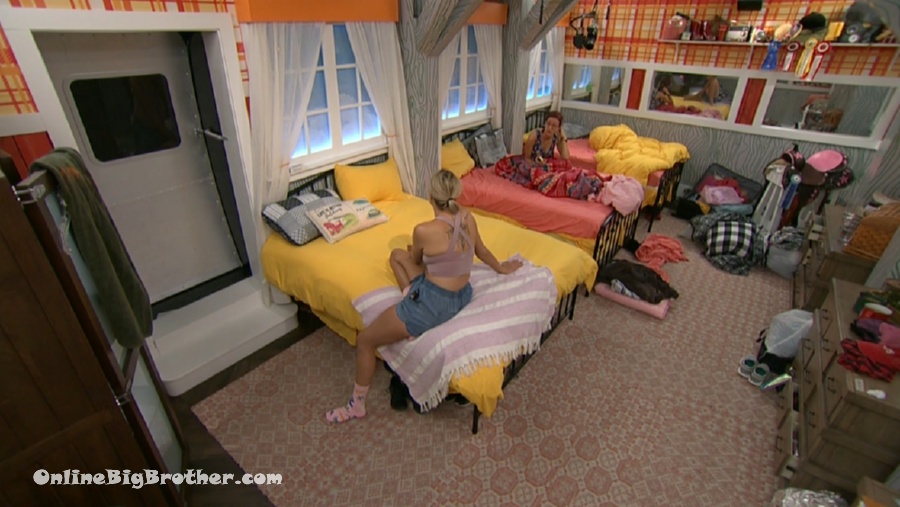 3:24 pm Christie and Nicole.
Christie explaining how hard the competition was for her.
Christie – It is what it is. It wasn't meant for me to win and it was meant for me to be on the block Everything happens for a reason.. it is what it is.
Christie – I really hope I win the Veto. Maybe if someone wins it and wants to take me off It's not fair
Christie – 3rd Nominee UGH that just blows
Christie – If it was America's Vote what was the mentality behind this.. the thought of being hated is freaking me out
Jess joins them "I don't think it was most loved most hated it was just the most relevant that moment in time"
3:34 pm Tommy and Cliff
They talk about the field trip and how it could be loved and hated sort of thing. Tommy says he thinks Sis is the most loved by the fans.
Tommy says if Cliff goes up he's not the target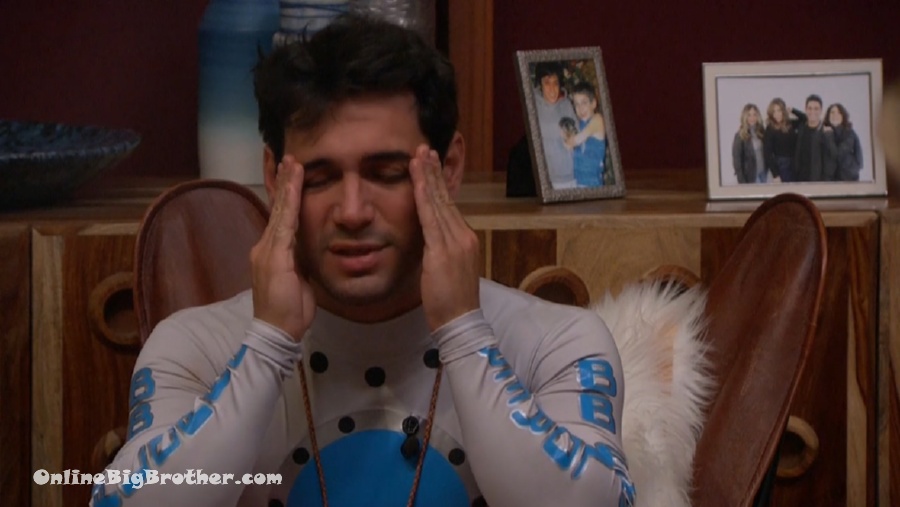 3:38 pm Kat and Tommy
Tommy – I'm trying to think what to do to make it the most fair.. yeah …
Tommy – I'm caught in a hard place
Kat – is there anything I can help clear up to get me out of your hard place?
Tommy – I want to do what is fair with the house.. yeah I don't know .. you and I are always fine as long as communication goes I feel like I don't have to hold anything back
Tommy What I have to do now is not what I intended to do. and I don't know what it is yet it's tough.
Tommy – I don't know what I'm going to do. I love you
Feeds cut..
When we're back kat telling him that she would be a vote for Christie to stay.
Tommy – I don't want you to be shocked if you have to go up.. I wasn't planning this. This was a shock and a twist for everyone
Tommy- I don't have a target this week isn't about a target it's about moving forward and making relationships to move forward
Tommy – you have my word if I do nominate you ..
Kat – at least you're not backdooring me
Tommy – I love you
Kat really pushing the vote for Christie to stay angle.
Jess comes in and Kat leaves.. Tommy hugs Kat "I love you so much.. bye I love you so much.. love you so much "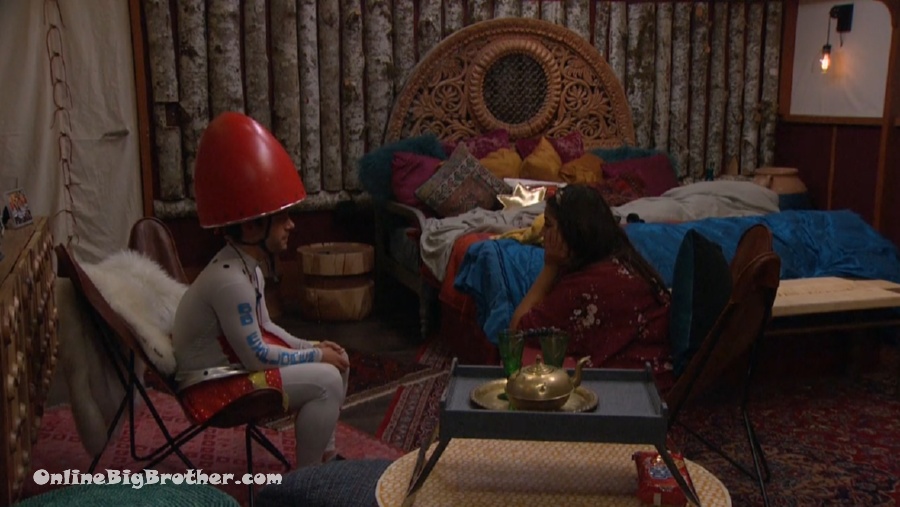 3:50 pm Tommy and Jess
Tommy says his Nominations are the "most fair for everybody".
Tommy – I feel bad for Christie I really do It's scary she might go home on my week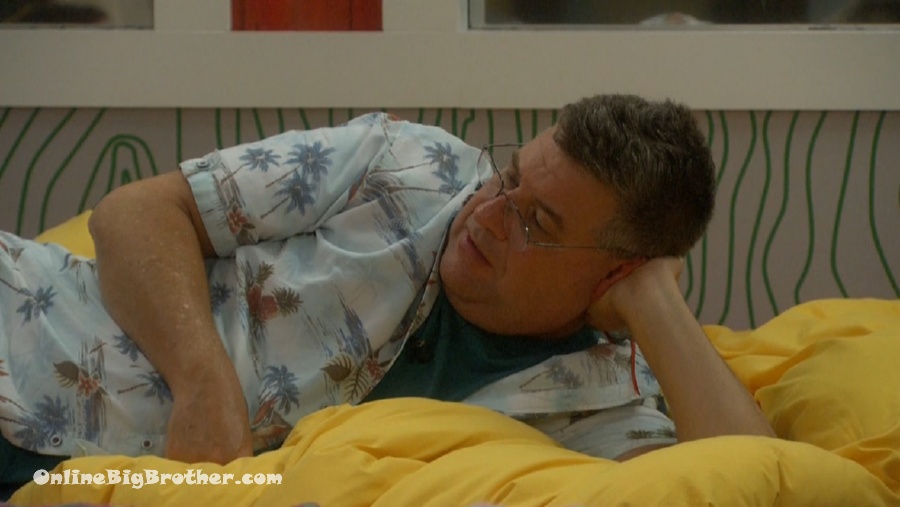 3:51 pm Nicole and Cliff
Cliff seems to think the nominations will be himself and Jess (he's just working scenarios I think).
Cliff says Kat will vote for Jes. Michie and Holly will go to him.
Nicole says she would vote for Cliff. She thinks Nick would vote to keep Cliff.
Nicole and Cliff agree Nick is playing 2 groups of 3.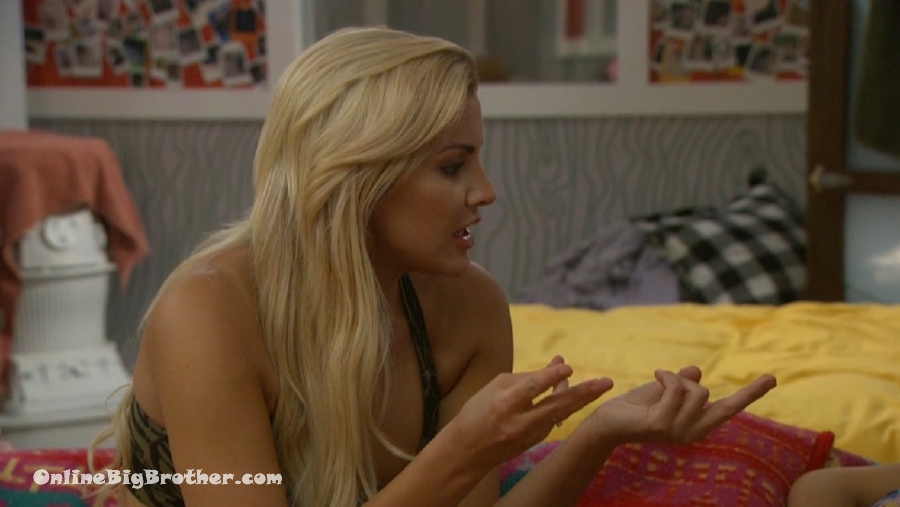 3:57 pm Kat and Nicole
Nicole says on Thursday there are three noms so if one of them is on the block they have the numbers to control the vote.
Nicole – if all three of you are on the block come Thursday
Kat – would Sis vote to evict Christie
Nicole – me, Jess. If just one other person jump on baortd she's gone
Kat – Michie will vote out Chrsitie
Nicole – there's your three
Kat brings up that Jack whispered to Jackson that she was working with both sides, "He might have said something to Tommy"
Nicole – if she takes herself down we're up shits creek or if TOmmy wins it he takes her down there's no replacement nom.
Kat apologizes for telling Tommy what Nick told Nicole (the nominations)
They both are going to vote out Christie if given the option.
Kat – he kinda told me it will probably be me
Nicole – ohh
Cliff and Jess join them.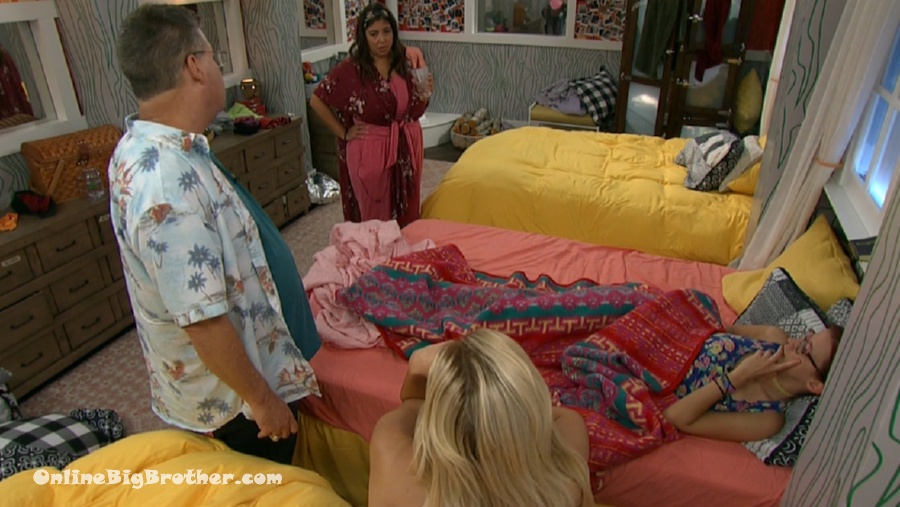 Kat – Sounds like he's putting me up. don't be shocked I love you blah blah
Cliff – why would he put you up is he thinking of backdoor options
Cliff – if that's the case and CHrsitie is still up. as long she doesn't win veto
Jess advises they don't all talk right now especially before nominations and the veto it would look sketchy.
Cliff leaves.. They start talking about ways to throw the house off the Angel's scent. Jess tells Nicole she needs to talk to Tommy still.
Nicole leaves..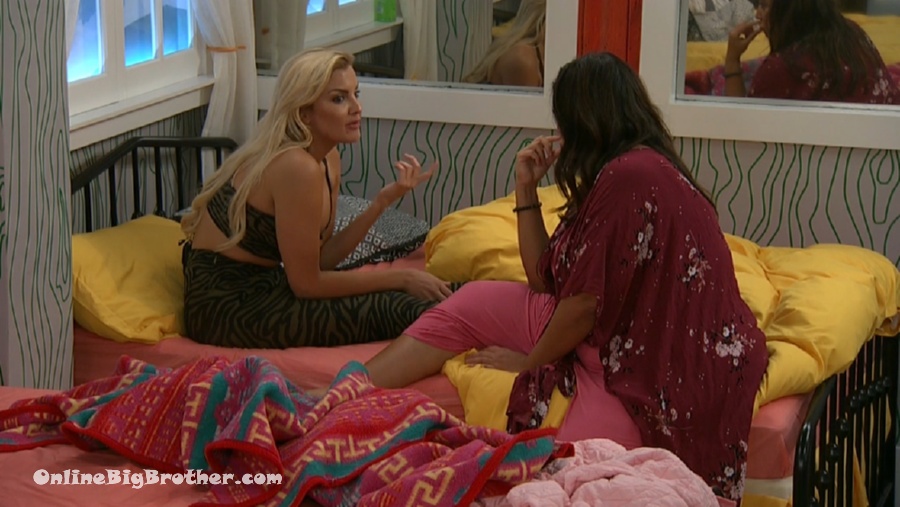 kat – best scenario is Christie stays up
Jess – up
Kat – it sucks that Michie is safe this week
Jess – do you think it will be Cliff.
Kat isn't sure thinks it could be Holly.
Kat – if Christie is on the block I can foresee a situation where she doesn't go. unfortunately
Adds that unless someone from their group turns on them.
Jess – we have to stay strong
Jess and Kat discuss Tommy trying to reform his group of 6.
Kat – we can 't have Tommy or Christie win the veto
Kat says it sucks Christie "is our friend and I consider her an ally of sorts" Kat doesn't want to lose Cliff over Christie.
Jess says they have to take it one step at a time.
Kat says America's vote was very telling "I know Michie does not have the best like shone on him"
Kat – I think he might have redeemed himself a bit last week but that wouldn't be shown until last nights' episode.
Kat and Jess don't trust Nick "he doesn't want to play with us he wants to play with them"
Kat says Jess, Nicole, Holly, and Michie would vote out Christie. Sis would vote out Cliff.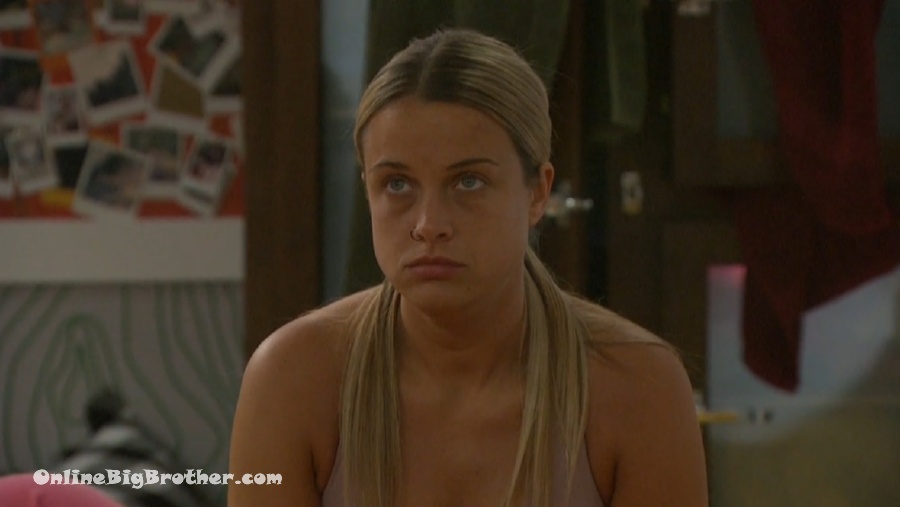 Christie comes in ..
4:30 pm Tommy, Christie and Sis
Tommy – I have the votes to send home whoever I want to send home.. Jackson was never goign on eth block the deal was he will vote the way I want him to vote. I want kat gone. she's the most dangerous it's just the most fair you weaken everybody getting rid of her I am taking a shot at every side.
Tommy- Kat and Cliff. My goal is to get you off the block by the end of the week.
Tommy says jess and Nicole have agreed to not use the veto on his noms.
Christie starts to cry says Nick told her he's using the veto on her if he wins it.
Tommy – KAt of Cliff is going home this week we have the votes .. Michie and Nick have promised to vote where I want them to vote
Christie – you areally trust Michie
Sis – I do
Tommy – I do
Tommy says again he's telling everyone the goal is to get Christie off the block.
Christie starts talking about forming back the 5 with Nick.
Tommy – I'm not trying to build an alliance this week.
Christie about her nomination "It's just unfair"
Christie goes on that people saying she was "unfairly nominated" is reason enough to use the veto on her.
Tommy says Jess and Nicole won't vote Christie out he's talked to both of them. IF Kat/Cliff win the veto Nicole goes up.
4:37 pm Nicole and Kat
Nicole is thinking that America did the vote to help them out.
kat – I feel like if it's favorite Cliff would be up there for sure
Nicole adds that America loves the underdogs so maybe Sis, Christie and Michie are Savage in their Diary rooms.
Nicole – If America was pissed off as us it would have been three of us. America is saying good job lets keep this train running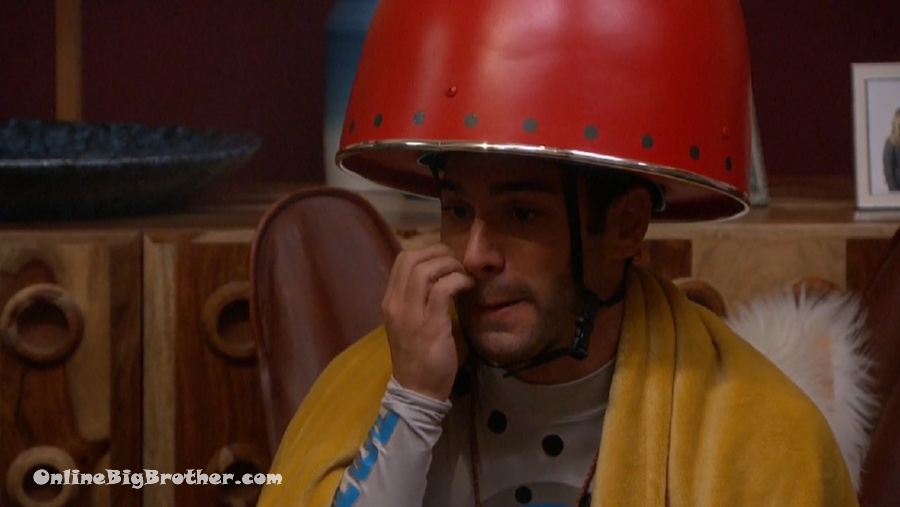 4:46 pm Tommy and Christie
Tommy – I'm good with Cliff, I'm good with Jess.. I'm GOOOOOD with Jess, I'm good with Nicole
Tommy – I'm good with everybody moving forward. I'm killing it I feel good but I can't get Cocky.
Tommy – this is what's best for all of out f*ing games.. Jack would be proud
Christie – I don't want to be the next one in that house
Christie – Sis is bugging out about Kat going to Jury she thinks her and Jack are going to f*
Tommy says this is good because the house is giving him sympathy. It sucks that she's on the block but his mission is to get her off this week. Tommy keeps reiterating to her that Mciohie, Holly, Jess, and Nicole won't vote her out.
Tommy says Jess told him that Nick and Cliff promised her at the beginning of her HOH they would vote out Jack.

4:54 pm Tommy and Michie
Tommy – people were assuming I was putting you up now I can say this throws a wrench in my plan
Tommy goes on how perfect this is.
Tommy is wanting him to vote the way he wants this week.
Tomm y- the goal this week is to get Christie off the block.
4:56pm Sis comes out of the diary room in her chicken punishment costume. She says that she has to wear it for a week. She apologizes for how its losing feathers everywhere.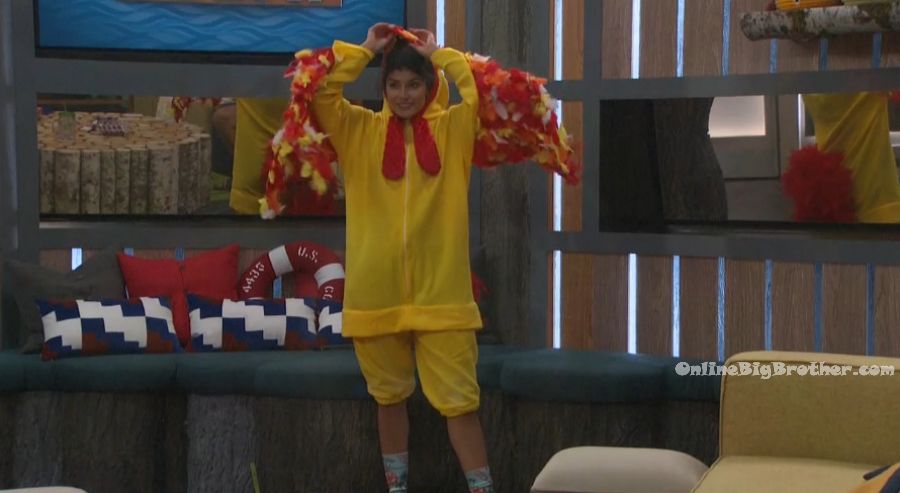 5:07pm
Big Brother blocks the feeds for the nomination ceremony..
Sis in her Chicken costume #BB21 @bigbspoilers pic.twitter.com/gWmSE8zOAO

— Dawg (@DawgsBigBrother) August 10, 2019