Head of Household Winner – Holly
Have note are: Cliff, Nicole and Jess get punishments
America's Prankster – Nick
Nominations are: Christie & Nick
Power of Veto Players are –
Power of Veto holder –
Power of Veto Ceremony –
Grab your live feeds —-> BB21 Live Feeds Subscription Link
Rank your houseguests —-> Big Brother 21 Ranking
Holly Nominated: Nick
Nick as America's Prankster Nominated: Christie
4:24pm – 5:33pm Big Brother blocked the feeds for the nomination ceremony. When the feeds return – The house guests are in the kitchen hugging each other. Christie – I survived last week…I'll survive this week. Its a game. Holly to Tommy – I forgot to say if you (Nick) were standing my my position it would have been me up.




Bedroom. Nick, Cliff and Nicole.
Nick – I've got a job to do. At least I have a chance. I knew I was going up. Cliff – well veto competition. Nick – I knew I was going up after I went up there the second time. I need some help from the gods. I've got one help. Cliff – she's a strong competitor. Nick – If I am sitting next to her I have a good chance. I could always take myself off. I am going to need to pick someone for house guest choice if I get it. Cliff – if you need to pick someone you can talk to me later. Nick – Yeah I will talk to you later. Cliff leaves. Nick to Nicole – that's Cliff's target. That's what he told me going into this week. That's three, that's all I need .. but thats just if Tommy actually did it. I have a chance. I have another life. I can win this veto. Nick – I hope its not hide the veto comp. It doesn't give us a fair chance. I will do BB comics for sure! I will rock with BB comics. Jess – It could be Zingbot. And if it is it would probably be a strategic puzzle or game. Christie – we're going to gun for it and if one of us goes, one of us goes. I'm not a sore loser at all (WHAT!? lol ok) Nick – she said I am getting put up because she respects my game.. I appreciate that. I think everyone of our games are have been f**king good. Everyone has battled through different sh*t. You (Jess) have been on and off the block. Christie has gone through crazy sh*t. I've gone through crazy sh*t. Michie's won like five comps. Cliff has won a thousand comps. Everyone has been impressive. And Nicole even though you haven't won a comp you've been so close in so many of them.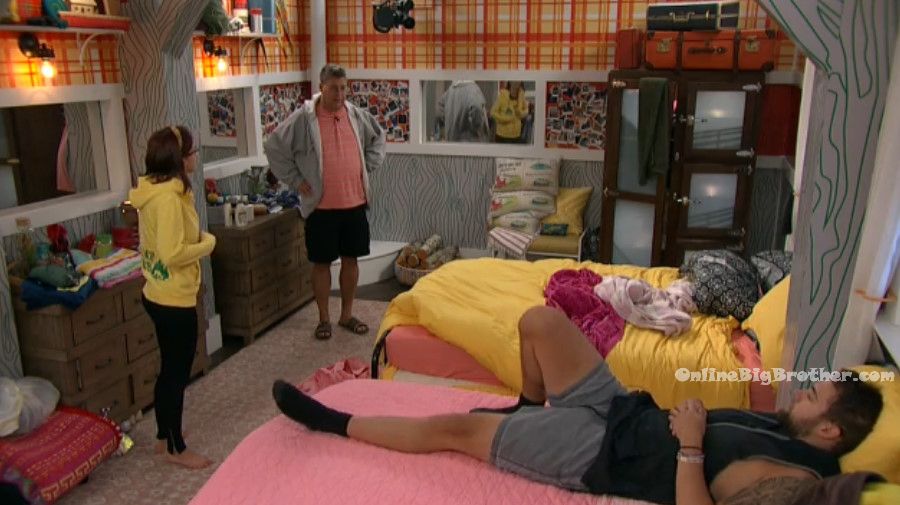 5:45pm – 6:20pm HOH room. Holly and Jackson.
Jackson – its Nicole. Holly – I hope so. Jackson – who else would have nominated Christie? Tommy? Holly – No not Tommy definitely. And Cliff said that he would tell me. Nicole never said that she would tell me. She didn't even talk to me yesterday. She knew she wouldn't be able to keep a straight face (if she was the prankster). She never spoke to me at all. Jackson – she has a bad poker face. Holly – good for her.. she needs to be a part of something and make a move. I am happy for her. Jackson – me too. Even if it was me I would be happy for her. Holly – I am so glad that its Christie. Christie is HEAVEN! HEAVEN! I hope I get Nick out. Jackson – if you get House Guest choice who are you picking? Holly – UMMmm.. YOU! Tommy joins them. Holly – who do you think America's prankster is? Tommy – I honestly thought it was Christie and then she went up so I don't know. Holly – several people told me they would tell me so I don't know. I just hope the veto isn't used because that would be weird. Tommy – in terms of the house I think its okay. In terms of the events that happened last week its easiest on the house. Holly – its prank week .. that also terrifies me. Tommy – if I get picked and win veto I will consult you the whole time. Jackson – the scary part is if it gets used on Christie .. you don't know who would be put up. Holly – I know this is very shitty for you (Tommy). Tommy leaves. Cliff joins them. Cliff – do you think Nick might have it because of that (Christie being nominated)? Cliff – no one has asked me yet but if someone gets house guest choice I assume you don't want Nick removed. Holly – I don't want either of them removed. Cliff – then if he asks me, I will say that I won't use it if I win it. In that case he will probably pick Nicole. Jackson – I think its Nicole (America's Prankster).-Nicole – since its called prank week.. the whole week could be a prank .. thursday rolls around and they say no one is being evicted. Then we do a double eviction. Tommy – holy sh*t! Nicole – you can't get in your head too much.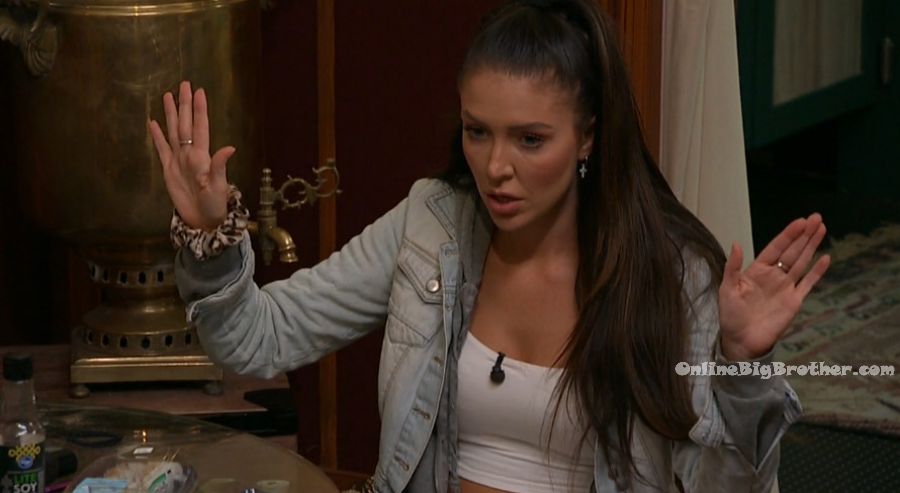 6:12pm HOH room. Jess, Holly and Jackson.
Holly – how are you feeling? Jess – I'm feeling good. Jackson – no pie in the hair. Jess – not yet. Holly – and honestly Christie is a damn good competitor. And at least she is guaranteed to play in the veto against Nick. Jackson – and out of me, you, Nicole, Tommy and Cliff .. three of us will be playing. Jess – that's true. Jackson – I really really want to play. They speculate on what the veto comp might be. (Zingbot, Hide the Veto, Counting Fair, BB comics)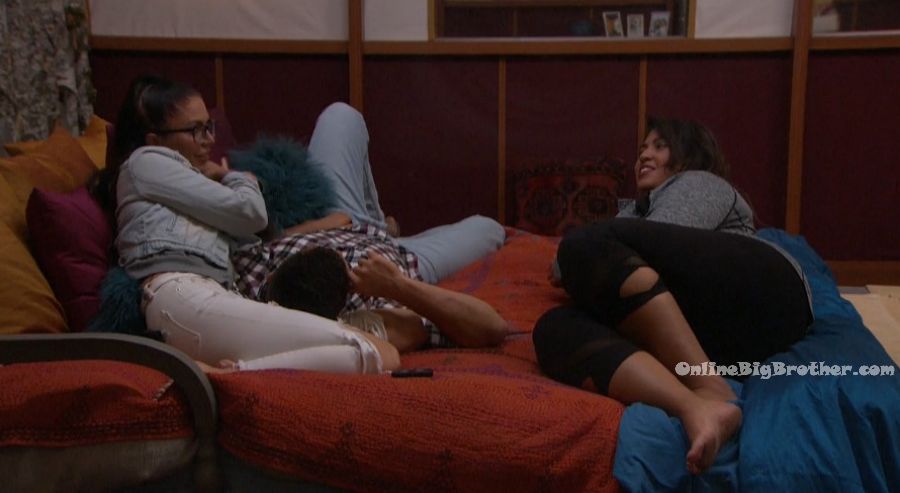 6:30pm – 6:57pm Bedroom. Nick and Nicole.
Nick – if I get House Guest choice and I picked you would you be cool with it? Nicole – yes. I would safe you ..I know a lot of people would be pissed off at me but it is what it is. I don't know if I could pick Tommy now because he is close to Christie. I'll have to talk to Cliff. Would you feel good if it was BB comics? Nicole – I would try my darndest. I know I don't have the best track record. Nick – even if its a number for me. If you were scared you were going to be a replacement nominee you could win and take me off and be safe too. Nicole – it would piss off a lot of people but I probably would. Nick – I would need to know more than a probably. Holly would be scared if Christie comes off that Jackson would go up. I don't know who Holly would put up if I came off. I would like it if you won because then you couldn't be the replacement. I hope there is some other twist and the prankster gets to f**k around. Everyone already knows we're close so you using it on me wouldn't be a surprise. I wonder what deal they (Christie with Holly & Jackson) like to final four with Tommy? I think Cliff wants me to stay over Christie. I think everyone is scared to get blood on their hands. I think I am the only one that ..like I am doused in blood. But I know that America must like be a little bit. Nicole – I'm sure they do. Nick – I think people don't like that I'm f**king getting buried like I am especially from people that they don't like. Well I am not saying that they (America) don't like her (Christie) .. I am just saying she is playing a dirty game. Nicole – as a fan of this game I respect your game too much for you to go home.. which could shoot me in the foot. Nick – it definitely won't shoot you in the foot. I just don't understand how Christie got out of that. Nick gets called to the diary room.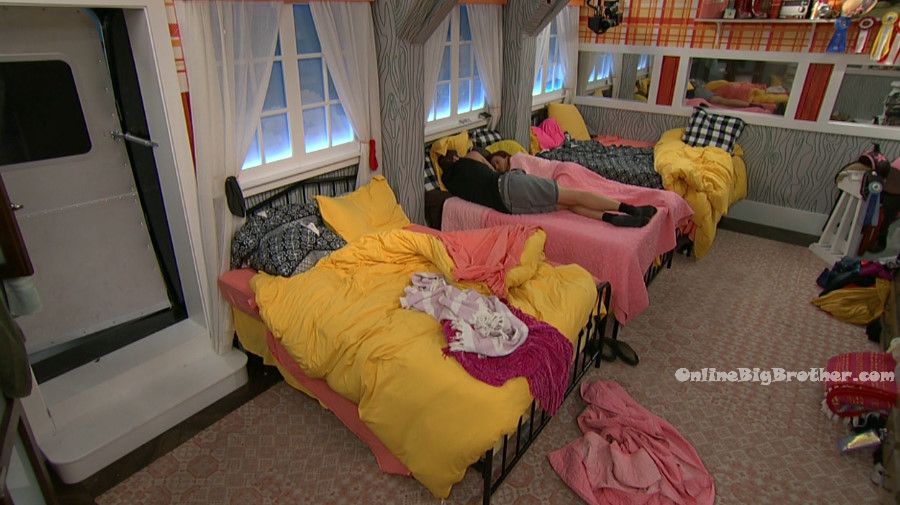 7:25pm The house guests are eating pizza, relaxing and playing chess.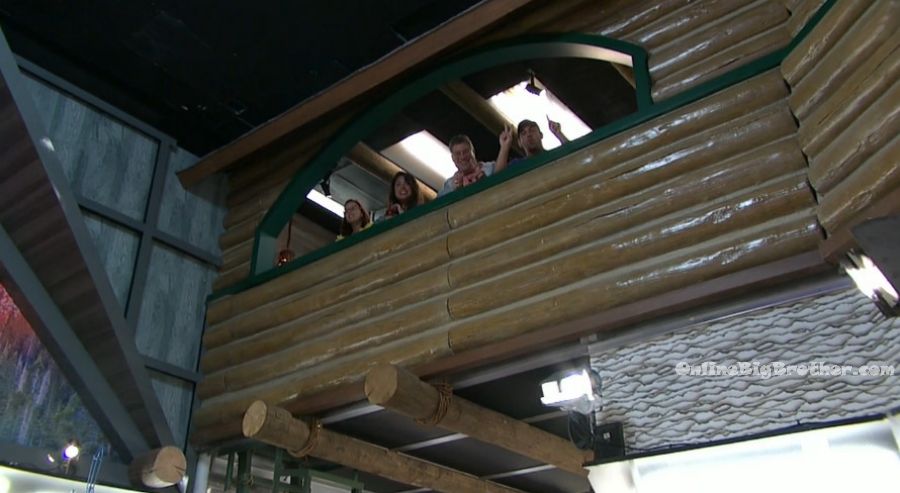 7:36pm – 7:40pm Jess, Cliff and Nicole have to pie the other house guests. Christie, Jackson, Tommy, Holly Cliff and Nicole get pied. They complain that its sticky and smells bad.

Nick tells Holly that he really appreciated her speech when she nominated him .. how she respected his game play. Nick – I know that will get clipped on the episode .. it made me emotional and I wanted to thank you. Holly tells him she respects him. They hug.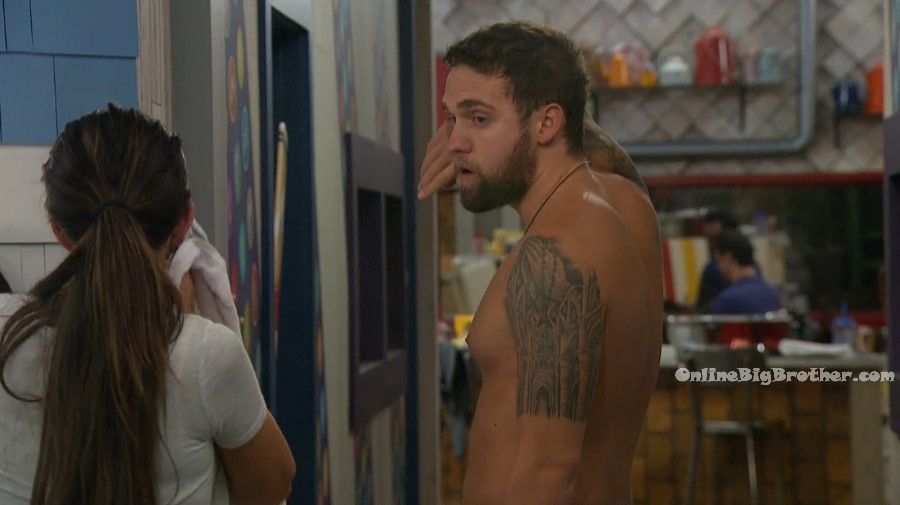 8:07pm HOH room. Jackson and Nick.
Jackson – I didn't want you to think I was pissed off at you earlier. Nick – no I think everything you guys knew. I am not going to talk about her. If you both think that I would make a deal with someone that wouldnt keep me safe …do you think I'm that stupid?! Jackson – no that wasn't the thing. I have made it clear that I am coming after Christie for weeks and weeks and weeks .. and then all of a sudden it flips and theres a deal .. the vote hasn't even happened yet and she is over here saying she is going to throw a comp. Nick – she never said she was going to throw. I am not going to argue with her. I can't win an argument with her. Jackson – no one can. Dog, I believe you ..I just want you to know where I was coming from. I just didn't want Holly to be nominating you if there were facts that weren't true. Nick – I am sorry for what I did. I shouldn't have said approach. Jackson – I have nothing against you. If I wanted to put you up, I could have last week. You're not my number one target and I know I'm not yours. Nick – I don't think I said I wouldn't put her up as a replacement. If I did, I did. I would have never made a deal if I wasn't getting anything in return.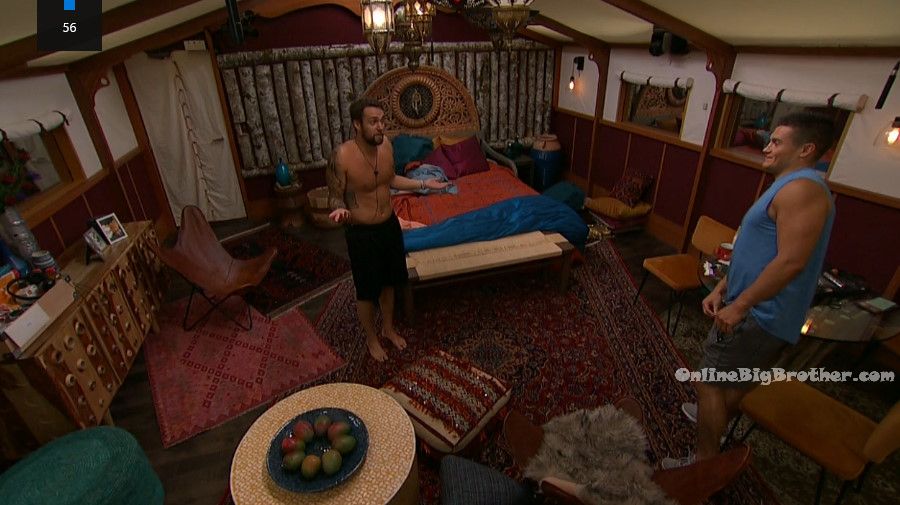 8:50pm Bathroom. Holly, Jackson and Cliff.
Holly – I am still worried about tomorrow. Jackson – I think its going to have something to do with every leg of this week. Cliff – maybe. If they do too much .. its too powerful. Holly – its like what's the point. Cliff – I mean what would be the next one? The prankster gets to pick the veto players? That may not be that big of a deal. There are only three other people.. so all that is happening is two people that won't play. I am not sure that's such a big deal. Especially after I told you if I play I am not taking either one of them off. Which makes me think that neither one of them are going to pick me. The unknown prankster person isn't going to pick me knowing that. So there is one right there. Would he pick Tommy in the hopes that Tommy would win it and take him off? Jackson – Tommy is in a tough spot this week. Jackson – if I play and win it, I am not using it. Cliff – its a good resume builder. They talk about Jackson being a possible nom by the prankster. Jackson – if I am up against Christie or Nick I hope Jess would vote our way.

9:11pm – 9:25pm Bathroom. Jackson, Christie, Holly and Tommy.
Tommy – who would not nominate Christie .. is probably me and Jess. Holly – yeah. Christie – I don't really know. Holly – no one in this room. Tommy – yeah you (Jackson) too. Jackson – the whole point of keeping you last week .. was to keep you in the game. Jackson – I might sound like the biggest f**king idiot on tv but I was literally like the thought crossed my mind of nominating myself if I won it. (prankster) Christie – why? Tommy – you would! Holly – he's such a psycho! Jackson – because it makes me clearly not the person that has it. Two – it guarantees I play in the veto and three .. she doesn't have to get blood on her hands. Is it high risk .. yeah.. but its high reward. Holly – unless you go home! Christie – no I feel like the universe would not do that if you were literally doing it as a selfless.. Jackson – or to just spite me. Tommy – so that leaves Cliff, Nick or Nicole. If they nominated you.. they would probably nominate me next. Jackson – if its Nick.. you're definitely not the one (Jackson the points at himself as who the replacement nom would be) because she's (Holly) HOH. Tommy – would either of you pick me as house guest choice? If I win it would expose who America's Prankster is.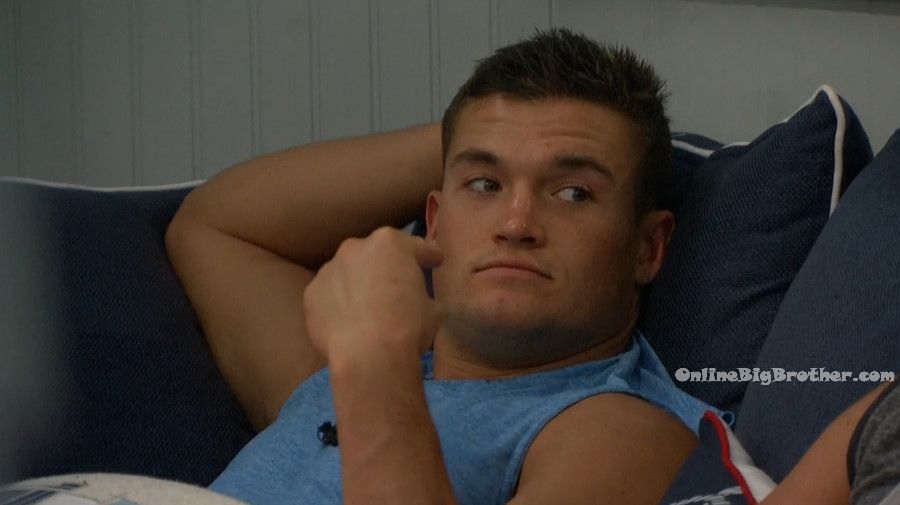 9:41pm Bathroom. Cliff and Nick.
Cliff – you know who I would piss off if I pulled anyone off. Nick – what if your chip just gets picked? Cliff – probably I would not pull you off.. I am just being honest with you. Nick – that's fine. Cliff – unless people said we were okay with it but I am guessing that would not be the case because she (Holly) isn't going to want to put anyone else up. Nick – no, that's fine. I respect it. I appreciate it though. Cliff – you need to win it. Nick – at least if I don't win it .. at least I have a chance against Christie. I got lucky. I just need to win the veto.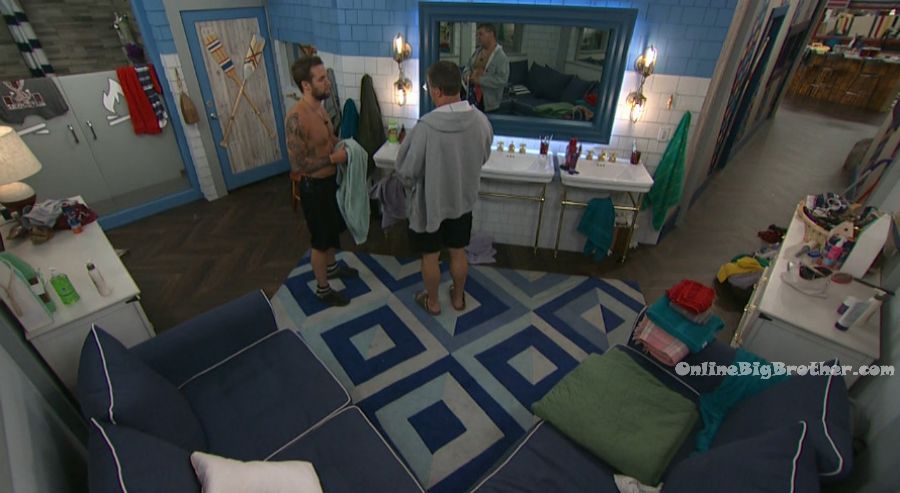 Bathroom. Jess and Christie. Jess – are you okay baby? Christie – not really but its okay. I'll be fine. I am just losing steam and I'm depressed. But its nothing that anyone else aint going through you know?! Its fine. I hate just not knowing anything. At least if I know who put me up I can talk to them and see their angle and know that I'm their target and channel my energy somewhere. But I am staying positive. I have a veto to play. I am just sick of Nick lying. I'm glad that its out. Christie talks about what happened between her and Nick and how he was trying to shift the target from him to her. He is a confident guy .. I get that but there is a difference between that and believing what you say. I am just over living with him. Holly joins them. Christie – I was vocal about please keep me, I'll be a pawn .. utilize me and maybe its just someone saying this is her time. It will probably be a unanimous vote, respected HOH. If it was Nick, I get it whatever.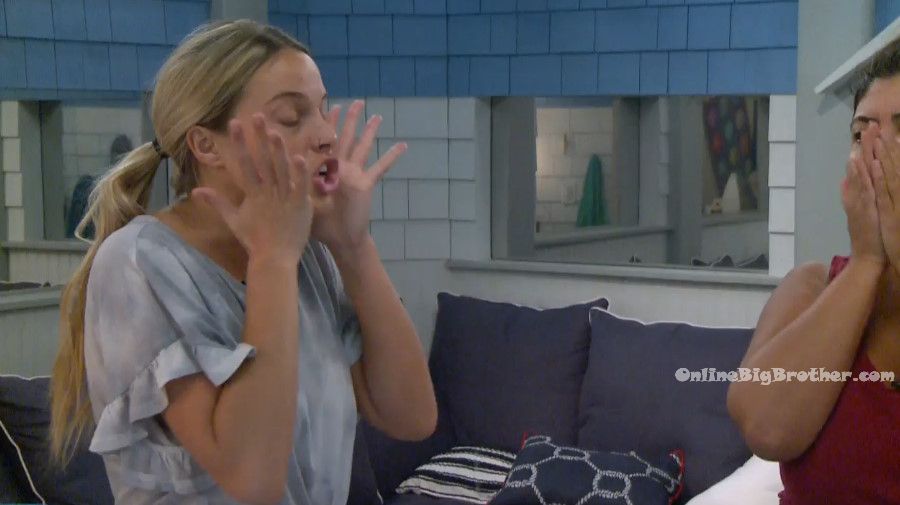 10:25pm Nicole, Jess, Christie and Cliff have gone to bed. Nick and Tommy are cuddling.
11:30pm All the house guests are sleeping..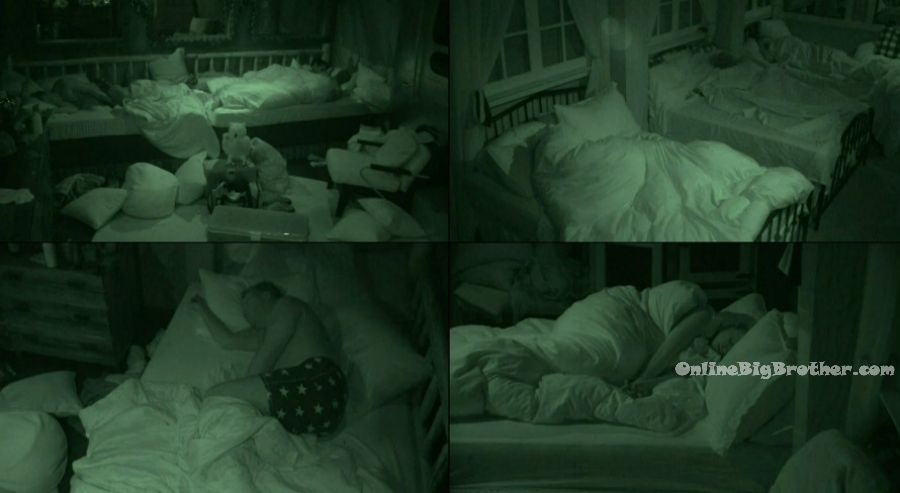 11:32pm – 11:40pm PIE TIME Nicole has to pie herself. Cliff gets told he as to do it next. Jessica was not called to do it .. yet..
11:55pm Kitchen. Cliff, Christie, Tommy, Nick and Jess are up eating and chatting about random things..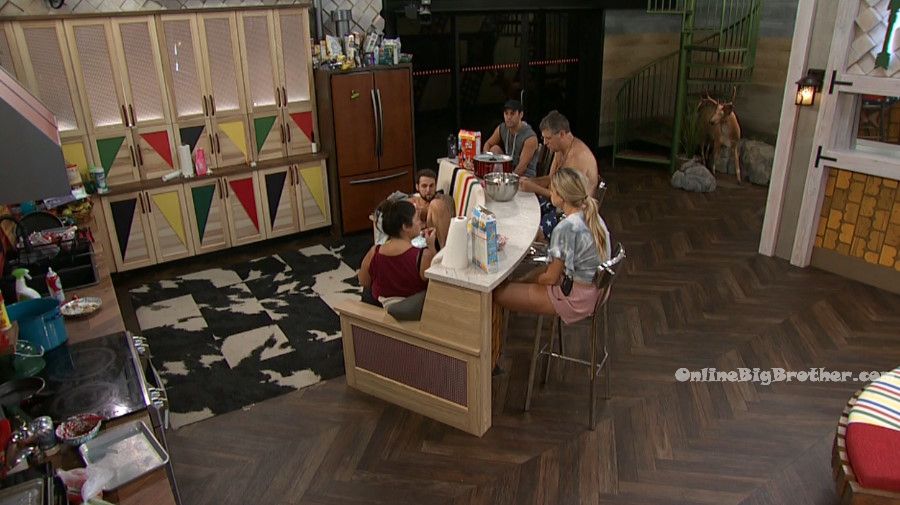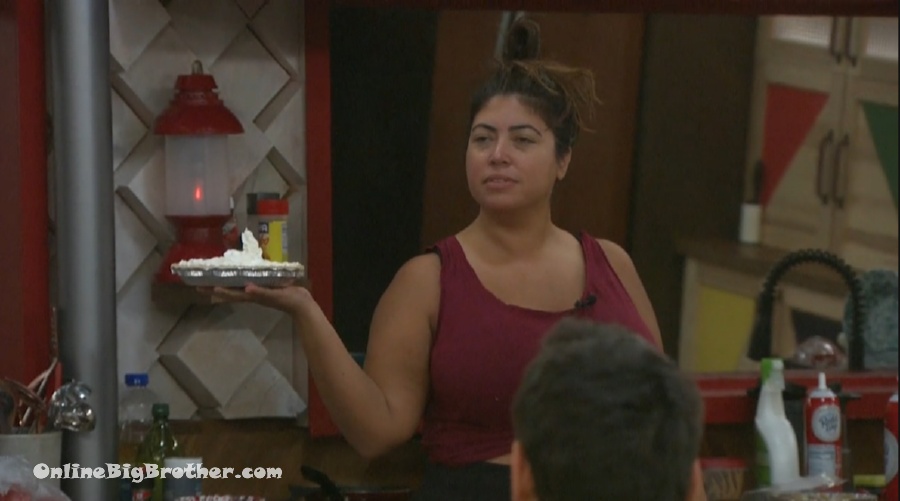 1:23 am PIE TIME!!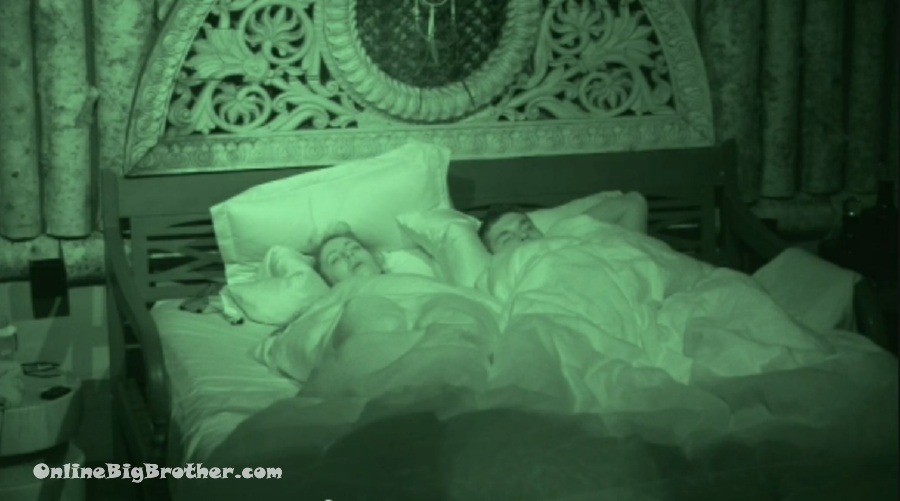 5:00am zzzzz
OBB wouldn't be possible with our your support!
If you are one of the generous people that donate to help keep the updates coming, we're giving out a bit more this year. Check out this page for more details: OBB Members