Head of Household Winner – Holly
Have note are: Cliff, Nicole and Jess get punishments
America's Prankster – Nick
Nominations are:
Power of Veto Players are –
Power of Veto holder –
Power of Veto Ceremony –
Grab your live feeds —-> BB21 Live Feeds Subscription Link
Rank your houseguests —-> Big Brother 21 Ranking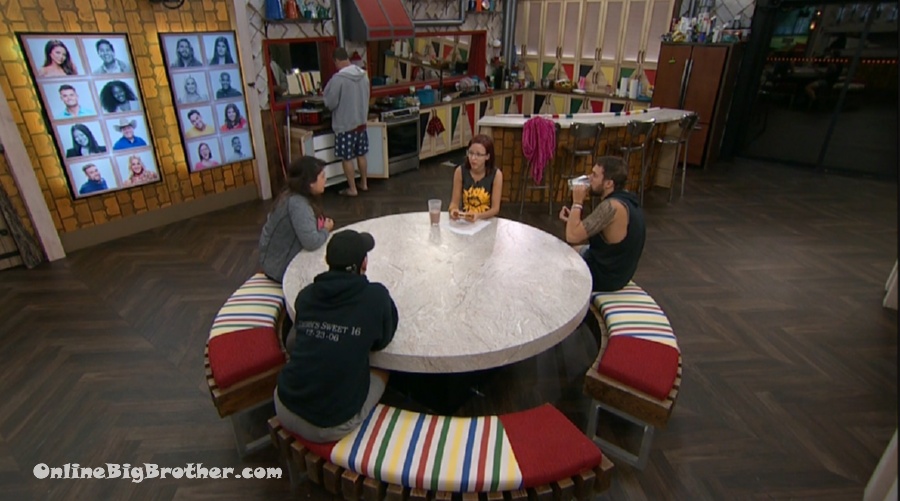 Smaller table..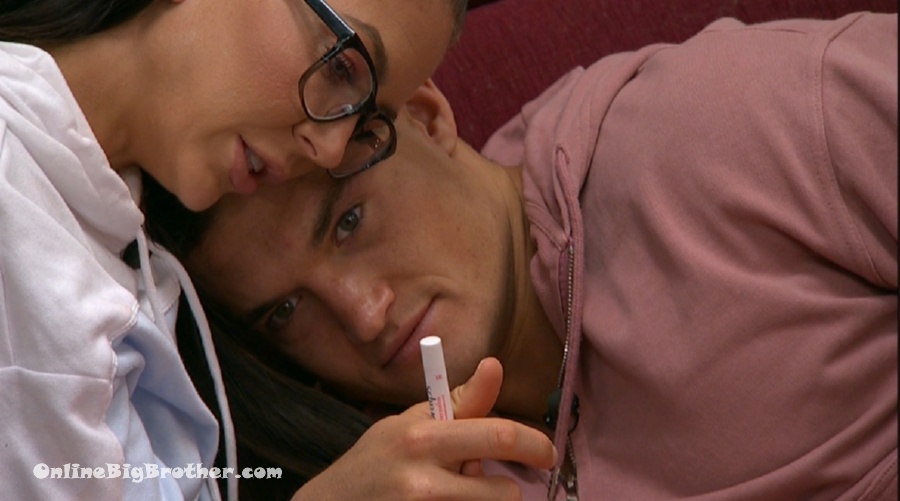 2:20 pm Jackson and Holly
They don't think the prankster is known. Jackson suspects it will be Nick. Holly agrees, Suggests it could be Christie or Jackson.
Holly – who would he put up next to him?
Jackson – you're looking at it
Holly – you think though? because he would think you could beat him in the veto.
Jackson – he also thinks he can spin me as a bigger target. Whos he not going home against in this house? Best chance is against me to stay
Holly – you or Cliff
Jackson – is it stupid for me to think if I put myself up (Yes)
Holly – it's risky
Jackson – it's risky but f* .. it's super high risk I love it
Jackso – this is fun I want to stir sh1t up
Holly – If you win it you should put Christie up. then we are guaranteed her or Nick goes home.
Holly says Nick told her that Christie was going to throw the HOH to Nick
Jackson – let's expose that
Holly – I think Nick is lying
Holly hung up on CHrsitie and Nick not really being each other's targets now.
Holly – I do believe Christie but I don't put it past her to dave and start working with him. They both have no one really they could pair up and be literally a duo made of dynamite
Jackson – we need to expose that
Jackson – you need to put up Nick the safe bet is put Nick up
Holly – I don't know if Nick would still gun for me if I put Christie up .. I lose my relationship with her
Holly – Christie might think I'm still one of her allies.
Jackson =- we know we can't trust Nick we don't know we cant' Christie
Holly says she doesn't trust either of them.
Holly – If I can't get Nick out I'll get Christie out
They gush about how much they love Tommy and could never put him up. Holly says Cliff would target Tommy.
Holly – should I put in people's mind that Christie and Nick are working together
Jackson – no, Talk to Christie first tell her what Nick said and let her handle it. Light that match, toss it get the hell away from it.
Holly is worried Nick will be even more pissed at her.
Jackson – put heavy emphases on "he said you said you would toss it to him"
Jackson – then go watch the fireworks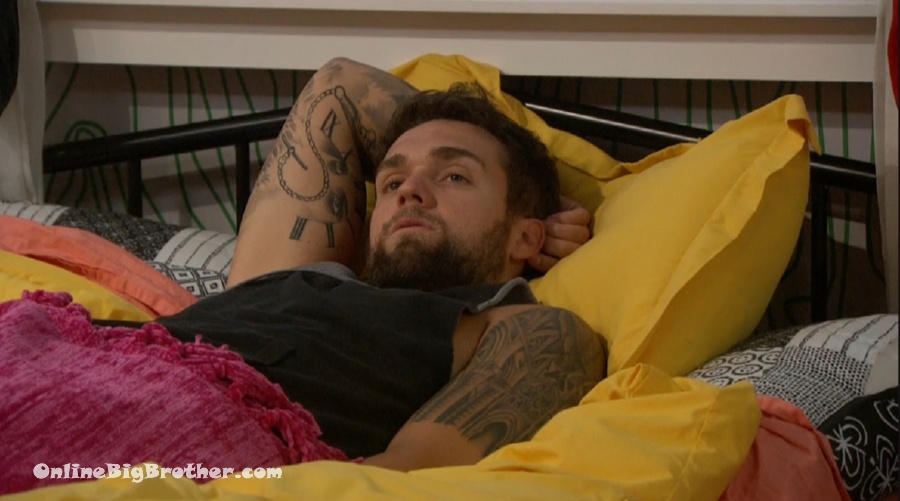 2:46 pm Nicole and Nick
Nick – I hope I don't go up this f*ing sucks
Nicole – I'm sorry
Nick – no it's fine.
Nick – if I go up I go up if I get the power I get the power
Nick begins studying the birds.. Listing them off. Nicole "mmmhmmm… mmhhmmm "
After he's done
Nicole – Perfect
Nick – whos going to get it if it's not me and you, Cliff probably
Tommy joins them they speculate about the prankster. Tommy thinks Cliff, Nick agrees "He's a big prankster"
Nick – If I did win it wouldn't be you guys, It wouldn't be CLiff and It Couldn't be Jackson. It leaves me two options.. Right that would be the only other two people right
Nick – at this point I hope I don't get it just so I don't have the blood I don't have to deal with it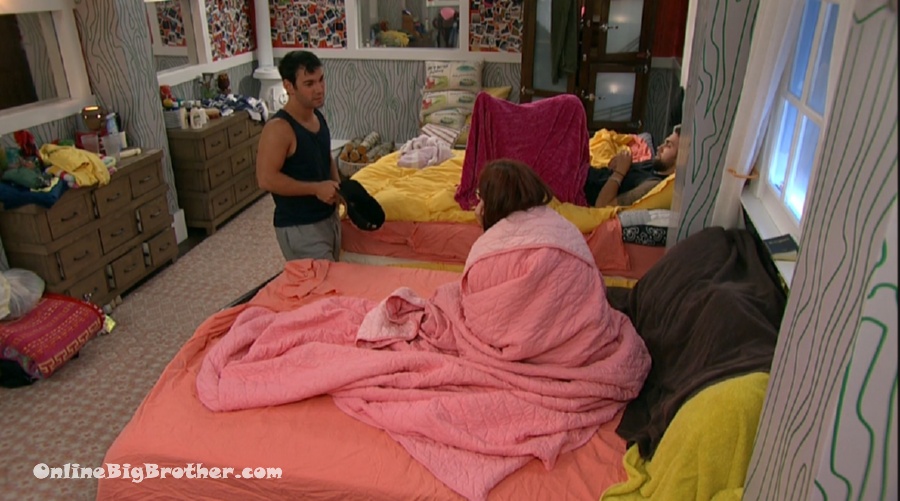 Nick leaves. They talk about last night getting pied. Tommy says he's embarrassed about how he reacted in the middle of the night he was so scared, "I was petrified I really was" . (OMG it was funny)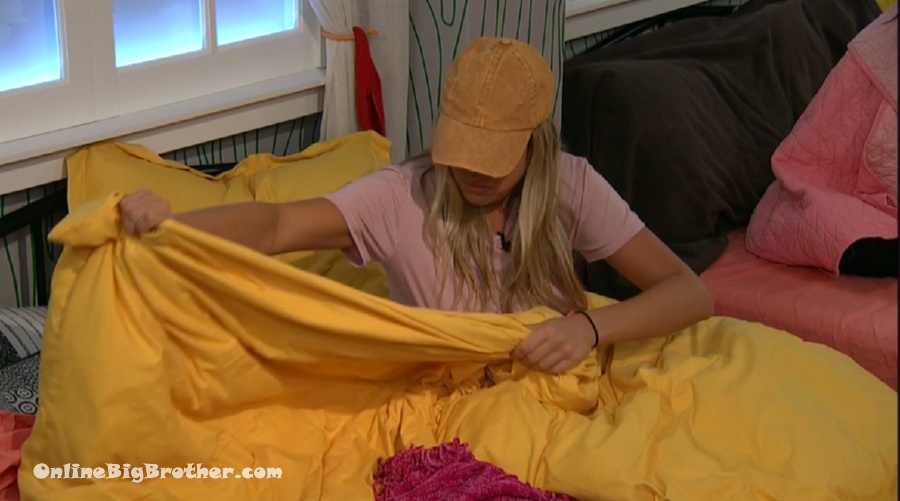 Christie comes by lays were Nick was. "why is my bed soaking wet.. eww it's wet .. ewww"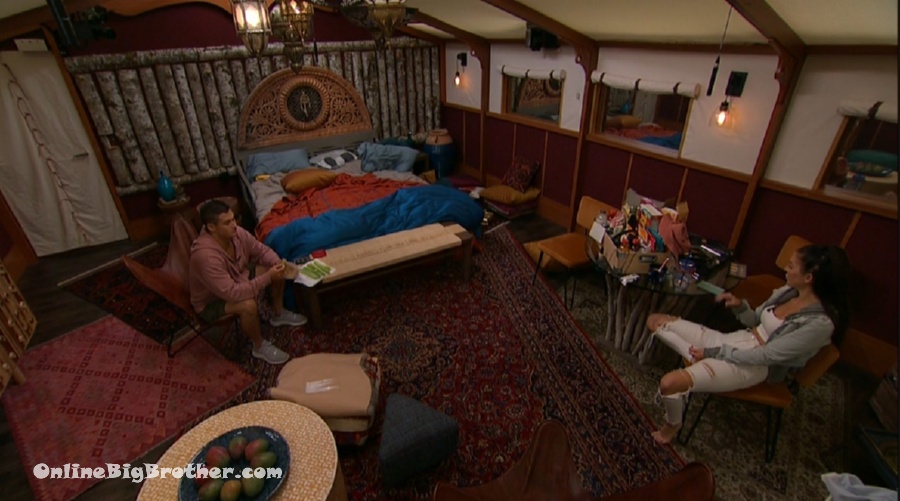 3:30 pm Holly and Jackson
Jackson – the best bet is to talk to Christie and try to get her to instigate it.
Jackson – No matter what I'll do what you need me to do if you need me to kinda sugar coat it with Nick I will gladly do that (after he's nominated)
Jackson – after noms
Holly – yeah
Holly says he should instigate with Nick and she will with Christie "it's playing with fire and I don't like fire in this game. I feel like I'm "
Jackso – let's just pin them against each other and see what happens
Holly – they're already against each other

3:40 pm Jackson, Holly and Christie
Holly – he (Nick) said that.. he told me.. you approached him. Christie approached me used those words and asked me to or said she would throw the comp to me
Christie – bring him up here right now he' a af*ing liar
Holly – he said you approached him and offered to throw the comp to him
Christie – What, Bring him in here..
Holly – he said you guys were both good.
Christie – he's a f*ing liar.
Holly – he said you offered to throw it to him
Christie denies it. Goes on to explain her side.
Christie reenacts Nick telling her "I'm not coming for you"
Christie – on my life, on my sister I did not say that. I never said I would throw a comp never.
Christie says Nick has the biggest mouth in the house. She would never trust him with any information.
Christie says noms are in 30 minutes.
Christie – he's a liar .. what is he going to say
Christie – he's so dumb
Holly – he thinks he's so smart
3:55 pm Nick joins them
Christie – I love you and you know I love you but I'm really upset right now you did you tell Michie and Holly I came to you to throw the HOH
Nick – I never said throw… I said we talked
Christie – we said we were good and I love you to death
Nick – I might have said if I got to this spot you might not be mad if I won
Christie – I'm sorry I love you but I didn't believe you when you said you wouldn't put me up
Christie – I literally do love you if I would win HOH I was going to put you up
Jackson – if Nick won and you weren't going up
Holly – that means I am for sure going up
Nick – I didn't say names. before that, you and Jess were going up if Sis stayed
Christie – I would never throw a comp
Nick – I didn't mean it to make it sound like she would throw a comp
Nick explains he meant that if it came down to the two of them in the HOH she wouldn't mind if he got it.
Nick – are you sure I said no replacement
Christie – I swear on her sister life.
Christie sticking to the story that Nick told her she wasn't going up but wouldn't tell her who he would put up.
Nick – I'm going to have to win the veto again. it's either I win or go home so apparently, everyone thinks I'm playing an amazing game.
Nick – Good luck on your noms we'll see who I'm sitting next to.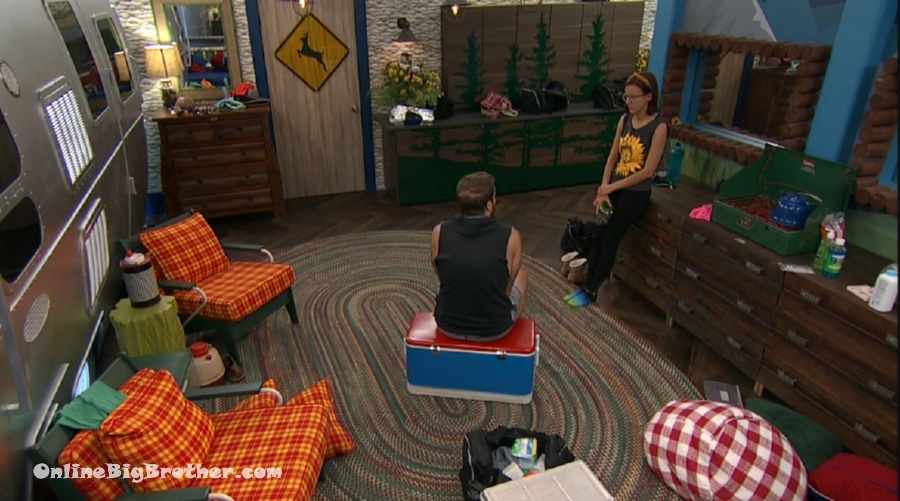 4:22 pm Nick and Nicole
Nick – I can't win. Why is everything I say gets twisted
Nick brings up Christie telling him she's not throwing the HOH but if it comes to them she might let him win.
Nick – Christie is denying she ever said that which is bullshit.. I never said Throw. Holly says Throw.
4:24 pm Feeds go down for noms.