Head of Household Winner – Holly
Have note are: Cliff, Nicole, and Jess get punishments
America's Prankster – Nick
Nominations are: Christie & Nick
Power of Veto Players are – Christie, Holly, Nick, Jackson, Jessica, Cliff
Power of Veto holder –
Power of Veto Ceremony –
Grab your live feeds —-> BB21 Live Feeds Subscription Link
Rank your houseguests —-> Big Brother 21 Ranking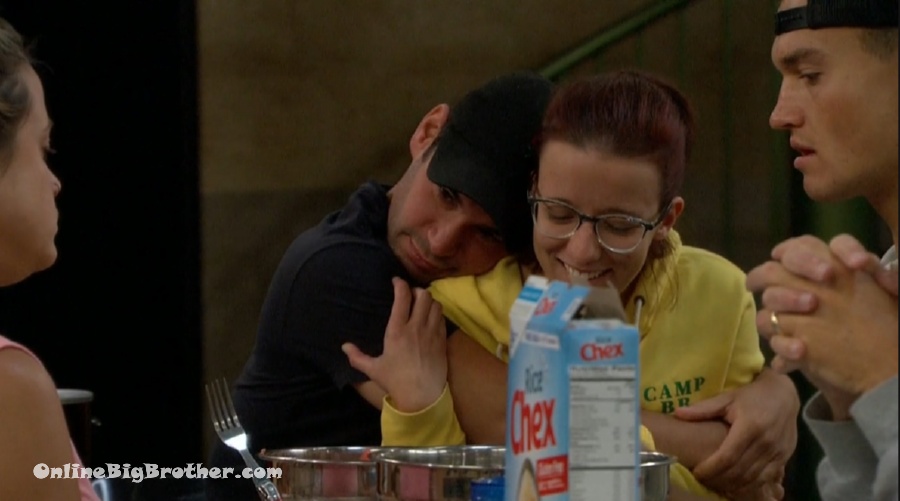 10:00 am Power of Veto players were picked. Everyone but Nicole and Tommy is playing.
10:04 am Most of the houseguests milling around.
Jackson – I hope you don't mind but if I win I have to take Nick off.
Christie – cries
Jackson – Sorry it's prank week
They laugh
Christie – cries.
Jackson – I'm sorry
They all hug cry and laugh.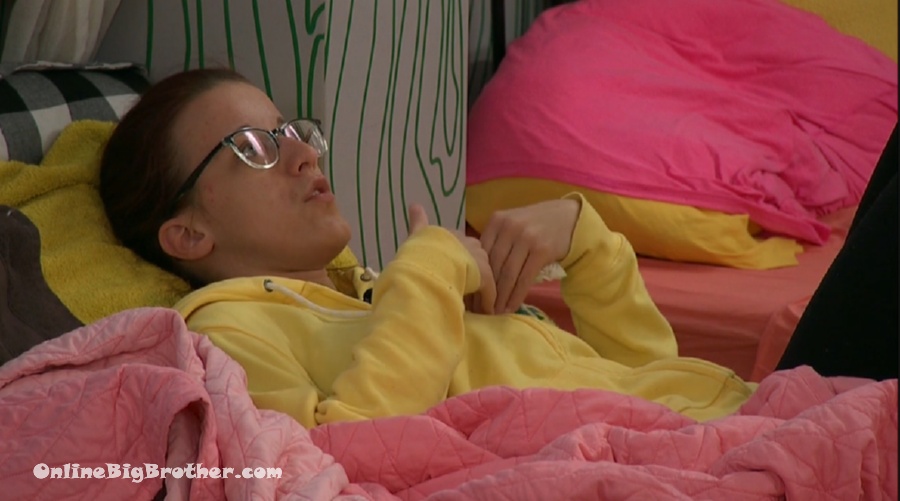 10:07 am Nicole
Nicole – where is my chip I never get picked
Nicole – it sucks for Nick's game and in turn sucks for my game
Nicole – why can't there be a prank and everyone is playing.
10:17 am Tommy joins her.
Nicole – I want to play I never get to play
T – cause you want to play for him (Nick) yeah I hear you
Nicole – he's backed into a corner right now
T – I know
Nicole – no one behind him so to speak in the veto. I don't like that. I always feel bad for the underdog
T – I know
Nicole – maybe it's just my nature maybe I'm playing this all wrong
T – This game is F8ed up
They agree Zingbot is coming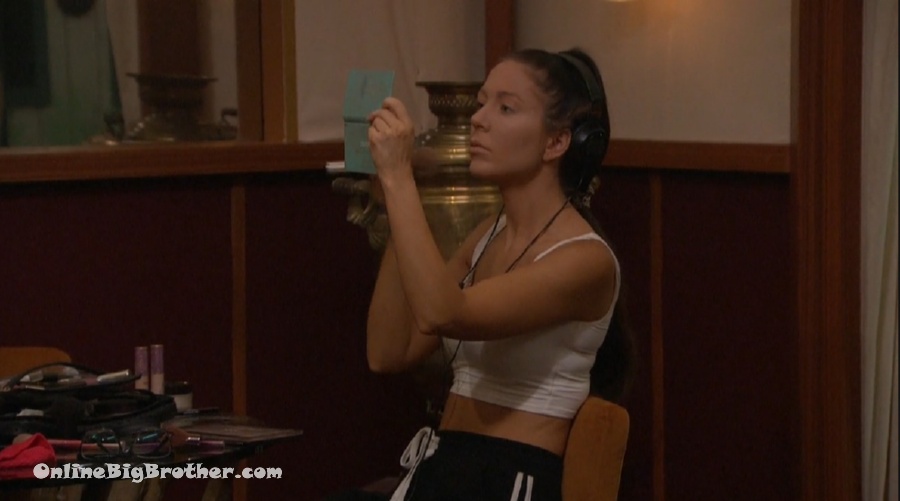 10:46 am Make up make up and more make up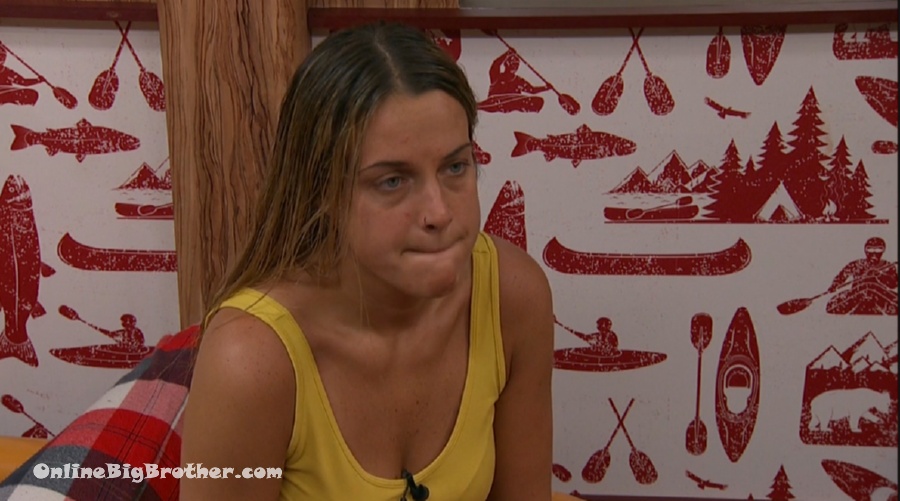 10:45 am Cliff and Christie
CLiff says he talked to Nick and told him
Cliff – I'm afraid if I win and I pulled you off Nicole could go up in your place
Cliff – Holy only had one pick and I wouldn't take that one pick away ..
Cliff says if the noms stay Nick will probably be evicted.
Christie says with her conversations with Holly she felt she was going up anyways regardless of the prankster. Adds that part of the deal she made with Jackson/Holly included her being a pawn so it's okay.
Christie says Tommy is in a tight spot he's close to both the noms but she's thinking he'll respect who Holly wants evicted.
Cliff – If Nick stays there it should be a large majority if not unanimous
Christie – I did volunteer myself as a pawn
Christie goes on about how much of a threat Nick is. She lists off all his attributes "He swindles people"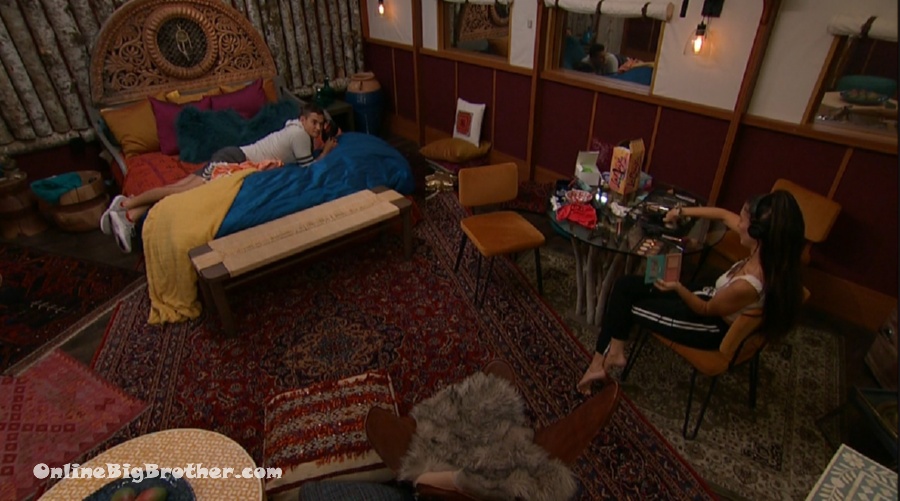 10:57 am Jackson and Holly
Jackson – Christie said something yesterday she's like .. Nicole was like you know there's still a couple of people that haven't gotten a pie and I'm looking at one of them. Talking about me and Christie was like yeah you just need to go up to the king and queens castle up there
Jackson – funny how she said that
Jackson – I trust Cliff and Nicole
Holly – I do too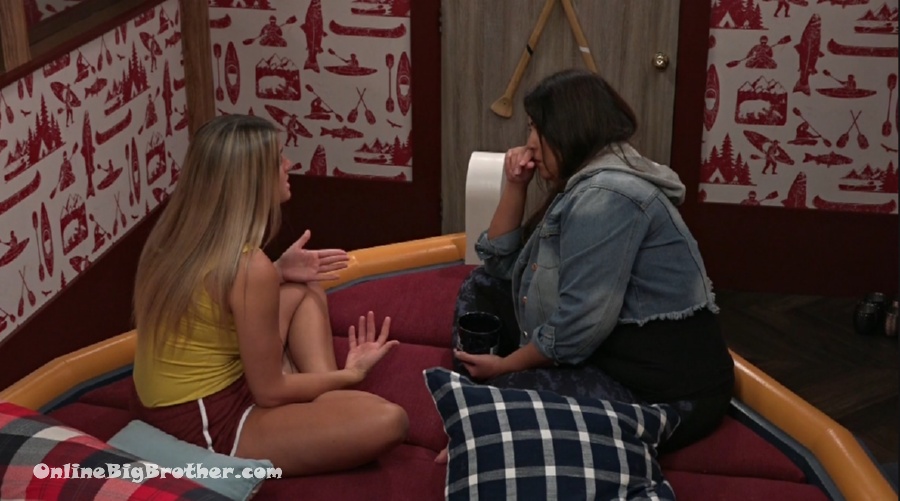 11:07 am Jess and Christie
Christie telling Jess she had to do what she had to do last week to stay in the game. She made deals and agreed to be a pawn. She's not surprised she's nominated by the prankster she was going up anyway.
Christie – I'm trusting as long as the noms stay the same I will be fine
Jess – Nick doesn't talk to me ever and I try to keep it that way. Its obvious where I stand with him
Jess was going to say "I love him he's a great person" but didn't because "I can't lie"
Jess – I think he's a funny guy I would like to get to know him outside this game.. maybe love him from very very far away he's a human and I love all humans
Jess says she wants to respect Holly's nomination.
Chrsitie goes on about "respect the noms"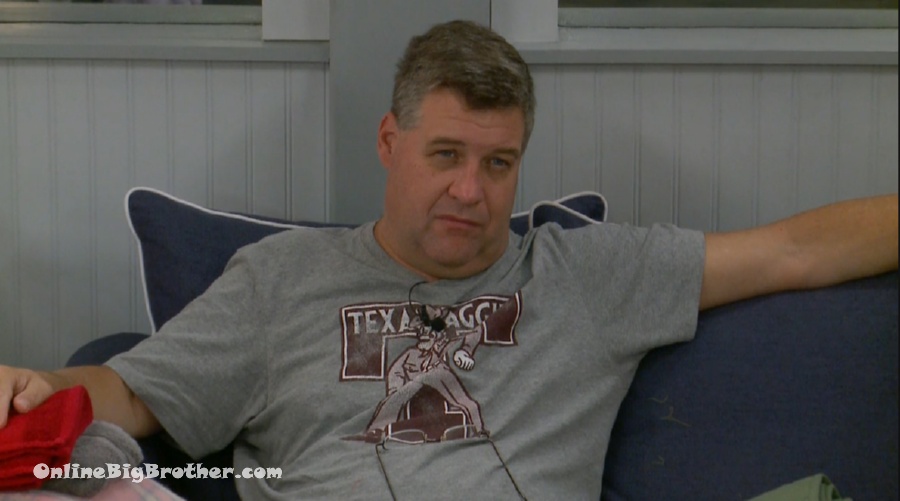 11:10 am Nicole and Cliff
CLiff is saying that is must have been Nick who is the prankster
Nicole – If Christie comes down
Cliff _ I don't know. Hopefully, it doesn't matter there should be enough votes. (To get Nick out)
Nicole says Nick wouldn't put the two of them up.
Nicole -she's scaring me. I know some things she says are lies that freaks me out really freaks me out
Cliff – If I win HOH Christie and Tommy are going up there. They both worry me. Oiubisouly there's not a lot of people left.
Cliff – there's a part of me I wan=uld want Tommy to win and make some deals himself
Nicole – what if America's prankster puts up Michie
CLiff you could easily see some people flip if things went the right way /
Cliff says right now going final 4 with Michie and Holly is fine with him. "I just don't know who else they talked with"
Nicole mentions Jess and Nick being in her ideal final 4 but Michie and Holly "Its great for now".
Cliff – I would like to see some blowup where CHrsitie becomes the enemy and things flip like last week
Tommy joins them.
11:24 am Nicole gets called into the Diary room. They think this means the Power of Veto is starting.
Christie cannot stop talking for 20 seconds to brush her teeth.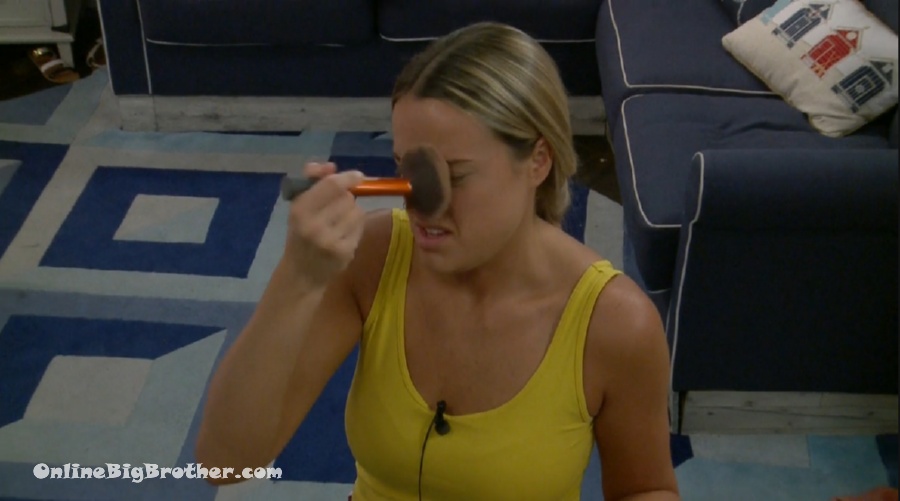 11:30 am Christie now telling Nicole a summarized version about already knowing she was going on the block etc etc..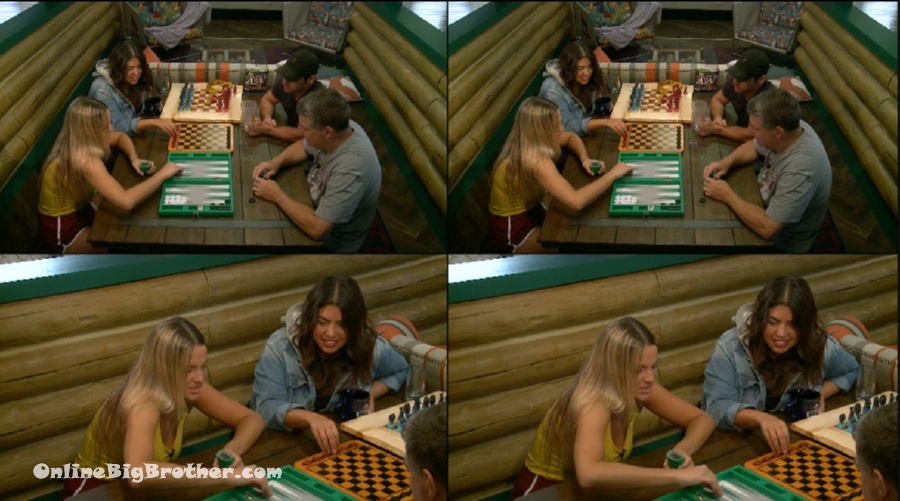 Noon….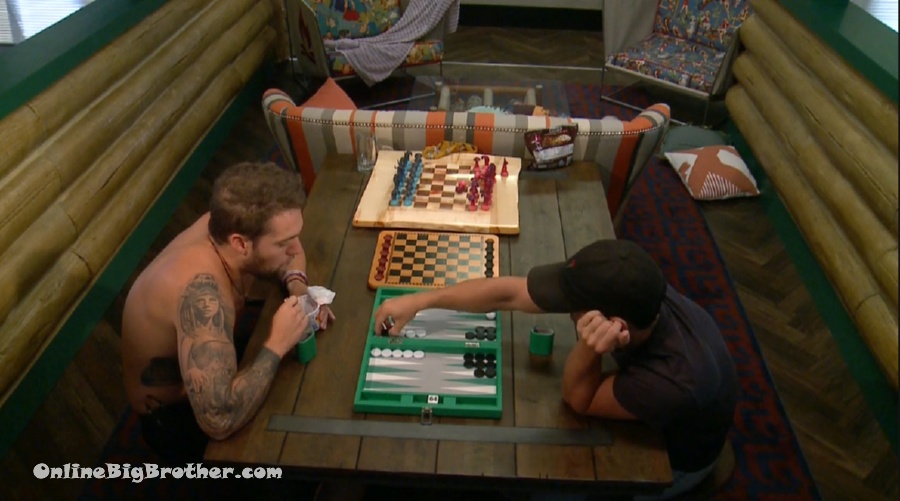 12:38 pm Nick and Tommy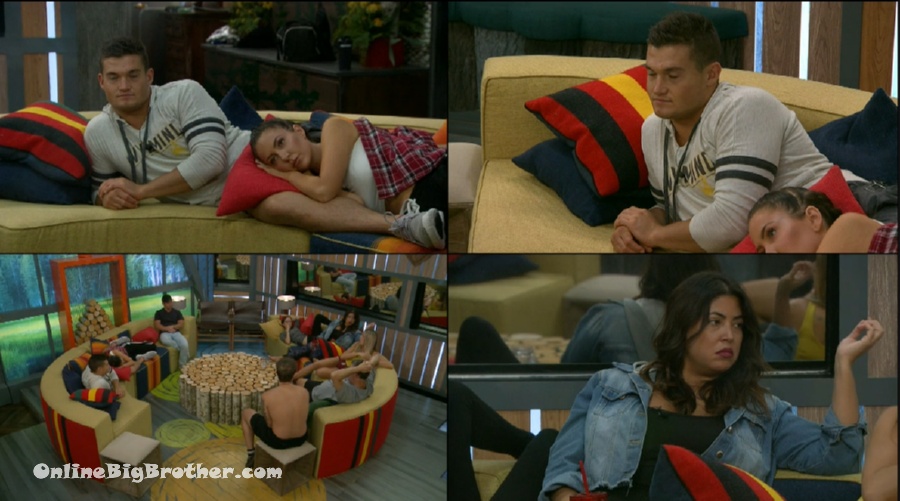 1:35 pm waiting for the veto
1:55 pm still waiting around
1:57pm Big Brother blocks the feeds for the Power of Veto competition..
4pm Still blocked…