Head of Household Winner – Tommy
Have note are: No Have nots this week, Jack, Tommy and Jackson were given punishments as part of the veto.
Nominations are:
Power of Veto Players are –
Power of Veto holder –
Power of Veto Ceremony –
Powers in the game *** LINK ***
Grab your live feeds —-> BB21 Live Feeds Subscription Link
Rank your houseguests —-> Big Brother 21 Ranking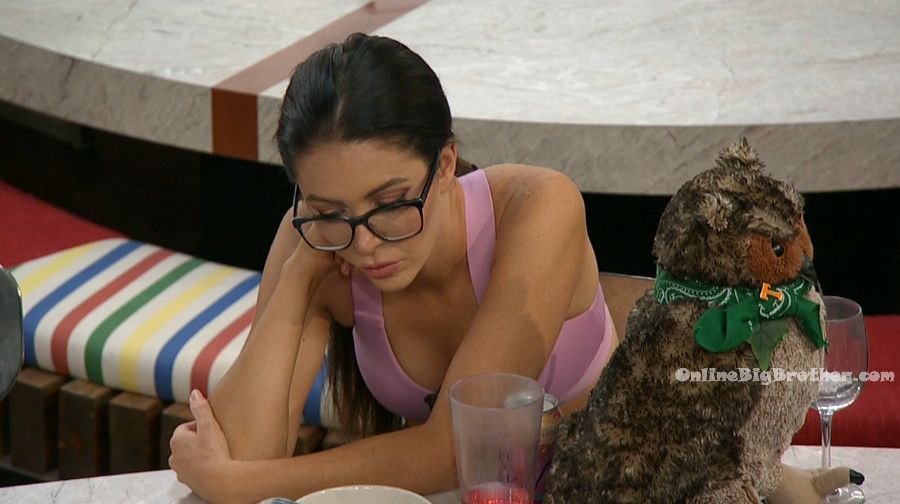 8pm Kitchen. Holly and Sis.
Sis – he (Cliff) would have been safe almost every week .. and he didn't take it. This morning he told us.. Holly – that he didn't want to. Sis – and its nothing against Jackson, I had to do what I had to do. Holly – I know. Sis – I know that if Jack didn't stay, I was going to be alone. I was going to be a floater. Holly – no you wouldn't have. I told you I would have your back regardless. Sis – I know. I just felt like that's where I would have stood. So I was really like this whole week ..like f**k, f**k, f**k. What do I do?! You konw?! Because you know where I stand with Christie. Like I wanted to slightly go away. Holly – that's the thing, she (Christie) is the threat that is unraveling all of us. Sis – I know and I wonder what he (Tommy) is going to do now? She is going to play both sides again. She is going to play with Jackson and with Tommy and whoever else. She is going to float right in the middle. Holly agrees. Sis – that's what she did in the beginning and when everyone started to notice that's when she started being close to Jack.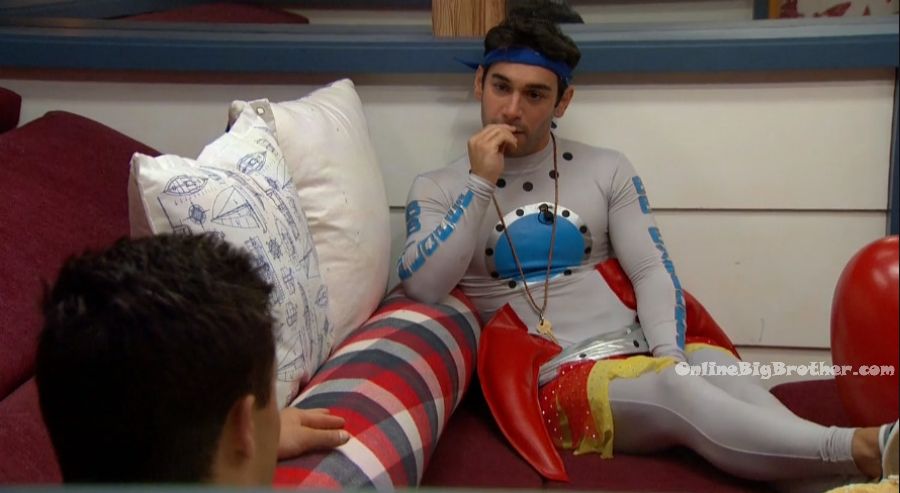 8:02pm Boat room. Tommy and Jackson.
Jackson – Straight up! Good job on that sh*t! Tommy – thanks! Jackson – you know me. I'm not fake. I'm not going to kiss your a$$. Tommy – No, I don't want you to. You don't need to .. like its me and you. Jackson – I know. Jack told me before he left that I could trust Tommy and Sis. And I know I can. Like I told you before. Tommy – it was a mess for a second but its not like that in reality.
Jackson – going forward this is your HOH and you need to play your best game and what is best for you. Going forward taking out whoever you need to take out and working with whoever you need to work with. Getting the least amount of blood on your hands as best as possible. And I understand if I go up as a pawn. In no way am I asking for it. Tommy – I didn't .. I wasn't even considering it but I really should think about it. If you are up there it would just be as a pawn. Jackson – I would be nervous. Tommy – But I don't want you up as a pawn because people would just vote you out. Jackson – If I am up there against someone like Jack .. Jack would go home. If I'm up there against someone like Nicole, I am pretty f**king scared. Tommy – I don't think you're going up this week. Jackson – I appreciate it. Tommy – I am pretty sure … I think I know who my target is and I don't want to say it. And I don't want to say it to anybody because I don't know who I can trust and I don't know who is working with who anymore. Jackson – I am on no man's island and the only person I can pretty much trust is Holly. Tommy – I trust and love you both. I might not be afraid to tell you but it might be one of your friends. There aren't that many people in the house and if I'm not going after anyone in the 5.. it leaves a small amount of people. Jackson – I don't know what direction you want to go and if you want to do a backdoor, blindside someone, or put someone straight up. Tommy – not a backdoor. Jackson – If I had won this HOH, you would not see the block. And if I next week is the double you're not going up then either. Tommy – what I get worried about is Christie going up as the target but be going up as the replacement. Her winning veto and me getting stuck up there. Jackson – you're not going up against her because people know how good your social game is. I wouldn't risk that. Tommy – I know that. I am 90% sure you're not going up. I am not going to risk any of our games. I am not going to put up any of the six shooters. Jackson – Christie and I have mended things. Jackson – its like the godfather is gone and now you're taking his place. I have no bird, I have no bush. I have no reason to lie. If I am going up just please let me know. Tommy agrees. Tommy – I am happy you're here. Lets do this. We can still f**king do this.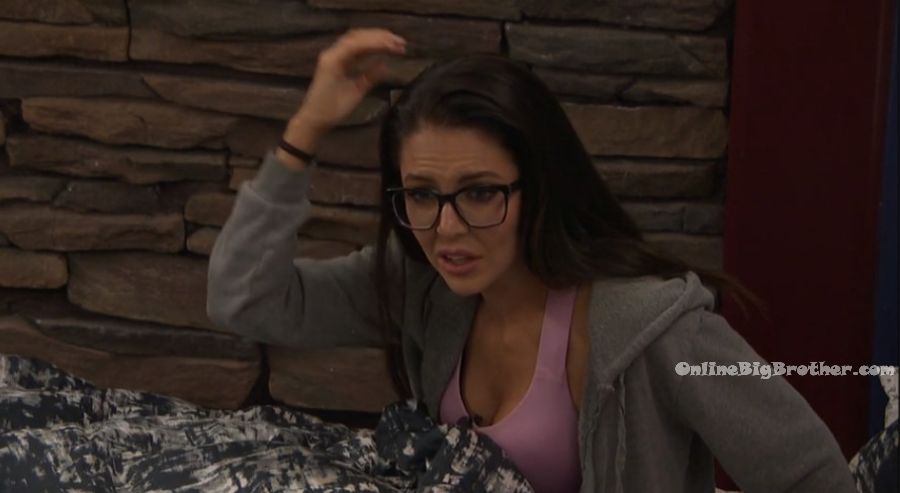 8:36pm Bedroom. Kat and Holly.
Holly – I think his target is going to be Cliff. He might put Jackson up. Kat – I think he's going to put me and Cliff up. Holly – if it is you and Cliff, I don't think its the worst thing. kat – yeah I would stay. Jackson joins them. Jackson – I would be shocked if I don't go up. Holly – yeah, you volunteered to go up! Like you can't put that in his head. I can't believe you told him to put you up as a pawn. Jackson – no I didn't. Holly – you definitely steered his head in that direction. Jackson – if one of us is going up its not going to be you. And I am not going to le you see the blokc. kat – I don't think either one of you will because they're trying to get the six pack together. Kat – I don't want to be on the block. Jackson – I will probably go up as a pawn to keep things balanced.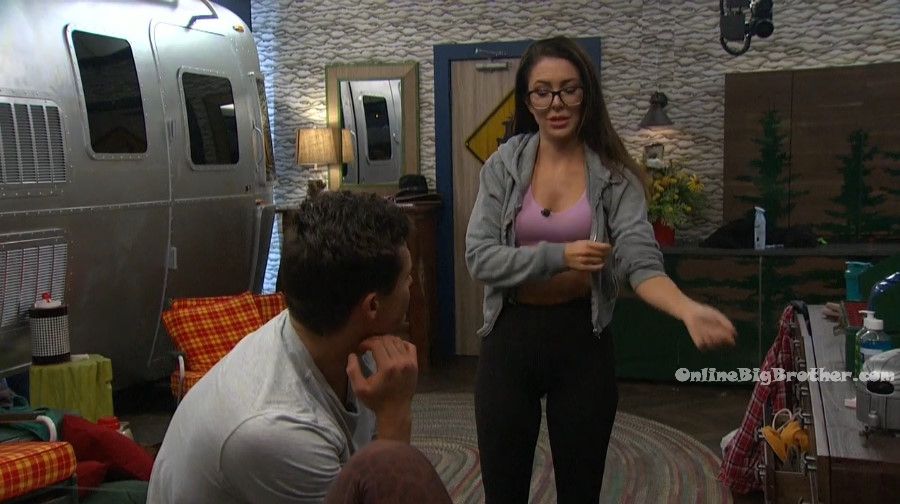 8:45pm Bedroom. Christie and Sis.
Christie – I don't want to put any pressure on him or ask where his head is at because I trust that he will make the right decision. Sis – I mean I do want to talk to him personally. Christie – I know its not us. So it almost doesn't matter what he does. Like I trust him. Sis – yeah totally. Christie – I almost feel like this is the universe saying now you have a week ..Jack would have wanted. Sis – I am worried that he will be in the jury house not thinking about his ex.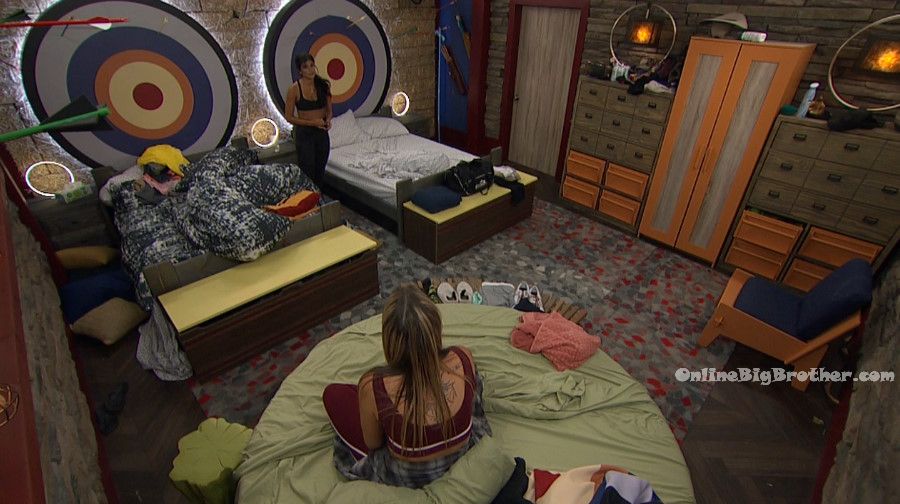 9:40pm – 10:10pm the house guests are eating in the kitchen.
10:55pm – 11:10pm Tommy gets his HOH room. They all rush up to the HOH room and check out his HOH photos / HOH basket.
11:25pm Outside the HOH room.
Christie decorates a cake for Tommy.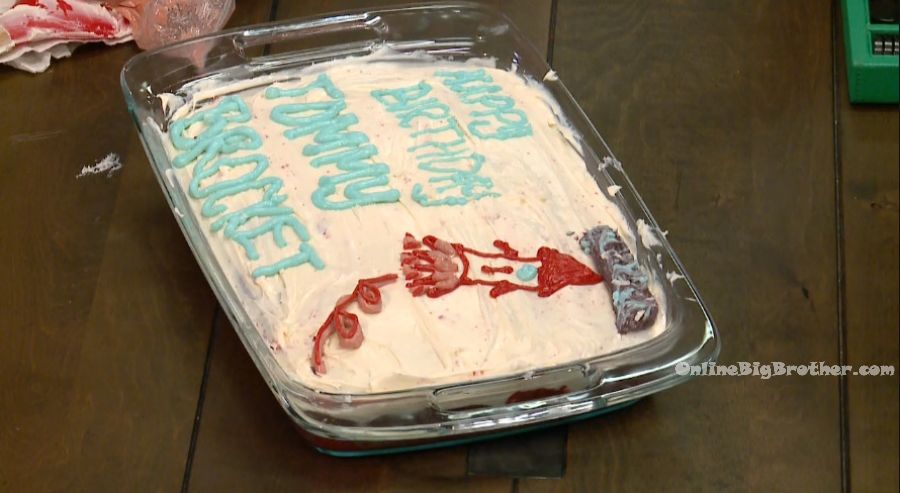 11:30pm They all sing Happy Birthday to Tommy..
Kat tells Tommy – Nick told Nicole that you were going to put up me and Cliff. Tommy – If Nick said that, that's what Nick thinks. I didn't say that. I didn't say anything to anyone. I promise I won't. I feel like I really don't know what I'm doing and I feel like so much happened last week that I don't know about. And I was on one side of what happened last week. I was on Jack's side. I don't know what was really happening. I just want to know what happened. Not just about what happened because that was last week and I don't really care but just more where people are and see what people's plans are.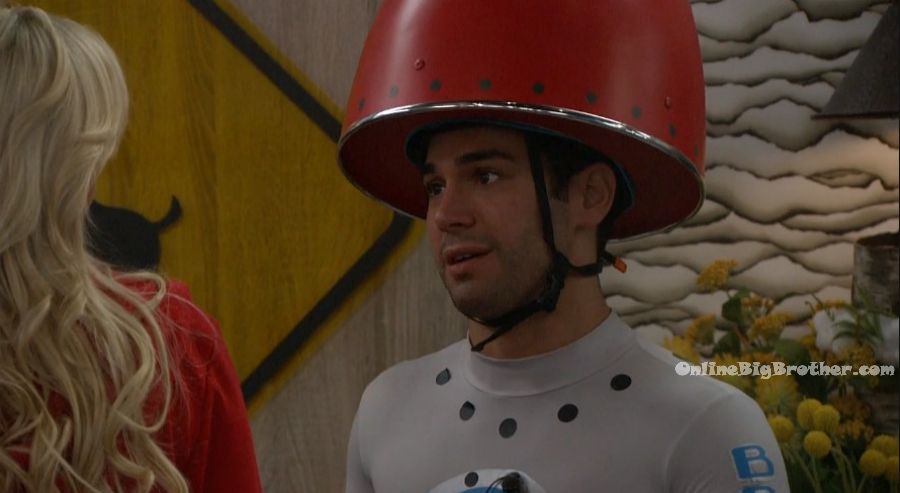 Kat to Holly – I want to f**king go home but I can't I would have to go to jury. Holly – what? Kat – I just hate feeling like I am going to go up. Holly – I think its either going to be me & Jackson or Jackson & Cliff. Or you & Cliff. Kat – I just feel paranoid and I would rather go home. Kat comments on how Nick told her Kat and Cliff were going to go up so she went to Tommy and just asked. Holly – he would never target Nick right? Kat – yeah.

12:16pm HOH room. Tommy and Christie.
Christie – I agree, I want Michie out. I am taking this as a sign that you were the one to win because if I had won I would have put them up and I think you had to win to let a week go by to mend the fences. I just have t trust you on that. I trust the universe. Tommy – I really believe that and I think that Nick, Nicole, Kat and Cliff have a final four. I think they have an alliance. I would be going after 3 of those people. I want him to have nowhere else to go but us. Christie – you want Nick nowhere else to go but us? Tommy – yes, please do not tell anyone. I trust this. Jack picked up that they have a four. Everything went back to them. Christie – yeah I believe that, Kat makes it like she hears the "walls". Tommy – Nick has worked good with me. I do not think that the old alliance should be fine .. I think you should still act like you're still fighting for the houses purpose and for us moving forward. People have said to me that the most dangerous showmance alliance is you and Christie.
I think my plan is Kat and Cliff but I have to find a way that Kat goes over Cliff. And I think that maybe its take Cliff off and put Nicole up at the end of the week.
Christie – or you just make her feel she is totally secure and a pawn. Tommy – but I want to make sure its one of those three .. because I want to weaken Nick. He has a secret army. Kat is a piece of the puzzle that connects Nick with his four, Holly & Michie, and then Jess. So she has to go but I don't know how to make all of them vote against her. But I think that my speech could let them know that she is more of a target than she is letting on. Christie – everyone thinks that she is their ally but really she is everybody's. Tommy – that's what I could say is that the type of player that I fear the most is one that is good with everybody. And hopefully, get their gears turning. There is so much info on Kat to get Jess turn on her and I don't know how much to give her. Christie – ok, cool!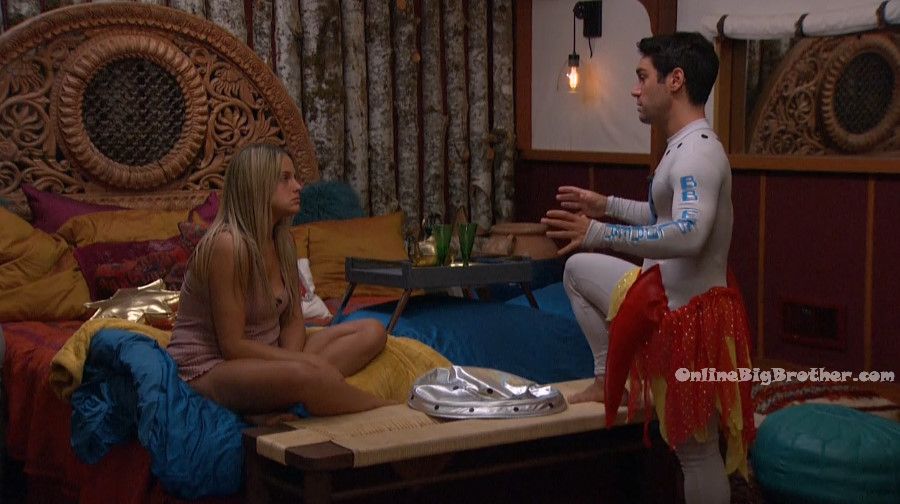 12:28pm HOH room. Cliff and Tommy.
Cliff – I hope you understand why what happened today in terms of the votes. Tommy – I would have done the same thing as you. I totally understand. Cliff – he was just a strong player and I did not want to be with him in the end. I promised to get him out and I just don't break my word. I didn't come to play for 5, 6, or 7 place. I have always been straight forward in the way I play. And I never did put you or Christie up and I see us working together. I am ready to make some promises and commitments but I do not have a group. Tommy – I really am not playing with Christie.. especially over the last few weeks. Cliff – the one person I am worried about is Sis. I know she just lost Jack. I hope anything that I did with her isn't considered disrespectful. Tommy – if I have to nominate you, I promise you .. you are not who I want to go home. Cliff – thank you. Tommy – I can't promise that you can't go on the block. If you do go on the block tomorrow, I will do everything that I can to make sure you're not on the block at the end of the week. Cliff – and if I end up going home, there are no hard feelings.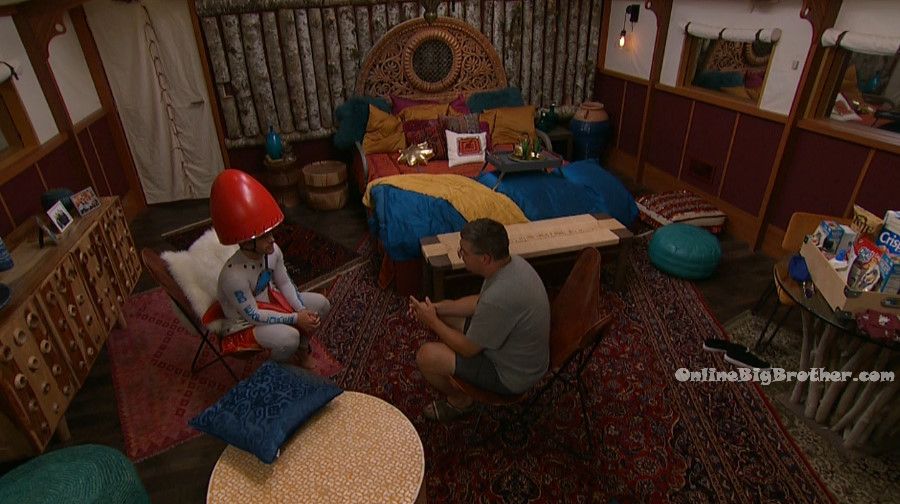 12:40pm – 1:05am HOH room. Tommy & Kat.
Tommy – I just want to know where everyone is at. Kat – part of me feels guilty that I voted how I did. It was a torn decision. I did what was best for Jess because I am close to her. Jack and I were never close allies. Tommy – I am going to do what is best for the house. Kat – that's what I would do. Tommy – No matter what happens I f**king love you so much and at any point I want you to know my door is always open. Kat – to be honest I really don't want to go up on the block again. I would never hurt your game, I would only enrich it. Is there anything I can do or say to not go up on the block? Tommy – I don't think so. I hate this part, I don't want to put anyone on the block. I don't know what I am going to do.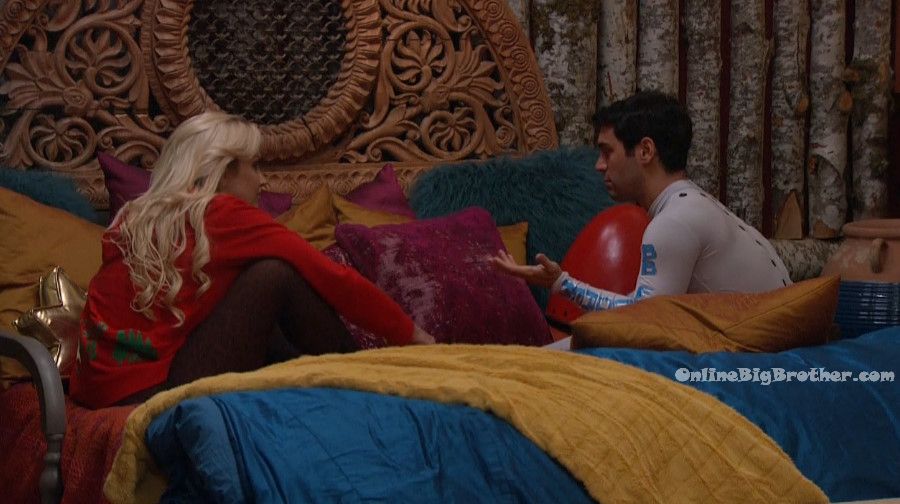 1:05pm HOH room.
Tommy – I am telling everyone that I am not saying names but I am only saying names to you. I think my target is Kat. You have Jess and Kat. You have a four = Kat, Nick, Nicole and Cliff. And I want to weaken that alliance so that Nick has nowhere to go but us. Sis – true. Tommy – then you have Kat, Holly, and Michie. If we get rid of Kat, then we weaken all of those teams. Sis – I would put up Kat and CLiff. Tommy – that's what I was thinking. Nick joins them.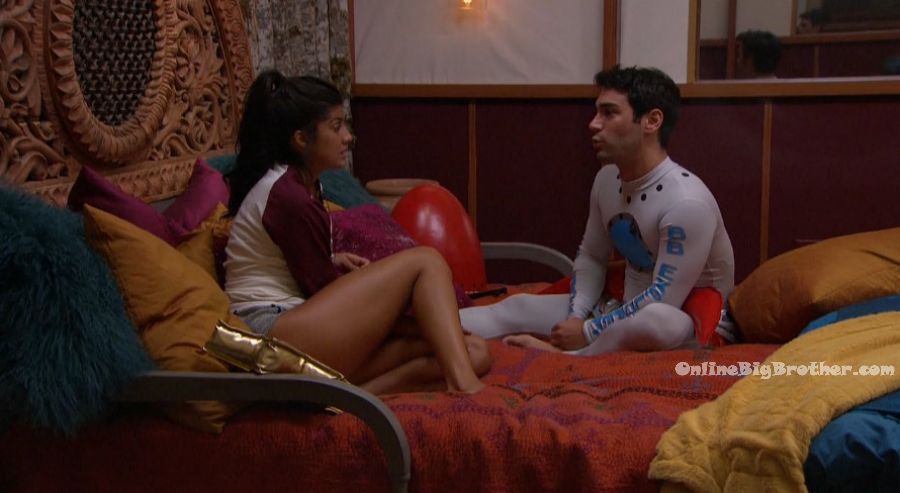 1:35am HOH room. Sis, Nick and Tommy.
Tommy – I want to do something that is best for the house. Nick – least blood. Tommy – what would that be? Nick – Jackson. Sis – I think Jackson is least blood for sure. Tommy – but is that .. that's not smart. Nick – it depends on who you see yourself working with and who would come after you.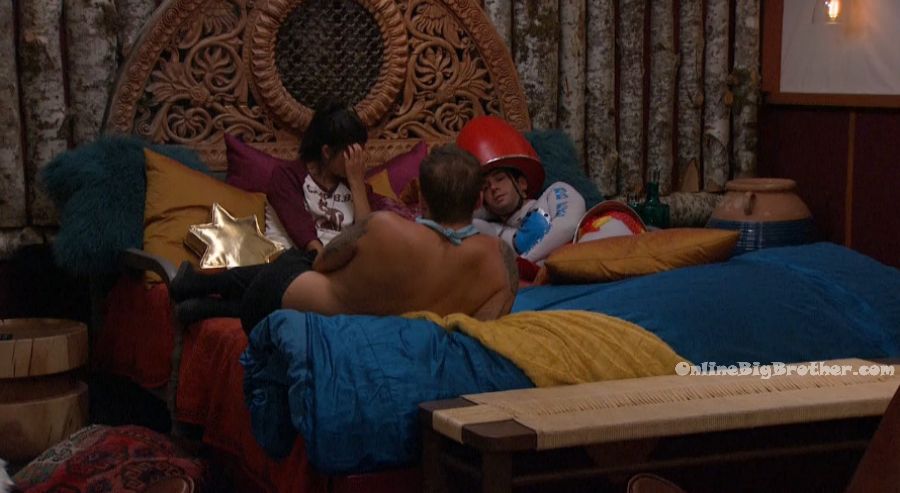 1:55am Tommy and Jess.
Tommy – I want to work with you. I love you. I am kind of obsessed with you. Jess – so am I. It was never a thought to put you or Christie up last week.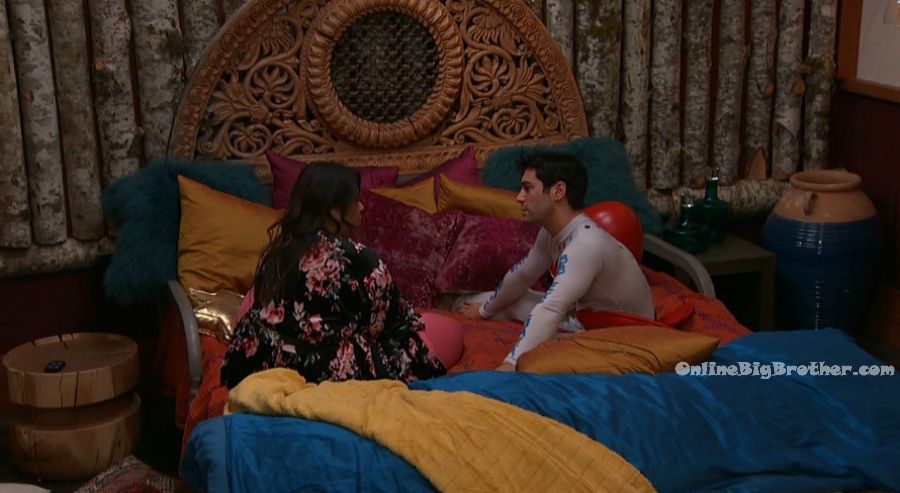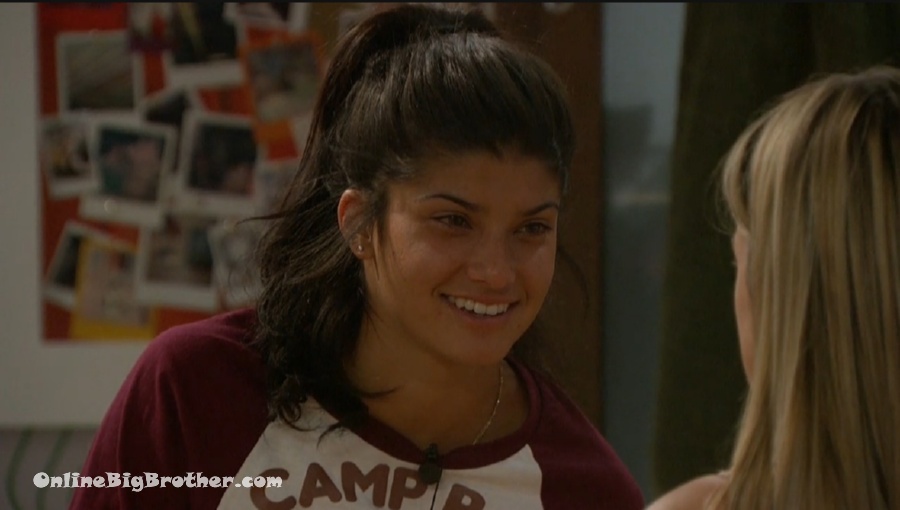 2:00 am Sis and Christie
Sis says that Tommy told him he can make things good between Cliff and Sis. Sis complains that her name keeps coming out of Cliff's mouth.
They talk about how dangerous Cliff and Kat are and that Tommy putting them both up is the best play.
Sis – do you think Jack would hook up with Kat. In jury
Christie – I literally hope not
Sis – he could be so f*ing horny
Christie – well he can use his f*ing hand
Feeds flip to Tommy talking in the HOH to Jessica. when we're back They are talking about Sis' ex that would shower 4 times a day and always after s$x.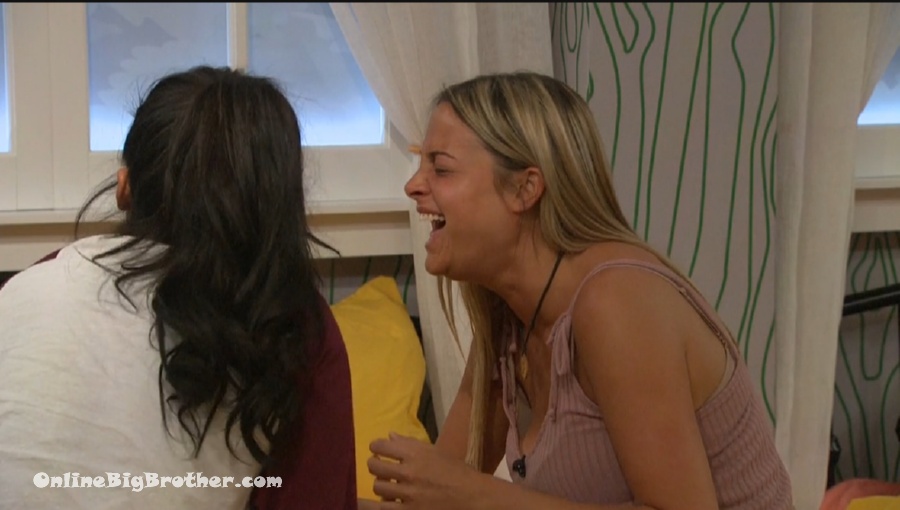 Christie says Nick doesn't do his laundry and he wears the same "poopey Shorts"
Christie says she was laying close to Nick once and he smelled "buttish" "It was the black basketball shorts"
Christie – you know how a 4 year old is just learning how to wipe and they don't do it that good
They go back to talking about jack being horny and the feeds flip.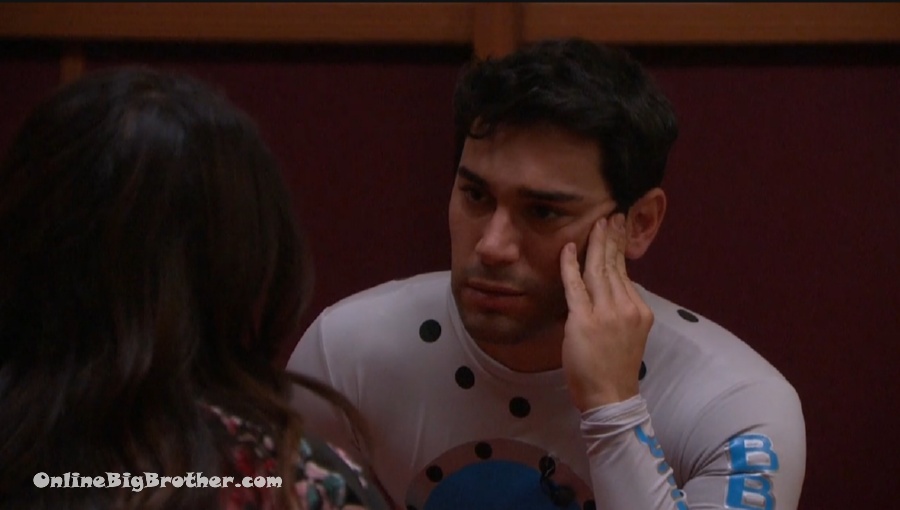 2:01 am
Tommy – I want to work with you Jess I really do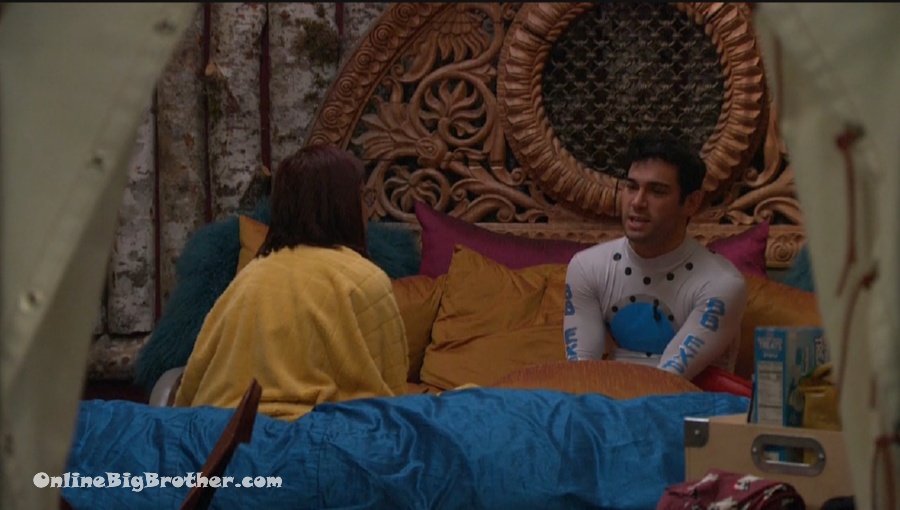 2:56 am Nicole and Tommy
Tommy – I love you so much I love the game that you play. I am so happy we have been spending more time together. I am playing an individual game I will not be building any alliances this week you have my word.
Tommy goes on about not building any alliances this week and just focusing on his individual relationships.
3:11 am Cliff and Nicole
Nicole going over something Nick told her that she relayed to Kat then she ran up and told Tommy. Nick told Nicole that Kat and Cliff are potentially going up. They agree Kat becomes too paranoid.
3:20 am Nicole
Why kat why? she is so freaking paranoid. Learned my lessons.. UGH Darn it . Why do I open this portion of my face.. UGH. Dammit
I told her just to give her a f*ing heads up because she's in my alliance and I don't want her blindsided.
She goes up there and says Nick told Nicole. why would you out our names?
Learned my lesson. Be careful saying things to your own alliance members.
what else is she telling people I said. CRAP
OBB wouldn't be possible with our your support!
If you are one of the generous people that donate to help keep the updates coming, we're giving out a bit more this year. Check out this page for more details: OBB Members
Share it YO!!
Tweet