Head of Household Winner – Tommy
Have note are: No Have nots this week, Jack, Tommy and Jackson were given punishments as part of the veto.
Nominations are:
Power of Veto Players are –
Power of Veto holder –
Power of Veto Ceremony –
Powers in the game *** LINK ***
Grab your live feeds —-> BB21 Live Feeds Subscription Link
Rank your houseguests —-> Big Brother 21 Ranking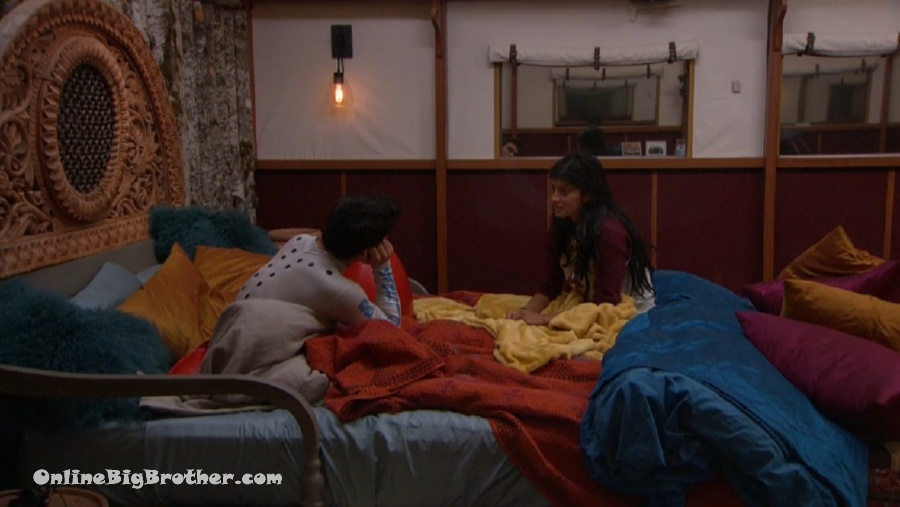 8:53 am Tommy and Sis
Tommy – I think my speech will be something like this. Last week taught me how dangerous being in an alliance can be and I've .. And I give everyone in this house my word that I will not be using this week to build or rebuild any alliances. Instead, I'm working on individual relationships however it got me thinking of the opposite. the flip side. People who are not in an alliance but have good working relationships with everyone in the house. That's the player I fear the most.
Sis – That's good
Tommy – Then I will just say I'm sorry you guys are up on the block. It's nothing personal. it is totally game, I'm excited for you both to play the veto. and if you have any questions come tell me or something like that.
Sis – That's literally perfect and it's not like they are blindsided. they get a chance to play
Tommy – You both get a chance to play.
Sis – Whoever wins.. wins
Tommy – Whoever wins, wins. I love you both it's truly not anything personal just someone had to go up
Sis – That's really good.
Tommy – And then I talked to Michie and I asked him if he could give me his word that he'll vote how I want him to vote.
Sis – Good
Tommy – I'm not going to do it with holly, just Michie and Nick.
Sis – Ohh why not Holly?
Tommy – Because I want them to know I think they are separate players and I don't want to put Holly in the position that she, well here's the thing. This is what I learned in my one on ones.
Tommy – Nick gave, and I don't know if he was going to stick to it or not but Nick and Cliff gave Jess their word at the start of the week that they would vote how she wanted them to vote. So at the start of last week, they basically were already going to vote out jack
Sis – Already knew
Tommy – So I'm going to pull Nick up and I'm going to say I found this out I don't know if you really had any intentions of sticking to it. I don't care moving forward. I know that I'm good with you but it got me thinking. Would you make the same promise to me? If I promise you I am not putting Nicole on the block will you promise to vote how I want you to vote?
Sis – he did say he was going to vote Kat out.
Tommy – You, Christie, Jackson, Nick
Sis – maybe Holly, I'm sure she'll vote whatever you, Michie wanted.
Sis – how did Jess' talk go?
Tommy – great. I just gassed her up
Sis – I feel that no one is going to come after you
Tommy – Nick did tell me and you that Cliff was going to come after me if he one
Sis – I told you
Tommy – oh that was you sorry
Tommy is going to tell Cliff he heard he's Cliff's target. He'll add that he doesn't care about that he doesn't want Cliff to go home, "I want to know where you're head is at moving forward"
Tommy is wanting to drive a wedge between Cliff and Nick. He'll hint that he heard from Nick that Tommy is on Cliff's radar.
Tommy – kat I frickin love you, We were working together I see you working with Jess, I see you working with Nick, Cliff, everyone,
Tommy goes on about telling Kat he has no idea who she would put up "You are allied with everyone"
Sis thinks she would go up "we never talk game never"
Tommy – She's dangerous, She's a dangerous player by getting her out I weaken everybody
They think Jess will join with Cliff and Nicole and Nick will come to them.
Timmie – I f*ing love Nick and I want to trust Nick
Timmie – Nick is good for our games moving forward, I love him
Sis – I feel like I can trust him
Timmie – I think you could
Sis – I don't know how much he's playing both sides.
Tommy says from his One on Ones they all knew about jack's masterpiece deal
Sis shocked "They knew about the deal"
Tommy – they did. kat said that to me Jess said that to me
Sis – that means Nick was telling them everything
Tommy – maybe not everything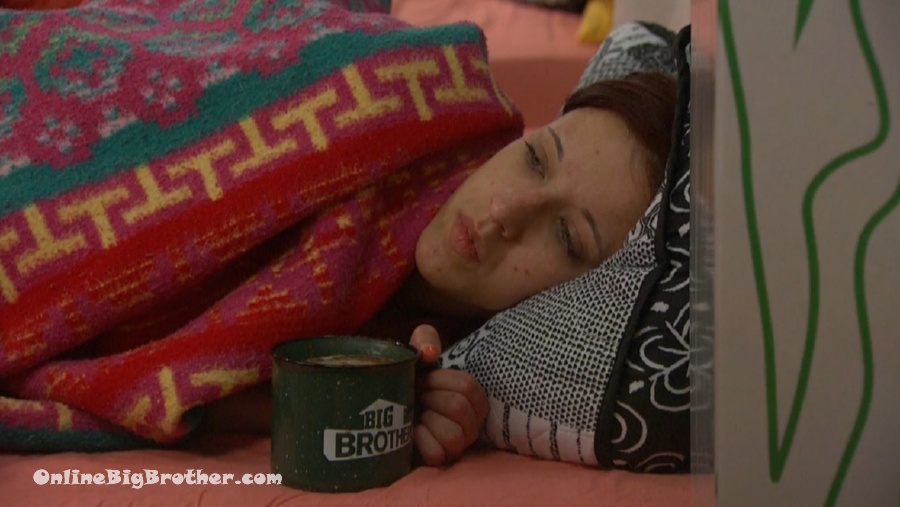 8:51 am Nicole and Jess
Nicole – he said his decision is what's best for the house
Jess – he said the same thing to me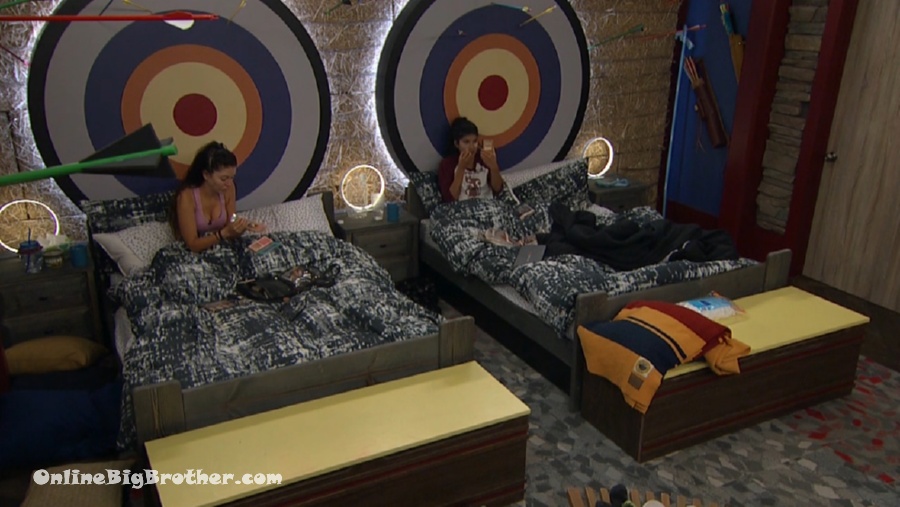 9:27 am Sis and Holly Caking on the makeup
Sis tells her Tommy wants to talk to her.
Sis – I have no idea what he's going to do
Holly – zero idea
Sis – it's hard he likes everyone
Sis – I wish the double was last night I really want to get it out of the way.
Holly says she feels like she doesn't belong anywhere in the house so she might be easy picking in a double.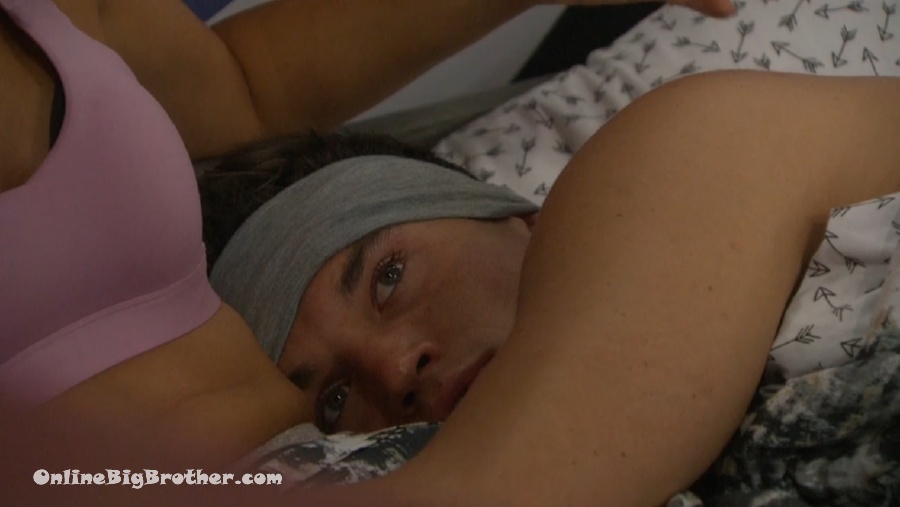 9:54 am Holly and Jackson
Holly is speculating that Kat and Cliff are going up. She's worried that Kat is the target.
Holly – Tommys not on my radar, He dangerous but he's not on my radar. Christie is.
Holly – Cliff wouldn't throw us under the bus would he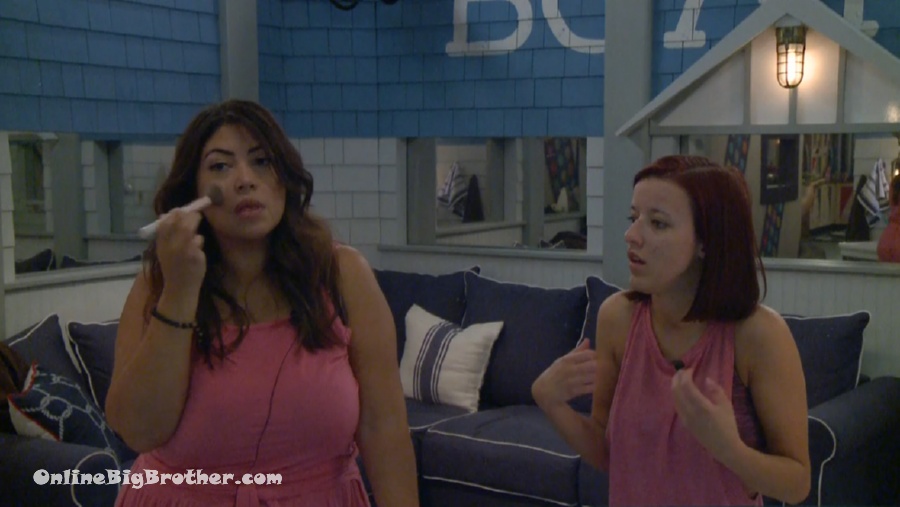 10:01 am Nicole and Jess
Nicole complaining about Jat telling Tommy that Nick told him Kat and Cliff are going up. Nicole doesn't think Kat did it to spite her.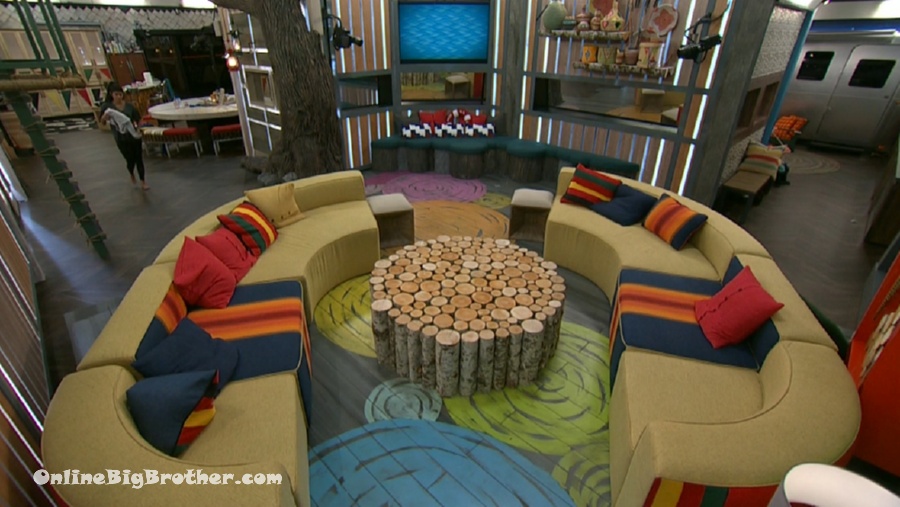 10:25 am Noms not on the screen.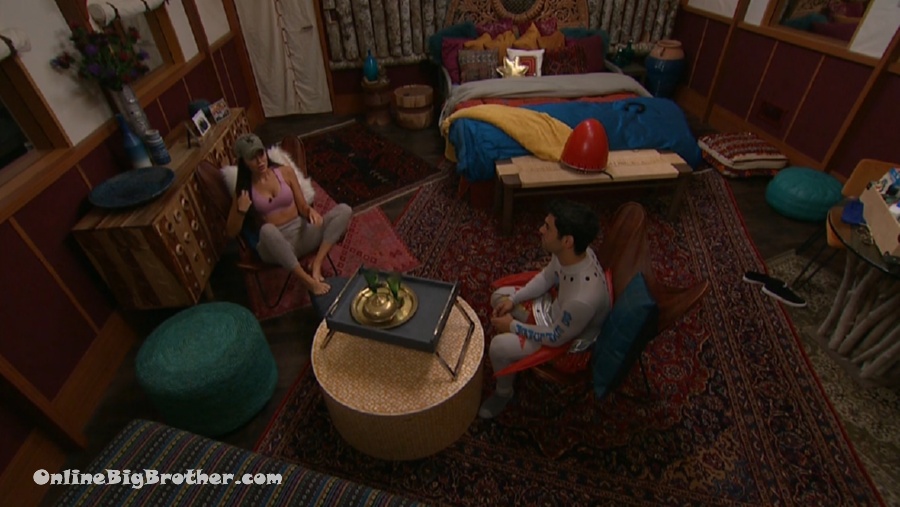 10:39 am Tommy and Holly
Tommy says he wants the 5 to stick together but he doesn't want to talk about it this week.
Tommy says they can't make the other people feel like outsiders.
Holly says the "outsiders" are closer together than they are letting on.
Tommy – YOu don't have to worry and neither does Jackson. It would be really stupid for me to put a number of mine just to appease the house
Holly says Jackson his back, "he's a risky pawn"
Holly again tells him the other players are closer than they are letting on.
Holly- I'm always good with you
Tommy – you are one of my favorites we're so good and we're always on the same page.
Holly – I love you, trust you, have your back, Love SIS, trust SIS, HAve her back, Michie same sh1t, I'm still going to function as a team but I need to work through things with one person (Christie)
Holly says it should all be water under the bridge because it's a game and people "say stuff"
Tommy – I think I know what I'm doing for noms. it was in my gut. them ore I piece things together I think it's the only way I could go.
Tommy – it's okay to have two people in the house pissed at you.
Holly says she trusts his nominations.
Tommy – I really think it's Best for the house and myself honestly
Holly- do what feels good gamewise and with your Gut.
11:10 am Feeds go down for field trip