The premiere of Big Brother 20 is in one week where we will get to see the 16 new house guests compete for half a million dollars. As with past seasons, once the cast is revealed there is always lots of dirt that surfaces. Not to mention an arrest records here or there. This season is no different with an arrest record of Faysal Shafaat surfacing from when he was 21 and living in Chattanooga. He was charged with public intoxication and indecent exposure. Another interesting fact is that his Model Mayhem profile states that he was a top 20 finalist for BB19.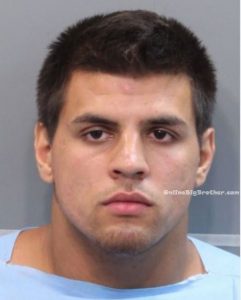 Chattanooga (Hamilton County) TN Jail Arrest Details
Booked Dated: 7/7/2013 12:45:02 AM
Booked Age: 21
Arresting Agency: Chattanooga
Charge(s): PUBLIC INTOXICATION & INDECENT EXPOSURE
Source: Rapsheet
Model Mayhem Profile:
Former division 1 all American football player and NFL player. Athletic build. Was on American Ninja warrior season 9 (2017). And was a top 20 finalist for CBS big brother 19 (2017) and CBS survivor and MTV are you the one finalist as well both in 2017.

Source:
Model Mayhem
Instagram @fessyfitness
Twitter Account: Fessyboyy (It has since been de-activated.)
Check out former @GoMocsFB All-American Faysal Shafaat on American Ninja Warrior tonight at 8pm on NBC – https://t.co/aXCIpoHWAO – #GoMocs pic.twitter.com/Gb2lkCNq0T

— Chattanooga Mocs (@GoMocs) June 26, 2017
Share it YO!!
Tweet