POV Holder:
?
POV Competition
July 1st?
POV Used
?
POV Ceremony
July 3rd?
HOH
Paulie
Next HOH
July 7th
Roadkill Competition Winner:
?
Original Nominations:
Paul and Bronte
After POV Nominations:
? and ?
Have Nots
?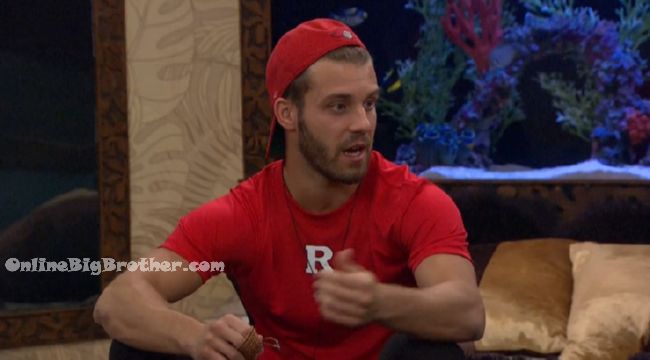 11:33am HOH 8 pack
They had the nomination ceremony Paul and Bronte are on the block. The plan is to Back door Victor.
Corey says nobody in the house is going to be for Victor because they know if they are they are next.
They mention Roadkill, paulie explains the way the numbers are and they way they're group is set up it doesn't matter who wins Roadkill.
They all start bashing Jozea for saying he makes money off his hair and his looks.
Corey – it was so bad dude..
Frank – i'm going to make money off this hair when I get out
Corey – and he was saying all these people are going to want me with this crazy hair..
PAulie says doing it this way is "Sweeter" not giving Victor a chance to save himself. THey have to make sure the house is on board to not put Vicotr up if they win Road Kill.
Corey – who do we want up
Paulie – doesn't matter.. pick somebody out of our pool.. .we got a bunch of strong people.
They agree Victor is impressionable they can get him to 'Bite on to anything'
They all have a laugh that Victor hadn't said 5 words to them then now he's up here wanting to talk about soccer and game for hours. Asking Paulie to link up.
Corey – those guys just don't use their brains man… I don't get it..
Tiffany points out that Victor is going to dissociate himself from Bronte and Paul, it'll show the house how fake he is.
FLASHBACK and watch everything you missed: CBS All Access FREE Trial!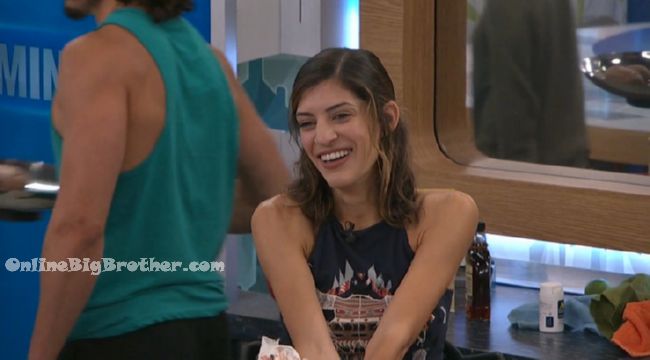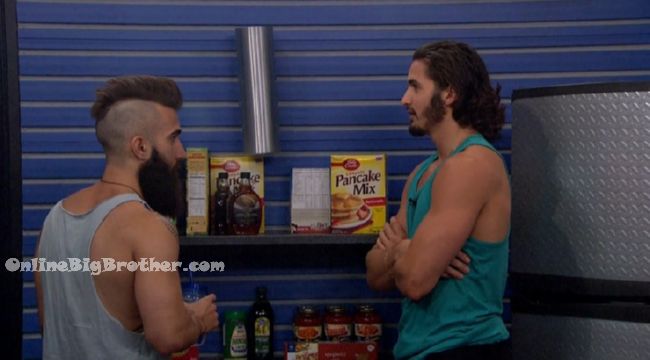 11:30am Paul and Victor
Victor – they are trying to backdoor me.. if you win the veto then I go up so I won't have a chance to get myself off.. I don't have a chance to play.. does that make sense.. it's a backdoor move.
Victor tells him the best case scenario is for him to play in the Veto and win it.
Victor knows he's the target.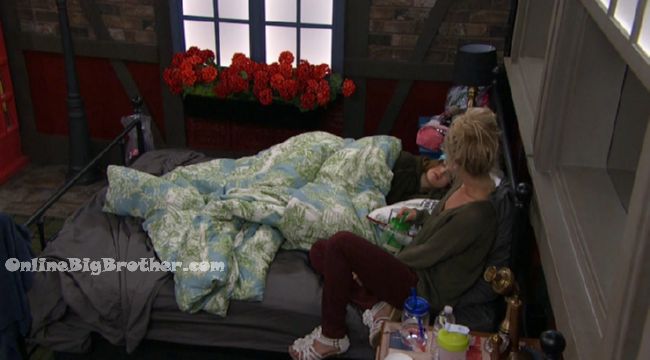 11:45am Michelle and Nicole
Nicole is happy that Bronte is on the block but she's nervous. Says that Paulie is now starting to tell her things she wants to hear.
Nicole – he knows how to play people… I dunnno… but… I know franks up there he had a lot to do with this
Michelle – he was up there till 6am .. Paul was up there till 5 or 6
Nicole – ohh
Michelle – they made a deal with him to be a pawn
Nicole – i hope not… I want to go up there but it'll feel sketchy.. I want to know whats going on.
They say Victor gave Paulie a hug.
Nicole – "He's super happy… He doesn't know what a backdoor is"
They are glad Bronte went up over Natalie.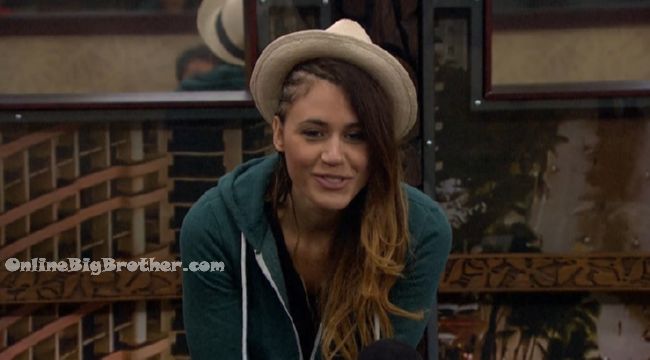 11:55am Paulie, Tiffany and James
Paulie says she told Bronte he's Backdooring Bronte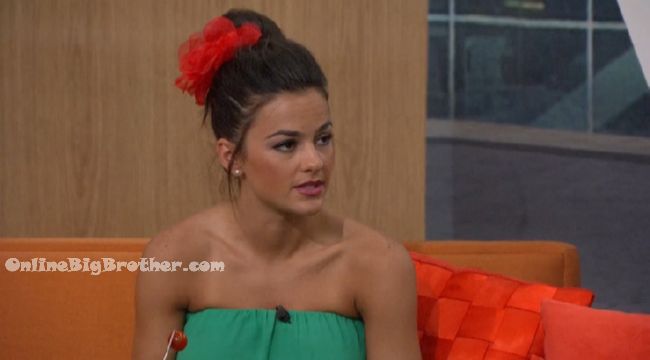 12:00pm Nicole and Natalie
Talking through the Victor drama and how things got blown up.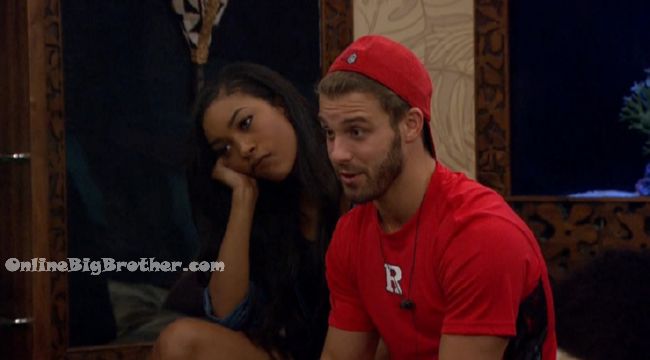 12:08pm HOH Paulie and Zakiyah
Talking about some parts of the conversations he's had with Paul and Frank last night till 6am.
Paulie Says Paul is the only one in the group that they can talk to, "The house wants your back they want Vic gone"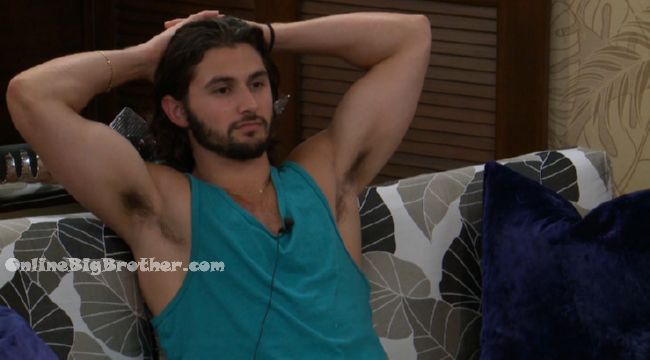 12:21pm HOH Paulie, Victor and Zakiyah..
Soccer, video games.. Etc etc.. chit chat..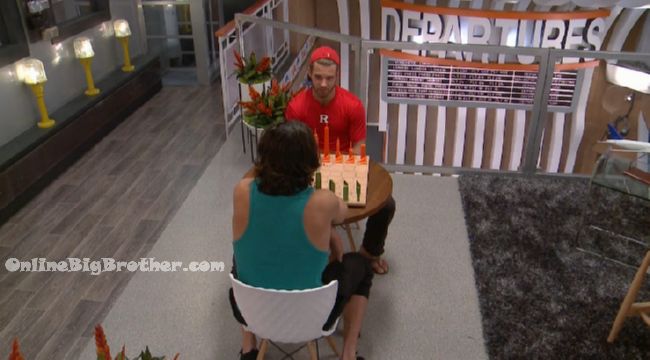 12:32pm Paulie and Vic Playing chess.
Paulie is willing to leave the nominations the same to get Bronte out.
Paulie says if Veto is used Natalie is going up
Victor – at this point I'm at your mercy.
Victor is pushing for an alliance where they can "Pass the baton" and keep winning HOH's
Vic says the only 2 people he trusts are Paul and Corey
Paulie says he trusts Frank and Corey.
Vic- you and me are the strongest players in the house.
Vic warns him that James lies.
Vic brings up the brigade.
Paulie gives him some advice to start being nice to everybody. people will forget things.
(Maybe these 2 team up form a bro brigade or maybe Paulie is going to stick to the original figure 8 plan)
Vic and Paulie Bro Bump, Vic – "Good Shit Bro" #BB18 @DawgsBigBrother pic.twitter.com/f961RQZihx

— OnlineBigBrother.com (@bigbspoilers) July 1, 2016
12:53pm Feeds cut to trivia.. HAve nots comp or roadkill?
2:55pm Still blocked..
3:40pm Nothing yet…
4:30pm Still nothing..
5:14pm Feeds for you… NO!
5:59pm feeds off forever