POV Holder:
?
POV Competition
July 1st?
POV Used
?
POV Ceremony
July 3rd?
HOH
Paulie
Next HOH
July 7th
Roadkill Competition Winner:
Victor
Original Nominations:
Paul and Bronte
After POV Nominations:
? and ?
Have Nots
?
Watch the 1st WEEK of the live feeds for FREE:
Big Brother 18 Alliances Help Guide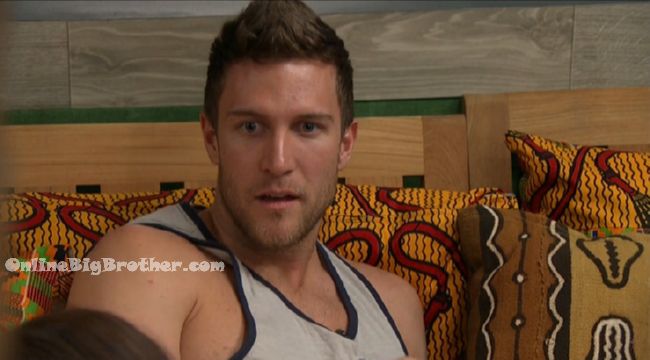 6:11pm Corey, Bronte and Paulie
She said Paule doesn't want to backdoor victor no more..
Corey – Vic won.. He won.. Paul knows that he won he doesn't want to backdoor him.
Tiffany – you sure
Corey – ya
6:12pm Corey and Nicole
Corey tells Nicole that Vic won the Road Block and he's worried he'll get backdoored nnow
Nicole thought it was Frank because he was looking at her freaky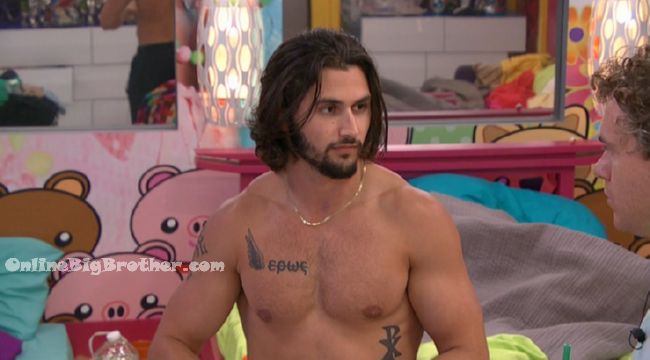 6:13pm Victor and Frank
Frank – Good job Brotha good job…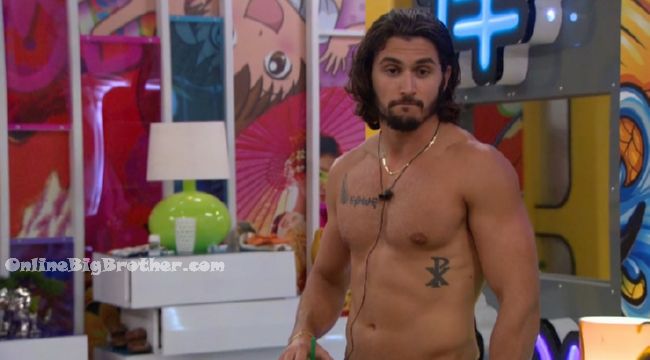 6:16pm Bedroom Paul and Victor
Paul telling him to keep the Roadblock win to himself.
paul – one of us is going home.. i know that ,.. the way to get back at them.. they are using me Bronte or you.. one of us three…
Vicotr – I'm working with Paulie and Frank…
Paul – be very careful… there's a plan I have it could work
Victor – I'm bringing you in with us and Corey.. He has a vendetta against bronte because Bronte shit talked him.. he has a personal vendetta..
Paul – be careful.. I would not tell anybody.. they are all freaking out..
Paul – there's a smarter way to do it..
Victor – I want to put James up..
Paul – they are all working together it's 7 to 4 ,.,… I swear they are all scared right
Paul is explaining to Victor what is going on in the house and how they don't have the numbers.
Victor – I don't think so bro
6:23pm bedroom Bronte, Natalie and Tiffany
Bronte tells Tiffany that Paul came up to her and said Paulie wants to backdoor Victor but he's got a plan to prevent that from happening. Bronte adds that she told this to paulie because she wants everyone to know she's not attached to "Those boys"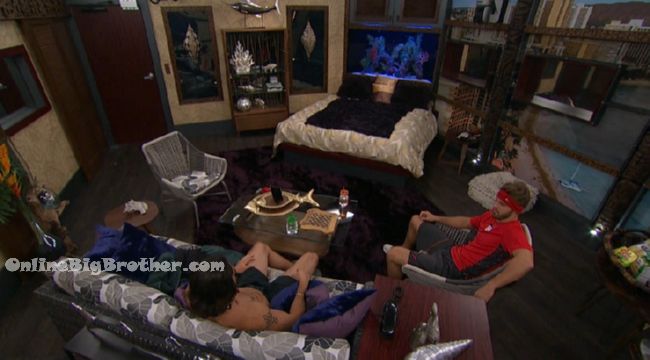 6:30pm Victor and Paulie HOH
Victor tells him Paul is unsure about paulie and Frank. Paulie is unsure about Paul.
Paulie is saying he really wants Bronte out this week. tells him if one of nominees are taken off he'll put up Natalie.
Victor says he'll put James up let him sweat a little bit.
Victor – I might put Tiffany up.. she might go home she's rubbing people the wrong way
Paulie – ya ya put Tiffany up …
Victor – then there's no suspicion that it's me (The whole house knows you won.. ZOMG)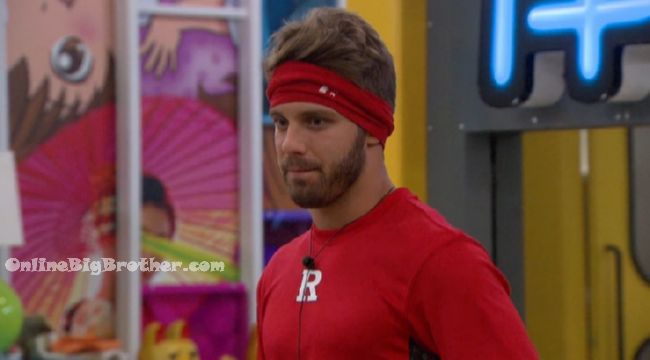 6:33pm paulie, Da;vonne, Michelle and Frank
Paulie says that Vic is telling him that Paul doesn't trust us and is wanting him about us. Paulie might send Paulie's a$$ home instead of Vic
Nicole joins them "Whos going up?"
The group – James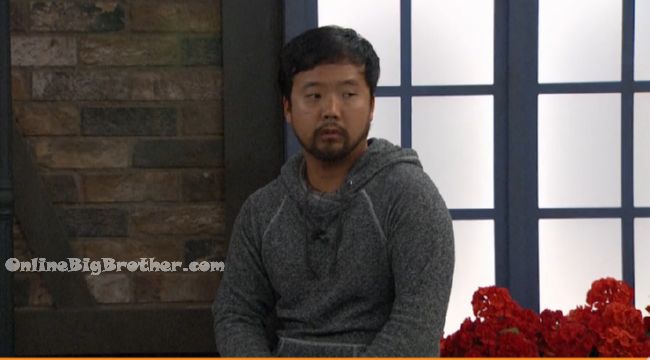 6:41pm James, Bronte and Tiffany
James is telling them the plan is still the same.. Victor is going up unless he wins POV. Tiffany says if Victor wins POV he'll take Paul down and put Bronte up.
James corrects her that the roadkill winner only replaces his nominee the HOH replaces their nominess.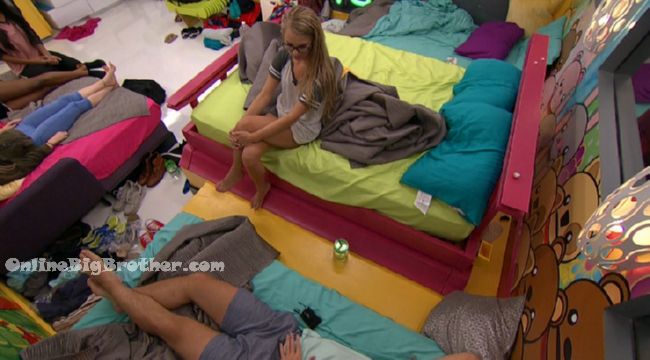 6:45pm Frank and Nicole whispering
Frank says Paul is going around to Vicotr telling him not to trust us.. Frank going to tell him look Paul if you don't stick to the plan and get rid of Victor this week He'll have to be the target.
Frank – Pauls a f***g idiot
Michelle, Da'Vonne and Zakiyah also in the room.. They start talking about how they want Tiffany gone.
Da'Vonne – she acts out on her emotions
Frank – I don't trust her
James joins them.
Frank – there's 5 vote right here you stay..
James- i'll go put a pizza in Victors bed right now make sure I go up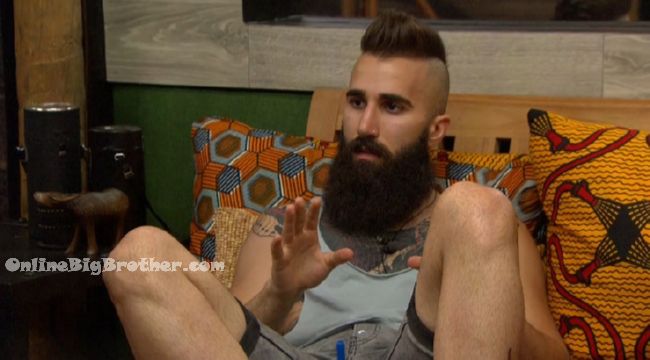 6:52pm Paul and James
Paul is saying he has nobody people he got close with are lying to him, Names Victor and Bronte.
Paul – it sucks … I like to be cool with everybody
adds that he got clumped in with all those people.
James says the biggest mistake people make in this game is they form a "delta force" too early on and try to sweep through the house with it.
Paulie joins them "You said you are pissed about a F****ed up situation"
Paul – I've been tossed in a mix with two barking dogs… I'm tossed in the category of being on the other side
Paulie – when Vic came to talk to you about it did you tell us to not trust Frank and I
Paul – no.. (more or less)
Paulie – when he came up stairs he said I hope you guys aren't playing me because Paul said not to trust you..
Paul adds that Victor was going on about getting backdoored yesterday
Paulie – So he's getting paranoid again
Paule- are you still feeling it the backdoor…
Paul – he lied to me.. dude i was lied to
Paulie – i'm telling you people like you keep being you
Paul – Michelle hates me
Paul says Vic told him he's putting James up.
paulie- it doesn't matter who he puts up they are going to keep from winning the competitions
James – I'm not winning shit (ZOMG! )
Frank joins them and Paulie leaves..
Nicole joins them says Tiffany told her she's going up..
They tell her it's james
Nicole – Ohh so I can breath..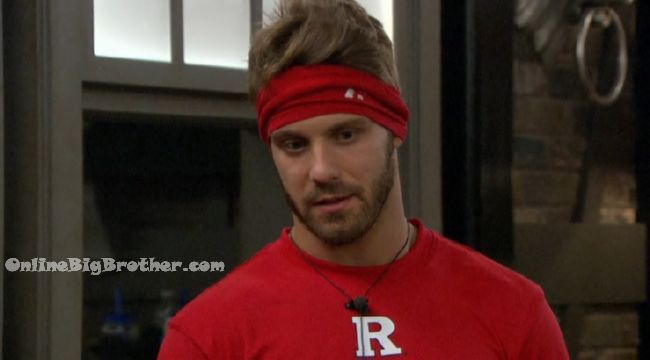 7:05pm Paulie, Bronte and Natalie
Paulie telling her that Victor is still the target and if Paul tries to get that changed Paul is teh target. Paulie can't trust the "Kid" he's never come to them before today and now he's offering deals.
Paulie – Why the F*** would you come tell us that you won unless you knew you were a target for a b@ckdoor.
Tiffany comes in.. Paulie says James is going up and James isn't going to win the POV so Victor has no power..
Paulie – So don't be really good at winning the competition..
Paulie explains to them again Victor is the plan.
Bronte – Paul is really irrational
paul – we're holding his (Paul) hand through this thing
Tiffany – he's not as tough as he tries to seem
Bronte – He's a baby
Tiffany – who does Vic think the target is this week..
Paulie – he's all over the place wit his information.. so…
Paulie – he linked up to Frank and I he thinks Frank and I have his back..
Paulie leaves.. Zakiyah joins them.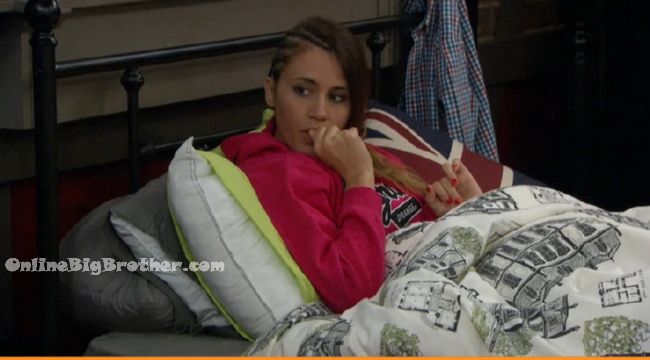 7:15pm Tiffany, Natalie and Bronte
Tiffany – Me, Nicole and Jame are on his hit list
Natalie- I'm going to end up on the block
Tiffany and Bronte tell her she's safe
Natalie – No ones safe.
Tiffany – I don't blame him for not putting me up I don't talk any game with him and If I had won I would have put his a$$ upp
Bronte thinks Paulie can convince Paul to not pick Victor in POV.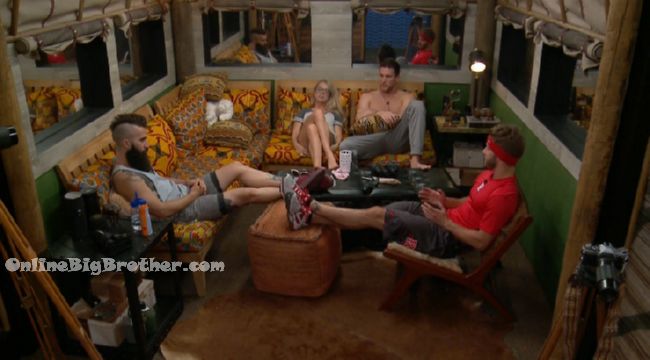 7:24pm Paulie, Paul, Corey and Nicole
Paulie – the only person that should be freaking out is Bronte (she's target number 2)
Paulie says Victor will freak out after the POV. Paulie is going to tell him straight up "You're getting backdoored" he was Jozea's right hand man and he was trying to get Paulie out last week.
Paulie – you sat there and trashed my sh1t.. and now saying I'll be loyal to you.. until how long until you have another group to be loyal to.
Paulie – he's got to go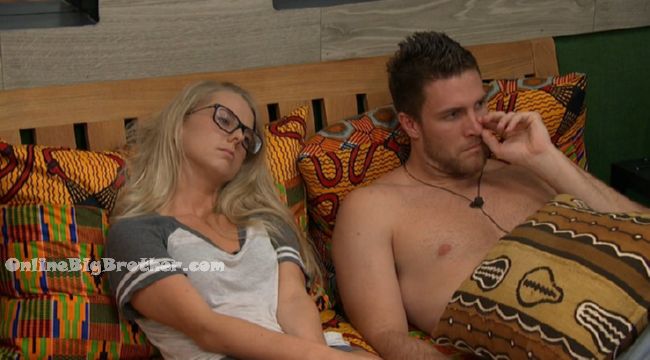 FLASHBACK and watch everything you missed: CBS All Access FREE Trial!
[polldaddy poll=9459672]