POV Holder:
?
POV Competition
July 1st?
POV Used
?
POV Ceremony
July 3rd?
HOH
Paulie
Next HOH
July 7th
Roadkill Competition Winner:
?
Original Nominations:
? and ?
After POV Nominations:
? and ?
Have Nots
?
Watch the 1st WEEK of the live feeds for FREE:
Big Brother 18 Alliances Help Guide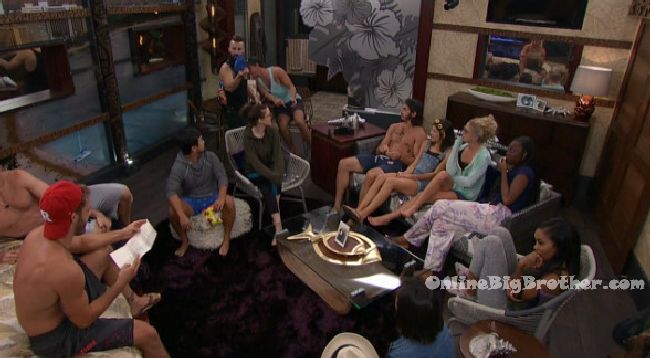 12:35am – 1am Paulie comes out of the HOH room and asks who wants to see my HOH room!?! They all head up to the HOH room door where Paulie opens the door and they head inside. They look at his photos. His music is Breaking Benjamin. Paulie reads his HOH that's from his brother Cody Calafiore.
Paulieno I love you brother and miss you. I'm obviously holding down the fort here on the east coast. You already know the deal and you're welcome! Keep killing it man and keep having a blast. Its an amazing game to play but it can be over before you know it so enjoy every second of being in that house. Its been brutal since you left. Every single day something comes up where I say hold on, let me just give Paulie a call and find out… oh wait.. Its definitely a different feeling and I completely understand what you went through man. If you ever get down when you're in the house .. just remember stop being soft and get it together.
Love your stud younger brother.
1:15am Michelle asks what's someone's biggest scandal? Paul says I fingered a girl in Spanish class.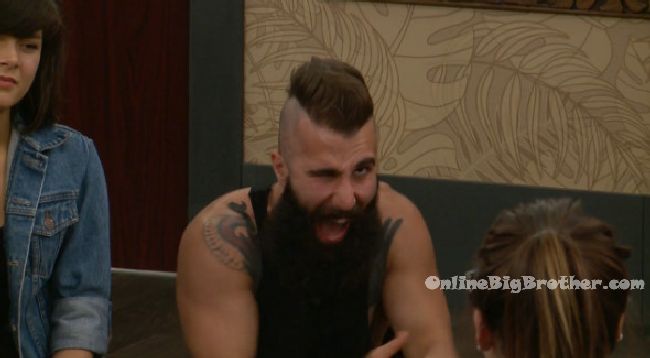 1:50am Paulie, Corey and Paul are chatting in the HOH room.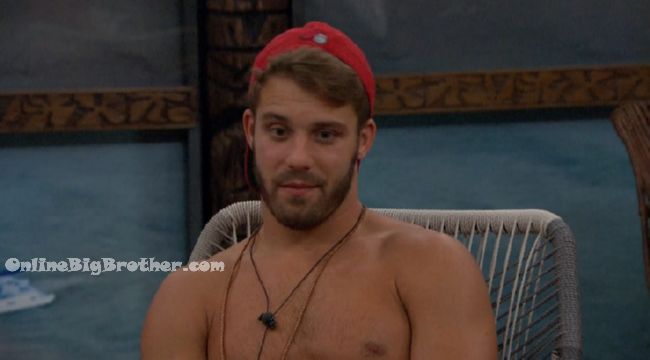 2:10am Paul, Corey and Paulie HOH
Paulie – I'll enjoy this for a week.
Corey says Natalie was crying because she was the first one out of the team.
2:58am Am Victor, Paulie, Frank
Chit chat… Topics range from kamikaze, Appendicitis, Alexander the great, Experiencing nothingness as a Buddhist monk, The Romans, Greek Spartans.
Frank – the Romans were bad a$$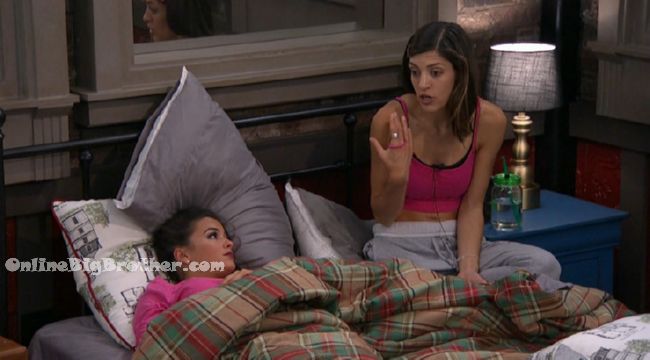 2:22am Bronte and Natalie
Bronte asking why the vet need to go to jury again.
Natalie – should you stay up and talk to everyone.. I don't feel save right now
Bronte- I mean… we can.. I don't think Paulie will come down and he's just swarmed by people
Natalie – and they are patrolling everything we're talking about
Bronte- I don't even know who to talk to … I'm nervous..
Bronte- Paulie really has an attitude now.. he's never had an attitude before..
Bronte is worried that Paul is talking shit about them top Paulie
Bronte- we should have gotten so far away from Jozea
Natalie – I was thinking that to
Bronte – I was really thinking Team unicorn… that kinda threw me off.. I got swept into it..
Bronte – they completely fooled me.
Natalie – knew they were lying..
Natalie has told James they are getting away from "Those boys" (Paule and Vic)
Natalie – as long as you and me get to jury together.
They agree to only tell each other about roadkill
Bronte says if she wins roadkill she'll want to nominate someone so it looks like it came from them (8 pack)
Bronte – Like Tiffany..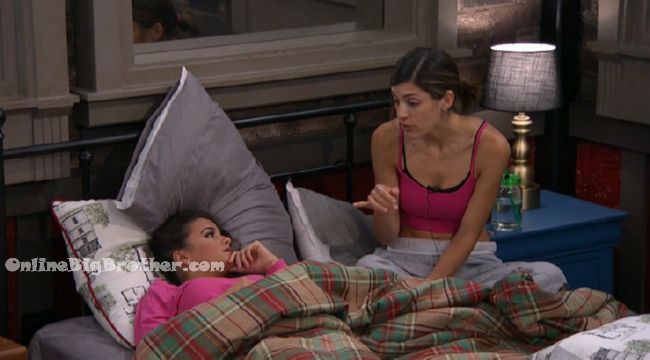 2:35am
Natalie says they have to go against Victor and Paul.
Natalie – Frank's not going to go after Paulie… you idiots
Natalie tells her it's just the two of them. Says the best case is if Paul and Victor get nominated, "we have to get James to like us.. we have to get the house to like us"
Bronte – I feel so stupid who we were with (Victor and Paul)
Natalie points out that whole side huge out all the time it was obvious. She regrets not talking to Paulie earlier and offered him their vote.
Bronte adds that never once has anyone from the other side came to them.
Natalie – imagine if Jozea comes back into the game at any point…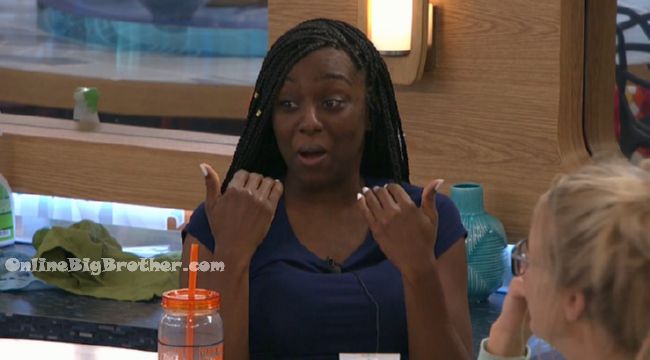 3:42am Nicole, Da'Vonne and Zakiyah
Da'Vonne saying that Tiffany is creeping her out.. they all start laughing out loud..
Da'Vonne – Stomping around she has that pimple cream on
Nicole – I'm worried about her leaking information..
Da'Vonne – I am to
Nicole – we have to make her comfortable
Da – she's going to leak it to the boys
Nicole is worried Tiffany will get mad at Frank and spill the beans to Paulie
Zakiyah – Mr frank better watch his tongue too or I'll pull a Tiffany.
Nicole – why was he talking crazy to you
Zakiyah explains the conversation pretty much Franks starting to
Nicole – Today went well..
Nciole leaves
Da'Vonne – Him (Frank?) and Paul going to try and sleep up there
Zakiyah is going to "C**K block them"
Zakiyah says Frank is a professional bullsh1tter
Da'Vonne agrees
Zakiyah – He's good.. he's good"
Da'Vonne – he keep stalking about this girls alliance..
FLASHBACK and watch everything you missed: CBS All Access FREE Trial!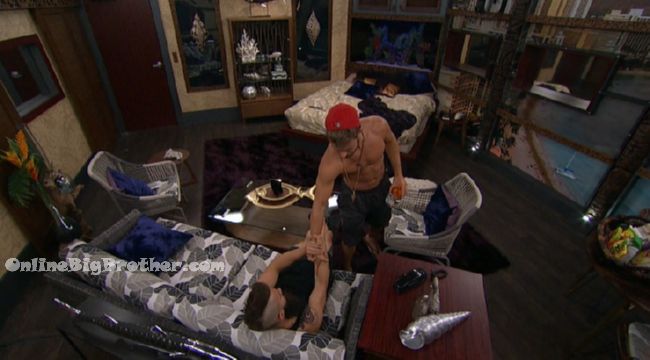 4:00am Paul and Paulie HOH
Paulie is after Victor and is asking is Paul wants to be a pawn.
Paulie – I can guarantee he's gone this week"
Paulie says a lot of people in the house want Victor gone, "The roadkill person might want him(Vic) up"
Paul says he trusts Paulie.
Paulie says whatever decision happens it'll be well thought out he's talking it order with Paul, Corey and Frank.
Paul – why not put someone like Corey up against Vic..
Paulie would need to talk that over with Corey
Paulie is wondering James because James is a competition beast..
Paulie – Vic is accusing him (James) of throwing the comp
Paulie says Natalie plays that flirty card "i'm not about that" (ZOMG)
Paul asks him what he should do this week if he's the pawn seeing as PAulie was the pawn last week.
Paulie tells him to keep being that funny personal guy. That's what Paulie did last week, "I'm just f****g nice to people"
Paulie and Paul shake.. "I got you bro"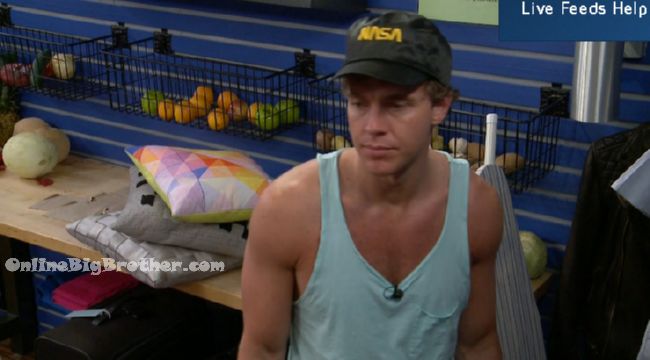 5:09am Storage room
Paulie saying Corey wants Vic up
Paulie – at the end of the day I only want to bounce shit off you and Corey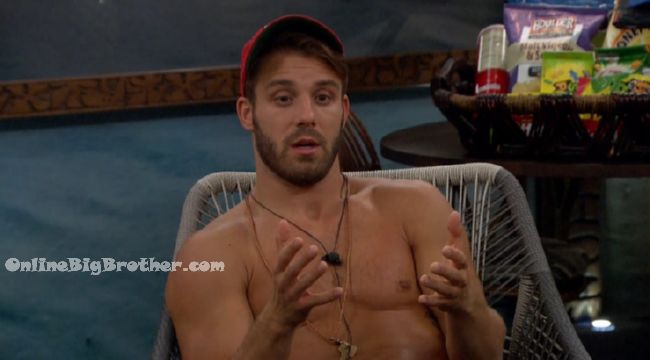 5:12am HOH Paulie and Frank
Paulie – I'm just trying to think the best way to get VIC out .. as long as one person from that side goes home it doesn't matter.. I just really want to get rid of Vic.. He's a f****ng loose cannon waiting to explode..
Paulie says Victor said out loud he was going after Corey after PAulie was gone.
Paulie is looking to backdoor Victor.
Frank says there was a less than 10% chance Vic's name gets pulled for POV
Frank – if we we're thinking of backdoor him it'll be Bronte and paul
Frank says they need to get Bronte to agree to not pick Victor as a POV player. He thinks they can talk her into not doing that.
Paulie asks him if he thinks Natalie was crying because she feel off first or because we're going after Vic first.
Paulie thinks natalie can 100% turn on the tears.
Frank says she seems like such a nice hearted girl, "But how can a nice hearted girl be confused by that jabroni"
Paulie wants Bronte to pick Natalie to be her POV player.
Paulie says they are the majority of the house right now. He knows their side doesn't want to go up as a pawn but…. they have the majority no votes are going against them.
Frank says nobody Natalie doesn't spend time with Victor any more.
Frank says he kinda wants to see Victor try to win the POV lose and go home. Frank likes the idea of backdooring him but putting him up straight up is preferred.
Paulie likes the backdoor option becuase it's "logical"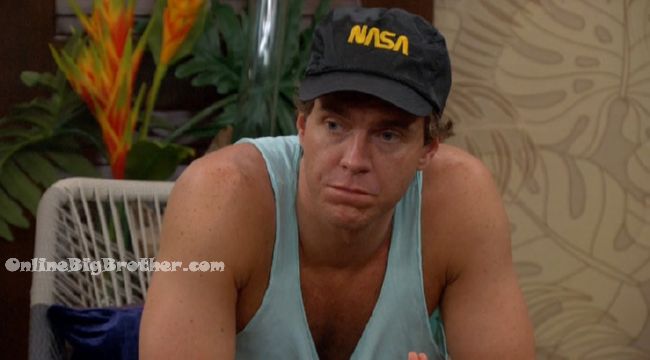 5:41am HOH Paulie and Frank
Paulie says "Z" has their back and through "Z" they get Da'Vonne. He adds he's got "Mad Love" for Nicole through his brother so Nicole has their back.
Frank – after this week we're the only team left with 4 people
Paulie – that's scary
Frank – A little bit… people want Vic out.. people want Bronte out after that it'll be Paul maybe..
Frank starts warning about Tiffany tells him sh'es going to be tryign to make a move.
Paulie – she'll be dangerous in a double eviction
Frank – you know whos goign to be really good at those…
Paulie – Michell e
Frank – no DA… we wnt ehr to get to that first double eviction.. we want her aroudn and on our side
Paulie thinks Z, Da and Nicole will side with them over the girls
Frank – I'm not worried about the girls..
Frank's only worried about Natalie, Bronte and Bridgette, 'And Bronte is gone next week"
Frank is warning him about Da'Vonne and James.
Frank – I don't want to site next tio either of them.. they got kids at home"
Frank doesn't even want to see Da and james get to final 3 it's not worth the risk.
5:55am
Frank wishes they had more time to talk to Bronte and Natalie.
Frank – Bronte is such a wildcard.
6:02am Big Brother switches to fish when we come back Frank is brushing his teeth. Paulie is gone.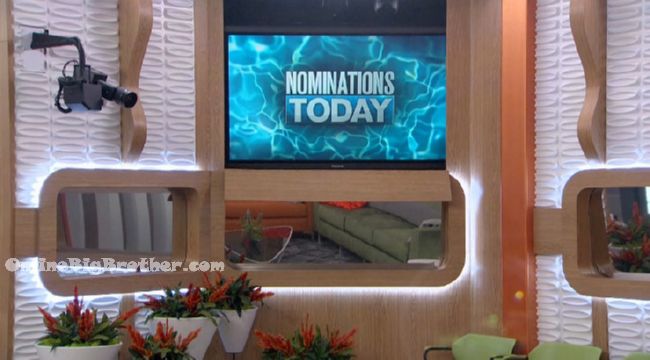 8:01pm WAKEUP Nominations today
Everyone still sleeping…
9:22pm we have some activity houseguests getting up brushing teeth..
(Next post might be a while until there's something substantial)

[polldaddy poll=9459672]