POV Holder:
?
POV Competition
July 1st?
POV Used
?
POV Ceremony
July 3rd?
HOH
Paulie
Next HOH
July 7th
Roadkill Competition Winner:
Victor
Original Nominations:
Paul, Bronte and Tiffany
After POV Nominations:
? and ?
Have Nots
Da'Vonne, Paul and Zakiyah
Sign up and watch the 24/7 Live Feeds: 1 Week FREE Trial!: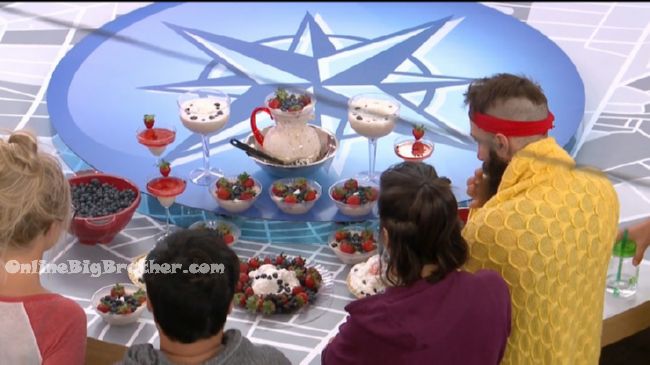 10:03am .. The houseguets think there's a catch the have nots food looks too good, Blueberries, Strawberries, Coconut, ast berries.. .
Paulie reads the HAve nots card – "at the end of this weeks head of household competitions the team Big sister had the lease number of Berries this mean Da'Vonne, Paul and Zakiyah are have nots"
Paulie adds they get to have "All the berries you can eat" on top of slop. (WOW! havenots ain't what it used to be)
Paul – PISSED so PISSED.. guess we're dieting again
James- sorry guys..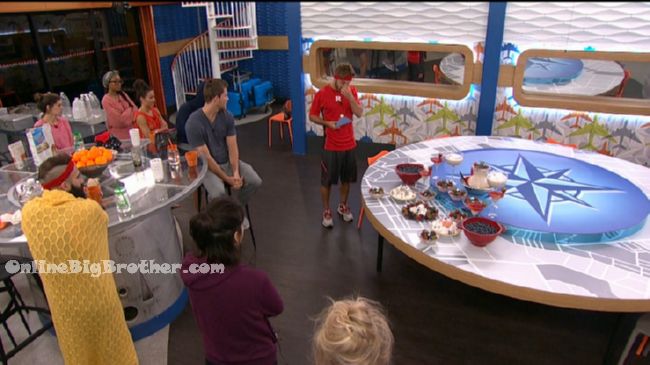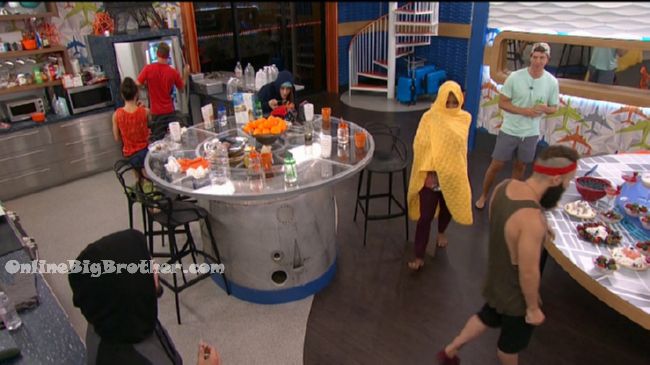 10:08am Zakiyah turns into Audrey
Nicole – you're going to get so small.
Zakiyah – I'm going to starve myself and pass out..
I've seen this before… #BB18 @DawgsBigBrother pic.twitter.com/D3PbsatPPI

— OnlineBigBrother.com (@bigbspoilers) July 2, 2016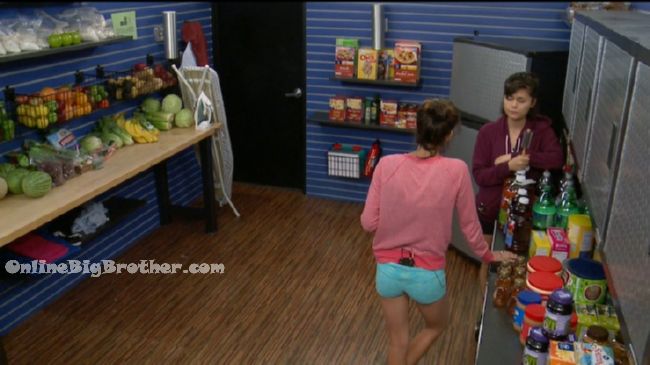 10:17pm Bronte and Bridgette
Bridgette says she's outta the loop
Bronte – I'm outta the loop to..
Bridgette says if she talks to Frank and Paulie they will just lie to her So theres no point. Bronte says at this point they have to just put their heads down and survive..
Bronte- as soon as a girl gets power we have to watch out for each other..
Bronte adds there only chance it to survive until the "Buys" start taking each other out. At this the boys are running the show.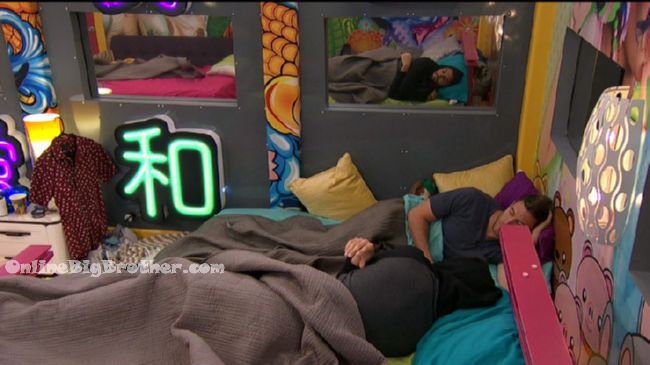 10:21am Victor and Corey Victor is working on getting Tiffany evicted. Corey says she does nothing for his game he's down for sending her out. Victor says he's got Frank, Nicole and Natalie as votes. Including him that's 4 including corey that's 5.
Paulie comes in says Zakiyah is pissed ..
Vicotr – why did they get it the first time
Paulie – they were the first ones off..
Victor – it pays to be good at comps.. (laughs)
Corey – or at least be decent.. as bad as my team has done we got lucky..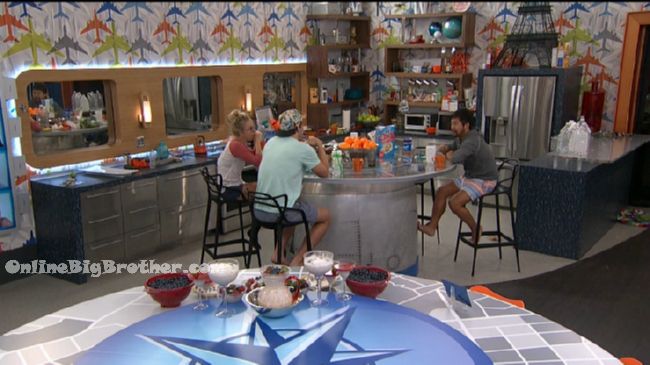 10:41pm Frank, JAmes and Nicole
Frank – we're kinda trading Tiffany for PAulie
James says it will be crazy if the 4 of them make it to the final 4
Frank says it's possible
James suggest they try to fight a bit so people don't think they are so close.
James – I feel bad for other seasons if this happened again they would never work with vets
Frank – we got a crew that works really well together.
They agree production cast the 4 of them so they would all work well together.
(I can't think of more exciting season where the vets run to final 4.. ZZZzzzzzzz)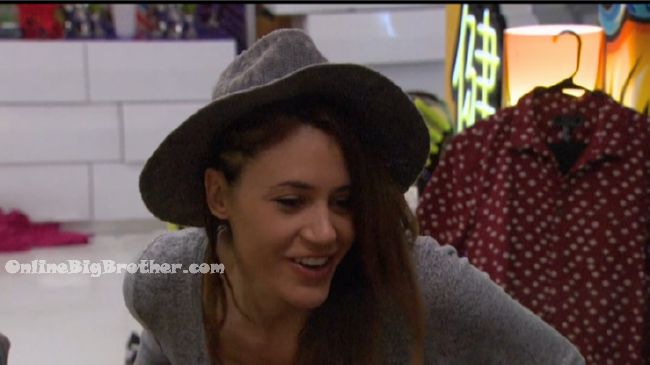 10:52pm Vanessa Tiffany and Corey (From now on I will use Tiffany and Vanessa interchangeably 🙂 )
Vanessa says she's going to pick Corey if she gets house guests choice.
Corey says he's played in 8 competition already.
Tiffany asks him who the next target is after Victor goes, Corey doesn't have a clue.
Vanessa – let's just say I won it I would never pull myself off..
Vanessa adds she'll pull someone else off and Vic will et B@cldoored
Corey – that would be super funny…
Vanessa – you guys should throw it to me!!! (OMG do it and send her home)
Vanessa – nobody has done that and gotten away with it
Corey – the whole house would be f****g stupid.. I think it's fun..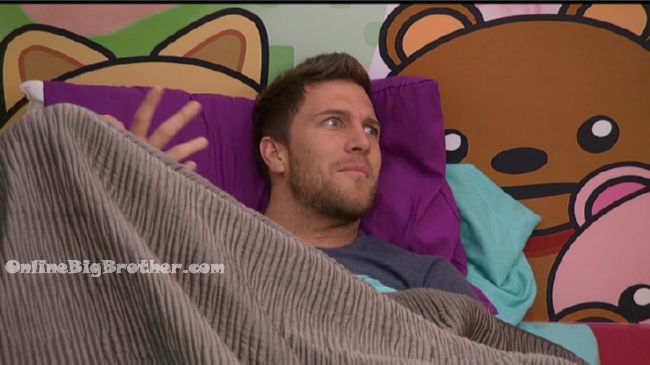 11:06pm Tiffany and Corey
Corey is talking about jobs.. he's part time coach of 3 baseball teams and part time bartender. His real "thing" is his "App". He wants to get down to just 1 baseball team and bar tending. Bar tending pays a lot.
The app hasn't taken off yet but it's got potential..
Corey thinks the marketing of his App is the most important aspect and it hoping that his time on Big BRother will help it out.
Corey – it's for people who want to connect to celebrities..
He goes on to explain it.. involves charities, celebrities, etc. Sounds like it's more targeting for younger people.
Tiffany thinks it's a great idea.
Corey says the name of the app is "Fan Connection"
Tiffany suggests shortening the name
Corey – people like the name if you look at my branding for it it's sick.. it's on everything it looks good.
Tiffany suggests he gets Franke Grande to use it.
Corey says it's a no brainier why would someone not want to connect with their fans and support a charity..
Tiffany – it's time consuming
Corey – yeah.. but how long does it take to make a money..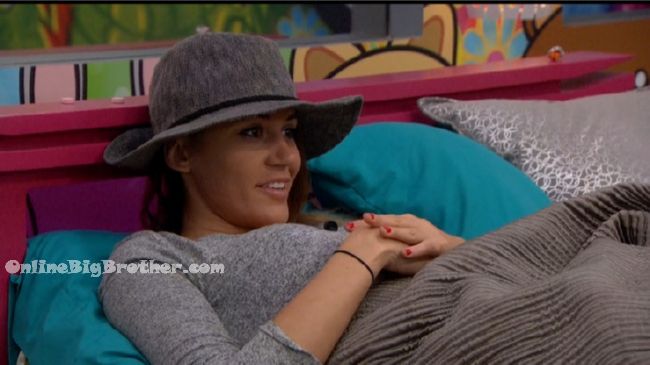 11:28pm Tiffany, Corey and JAmes
Tiffany telling James her plan to win the POV and us it on someone else so they can put Victor up.
James- ohh that would be funny..
Tiffany asks him if the people of teh house would be down for that
Jame s- that would be bold.. would show the team you really trust them
Tiffany – as a seasoned player would you do that
James and Corey say they would be down for Tiffany to win the POV use it on Paul/Bronte so they can backdoor Victor.
James says Victor thinks Tiffany is the target, he thinks Paul and Frank are on his side, "He just wants to get someone out that's not on his side"
JAmes – he has no votes to send anybody home right now.. everybody want him out.
Tiffany says wants Victor is on the block James can 'F*** with him all you want"
James says he probably would , "Throw crackers in his bed"