POV Holder:
?
POV Competition
July 1st?
POV Used
?
POV Ceremony
July 3rd?
HOH
Paulie
Next HOH
July 7th
Roadkill Competition Winner:
Victor
Original Nominations:
Paul, Bronte and Tiffany
After POV Nominations:
? and ?
Have Nots
?
Sign up and watch the 24/7 Live Feeds: 1 Week FREE Trial!:
Big Brother 18 Alliances Help Guide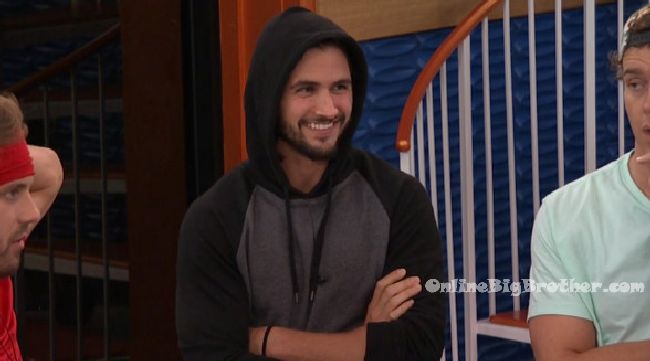 12:08am Big Brother blocks the live feeds for the Roadkill Nomination to take place. Earlier today Victor won the Roadkill competition and initially wanted to target James but realized he wouldn't have to votes to get him out so switched his target to Tiffany. Frank lied to Tiffany and said he thought Vic was putting up James. Paulie then revealed that Frank told him that Vic was putting up Tiffany.
12:30am The live feeds return – Tiffany is crying and pleads to her to tell her if she is the target. Just please tell me! Michelle says no, they want Vic gone. Tiffany says I promise I won't freak out. Michelle says no. I would want someone to tell me too. You're good. DaVonne joins them and tells Tiffany she's good. You have the numbers. Why would they want to get you out?! Paulie wants you here too. Nicole joins and tells Tiffany she's good.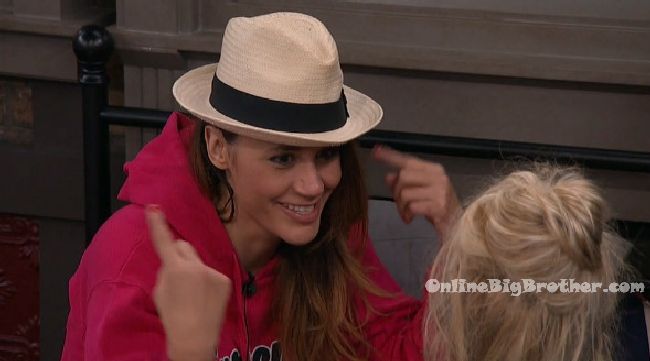 Frank says I didn't want to tell her because we were in the middle of the hallway with Victor and Paul in the kitchen. I didn't want to tell her and have her freak out. I'm in no state to be making any judgement calls.
Paul asks Tiffany – you know the relative plan right? Tiffany says yes. Paul says for the POV. Tiffany says tell me so I can make sure we're on the same page. Paul says If I'm in the lead or whatever just .. throw it .. well I don't know if you have to throw it or just throw it. One of us just has to win it. Depending if Vic is playing or not. Tiffany says even if ..you know that I would have to throw it either way. If I didn't throw it .. this is what happens Paul. If I win, he gets to put someone else up and then he's not going up. Paul says oh right. I didn't think about that. Tiffany asks does he not know that I know? Paul says no he doesn't know. Play it cool! Paul leaves the storage room.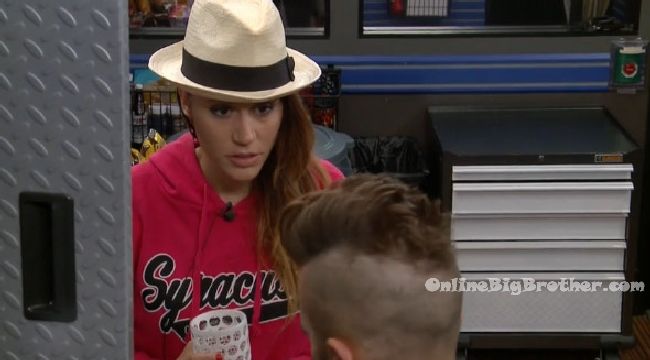 12:50am – 1am In the HOH room – Tiffany asks Frank if he just didn't want her to know so she wouldn't freak out. Frank says yeah, I wanted to wait till we were all alone to tell you. Paul and Vic were in the kitchen and I didn't want them to hear. They talk about how Vic thinks no one knows about him being the roadkill winner but everyone knows. Frank tells Tiffany if he (Vic) doesn't get picked you don't have to worry about it. BUT if he gets picked everybody should be out there trying to win it .. that way they can use it on Paul or Bronte .. Vic goes up and out the door. (Tiffany could win it and use it on Paul or Bronte so that Paulie can nominate Victor. If Tiffay uses it on herself then Victor would be able to nominate someone else and he couldn't go up.)Tiffany says right, right .. I didn't think about that part if he gets picked. Then I have to bust a$$ just to make sure he doesn't get it.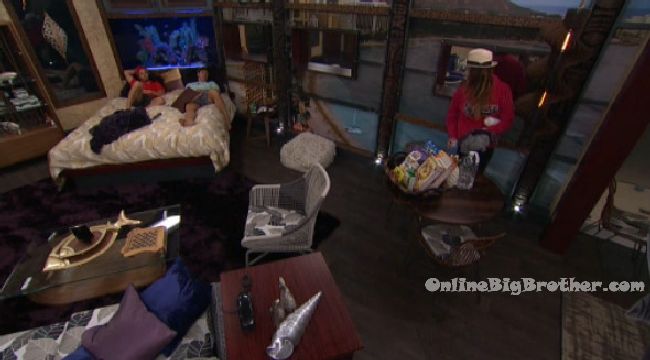 1:10am HOH room – Frank, Pualie and Tiffany. Frank tells Tiffany if you pull your own name its probably best you pick Corey because he's on your team. Tiffany agrees. Paulie says if anything I would pick Frank. Frank says it would actually be fun if you picked Corey and I got picked and we all go to go out there and have a good time and try an beat each other. At that point we can just have fun in the comp ..because nothings on the line. Paulie says its bragging rights. Frank says it would be pretty funny for you (Tiffany) to use it on Paul. Tiffany laughs and says and I go home. Paulie says with Vic up there, its unanimous. Frank says if he's not up there it will still be 8-1-1.
1:30am – 1:40am Frank says we're all a big team .. the only person we need to worry about is Tiffany with her starting to spread her paranoia. The longer we're in there the more paranoid people get. Paul finishes his shower. Pual asks in the worst case scenario .. lets say you pull chip and you get Victorio and he wins it and pulls me off …then what? Paulie says ah Natalie goes up. Paul says I'll take it. I just curious if you guys had that planned out. Frank says you have to visualize success. Vic's name isn't getting picked and even if he does hes' not winning. Frank says if Vic doesn't get pulled .. we all just go out there and have a good time. Paul leaves. Frank and Paulie turn off the lights to go to bed and Big Brother calls Paulie to the diary room.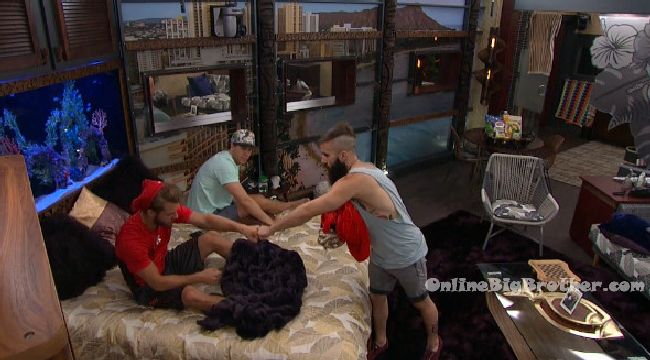 1:55am All the house guests go to sleep…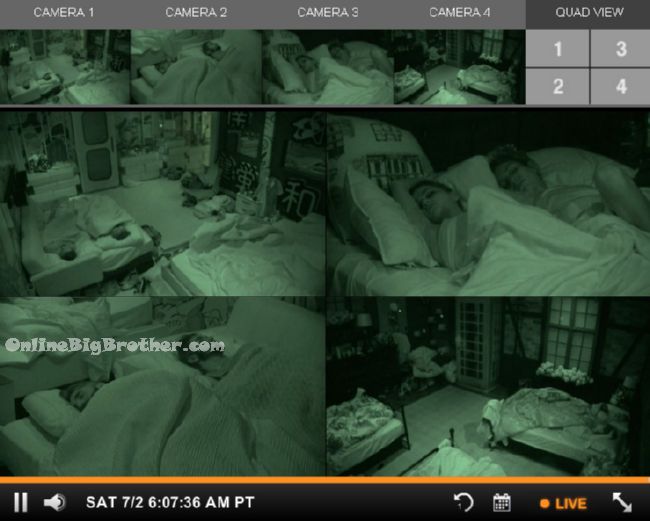 7:40am Everyone sleeping
9:10am Feeds are on Fish the lights must be coming on.
FLASHBACK and watch everything you missed: CBS All Access FREE Trial!

[polldaddy poll=9459672]