POV Holder:
?
POV Competition
July 1st?
POV Used
?
POV Ceremony
July 3rd?
HOH
Paulie
Next HOH
July 7th
Roadkill Competition Winner:
Victor
Original Nominations:
Paul, Bronte and Tiffany
After POV Nominations:
? and ?
Have Nots
Da'Vonne, Paul and Zakiyah
Power of Veto players have been picked.. : Da'Vonne, Bronte, Paul, Tiffany, PAulie, and Zakiyah
POV Host: Corey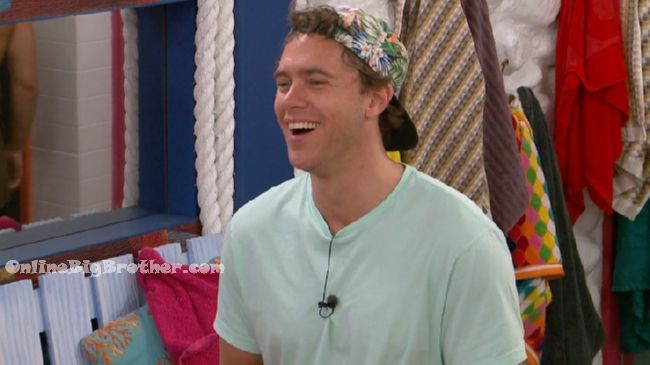 12:28pm Frank Frank, Da'Vonne, Paul, Zakiyah
Frank and Da'Vonne say they are proud of Paul he got houseguests choice and didn't pick Victor.
Frank – tomorrow is going to be awkward as f***
Frank to Paul – "Hommie.. you're doing great"
Paul – I was lied to..
They go on about Victor getting backdoored this week.
Frank says Victor tried to make James look like a malicious person, "that's just dirty.. I don't feel bad"
Frank says Victor threw Bronte and NAtalie under the bus yesterday.
Frank tells Paul they won't have the Veto until later today it's too hot out right now.
12:33pm Bronte, Bridgette, Paulie, James, Tiffany.
Soccer chit chat..
12:37pm BAthroom Frank, Zakiyah and Da'Vonne
Talking about how they thought for sure Paul was going to pick Victor.
Frank says they are on-board with sending Victor out this week.. Bronte..
Frank – Honestly I don't mind we send Tiffany home before Paul.. Victor Bronte, Tiffany, Paul Bridgette than Natalie..
Frank wonders if they should get Natalie or Bridgette out first.. which one do they want in Jury.
Frank – I honestly don't care which one to be honest.. maybe Bridgette because she might vote for me..
Da'vonne stresses Tiffany must know she has to throw the POV.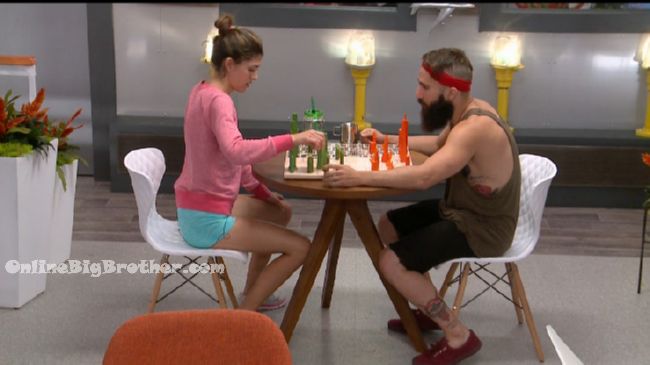 12:42pm Bronte and Paul chess..
Paul tells her there's some game she needs to know.
Bronte – I can't stomach it…
Paul – trust me …
Paul – right when Jozeas got evicted Paulie and Frnak pulled me aside and said they liked me the most..
Paul – they are using me as a pawn to get everybody else out then they will get me out.. they want to get Vic out right way and they want to use Natalie..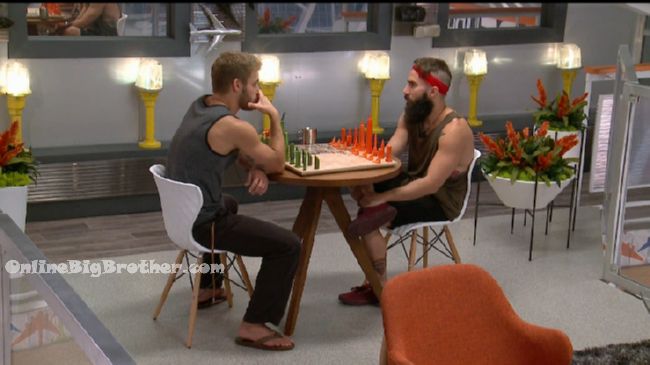 12:46pm Paulie and Paul
Paulie says they are looking at taking out some of the girls later down the line, Michelle, Natalie, Bronte..
Paulie – me and frank don't talk about anything in particular.. we don't really talk about things moving forward.. .
Paulie says after the 5th week everyone is a target.
Paulie – we trust you and corey
PAul – what about James
Paulie – we do trust him he is close to… he's good with being close to everybody.. the best we can do is spread ourselves out not keep ourselves in the same spot.. every night we reconvene and talk.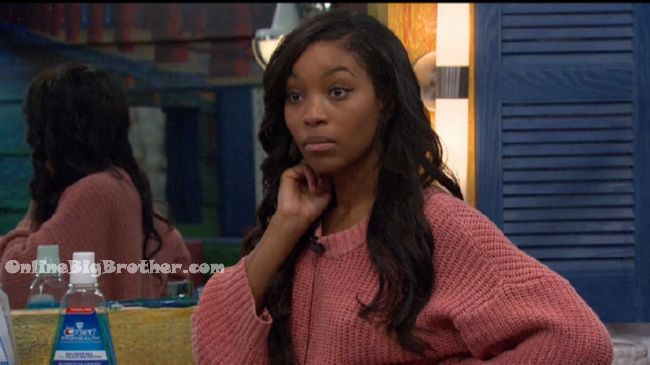 1:00pm Zakiyah and Da'Vonne

They are onto Frank..
Da'Vonne says Frank has got to go early. it sucks because she really wanted Frank to go with them to the final 3.
Zakiyah says all these people with good jobs outside need to end out.. Marketing, Nurses..
Da'Vonne – I hitnk Bridgette needs to go to the end.. She loves yo..
Zakiyah – he's controlling it..
Da'Vonne – he calls me a slut I'll slap his sh1t.. 9Early
Zakiyah – he's a bomb a$$ competitor..
Da'Vonne – he orchestrated this whole eviction.
Da'Vonne says Paulie will vote over Frank than Zakiyah..
Da'Vonne calls Frank 'F****G a$$hole, "I listen to him i'm like you got this game in teh bag.."
They are both sayign they can read right through Frank.
Zakiyah – You gotta be kidding me
Zakiyah is goign to talk to Paulie about Frank
Da'Vonen – can't do that now.. can't do that no time soon..
Da;'Vonen ohh.. he's f***g smooth
Zakiyah – working the crowd.. Professional bullshitter
Da'Vonne- he playing.. he playing.. I'm going to keep making him feel comfortable keep making him think he's controlling stuff..
Da'Vonne wants Vic, Paul, Bronte and Frank gone in that order.
They talk about Getting rid of Corey because he's gotten so close to Nicole and Frank.
Nicole joins thems ays Victor is being so nice right now.
They tell her if they win the Veto they will take down Paul and Paulie will put up Victor.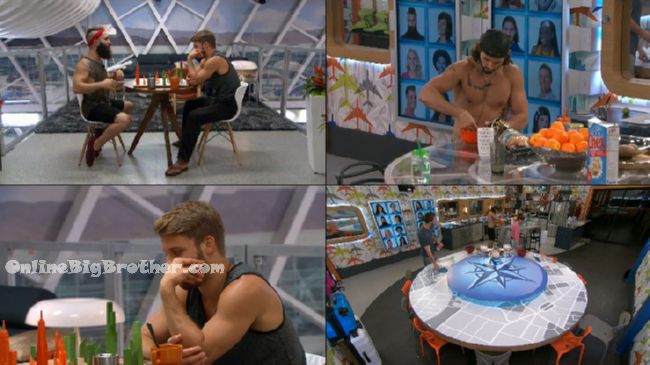 1:32pm Chit chat walking around before the POV starts.
1:45pm Paul and Paulie chess.
Paul talking about trying to squash whatever he has going with Michelle.Paulie thinks he needs to just keep having legit conversations with her.
Paul says he's trying doesn't want them on bad terms. Adds she's stopped rolling her eyes at him so he thinks it's working.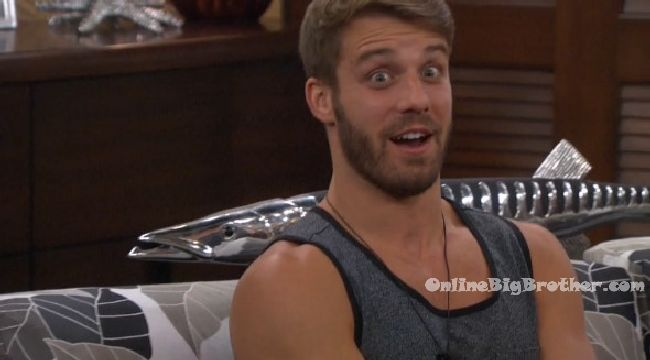 2:10pm Frank and Paulie talk about after the POV they want to go up Vic and tell him they're putting him up. Paulie says I did feel a little bad. Just a little bit because we reeled him in real good! Frank says I know man. Just to make the last four days not so hard on us. He's just going to be a stormy cloud walking around the house. Paulie says I could be like the house came to us ….or you tried to vote me out. He's a cool guy to be around .. just in the game he's not a good person to have around. He would have definitely been loyal to us. We probably could have used him to get out people on the other side. On a week to week basis its just too risky. If we had him to create all the drama then he would be the first to get slit. Frank says But once he gets into power …he's too impressionable. Frank says almost everyone on our side likes us.. I don't see them coming after us. That's the thing with this RoadKill thing is that we can use it to do some sneaky sh*t. Paulie says that its good that Corey is close to Nicole, I'm close to Z and you're close to Day. Frank says I honestly think that Z, Day and Michelle will never go after us. Frank says one thing I was happy to see with Tiffany was after the names got pulled she was grinning from ear to ear. Nicole joins them. Paulie talks about how he'll let Victor know he's going after the veto. I'll say it like it puts the heat on me. Zakiyah joins them.