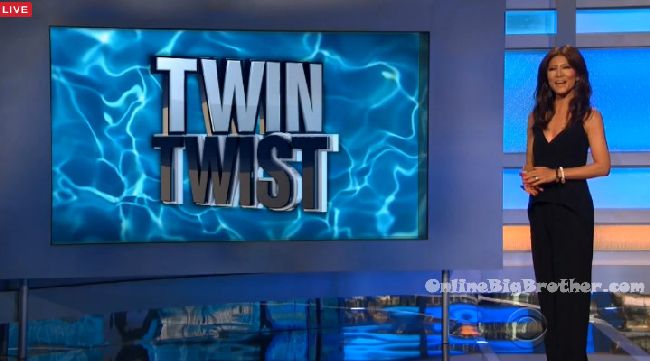 During last nights première of Big Brother 17 we learnt about all the twists they are going to ram into the season. The return of the "Battle of the block" coined by CBS as a "Fan Favourite" as well as the return of the "Twin TWist" Something we haven't seen since Big Brother 5. Ever since we learnt about the twin twist fans have been searching the internets looking for which out of the 14 BB17 houseguests have a twin.
As Dawg pointed out Liz and Julia are a pretty close match..
This seasons cast of new house guests has two sets of twins one identical and the other fraternal twins. Liz Nolan has an identical twin Julia and Shelli (to the right) has a fraternal twin. As it would be easy to spot fraternal twins its very likely that Julia Nolan is the newest house guest to join the season.
But now it's come to our attention that the rock star dentist has a twin brother another medical professional, The rock star podiatrists Donny MAc. Earlier today Johnny Mac's twitter account tweeted that he has a twin brother and eluded that is the person for the twin twist.. Hmm..
Donny Mac the podisterst @BB17DonnieMac
JOhnny Mac the Dentist @BB17JohnnyMac
Can't wait for the twin twist tonight on #bb17 #JohnnyMac #RockStarDentist @BB17DonnieMac #RockStarPodiatrist pic.twitter.com/o4grAah8b2

— Johnny Mac (@BB17JohnnyMac) June 25, 2015
One thing we should point out is Johnny Mac dentist's profile can be seen here . Doing the usual searching on the internets hasn't revealed any Donny McGuire podiatrists. I guess we'll find out for sure tonight during part 2 of the season première. REmember the live feeds start tonight if you haven't already signed up it's worth it.
Live Feed subscription gives you CBS All Access thousands of archived shows. Live Shows like Big Brother, all the Big Brother Seasons, and 24/7 coverage of what is happening inside the Big Brother House. Plus there's flashback that lets you go back to any second of the feeds and rewatch what happened. Simon and Dawg will index the season just watch the parts worth watching.
All this for $5.99 a month try it out 1 week free. Support our efforts and get your feeds via a link on this site. Live feed subscritpion Sign up