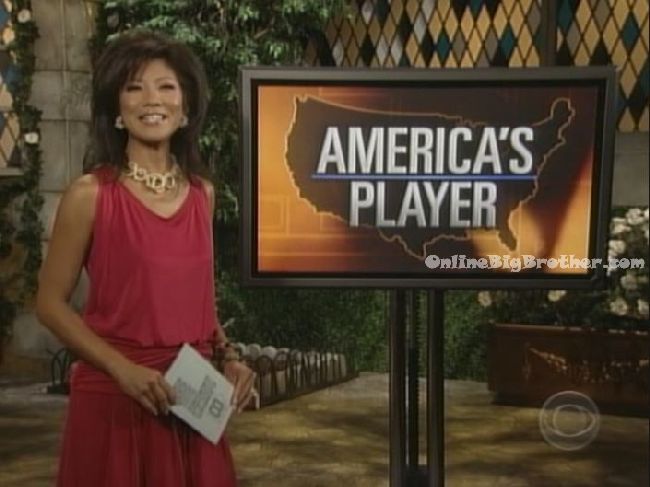 Last night on the live feeds at 3:35am James was called to the diary room. There was nothing unusual about that however less than a minute later the live feeds return from being blocked and there's a diary room audio leak.
DIARY ROOM AUDIO LEAK – James "What!? America's Player Card!" Production "Congratulations!"
Listen to the LEAK using FLASHBACK: Time Stamp = August 7th, 3:35am cameras 1 & 2
As far as I can tell James wasn't seen on the feeds returning from the diary room and it looks like he went straight to bed after coming out.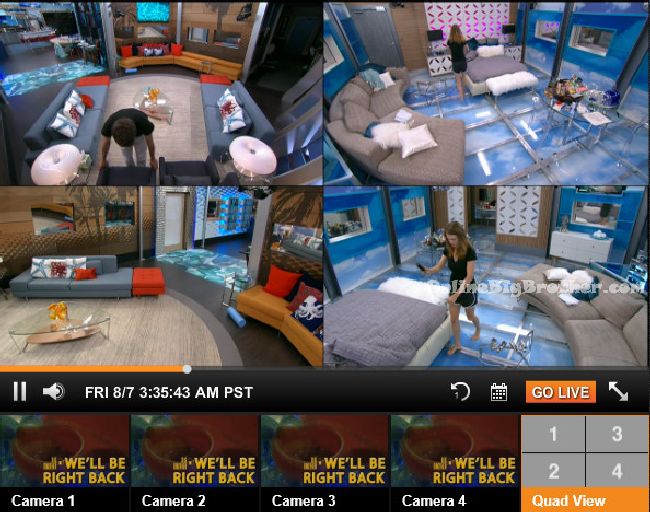 From the sounds of it CBS is bring back the America's Player Twist. It's possible that James was joking about it being an America's Player Card when he found a card in the diary room or it could be the real thing. We will have to wait until the upcoming episodes to find out what CBS reveals. If it is true, James will be given tasks to complete throughout the week and if he succeeds at completing them he will earn a certain amount of cash.
We first saw the America's Player Twist back on Big Brother 8 where Eric Stein was chosen by CBS producers to be America's Player from the start of the season. During his diary room sessions Eric was given tasks to perform that had been chosen by the American public through a voting system. The viewing public could vote on which task they wanted America's Player to complete by casting their vote either online at CBS.com or via text message at the end of the Tuesday, Thursday and Sunday episodes. The tasks given to Eric on Tuesday dealt with Thursday's eviction, Thursday task dealt with the Friday nominations, and the Sunday task varied. The tasks he was given must be completed in order to win the cash prize at the end of the season. The prize was structured so that for every week that Eric completed the assigned tasks as America's Player he was rewarded with $10,000.
A few of the tasks given to Eric Stein were:
Which of the two nominees do you want America's Player to vote out of the Big Brother house?
America's Player needs a challenge. The HouseGuests each have their quirks, and Eric is about to develop a case of sleepwalking. Into which HouseGuest's bed should he crawl tonight?
Eric needs to instigate some drama in the Big Brother house. This week, he's a secret vandal. Whose personal property should he covertly target?
Here is a detailed list the tasks Eric Stein was given to complete as America's Player in season 8.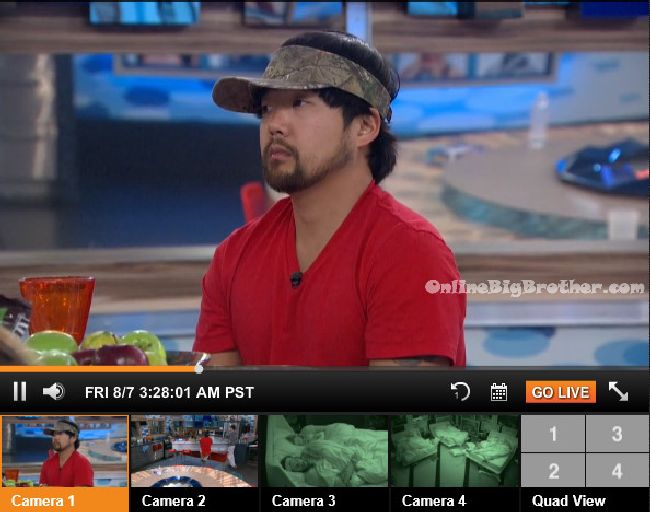 Tell us what you think of the diary room leak? Do you believe James is really America's Player or is it nothing? If it is real you can expect to see America's Player Tasks on the voting portion of the live feeds.
[polldaddy poll=9016129]