POV Holder:
?
POV Competition
Aug 8th
POV Used
?
POV Ceremony
Aug 10th
HOH
Becky
Next HOH
Aug 13th
Original Nominations:
? and ?
After POV Nominations:
? and ?
Have Nots
Austin, Liz, Julia
THE PLAN – Put up Shelli & Steve with Johnny as the fake backdoor plan when in fact Vanessa is the real target.
Watch the NEXT WEEK of the Live Feeds for FREE! Click here for your: FREE Trial

12:05am – 12:20am HOH room – Becky, James, Meg and Jackie. Jackie says I honestly feel safer with Shelli in the house than Vanessa. Becky says I do too. Jackis says then we can keep a good rapport with Shelli telling her we're going to keep her safe. Becky asks if we were to win the POV who would we remove Steve or Shelli? Jackie says if we leave Shelli up there, the other side might vote her out. Unless you have Johnny Mac and Steve to vote Vanessa out. Meg says we only need 4 votes this week. Becky says Johnny Mac isn't going on the block, we have his vote. We have 4. IF we get a shot we take Shelli off because Vanessa will still go off with that being the case. Then we keep Shelli in our good graces. Becky says pretty much the most important thing is we don't say the V word (Vanessa). James says definitely keep her in the loop. Becky says we tell her the plan that Johnny made himself a threat today and we need to rectify that. It makes more sense to backdoor John. She'll love it! She'll eat that sh*t up! Meg says when Jackie and I woke up we decided we don't give a f**k any more. They talk about a jury member coming back. Becky says ever thing that went on today was perfect. Everything she did as HOH, she taught me I have the right to change my mind. Jackie asks what if Vanessa wins the veto and takes Shelli off the block. Becky says she won't she is so self absorbed. Becky says we just keep feeding her the plan, the plan, the plan. Jackie says even if its a tie, you break it. James says the whole fight just seemed too perfect. Becky says it feels too perfect for me to take Vanessa out. Becky asks do I tell Shelli there is a backdoor target in mind. They agree not to. Becky says I say there were a lot of ruffled feathers last week. Becky wonders if she tells Shelli before or after the meeting. Meg says right before. Meg says that Vanessa is the crazy one. Becky says that Vanessa made me scared as sh*t about you guys when I was on the block. She really didn't want me to be close to Jackie. Jackie says she's the bully. I'm going to give you a standing ovation when you backdoor her. Becky says from now till the veto meeting we do not drop the V word. If she smells blood in the water she will freak out. From now till then she is our friend. Meg tells Becky to have a good talk with Shelli. Becky says I won't tell Shelli she is going on the block till tomorrow. They all head down stairs.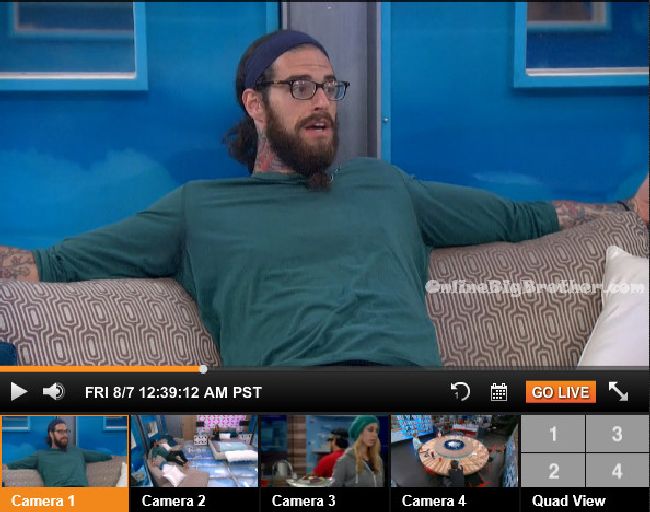 12:38am
Austin and Becky heads up to the HOH room to talk. Austin asks you looked a little puzzled down there did they change your mind or something? Becky says oh no quite the opposite. The plan is still the plan. Austin says as it should be because I would hate for them to change it. Becky says no not at all. So what happened with the fight this morning? Austin says I was just worried everyone would make you go back on it, which would put you in a bad position. Becky says not even close. Austin says you saved my a$$ with Jason by agreeing. So next week, double eviction, I've got your back. 100% next week and the twins too. Becky says it makes more sense for me to do Steve and Shelli. Austin asks are you concerned Johnny Mac will win the veto and use it on Shelli? Becky says no. Austin says no that sounds fine, sh*t. Becky says that Shelli is so nice but things got so messy last week. I know they wanted to keep their love together. Austin says I forgive her for her bad judgement. This gives her a fighting chance. Becky says obviously if we can freeze the noms that would be great. Big Brother blocks the feeds.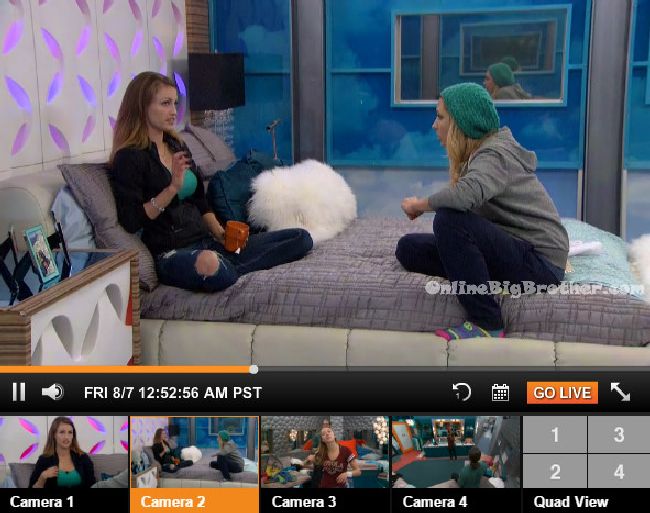 12:45am When the live feeds return Vanessa is up in the HOH room with Austin and Bccky. Becky fills her in on the plan to put up Steve with Shelli. Vanessa says you're going to put up Steve to have less blood on your hands. Becky says that Johnny Mac doesn't talk an offensive game he talks a defensive game. It makes more sense to put up Steve with Shelli and if one of them wins the veto put up Johnny Mac. Vanessa asks do you have a preference in terms of a target? Becky says that she feels for Shelli and if she pulls herself off then she will put up Johnny Mac. Ultimately you guys are the ones voting. Monday I'm clocking out. Vanessa asks do you know what you're going to tell Shelli? Becky says no. I love Shelli but this last week go so dirty. I know some of it was driven by Clay but you're guilty be association. Lets just be nice to her and not antagonise her. Vanessa says well cool, I respect you for sticking to it. It will be hard but we did all make an agreement. Becky says I will tell Shelli right before the nomination ceremony not tonight. Austin leave so Vanessa and Becky can talk alone. Vanessa says I just wanted to talk to you alone because obviously Austin doesn't know about "The Generals" alliance. With Clay and SHelli on the way out I am very isolated in this game. Do you still feel low on the totem pole? Becky says no, I feel good to be in the group with the four of them. (Jackie, Meg, James, Becky) Vanessa says obviously you know how good I am at sticking to my word. I will get blood on my hands and do whatever it take to keep my word. What I can offer in return is I've had 2 HOH, now you've had 2 and we'll have kept each other safe. I would like to make some kind of deal individually. Becky says I am done with deals and alliances. I don't even want to hear the words again in my life!! Its not my style! I think the only deal I made was to keep you safe till jury. I wouldn't even drop the A word with Jackie. I like to play organically. Vanessa says okay I can respect that. I like the short term, here's an action plan. They create a fixed game plan in a game that moves. Vanessa says I think of it differently in that it adds a cushion with people you can trust. Vanessa asks do you mind not telling Shelli that I know. Becky says okay. Vanessa heads down stairs.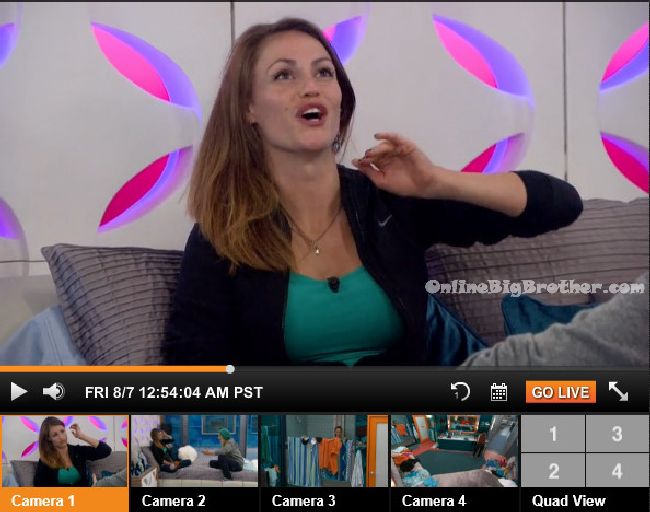 1am James fixes the plugged bathroom shower.
1am HOH room –
Johnny Mac comes up to talk to Becky. They hug and he congratulates her. Johnny says I made a mess out there (HOH comp). Becky says here is the deal. Pretty much I've thrown people off the trail that you and I are close. Meg, Jackie and James know this and are not going to say anything. So please whatever I tells you pretend you don't even know what is going on. I'm just going to tell you shut your mouth and you're good for the rest of the week. Johnny says nice! Becky says I'm sorry I f**king hate Vanessa! She is the one and only person I want to see leave this game. I really am going to put up Shelli and Steve. I have good reason for both. But neither will be going home. Johnny says okay. They only part that you, Jackie, James and Meg know is that Vanessa will be the replacement. The twins and Austin have no f**king clue. Johnny says alright. They think you're the backdoor. That Shelli is the target. And I think the twins and Austin will be more than okay to have Vanessa get backdoored. Johnny says so what happened today its great because it put a target on her. She flipped out on me and looked like an idiot. The whole vote thing was going and I told Clay its better for my game if you stay. The funny thing is that he had just seen me talking to James. So he thinks James put this idea in my head. James did not tell me a thing about game. He didn't care which way I voted. He was just freaked out on his own. Since week one I had had a problem with Vanessa. I really did come up with it on my own. So Clay goes up to Vanessa and said you should go up to Johnny Mac and tell him you're good with him because he really doesn't want to keep Shelli here. I told Clay that I felt like Vanessa was going to control Shelli. Clay told Vanessa that James got into my head saying she is going to control Shelli. So she goes off on Jamea, James goes off on Clay. The best part is she asked me who said it. I said yeah I said it I'm coming after you. She asked why are you coming after me? I said I don't know I came u with it on my own. I was silent and then Clay finally jumped in and said yeah I made it up. Becky says that Vanessa's word is sh*t. She has no idea, She is with nobody in this game because she changes her targets, changes groups, she blows up people's game and the whole time she runs around saying everyone is after her. You're stressed because you do it to yourself!! Johnny says she is just a really smart Audrey. Becky says no she is smart and dumb at the same time! Johnny tells Becky that he told Steve he isn't comfortable with Vanessa here. Steve almost asked me if I am close to you. Becky says perfect lets just ignore each other this week. And you have to make sure Steve knows he is not my target. Becky says right before the veto we will tell Shelli and Steve they need to win and that they're going after a big fish. Johnny leaves.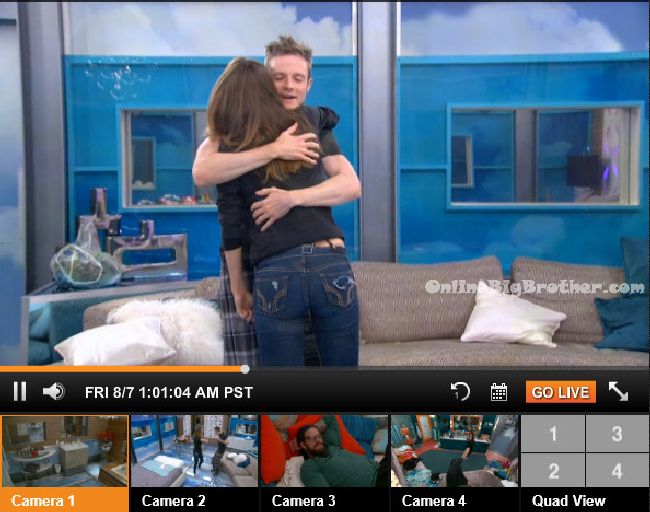 1:10am Comic bedroom – Vanessa tells Austin that Becky didn't want to make a deal or anything. Did she make a deal with you? Austin says no I just said I've got her back next week during double eviction. She was like that's all I wanted to know. Vanessa says see she didn't even ask me that! I probably the backdoor target. Austin says whoa! You think?! Vanessa says whatever we have the votes. Austin says we have the votes. Vanessa says not if I'm up against Johnny Mac. Oh yes. Austin says no you would. Vanessa says she flat out acknowledged she's in a 4 person group. She is the worst game player ever. Austin asks she said that? Vanessa says yes, she said its nice to be a part of a group that's known. Her and Jackie, Meg and James. She said it. Austin says she didn't say it to me. She told me she felt more connected to me and the twins. Austin says just win the veto and keep it the same.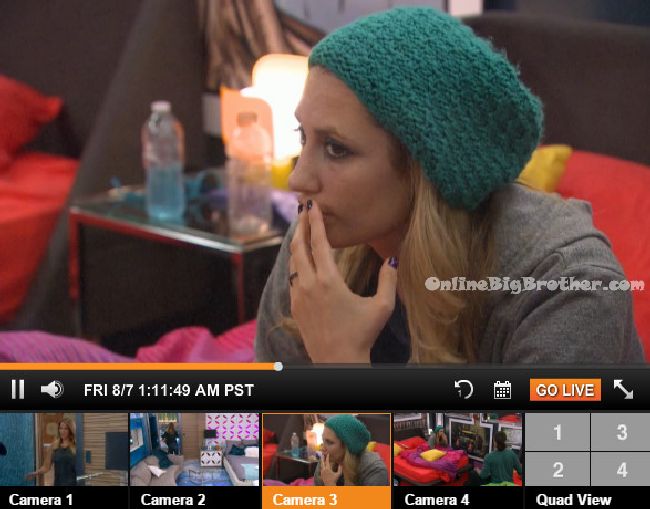 1:10am Shelli comes in to the HOH room to talk to Becky. Shelli says obviously last week was really sh*tty. I don't know what to say because I don't know where we stand. I know that James painted me a huge target. I'm way more vulnerable than I ever have been. I need you. I need anyone. I just really need to know where we stand. Becky says someone is a bigger target than you. Shelli asks who? Becky says that she told Meg, Jackie and James that we would not breath a word of this to anyone. We were going to let you know last second because this person is very good at social. And they were worried with you being emotional .. they would draw it from you. We want Vanessa out bad! How do you feel about that. Shelli says she is someone I'm close to so I won't throw her under the bus. Becky says if Vanessa hadn't been stepping up this morning and in the backyard. She went on a riot about you guys. Vanessa will flip on the people she is close to. She was in the backyard passing out pitch forks. I am sick of her grouping bullsh*t and then changes the groups. She preaches about her word! F**K her word! She does it each week forming deals and groups to keep her safe. She just said she was independent and wanted to make a deal. Becky asks are you going to tell her? Shelli says I am not going to tell her. I do care for her and don't want to be in this position obviously. The way that she.. what happened this morning .. that she was trying to tell me that Clay was turning on me. Becky says she took you into a room for 15 minutes and she got you to question a guy that you've been in a relationship for 50 days. Shelli asks how long has she been doing this to you? Becky says since week 2. I don't trust her with my life. She needs to be backdoored. Shelli says backdoor doesn't always work. Becky says it will be you and Steve. Big Brother blocks the feeds. Shelli asks if I pull house guest choice it would be really weird I wouldn't pick her. Becky asks has anyone done something nice for you. Well think about it maybe John. Becky says Vanessa is bat sh*t. It will be on me, my blood. Think about who you want to be with in the game. People think about you as a free agent. Vanessa made an a$$ of herself again. She is so radical with her targets, no one knows who she is going to go after. Shelli says this makes me feel better that I am going up and she knows it so I can read her.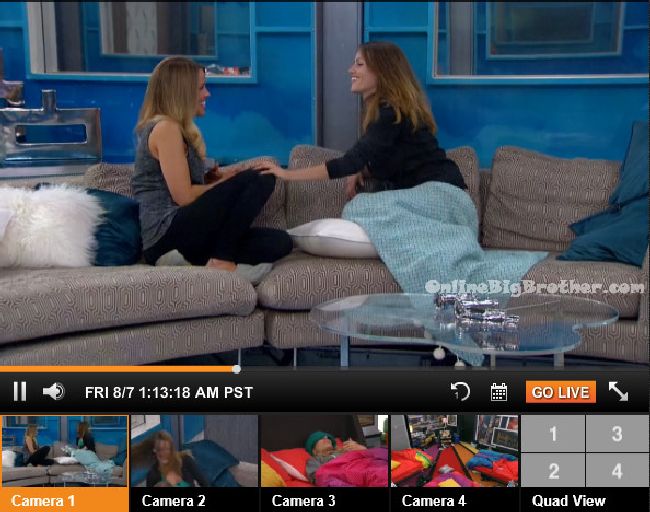 See what they can't show you on TV Try the live feeds for FREE!