POV Holder:
?
POV Competition
Aug 8th
POV Used
?
POV Ceremony
Aug 10th
HOH
Becky
Next HOH
Aug 13th
Original Nominations:
? and ?
After POV Nominations:
? and ?
Have Nots
?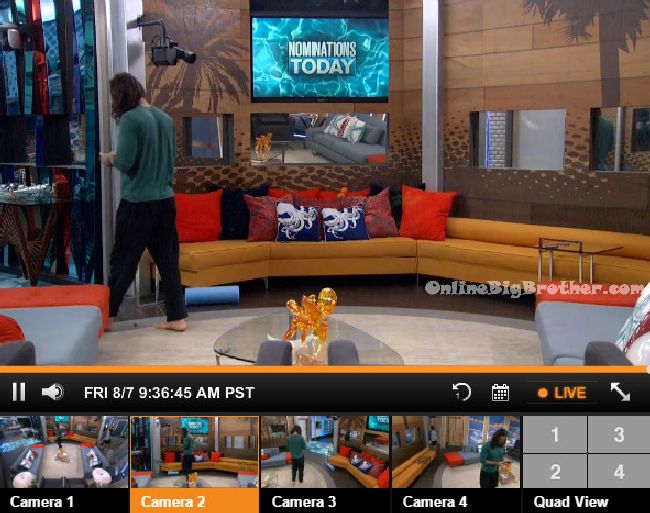 THE PLAN – Put up Shelli & Steve with Johnny as the fake backdoor plan when in fact Vanessa is the real target.
Watch the NEXT WEEK of the Live Feeds for FREE! Click here for your: FREE Trial
Is America's Player Twist making a comeback this season?
9:15am Big Brother wakes up the house guests. In the kitchen – Becky asks is havenots first, then noms? James says yes. Liz notices all the ants in the sink of dirty dishes and freaks out. She grabs the raid and goes to spray it but Becky tells her she's going to hurt someone. We need to clean the dishes first and then spray. Becky says the ants are all after the slop!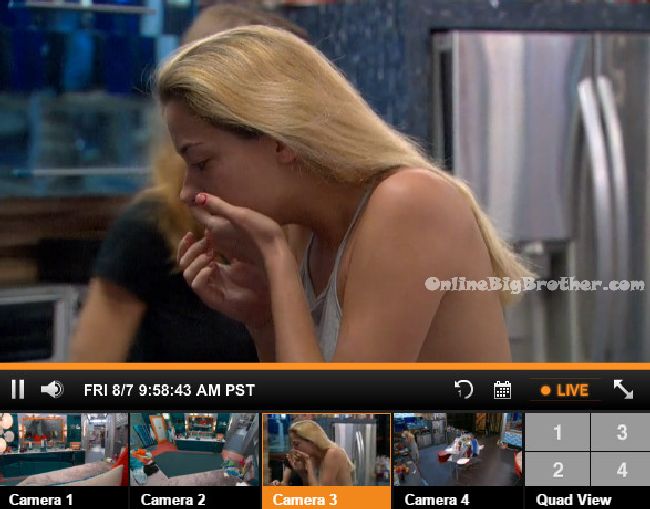 10:25am A twin and Becky Talking about keurig and how expensive they are. Becky lets us know keurig is really big in Europe she lived in Germany before. Becky says if she drinks Coffee when she laying in bed it doesn't work. It really works when she's moving. "I notice it when i'm in the store" Becky says she takes "Mental Breaks" at Starbucks while at work at abercrombie.
Austin milling around. Becky tells him he can eat some of her vegtables. "I have so much kale, I have so much spinach"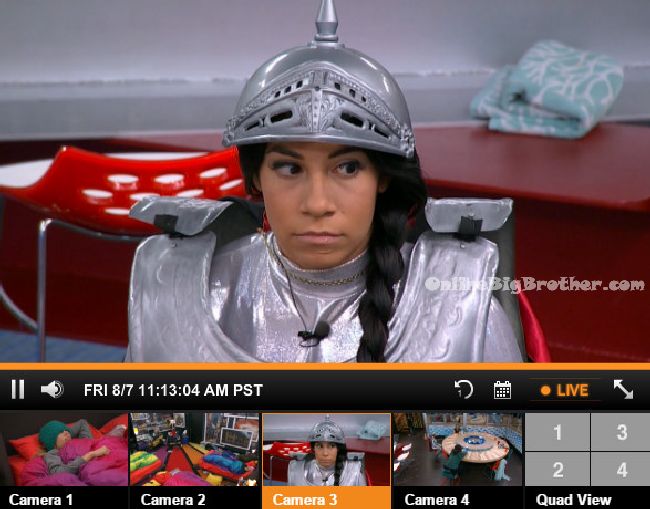 10:49am – 11:45am Austin and Becky Austin has just finished making two giant omelettes. Austin – Why did they wake us so early. Becky – we need to pick have nots and the nominations. Austin comments how much food there's left in the house this week. Becky thinks it's because Austin was a have not and Clay wasn't eating a lot because he was on the block. They talk about hearing production building in the backyard and how it could be for a have / havenot competition. Becky tells Liz I can't believe we only have 4 boys left! Liz says dude what the f**k! Becky says I know they wanted a strong woman this year .. but SH*T! They got it! We don't have one flusey girl. Never! A flusey girl stuffed into this house. Liz says except Meg. Becky says every girl except Meg. She's not flusey, she's just funny. Liz says I know, its crazy. Becky says we're hair, we're nails but we don't f**K around. Becky says its really weird to see Clay's picture black and white. Becky heads up to the HOH room. Liz tells Austin she is going to cry if there are have / havenot competitions from here on out. I can't be a havenot again. We just got off it. Liz asks what if I get stuck with Steve!?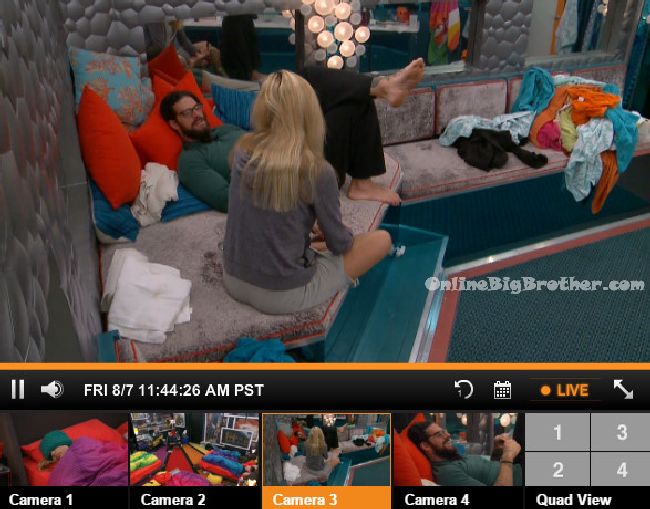 11:47am – 12pm Comic bedroom – Vanessa tells Julia that she slipped when she was talking to Shelli in the bathroom. I told her don't worry Freaks and Geeks has your back. I recovered by saying we were brainstorming ideas for an alliance name and talked about calling it beauty and the geeks. And she would be the beauty. Vanessa asks Julia about her conversation with Becky. Julia says that Becky said she wasn't coming after us. Vanessa says she didn't say that to me. It was a terrible conversation. I think I'm her backdoor target, not Johnny Mac. If Shelli wins POV I am going up 100%! Did she make a deal with you? Julia says yeah she said if I don't put you up will you promise not to go after me next week. Vanessa says she told me no more deals. No more alliances. WHat is she thinking?! This is big brother you have to make deals. I got so much blood on my hands for everyone else. She told me she feels great about James, Jackie and Meg. What a terrible game player?!!! Who admits they're in a 4 person alliance?!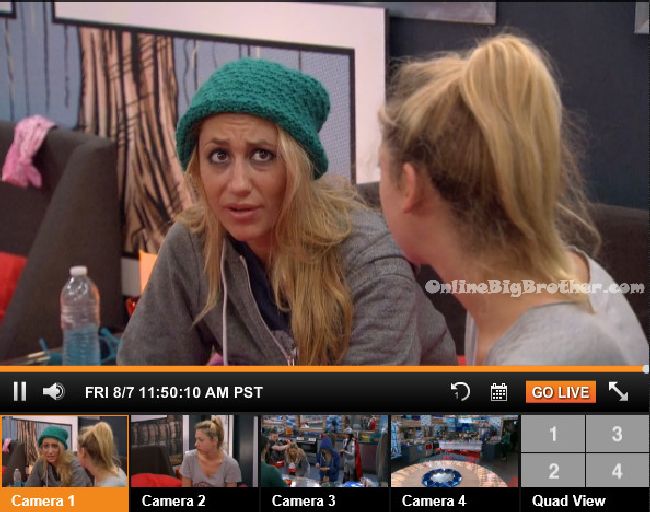 12pm All the house guests have been told to get up in preparation for an HOH lock down. Looks like Big Brother will lock the house guests in the HOH room in order to set out the havenot food. It sounds like Becky will be picking have nots.
12:05pm Big Brother blocks the feeds.. looks like its time to setup the havenot food..
[polldaddy poll=9004995]