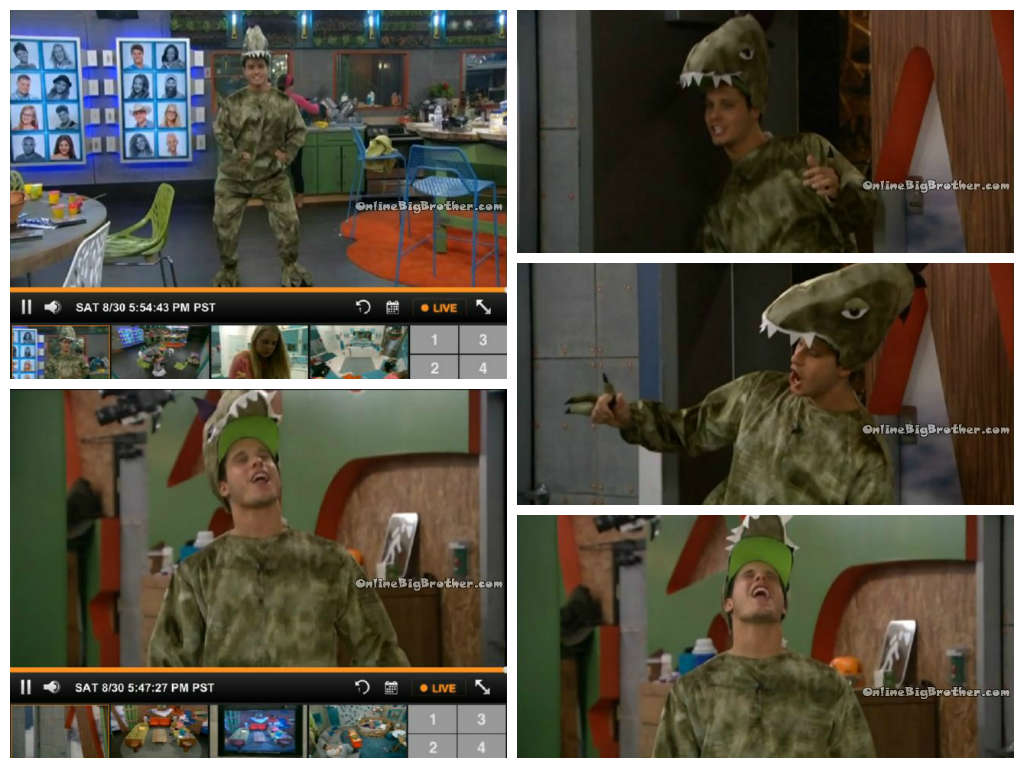 Cody wants a DINO name any idea?
The Live Feeds are archived. You can go back and watch everything that happens
Try It Free! Subscribe now to the official BB16 Live Feeds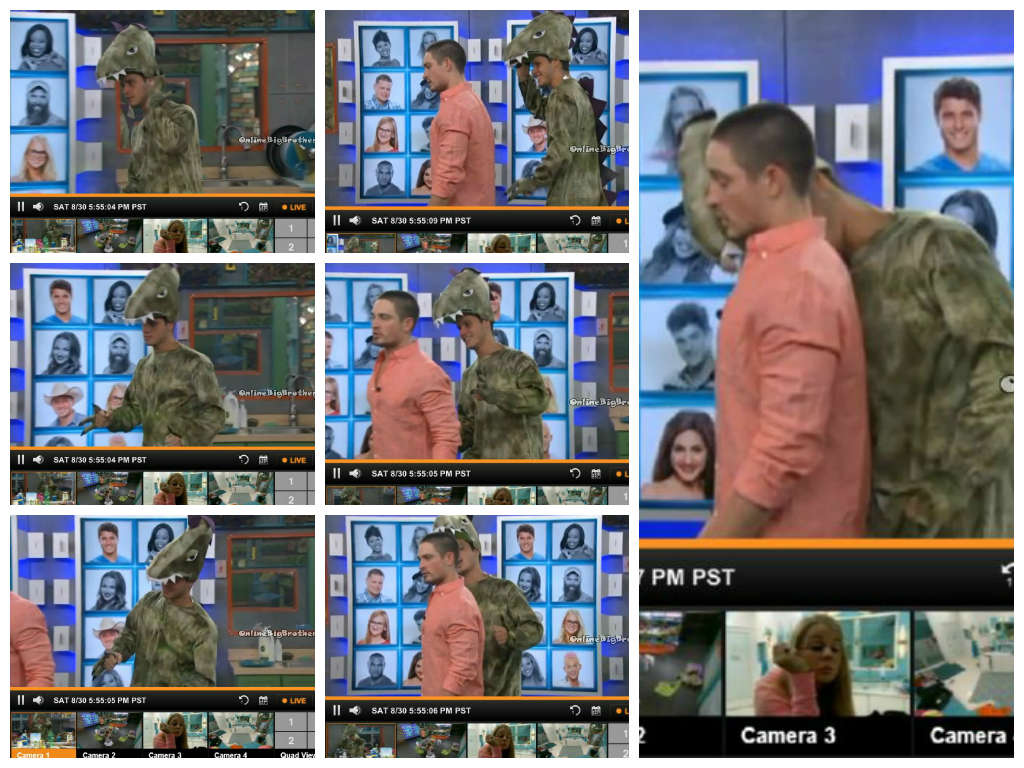 DINO Cody hunting BEastmode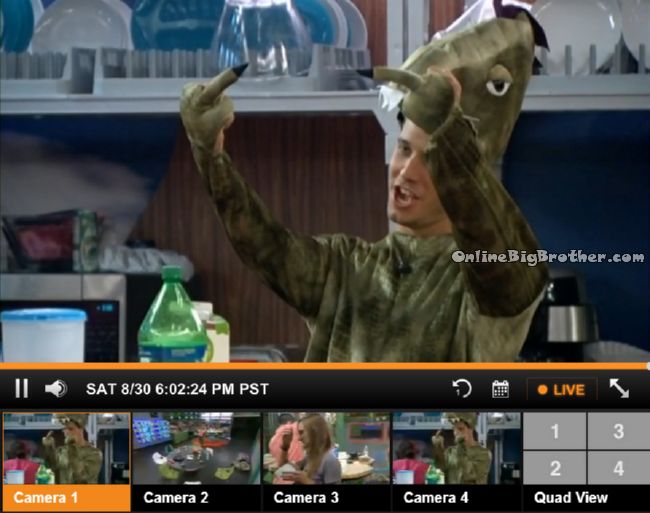 Cody and Caleb begin drinking the 2 bottles of win and 10 beers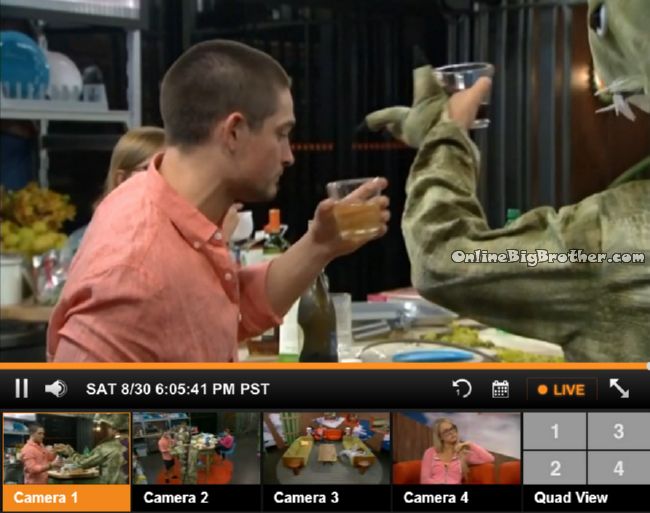 6:05pm The drinking has started
While this happens Nicole and Derick are in the Living room chating about the game. Nicole knows she is going home she say everyone thinks she's such a competition beast but she's not she's just a girl who graduated from nursing school. She cannot handle the stress and pressure of being the target since she came back into the game. She tells him if he makes it to the final 2 she will campaign hard for him in teh jury.
6:22pm Cody and Caleb HOH
Cody telling him about what Frankie told Christine about if he was in the POV he would have made it farther than Cody. Cody says Frankie is a douche
Caleb says whoever wins the next HOH will put Frankie up, "I don't understand his deal dude… what's his problem
Cody says caleb needs to be close to Frankie for his own game.
Caleb is certain about that, Frankie knows beast mode will beast him in the end. Caleb thinks Frankie will try and get him out before final 3.
Cody – I'm telling you right now in the double evict Frankie is not going after Victoria..
Caleb – then who is he putting up
Cody says Frankie went to Christine asking for a final 2
Christine Joins them. Caleb says Frankie is starting to freak him out a little bit. Caleb says Frankie was panicking in the HOH before the Veto was played.
Caleb Frankie knows at the end of the day where he stands with eye he's lying on our faces he stabbed us all in the back .. i'm watching him like a hawk.. i'm close to Frankie butt..
Caleb tells Christine it wasn't him that was pushing for Donny to stay it was Frankie. Christine knows that.
Caleb – I'm starting to really see what type of person frankie is he gets paranoids all he cares about is himself
They agree Frankie can be trusted for this week. Cody says Frankie will not put up Victoria that is his main concern. Caleb doesn't want them to be in the situation where Victoria is kept till the end because no one will waste their HOH
Caleb – there's still two people to go before we have to worry about ourselves .. if he targets me I still have the numbers to stay
COdy – exactly .. feeds cut.
Christine tells them she will be so happy to get Victoria out of this house because she is useless.
Caleb suggests Victoria gets evicted next week.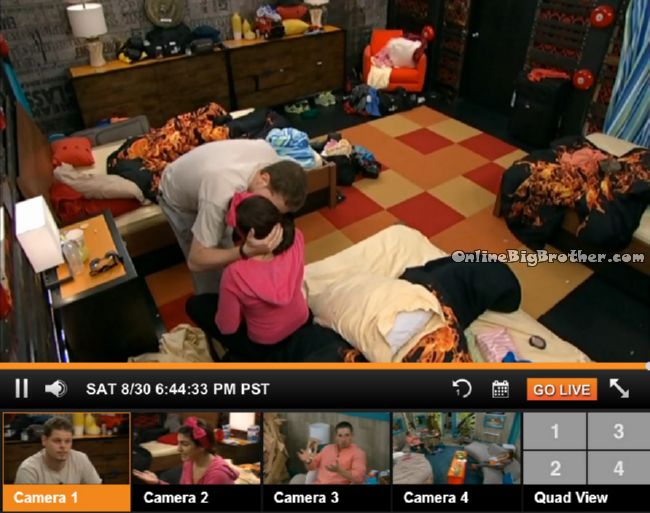 6:33pm Derrick and Victoria
Victoria says she feels like she's out of the loop. Derrick says there is no loop it's a figure of speech he told her she wasn't being nominated that is keeping her in the loop.
Victoria tells him how evil Christine is.
Derrick tells her not to worry about personal things people tell her. Victoria brings up Derrick talking to Christine for 3 hours in the bathroom. Victoria knows how good with her words Christine is. Derrick tells her he's a grown a$$ man nothing Christine is going to say will sway him from Victoria . He will talk game to Victoria any time of the day. He claims to never talk game to Christine.
Victoria asks him why was Christine not worried when she was nominated. Derrick – "maybe Caleb told her she was safe"
Victoria – why didn't I go up
Derrick says he doesn't know maybe they thought Christine would have a better shot of winning the veto.
Derrick tells her if she a goes up she will not be evicted.
Derrick says Nicole isn't crying she' snot making excuses she's going to leave this game with her head held high like a straight up "G"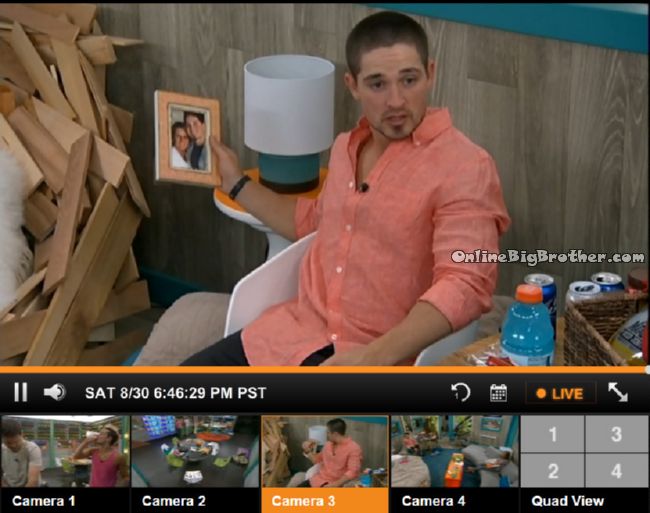 6:49pm HOH Caleb, Christine and Cody
They are Chatting about how much money they make. from the conversation Caleb doesn't make a whole lot of money. Caleb says 25k or 50K for Frankie really isn't a lot of money. points out his sister is a multi millionaire which has to benefit Frankie in some way, "Theres perks to that kinda stuff"
Cody – If my sister was as big as she was I would be like you're buying me a house
Caleb – you just made 40 million in a year..
Cody – buy me 1/2 a million house and i'm golden .
Caleb says Frankie is claiming he makes 1K a week, Christine doesn't believe that.
Caleb says Frankie is sitting pretty no matter what he doesn't need to win Big Brother.
Christine says Frankie still lives with his mother.
Cody and Caleb say they do to.
Christine says they are much younger.
Caleb tells them how much he loves his mother she's been his valentine for 4 years now she's the best women in teh world.
If you're enjoying the live feed updates this season, please consider donating.
Dawg and I work 24/7 all season long to keep you updated on everything that happens inside the BB US house. Any amount is greatly appreciated! Your donations go directly to paying the server and bandwidth fees required to run this site.
[polldaddy poll=8274218]
Share it YO!
Tweet