POV Holder:
Donny
Next POV
July 4th
POV Used
?
POV Ceremony
?
HOH Winner Team 1:
Frankie
HOH Winner Team 2:
Caleb (current HOH)
Battle of the Block Winner
Brittany, Victoria
Next HOH/ Next BOB
?
Original Nominations:
Caleb noms (Donny, Paola) Frankie noms (Brittany, Victoria)
Current Nominations:
?
Have Nots
Cody, Hayden, Joey, Brittany
POV Players
Donny, Paola, Cody, Zach, Caleb, Victoria (HOST = Jocasta)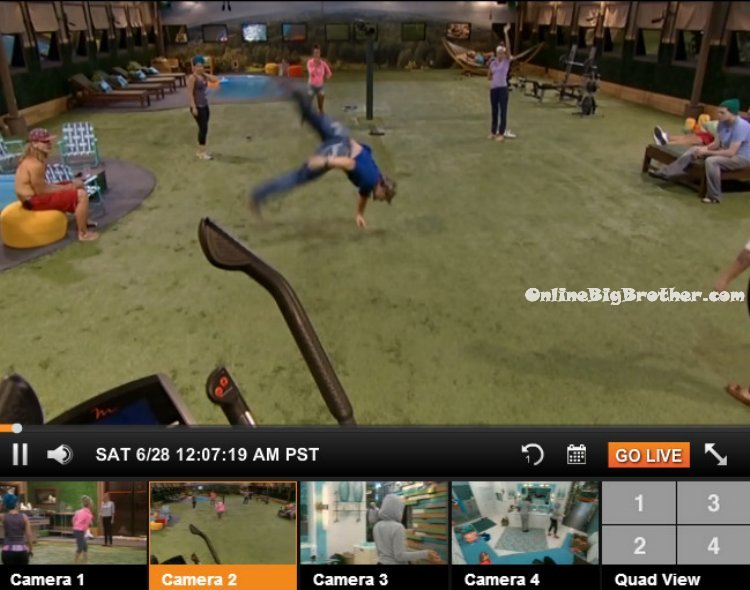 Try It Free! Subscribe now to the official BB16 Live Feeds
12am Out in the backyard – Christine, Brittany, Nicole and Joey are doing cartwheels while the the guys watch. (Derrick, Frankie, Caleb, Cody and Donny) Caleb jumps up and does a flip. Over on the hammock – Zach is alone. He holds up his mic and tells America that he is going to be in the final 2. He says we're going to backdoor Joey this week, no problem. In a unanimous vote. He says one of the "Bomb Squad" Alliance (Frankie, Caleb, Devin, Cody, Derrick, Zach, Amber, Christine) is going to win HOH in the next 4 weeks. We're going to end up evicting the next 8 people. Frankie, Caleb, Devin, Cody, Derrick, Zach, Amber, Christine are going to be the final 8 people in the house. But because I have a secret alliance with Derrick and Cody. And Frankie has a secret alliance with Christine and Caleb there's no way that we aren't going to win. Like I said before … I have the best social game here. Frankie joins Zach and asks what he's doing. Zach says I'm just telling America the deal. Everything is going to work out perfectly. Our plan is fool proof. Frankie says that's good you're updating America. Frankie says that Nicole is hot. Zach says Nicole is HOT MAN! I'm going to make a move! Frankie says wait until you're HOH. Zach says I knew coming into this game that I wanted to trust 1 person with my life ..you're that person and you're killing it!! Victoria joins them and the conversation turns to talking about random thing.
The girls – Joey, Christine, Nicole and Brttany start playing pool.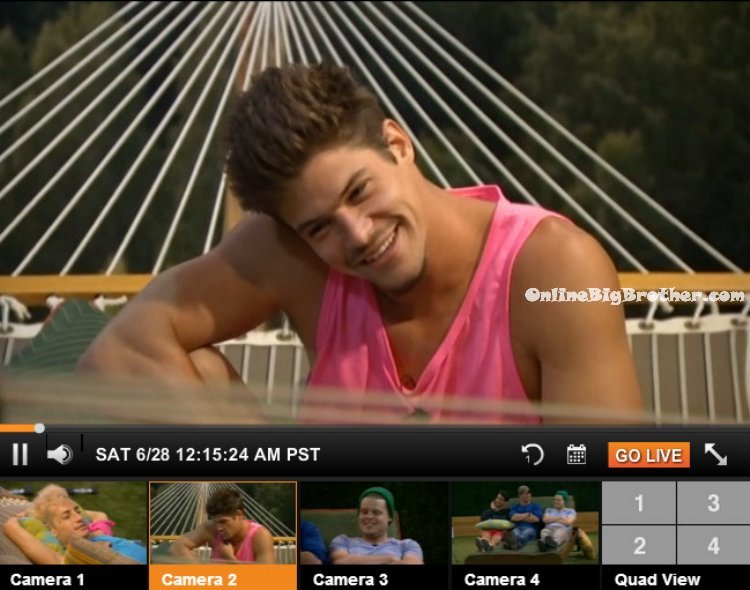 On the backyard lounge chair – Caleb and Paola are talking about Amber. Caleb says people don't know why Amber isn't open with her feelings. Paola is surprised that Nicole and Hayden like each other. Caleb says that everyone tells him that Amber likes him. Caleb says that she's crazy if she doesn't see it. Paola tells Caleb to wait to tell Amber what he feels since he has a lot on his plate with picking the nominee. Paola asks what people have said about her. Caleb says that people like her and don't see her as a threat because of her recent performances in competitions. Caleb says that it isn't him who will be sending someone home. Caleb says that he is going to do a group consensus. Paola and Caleb continue to talk about Amber and how much he likes her. Caleb says "As sushi as it sounds, I like the way she looks at me!" Caleb says that he saw Amber at the airport and he was awestruck. He says he prayed that God would put her in Big Brother. Caleb says that s*x ruins a relationship and I would try my hardest to not have s*x until marriage. Paola is surprised. Caleb says I would try my hardest, it would be hard. They talk to Devin about how s*x can ruin a relationship. Amber joins them and wants to learn how to juggle. Caleb tries to teach her but she gives up. She goes back to doing flips.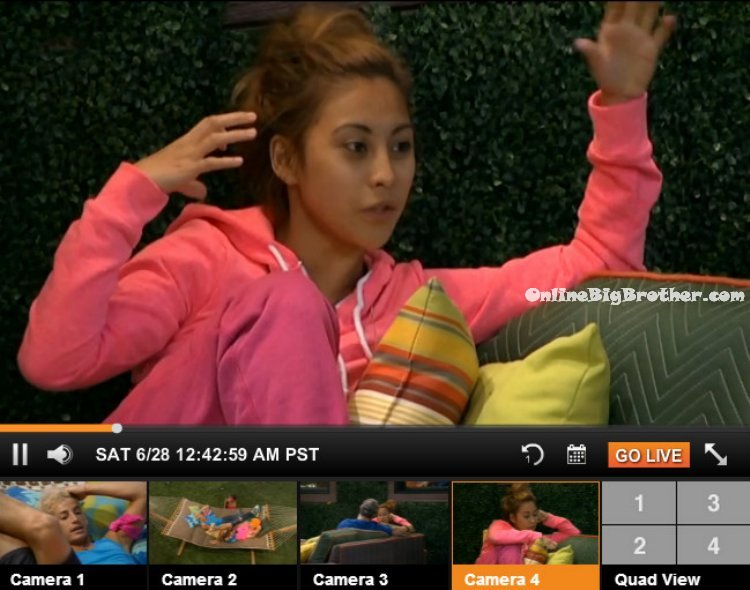 1:15am Up in the havenot room – Joey talks Frankie privately. She tells him that she respects the decision if she goes up. Frankie says I don't want you to go. Joey says I think its a good chance the I'm going up on the block. Joey says I know Caleb isn't okay with what I did. Frankie says I know what you did was insane but I didn't mind it. I think your a huge ally in the game. Frankie asks her who she thinks will vote for her to stay. Joey says hopefully you and Christine. Hopefully… They're interrupted and Frankie leaves and comes back. Frankie says I can't imagine being in this house without you. I am trying to not think about it. Caleb is capable of anything and he reacts on a whim. Just keep talking to him. Joey says I know I am going up. Frankie says being on the block doesn't mean you're going home. Joey says I am asking for your vote. Frankie says great.. I am going to wait and see what happens at the meeting and go from there. Frankie says I am voting with my heart and my heart is definitely with you. They hug. Frankie says the last thing you want to do is lie down and take it like a man. They leave the room.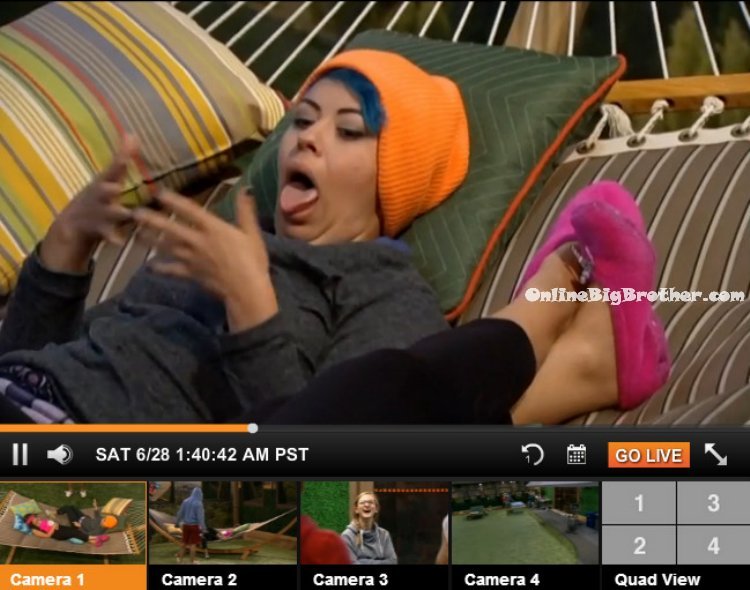 1:40am Victoria and Joey are in the hammock. They're talking about random things. Hayden joins them. Hayden tells Victoria and Joey that he's figured out what everything comes down to. Hayden says he has figured out that he is scared of commitment. He says any form of commitment and not just with girls. Joey says that shes the same way. Hayden says commitment is terrifying.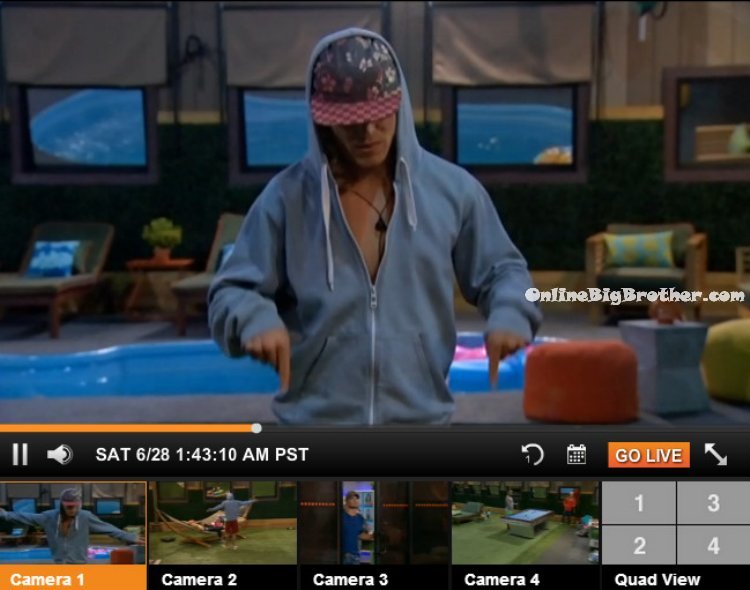 1:50am In the hive room – Nicole and Caleb are talking. He says that he is going to do what the majority wants. He asks her who she would want him to put up. She's reluctant to say. She then says that she wants to think about it. Caleb says that he just doesn't want to make a bigger target on himself by making the decision on his own. I want it to be a house decision. She says she'll think about it and let him know. They leave the room.