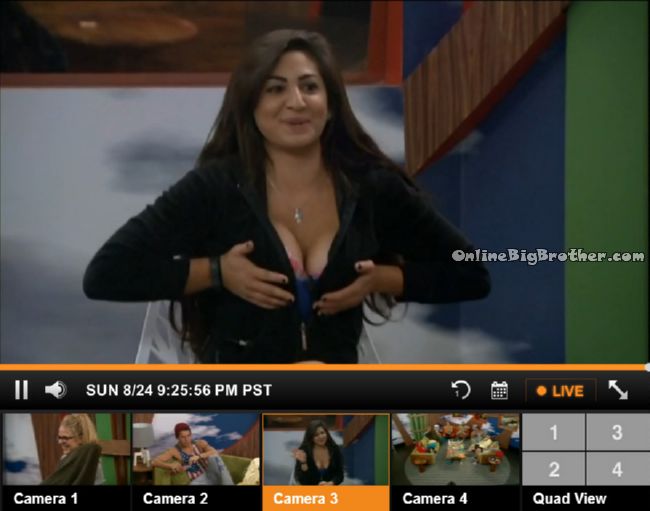 9:25pm Vicotira does Amber
Victoria – Hey ALL
Victoria – I made it to the top 8 cause I love to wear lingerie .. my lingerie and my boobies
Victoria – me and Brittney have the housekeepers alliance… we show out cleavage WHOOOO I gotta eat some cookies for my butt
Victoria – Obviously wear lingerie and hook up with devin.. show my butt some more..
9:27pm Caleb does Hayden
Stumbles up they tell him to just do a poem.
Caleb – Poem Nicole.. my one and only I was with her in the house for weeks.. and I didn't get my words said I wanted to say to her we kissed we watched the movies she said she liked me.. I miss her.. very much. end poem
Caleb stumbles through the rest of it..
9:31pm Derrick does Jocasta
Derrick plays up Jocasta being hurt and dehydrated.. He shuffles in with a slouch. has ice bags and a bible
Derrick – I made it here because of Donny… Donny's gone.. Thank you Jesus.. I want to give all the glory to god..
Derrick – They are all going hell they are fornicating.. Amber is OK because she reads the bible with me
Derrick – PWOPOW going to hell, Joey going to hell, Brittany.. girl she stole my story.. she's going to hell..
Derrick – My strategy going forward is to try and get hurt and they will feel bad for me and get me to the end and by the power of god I'll make it to the end..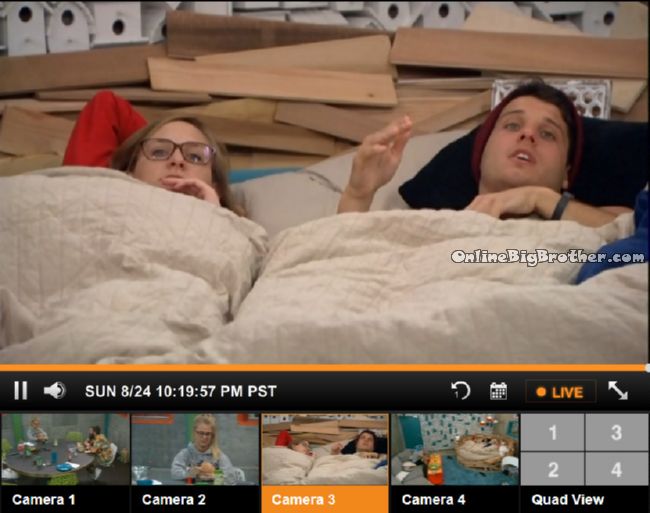 10:03pm HOH Christine, Frankie, Caleb and Cody
Frankie – That was fun you did good.. I had coffeee i'll be up for 4 hours.. I needed it to get through Joey.. Remember when I talked about her having @nal S$x
Cody – it was funny.
Frankie says Victoria's Amber wasn't very good it was still entertaining and fun to watch.
Cody – Victoria wasn't even close..
Caleb – Amber never talked about her butt and boobs
Christine – all the time
Caleb – well not to me maybe the girls..
Frankie – POWPOW was GREAT.. Zach was Awesome/.. Devin was Awesome.. your HAyden was awesome…
Cody – Nicole was great
Caleb leaves..
Frankie says he told nicole it must have been so nice to have a break in the jury house.
Nicole said it was good for her brain but not for her game.
Frankie agreed with her..
They start studying..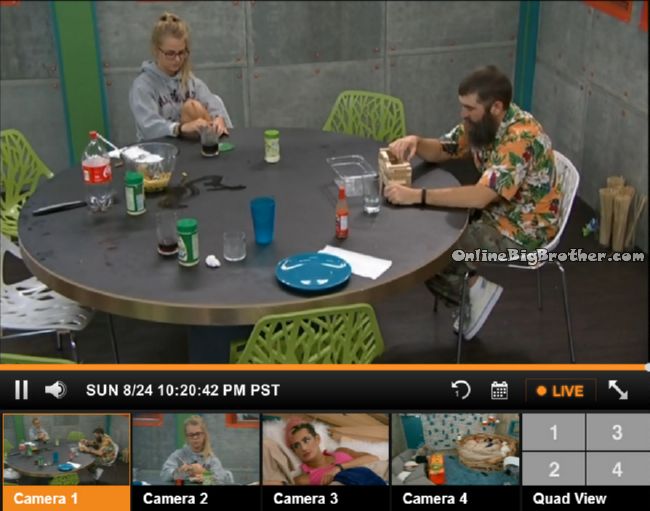 10:20pm Kitchen Nicole and Donny
Donny is wondering what is going on outside..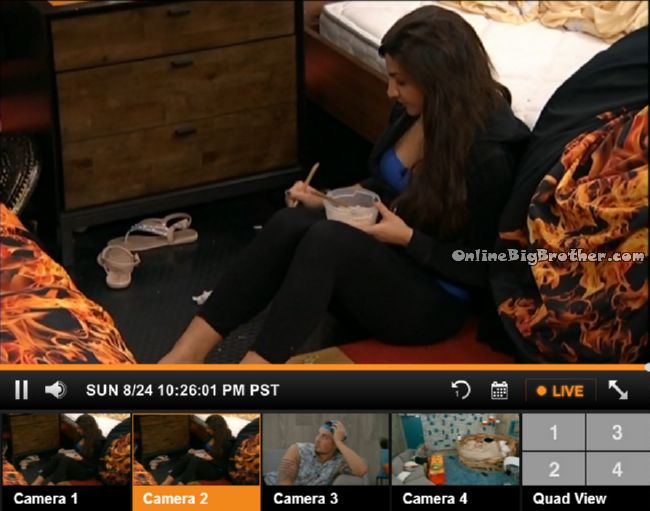 10:40pm FIRE ROOM Derrick and Victoria
(We missed out on some important parts)
Victoria – Christine, Caleb and Frankie..
Derrick – You are looking way too deep into it..
Victoria – you think so
Victoria asks him to tell her if she's going home.
Derrick says yes and he would expect the same thing from Victoria ..
Victoria is worried she';s looking like a useless =player on the outside. Derrick tells her not to think that way when Andy won Big Brother 15 do you think he cares about the haters he's got the 500 Thousand.
Victoria can't believe Derrick is going right back to work after the season is over. Derrick doesn't think anything will open up for him he's not looking for that.
Victoria says Derrick's daughter is stunning she might have a future in modelling.. A modelling agency might talk to him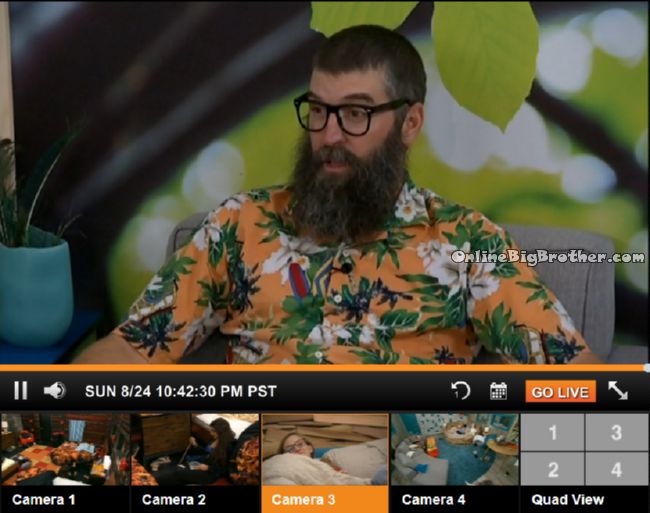 10:46pm – 11:02 Chit chat.. in the HOH
Donny, Nicole, Christine and Cody.
11:24pm HOH they are Watching the spy screen. talking about Victoria going backyards and forwards.
Christine – That's so weird she's constantly moving
Donny has no idea points out that Victoria goes in the room opens and closes the drawer and comes back.
Christine says Victoria gave Derrick a sex slap yesterday and was aggressively massaging him, Her and Cody were watching.. "That's so awkward.."
Cody and Christine complain that Frankie uses a new glass every time he gets a drink.
Victoria joins them.. Says everything is clean downstairs.. Derrick swept.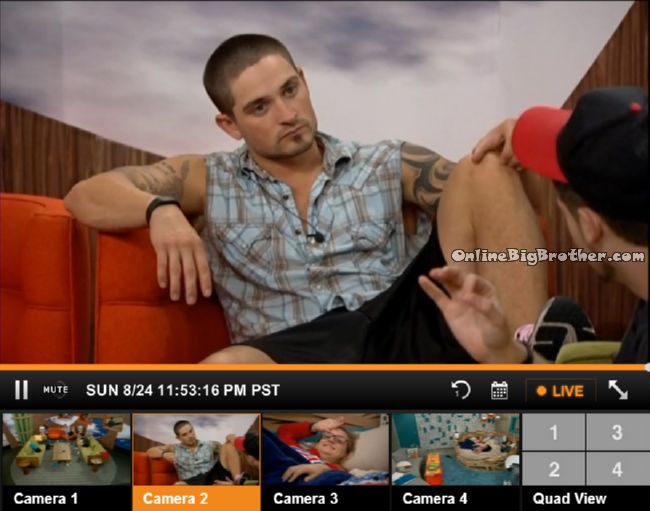 11:52pm Living Room Caleb and Derrick
Derrick thinks Dan should have won over Ian on Big Brother 14. Derrick has never seen the Dr Will seasons but he's seen the Dan one's and in Derrick's opinion Dan is the best player ever.
Derrick says the amazing thing is everyone on that Season knew who Dan was and he still was able to get away with everything he did.
Derrick has heard from Fans that Dr Will was better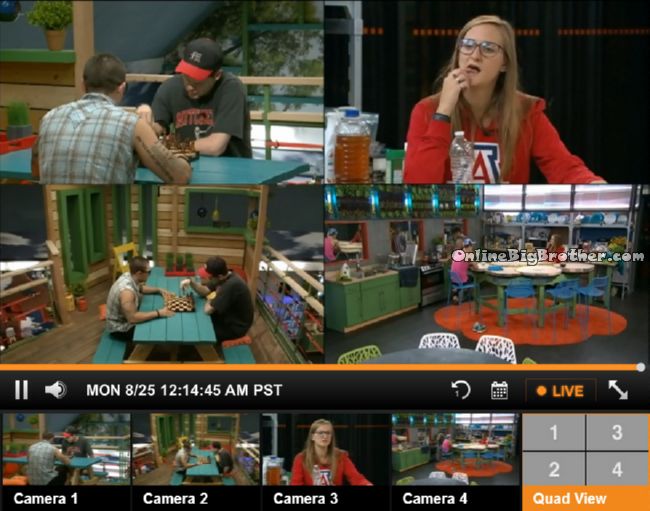 12:16AM Chess.. Derrick and Caleb talking about not trusting Christine.

More polls here https://www.onlinebigbrother.com/big-brother-compendium/big-brother-16-polls/
[polldaddy poll=8263785]
[polldaddy poll=8260325]
[polldaddy poll=8261457]
Share it YO!!
Tweet