With the Big Brother 15 PREMIÈRE just 3 weeks away, the Big Brother 15 Live Feeds are NOW available as of 12:15pm today for all of us CRAZY Big Brother fans to sign-up for our summer obsession!
Recently CBS took over control of the live feeds as they were previously managed by RealNetworks / SuperPass.
We have been promised that it's a "New Season. New Home. SAME FEED. Offering 24/7 Real-Time Live Feeds with the same unscripted, uncensored, unrestricted access you crave. In addition to being able to catch up on new episodes, play games and chat with other Big Brother Fans."
** Also Multi-Device / Multi-Platform
The Live Feeds are available across multiple devices and platforms. At home or on go, the Big Brother house travels with you – anytime, anywhere.
Watch Exclusive Live Feeds From The Big Brother House!

What's the big deal with the Early Bird Special ?
Watch Big Brother 14 Early Bird Special LINK
CHEAP 20% off the regular price. That means, for a limited time, get the feeds for 3-Months for $23.99. That's only $7.99 per month! By the way this is the CHEAPEST the live feeds have been.
LIVE FEED Subscription Options:
Available only until June 25th – Our best offer. Subscribe today for full season access beginning June 11th. TWO week early access starting June 11th and ends a month after the finale episode. Get special content and connect with the other Early Bird subscribers for Season 15. Live Feeds begin streaming June 26th. $23.99 / season

Available starting on June 26th – $26.99 / season

Available starting on June 26th – $9.99 / month
Take advantage of this LIMITED Time Offer before it expires on June 25th! TRUST me you won't regret it! It's the CHEAPEST Summer entertainment you can get for ONLY 27 cents a day! CLICK HERE to get your Big Brother Live Feeds
HOW CANADIAN USERS CAN SIGN-UP:
THIS works however you may need to use a VPN to watch the feeds as they might be geoblocked. Details on how to use a VPN service will be posted soon. 

STEP 1 – Click on this link:Big Brother Live Feeds
STEP 2

– Click on "GET STARTED"

STEP 3

– Select "Season Pass – Early Bird Special $23.99

STEP 4

– Fill out your billing information like normal, BUT add a US Zip Code such as 93505 instead of your postal code. Click "Continue"

STEP 5

– Enter your Canadian Credit Card Information and click submit. THAT's it, the order will then be successfully process and send you an email confirmation!

Why get your Live Feeds from Onlinebigbrother.com ?
Every Big Brother website selling the live feeds offers the same deal, support the site that you enjoy by purchasing your live feeds with them.
Onlinebigbrother live blogs the entire season of the feeds if you like our Big Brother content consider buy your feeds from us to help support this blog.
Added perks of the live feeds:
Members-Only Chat – Connect with the vibrant community of Big Brother fans in multiple chat rooms. Discuss gameplay strategies, make eviction predictions or guess the next Head of Household. Join Official and Fan created chat rooms or create your own! Complete with private chat features too.
Big Brother Archives – Take control! Our easy Calendar feature gives you access to any past moment from any day at any time. Watch what you want, when you want – all season long.
Highlighted Moments – We bookmark special moments from the live feed streams so you can quickly jump straight to the action. You can easily find the specific highlights of your favorite houseguests too! All Highlight Moments are available all season long.
Houseguests Status – Keep up with all the Houseguests' status in the game with at a glance overviews. See who's in, who's out, head-of-household status and more.
Multiple Camera Views – Watch the action unfold from the multi-camera setups in the house. Four separate camera feeds cover the drama along with a fifth "quad view", for an all in one eye on the activity. Focus on the story you want while staying in touch with the others and switch at any time.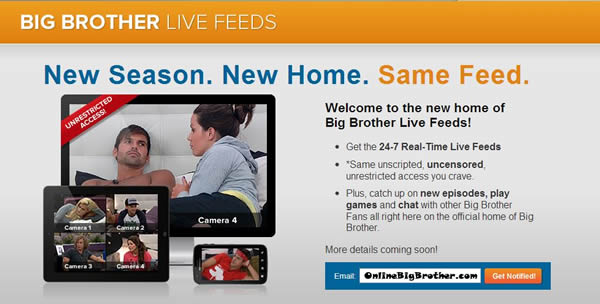 What to expect in the coming weeks:
June 10th Media Day – Where a select number of media personalities enter the Big Brother house to check it out and play their own shortened version of Big Brother Competitions/Evictions.
Around June 18th/ 19th – We expect the photos of the newly designed Big Brother house to be released along with the Bios of the new cast of Big Brother season 15.
Around June 22nd / 23rd – The cast of Big Brother 15 move into the Big Brother house.
June 26th – The Big Brother 15 Premiere airs at 9pm on CBS with the Big Brother Live Feeds being turned on shortly after the episode ends. In addition, the first Big Brother After Dark episode will air at 12pm on its new home – TVGN

.
Newest Big Brother 15 Promo Commercial – Size Matters!
https://youtu.be/60XeskcuPvo
Share it YO!!
Tweet