POV Holder:
Next POV:
Aug 18 (Saturday)
POV Used
POV Ceremony
Aug 20 (Monday)
HOH Winner:
Shane
Next HOH:
Aug 13 (Thursday)
Original Nominations:
Current Nominations:
Have Nots
No Have Nots this Week
Last Evicted Houseguest
Wil
HOH temptations
Britney Safe this week, Boogie gets 10grand
2:55pm Cam 3-4 Ashley and Shane Watch with FlashBack FREE TRIAL!
Shane tell her that people are wanting him to put her and Joe up but that is not what he's thinking about doing. Ashley: "I promise you if I win HOH next week I won't be putting you up". Shane hopes is happy to hear that he tells her that he can help keep her safe as well. He doesn't get to play for HOH but can still win POV.
Ashley says Frank is cranky that he didn't get a chance to play for the 10 grand, All morning he's been super pissy to everyone except Boogie. AShley points out that Shane had an entire Head of Household taken from him and he didn't act all like this. Shane mentions that Boogie didn't even try to get safety or the HOH he went straight for the money. This bugs Shane because Boogie is wealthy to begin with, why did Boogie think he was so safe?
Ashley: "All this shows he doesn't give a shit"
Shane says if he puts both both of them up then they have to play individually for once in the game. Shane likes them as people but together as a duo in this game they are dangerous.
Ashley mentions how Frank's moods really swing wildly She thinks he's unpleasant to be around.
Shane more or less tells her Frank and Boogie going up but he wants her to still look like she's the target. Shane knows when the nominations come out there will be all out war in the house.
Shane brings up that both him and Ashley have been on the same spot in the house. Shane was all alone early on and felt like the entire house was after him and now AShley is all alone. Ashley thought that her and Joe were going up for sure. She's glad Shane is deciding to make a big move.
Shane hopes that he can have her vote this week if he's up on the block. Shane: "When they see yours and JOe's key SHI!TS going to Hit the Fan.. Between those 2 and between us 3" (Shane + Boogie + Frank)
(Ashley just says YA with everything.. she will have forgotten the entire conversation by the time she leaves the arcade room. TT4L )
3:23pm Bathroom Britney and AShley
Britney: 'Did you and Shane gave a good talk"
Ashley: "YA"
Ashley: "Obviously I Do support shane I would rather work with Shane than the Mike Boogies in the house.. I really want to support shane.. And I told him If I win HOH next week I won't put up Shane"
Ashley express concern that Boogie's group of 4 is a threat in the house.
Britney: "Exactly look at the memory wall there is 4 of them.. think of jury votes"
Ashley is saying that Jenn is all salty right now, Ashley doesn't know if it's because she's hurt or what.. Ashley: "Jenn was saying Ohh.. Britney winning the safety was a waste because Shane won the HOH.. She's not in any danger"
Ashley doesn't think that's fair to say because by Britney winning the safety prevented someone else from winning. Britney says that was her plan all along.. She' shocked Boogie went for the money. Ashley: 'Just shows he doesn't give a shit.. If I was Frank I would have been pissed"
Britney: "boogie said this morning that his first restaurant grossed 9 million dollars
Ashley: "You know how much of that he gets.. a ton.."
They both talk about how much of a douche Frank is being about not getting to play for the 10 grand in the HOH. Britney points out that Frank was going out the door and the reset saved him. Ashley adds that Shane lost a entire HOH but never complained to the house.
Frank joins them. .
3:46pm Cam 1-2 Shane, Joe, Ian and Dan
They are talking about Jodi and how people have probably forgotten about it. Ian thinks Brian Hart was the most memorable first boot of all time.
They start joking around with Dan saying they are pissed that the coaches got a "Gold key" and were safe for the first 4 weeks. Shane is more mad about the coaches being in control of the players when it came to havenots. (Shane really hates being a havenots.. has it been 3 weeks total for him? )
Chat goes to Jodi and how she irritated so many people in the house.
Ian says regardless of the twist Jodi would have been nominated first week. Dan: "You underestimate my coaching skills.. Nahh.. I don't think I could reel her in"
Ian asks what Jodi did for a living.. Dan says she worked in a old folks home and a restaurant she had 6 step kids. Shane wonders how many people in the house lied about their jobs. Dan jokes says Joe owns a bunch of restaurants. Dan starts giving Joe a hard time saying he owns 6 restaurants. Joe denies it starts to tell them about years ago when he had a restaurant and his business partner stole the idea and cut him out. JOe: "It'll be a franchise soon you just wait"
Dan says he wrote a couple hundred tweets for his wife to send out. Asks Ian if anyone is tweeting for him, Ian says no he really doesn't use twitter much. Dan asks him if he would rather start his own business or work for a giant chemical company. Ian wants to work for a company he doesn't want the headache of starting his own venture. Dan: "But what if you only need to work 9-12 instead of 9-5" .. Feeds to fish (Dan continually tries to pitch this passive income idea to the houseguests… )
Dan asks him what his goals for his career are.
Ian says he's going to get a Phd then work in R&D. Joe asks him how much money he'll be making. Ian: "100-150K" (Just wait Joe will use this against Ian) Dan asks him what his PhD costs and offers him. Ian explains that to get a R&D position he needs a PhD and most times they pay you to complete it so most of his costs are for undergraduate tuition.
4:11pm outdoor lockdown is called.
4:30pm Fish
4:34pm Lockdown is over.. Britney tells Shane to go up and see if his door is locked because if it is could mean Pandora's Box
Boogie, Frank and Joe find a bunch of coloured balls on the ground leading to the arcade room on the ground leading to the the game in the arcade room.
All the houseguests crowd into the Arcade room.. they noticed that there is a question mark inside the ball game now (Image Link) .
Shane heads up to the HOH and finds out that his room is open..
4:44pm Dan is walking around
4:45pm cam 1-2 Shane and Britney
shane telling her if he gets a Pandora's Box he won't open it. Britney thinks he should if there is a power.. Shane: 'I don't even know what the powers look like" Britney: "they will show it on the screen it looks like a power of veto"
Britney: "I'm just hoping they don't do anything to screw with the game.. It's fine if it's luxury .. (feeds cut)"
Britney: "If it's another twist that keeps Frank in the game i'm just going to go home.. why don't they just give him the check"
Shane agrees, he has no clue what is going on with the twist.
Britney: "It's could have to do with POV but why now if all the weeks they would clue us into the game" (thinking that the balls on the ground was hinting that the POV will have something to do with counting)
Britney: "The fact they did it before nominations"
Shane: "Thats what i'm worried about that I will nominate 2 people and they'll tell me I have to nominate 2 more.. I'll snap.. they can't do that can they".. (Feeds cut)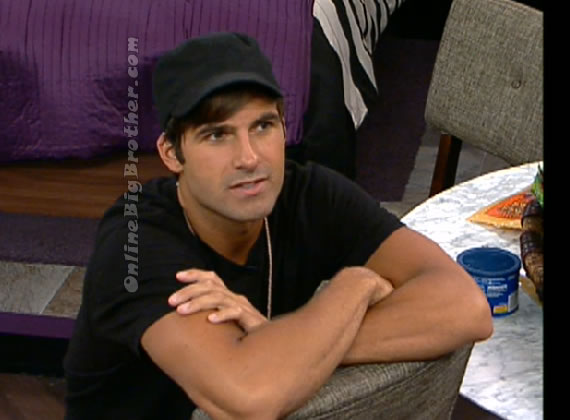 5:13pm Cam 1-2 HOH Shane and Dan
Dan thinks that something is happening and it's probably going to be Pandora's box he speculates that there could be a pouch of coins that you can use for the game. Dan: "One thing I have learnt is 'They' do not do something for nothing.. don't let this deter where you're nominations are going"
Shane is trying to figure out how he can leverage this paranoia with the arcade game to lessen the blow to Boogie and Frank. He's thinking about acting like he knows something is up and during the nominations say "Something has happened in this house all of a sudden.. " Dan thinks its a great idea. Everyone is in panic mode right now and you can say that the recent turn of events had you thinking about the game and you made a call.
Shane recommends that Dan starts to act quite.. Dan : "I'm just going to keep searching around the house.. making people nervous" Dan reiterates that never have paranoia change what you plan to do in the game.
5:35pm CraZy Paranoia running amoke.. the only person really keeping his cool is Boogie ( I added some pictures of the houseguests searching around on Google+)
5:43pm Cam 3-4 HOH
Danielle asks him if he's going to change the nominations.. Shane says no all that has changed is his nomination speech.
Danielle: "Frank just cussed out Joe like 30 minutes ago"
Danielle explains that Frank came out of the storage room said "They gave us all egg whites this week" Joe asks him "what do you mean" Frank replied "What the F*** do you think I mean.. fuc**** dumbass"
Shane: "No he didn't say that.. wait was he smiling?"
Danielle :"no it was just the three of us in the kitchen.. Joe was really hurt by it"
Shane: "What do you think that is in the arcade balls?"
Danielle: "I think it's either pandora's box because that is what it looks like or the Comp tomorrow has to do with courting"
Danielle has made an approximation and figures that there is 790 balls in the game. Danielle: "I only told Dan and Britney I don't think I'll tell Ian"
Danielle "I think me and Ian are the only people that can square in our head"
5:48pm Cam 1-4 Nominations Ceremony has started
6:41pm Cam 1-4 Nominations Ceremony YO
7:06pm Cam 1-4 Nominations Ceremony YO
Share it YO!!
Tweet