POV Holder:
Shane
Next POV:
July 13 (Friday)
POV Used
?
POV Ceremony
July ???
HOH Winner:
Willie
Next HOH:
July 19 (Thurs)
Original Nominations:
??? and ???
Current Nominations:
Frank and Kara
Have Nots /Slop
Danielle, Shane, Ashley
Coach Competition Winner
Boogie, Ian is safe
12:15am Ashley, Ian, Danielle, and Jojo are out in the backyard talking about how horrible the have-not room is to sleep in. They ask Ashley if she is going to sleep up in the HOH bedroom again or not. Ashley says that she feels better but that she's going to ask the diary room and see what they say. They all head inside. Ian and Jojo say that they're going to go to bed. The girls head into the bathroom. They talk about how they can't wait for the Big Brother Wrap Party at the end.
Dan, Willie, and Britney continue to talk up in the HOH room. Dan tells Willie that he isn't going to lie, Boogie and I talked about we're not working together and we don't have a deal. Willie says that he appreciate Dan being honest and not denying everything.
12:35am Frank and Janelle are whispering by the chess set. Janelle asks Frank if he listens to what Boogie tells him. Frank says that he listens but that he doesn't do what he says because Boogie doesn't have his best interests at heart he has his own interests at heart. Janelle tells him that it sucks that you are connected to a sinking ship. They start talking about Danielle and Kara. Janelle says that she thinks that Danielle is really brain washed. Janelle asked what did she say to get into this house… what did they see in her? Frank says yeah, I don't know. Janelle says and Dan picked her second. They laugh. Frank tells Janelle that he really wants to work with them because Boogie isn't looking out for me. Frank says that he knows Boogie says stuff to your face and then goes to the diary room and busts your balls. So why not do that to him. Janelle says that she would love that! I would love to do that to him!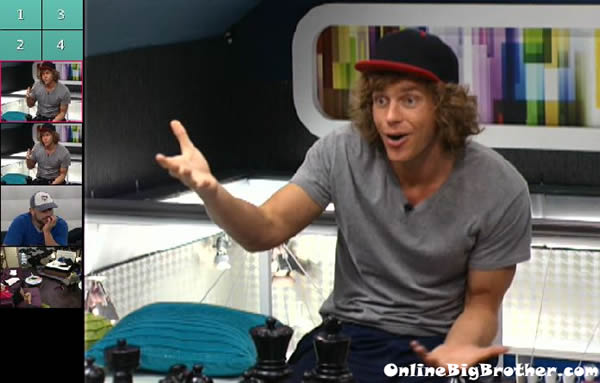 Sign-up for the Big Brother Live Feeds and get the MOBILE Feeds for FREE!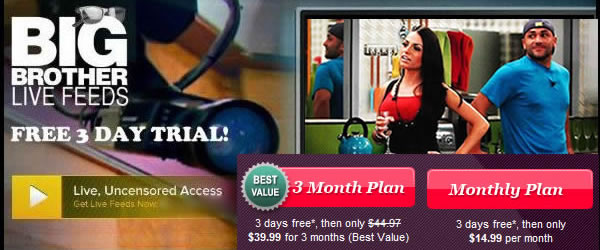 12:40am Willie, Britney and Dan are still talking in the HOH room. Britney is talk about how Boogie was threatening her that if she didn't do what he wanted then the line in the sand would be drawn. Willie tells Dan that he just doesn't know …you could be in a bad spot and just telling me whatever I need to hear. Dan says you've seen how I play the game over the last 7 days. Willie tells Dan that he knows and that he trusts Dan way more than Boogie. Dan tells them that if there is anything that he can do to earn their trust to let him know.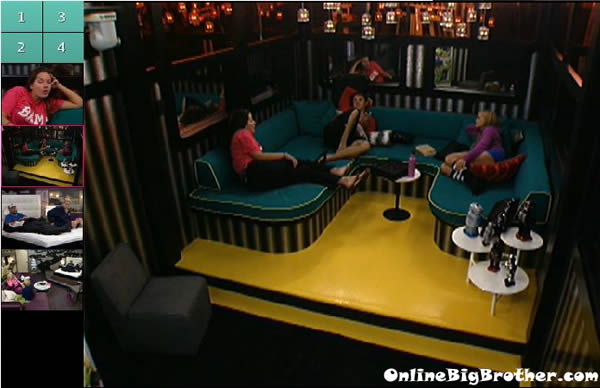 1am – 1:25am
Dan, Danielle, and Kara are in the arcade room talking. Dan is telling them about his conversation that he had with Willie and Britney. Dan tells them that they told him that they have not made any commitments. Dan tells Kara that Willie did like that you are making more of an effort now and that you need to continue to talk to him. Dan then tells Danielle that they said that they think you are nice and sweet. He tells them that if you start to show them that they can trust you …then maybe down the line you will be able to work with them.
Janelle, Willie, Ashley and Britney head down from the HOH to go out into the backyard. Janelle tells them that Frank is a good guy and that he really doesn't like Boogie. She says that he isn't anything like Boogie and doesn't like the way Boogie puts everyone down. They discuss how they will get rid of Kara this week. Janelle asks what will we tell them when they ask us how they will vote? Do we just say its 50/50. They all agree that they will say that. Janelle and Britney talk about how they need to blind side Dan and not let him know they will vote out Kara. They joke about how Dan has a way with words. They discuss the possible twist where the coaches play a competition and the winner gets to choose which player comes back and they get them on their team. Janelle tells them that Frank told her look at the bright side if you vote Kara out you can have her bed … if you vote me out ..I don't have a bed! They all laugh.
1:40am They talk about getting into the hot tub. Ashley warns them that they could get a yeast infection from it. Willie says that he might get one too. They all laugh and then get in the hot tub. Britney asks if Ian has put his feet in the hot tub … because the diary room put anti-fungal cream in there for him. They joke about how he kicked himself in the face today and that he probably has fungus on his forehead now. Ashley talks about how Ian told her that he used to put cream on his hands back in high school and then lick them. Meanwhile, back in the arcade room Dan, Danielle and Kara speculate about what the next HOH competition might be like. Willie says that he thinks later on in life Ian could be a serial killer. If Ian comes in the HOH room tonight while I'm sleeping I would scream.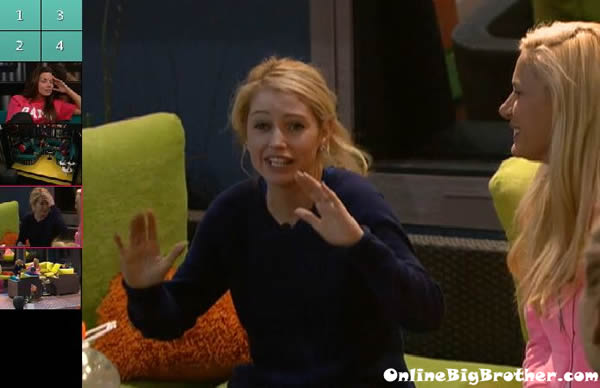 Watch the first few days of Big Brother 14 for FREE: 3 Day Trial!
1:45am Joe comes out to sit in the hot tub with the others. They are all just talking and joking around. Joe brings up how Boogies birthday is on Monday in a couple days. They talk about when each person's birthday is… Willie is surprised that they remember the other house guests birthdays and says that he barely remembers their names. Dan comments on how Ashley's second toe is longer than her big toe. Ashley says that she used to be self-conscious about it but that her dad used to tell her that it meant she was smart. Dan and the others laugh.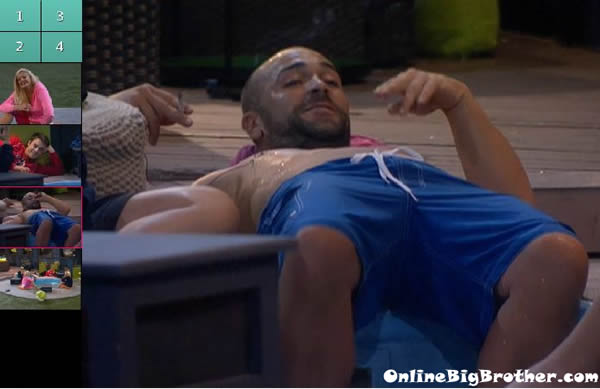 2am – 2:30am The conversations turn to talking about cars they have and had in the past. After a while of talking about cars they decide to head inside to go to bed. Janelle and Britney go up to the HOH bedroom. They talk about how Dan totally knew they were talking game out there and that's why he came outside. Willie joins them and they talk about how they need to keep Dan in the dark about voting out Kara. Big Brother cuts the feeds. When then come back the three of them talk about needing to clean up tomorrow. Willie laughs about how he did his dishes the first night and not since. He says that he eats and then runs up to the HOH after. The conversation changes to talking about how they need to get Dan out of the game by knocking out his team. Willie says that he wants to get out Kara this week and then get out Ian. Britney say yeah we need to put up Ian and Danielle. Willie thinks either this or the next competition will be endurance. Janelle and Britney both say no …endurance isn't until week 4. They agree that this next HOH will be Q&A.
2:45am – 3:20am Britney, Janelle and Willie all talk about how they think Ian is America's Player because he's in the diary room 20 times a day. They discuss how they want to tell Frank to throw the HOH competition. Janelle says that she will talk to Ian and tell him that he has to vote with us or you'll show your cards. They talk about how they will tell Wil as a group and that he will be sad to have Kara evicted. Janelle says that she will bring her team up here tomorrow to talk. If Ian comes up here I will tell him to fu*k off. They talk about Dan and how good of a salesman he is.. The talk turns to how messy the HOH room is and how its like a Frat house. They then head to bed…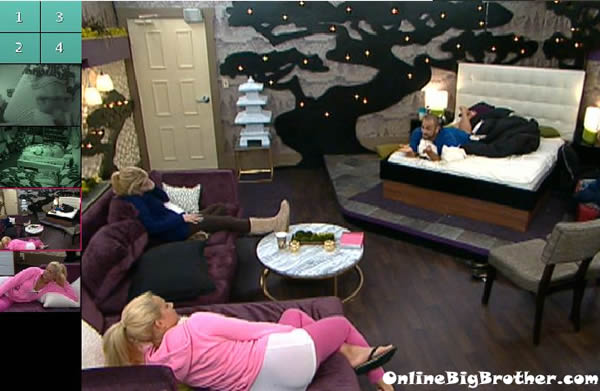 Share it YO!!
Tweet