POV Holder:
Frank
Next POV:
Aug 18 (Saturday)
POV Used
Yes
POV Ceremony
Aug 20 (Monday)
HOH Winner:
Shane
Next HOH:
Aug 13 (Thursday)
Original Nominations:
Boogie and Frank
Current Nominations:
Boogie And Jenn
Have Nots
No Have Nots This Week
Last Evicted Houseguest
Wil
HOH temptations
Britney Safe this week, Boogie gets 10grand
1pm – 1:15pm Boogie says thank god I got done like this so early, so I can be done with this.. I don't know if you guys know this but we don't get any extra money to go to jury. Big Brother cuts the feeds. Boogie says that god you guys made it to the jury because that is a lot of leverage having at least three votes in the jury. I don't think Danielle or Britney have thought of that yet. Boogie says that he is going to enjoy sitting at home. Boogie says its great that when they are in the final three with with them so that you don't have to slash their throat on national tv. Dan says that he hasn't thought that far down the road. Boogie say oh yes you have and beyond. Boogie asks Joe how he is enjoying this.
Re-Watch ALL THE DRAMA on FlashBack: Big Brother 14 Live Feeds – 3 Day Trial!
Joe says that he doesn't like the bullying aspect of it. Boogie says bullying, who is bullying, we aren't bullying anyone. Joe says well you are getting into people's faces. Boogie says we aren't bullying, he just isn't answering back. Joe says that they are bullying. Joe explains that everyone got after me when I got mad. Boogie and Frank talk about how they are just pissed for being yo-yo'd around and for being scum bagged. We are just trying to talk and have a conversation with Dan and laugh about it. Boogie says that is why Dan isn't answering back so that you will feel and think this way. Boogie says hey Joe, when you were on the block did you inquire at all about if they are flying out a relative? Joe says no. . Frank says being loud and having an opinion isn't the only form of bullying, so is lying, manipulating and back stabbing people in the back.
1:25pm Dan heads up to the HOH room with Joe. Shane, Joe and Dan talk about sticking together. Joe says that they already pulled me into the back room to pull a hail mary to get my vote. They are going to come to me all week and they can kiss my a$$ because they ain't going to get it. Joe says that they said they've drawn the line. Shane of course they said that. Joe says Shane you know how to fu*k up a house. Shane says that he doesn't think the game started till the beginning of this week. Joe says we don't we just come out and draw the line. We need to all come out and divide. Joe says that its too late in the game to have people floating back and forth. Joe is talking about Ashley playing both sides. He says he wants everyone to pick aside and if you don't then you will be put up as a pawn until you are gone. Joe says that Ian and Jenn showed their true colours, Wow!
1:30pm – 1:45pm Dan and Danielle are in the arcade room. She tells Dan that she felt so bad for him sitting on the couch. Dan says don't be because I love it! Dan says that Shane showed him something today, the way he handled himself in the kitchen. Dan says that Shane handled it well and if he started to lose it I would have jumped in there and pulled him out but he took it well because they were coming at him hard. Danielle starts crying and says that they really know how to get to me. They said that Dan didn't really want you and that Shane is his number two. Dan asks do you really believe that? Danielle says no, but I just hate how they can get to me and make me feel like I am worthless. Dan brings up how she got out Janelle and is about to get out the only other person to win this thing. You have got a good run at this thing. I would rather see you cry when you win, with tears of joy. Dan talks about how Ian is doing a really good job. Dan brings up how they said I would scum bag you at the end and get them to cut you but there is no way I would do that to you. The best part of it is that they have no clue about Ian. Dan says lets put it this way you are the only person I would let into my private facebook account.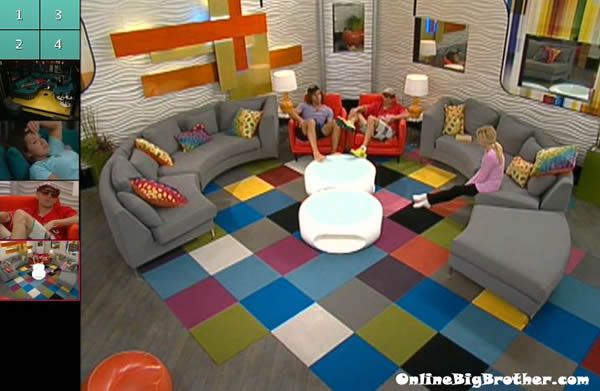 1:45pm Boogie, Frank and Britney are in the living room talking. Boogie asks her if she knew what Shane was going to do. Britney says that she didn't want to know or to have any part of it. Boogie and Frank talk about how it all has to do with how he did it, it is just dirty. Whenever we were in power we let people know what was happening and who was going up. Boogie tells Britney that if you do this we will have your back all the way. Frank says that all we need are 4 votes and we are close. I am not going to say who we have but if we get this you don't want to be on the other side of us. If Mike says this isn't going to be the last time we go up, we will go up every week if we don't win. Boogie tells Britney that if she wants it would be nice if you could just tell us whos side you are on. We just don't like the wishy washy things that Shane is doing. Boogie says that he is going to apologize to people about being loud but I am not going to bang pots or dump a drink on someones head. Frank says yeah we are going to dump our garbage on front street, so that everyone knows exactly what we are doing and saying. Britney leaves. Mike says that he loves and hates this game so much at the same time.
Watch it ALL on FlashBack: Big Brother 14 Live Feeds – FREE 3 Day Trial!
Joe talks to Dan and Danielle in the arcade room. Joe tells them about how Boogie and Frank already tried to get him to go to their side. He says that he just wants to come out and draw the line saying he doesn't want to work with them. Danielle tells him that he should. Joe says that the lines will be drawn and that I will be a target but I won't be a bigger target than Dan or Shane. The talk about how Danielle will get some medication before the competition so that she doesn't get sick if it's a spinning competition. Joe says that if it is, and he is beside them he will throw up on them.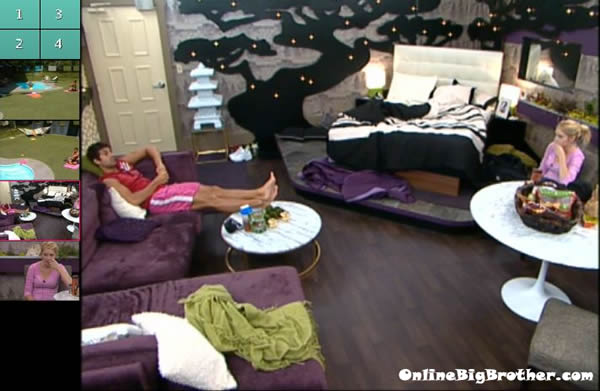 2pm – 2:15pm Britney goes up to the HOH room to talk to Shane. Britney tells him that Boogie and Frank just tried to get her to go with them. She explains the conversation. Britney then tells Shane how Ashley is pissed at Jenn's attitude and how she is acting. Britney says guess what you are in the big brother house and people go up on the block, she should be down there with smiles and roses, instead she is being a sour beaver. What is she thinking she could just come in here and do nothing and give her band shout outs. She says that Jenn acting like that is showing which side she is on. Shane talks about how great of a job Ian is doing. He even threw me under the bus and that Joe got after him and I had to tell Joe that Ian is just protecting his side. They talk about how Jenn is really pissed and that she actually thinks she is the target. Britney laughs and says yeah Shane wants that on his resume that week 6 he got out Jenn! They both laugh. Joe comes up and joins them. Britney talk about how Boogie and Frank threatened her saying if she isn't with them, then they have 4 votes against them in the jury. Joe says that he was threatened too. Joe says that he hates them, I despise them and everything they are doing. Britney says that she wants to go to Frank and say that she knows he doesn't act like this in the real world. Joe talks about how Ian is acting too, what he did was horrific. They talk about how Jenn is acting and how this is the first time on the block, she has never been a have not… Joe says that she said she is going to go off tonight.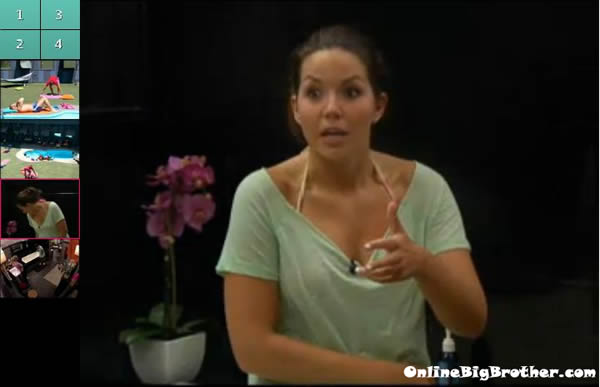 2:25pm – 2:50pm
Boogie, Ashley, Jenn, Frank and Dan are out in the backyard. Dan is in the pool playing salsa ball. Meanwhile up in the HOH Britney is talking to Danielle about how Jenn is acting like a raging bull. Britney says that she got $1000, a trip to maui, never been nominated, never been a have not… and on day 45 she gets nominated and flips out. Britney says why are you upset you are the ultimate pawn, all you do is sit on you're a$$ and give shout outs to emo-bands. Who the hell would send you home, you are the ultimate pawn. She has such a piss pour attitude it is ridiculous. Danielle starts getting really emotional. Danielle starts bringing up how people tell her that Dan wanted Kara here and not her. Britney tells her that she is taking it too personal, when people say you are bad at competitions it's a good thing …that means you are not a target. Danielle says that she just cares and that it upsets her. Britney tells her you know how Dan feels about you, so it doesn't matter what they say. Danielle strategically it is good for me but personally it hurts me. Frank and Boogie have been making these comments for 45 DAYS! AND I AM TIRED OF IT! I just need a moment to cry. Britney says that she isn't good in these types of situations and maybe she isn't the best person to talk to her about this. They are two big idiots that are willing to fall on each others swords when Frank should be up here trying to get votes and talking about Jenn's piss poor attitude. Britney says its like they are telling you, you have a third leg, its so absurd that its not even worth getting upset about. They are using things to just get you upset because you are an emotional person. They will regret the way they are acting when they realize it was Ian and after all this is over they will apologize to him. Britney says that Dan can handle it and that if they knew it was Ian they would be going after him like this. Danielle says that she thinks the way Britney talks to her that she is getting mad at her for being emotional. Britney says that this is a game and this is like we all sat down to play monopoly for half a million dollars. Britney says that the cards they are playing are pathetic, they need to try another card. Frank should be cutting his losses and coming up here talking to us. Britney and Danielle discuss how different it would be if they and gotten Frank out. Britney says that he thinks we are just signing Frank the cheque. Britney says that next weeks HOH is the most important HOH ever! Danielle says that Dan wants it real BAD! Britney thinks it will be the cornhole competition and says we need to practice that..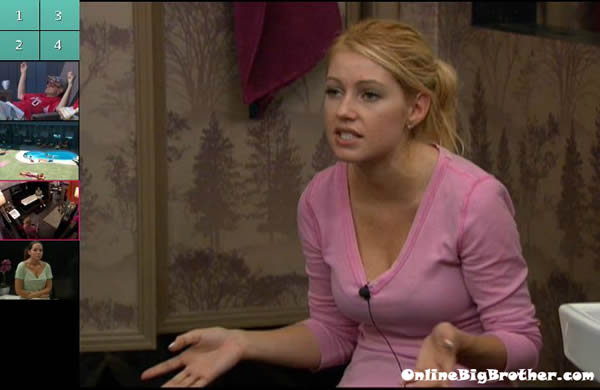 3pm They talk about how Ian loves that he is getting to play one of the evil characters. Danielle says that when it is his time to go, let me do it, I will put his skinny a$$ up! Britney says one thing we need to worry about is the question mark in the arcade room. I think it is signalling a power is coming into the house, like a coup d'tat or something. We thought Frank was going home 100% too .. we don't know what is going to happen. Shane could open pandora's box and he gets something and someone else gets a power. This might be the first week ever that pandora's box has not been opened. Shane might get a punishment and someone else might get a power. Danielle starts talking about how she is breaking out on her face, back and chest and will continue to until she gets back to Alabama. Britney gets called to the diary room.

Share it YO!!
Tweet