10:40am Jeff, Jordan, Dani and Porsche are in the kitchen talking and making breakfast. Jeff, Jordan and Dani talk about how they will hang out after the season ends. Dani says that she will hang out with them for sure and that she is the least flaky person they will ever meet.
10:50am Cassi telling Shelly that she wanted to stay and play and didn't care about winning the money. Cassi says that after her conversation with Brendon, she has lost all respect for him. Cassi says that Brendon is an idiot. Cassi tells Shelly that she will not campaign against her. Cassi wonders if Jeff and Jordan are really nice or not. Shelly tells Cassi that she has to decide if she is there for game or for making friendships. Shelly says that this game is an experiment. Big Brother calls Cassi to the diary room. Shelly tells Cassi to keep her class… I know you will. Cassi says that she has already accepted it… and that she has no more fight in her .. she knows she is going. Cassi says that she has no respect for Brendon. Cassi says granted I shouldn't have said that Blaa, Blaa ..I didn't even mean it. Cassi says that he looked physically upset by it. Shelly says that your actions speak louder than words. Cassi gets called to the diary room again. Cassi leaves and goes to the diary room.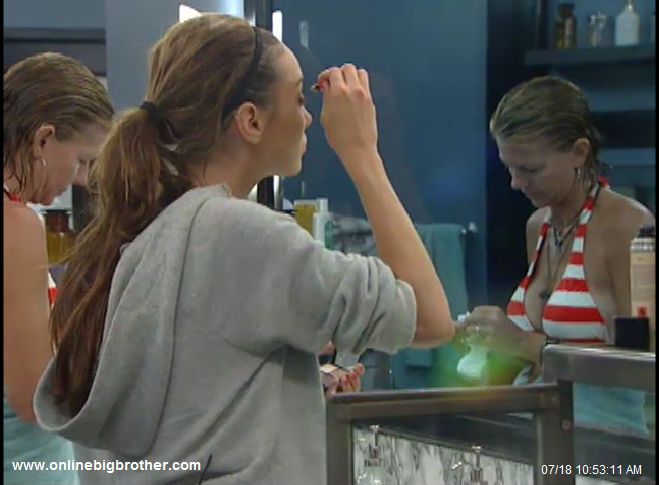 11am Porsche, Dani, Jeff, Jordan and Rachel are in the kitchen eating and talking about travelling.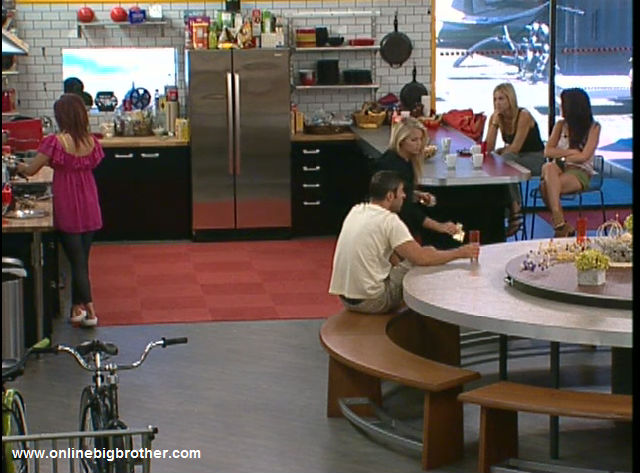 11:10am Big Brother cuts the live feeds to the TRIVIA screen… The Power of Veto ceremony is most likely happening right now..
24/7 UNCENSORED Big Brother 13 Live Feeds!
Click here for your: FREE 3 Day TRIAL!
11:55am The live feeds are still showing TRIVIA..
12:15pm TRIVIA…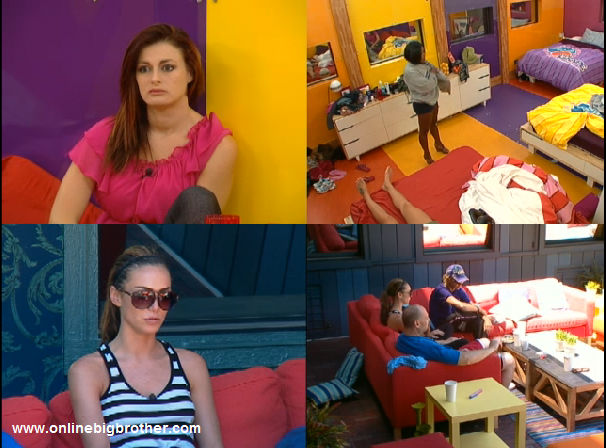 12:30pm When the live feeds come back from showing TRIVIA for the Power of Veto ceremony to take place, Kalia, Dani, Brendon and Rachel are in the candy bedroom talking about what is just outside the door into the big brother house. Meanwhile, Adam Cassi and Shelly are sitting outside on the backyard couches. Adam and Cassi are talking about what this weeks HOH will be like… Then Cassi starts talking about how during the POV ceremony Rachel just wanted to watch and look at Cassi's face when Jordan put her and Shelly up on the block. Cassi tells Adam not to trust them when she goes. Shelly says that she is just so shaky right now. Shelly says that it's aggravating that Kalia gets to coast through the game. Shelly says that it is annoying how Kalia cried just to get out of the food competition. Cassi starts talking about her and Brendons confrontation in the kitchen earlier. Adam says lovers got to love, lovers got to hate. Don't let them get to you. Cassi says that she doesn't hate.
Share it YO!!
Tweet