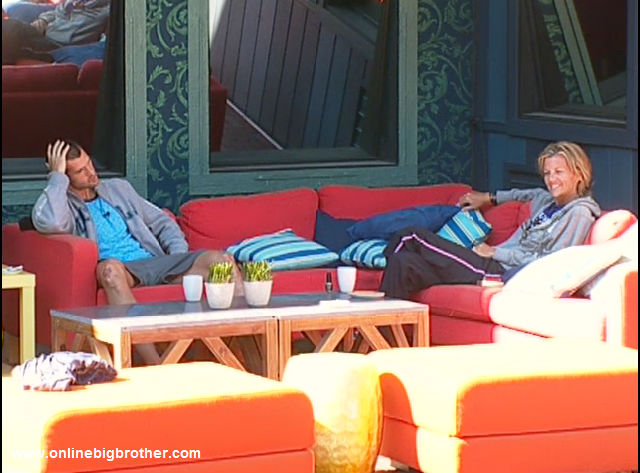 8:45am – 9:15am Brendon and Shelly are talking out in the backyard. Shelly talks about how crazy things are and how she can't stand all the drama in the house. They talk about how the girls are the worse with drama. Brendon asks how Cassi is doing? Shelly says okay considering she's been nominated for eviction. Shelly says that she hopes they don't get into it all week. Brendon and Shelly talk about the talk that Cassi and Rachel had yesterday. Brendon says Cassi is treating Porsche like people treated Rachel last year and that's what bothers Rachel, he adds that last year Rachel had to fight every single day. Brendon says that Rachel should really stay clear of that. Shelly says that Cassi told her that she hates all girls. Shelly says to start Cassi defended Rachel and Brendon. Brendon says Rachel speaks her mind and that can get her in trouble. Brendon says that Rachel is still hung up on last year. Brendon says that he tells her look it's not like last year. Brendon says Big Brother provides follow up after the show… Right then Big Brother cuts the live feeds. When the feeds come back, Shelly says that she talked to Cassi and she had said that if she is going home this week ..she is going to eat. Shelly says that she told her not to.. that she would regret it and that she doesn't want to go out like that. They talk about Kalia and how she called in a medic during the Power of Veto competition. Brendon tells Shelly how Kalia came into the bedroom last night while they were sleeping and turns the lights on. Brendon says how do come into a room where people are sleeping and just turn the lights on, "how rude can you get?". Shelly says that Kalia is the definition of a diva. They talk about how Kalia sleeps 11 to 12 hours a day. They wonder how she can even get anything done in her real life being so lazy. The conversation changes to talking about jobs and how Brendon got fired from a job. Adam comes out into the backyard. Big Brother wakes up the other house guests.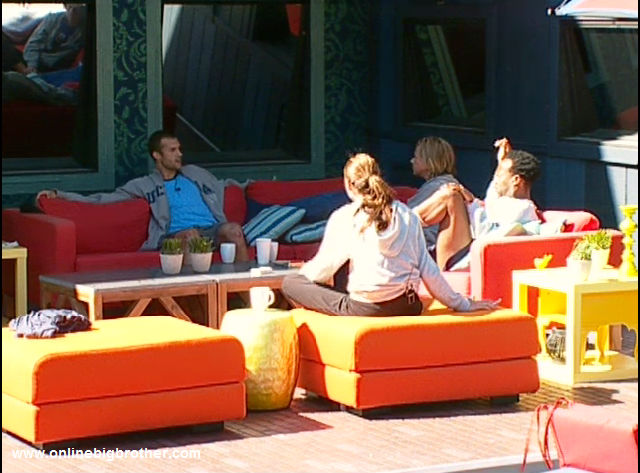 9:35 – 9:45am Lawon and Cassi join Brendon and Shelly out on the backyard couch. They talk about random things. Adam joins them out side. Cassi and Brendon head inside the house. Adam says that if Dominic doesn't use the power of veto then either he is stupid. or he is on the down low. Adam says it wouldn't make sense for him not to use it. He asks Lawon if there is anyway senario that he doesn't use the power of veto. Lawon says he is still thinking about himself. Adam says he is 99.9% sure Dominic will use the POV. Adam says that he is scared if Dominic doesn't use power of veto then he's going to be evicted. Adam adds if Dominic doesn't use the VETO he's going to flip out and give the live feed watchers something to see.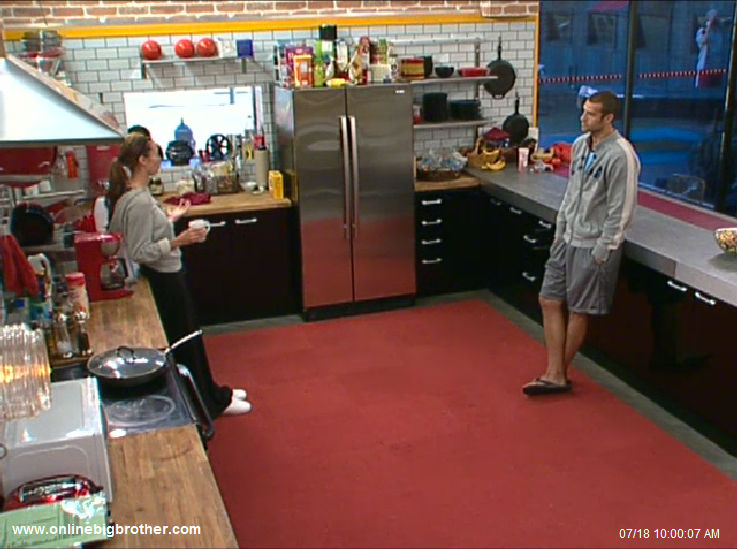 10am Cassi and Brendon are talking in kitchen about why Cassi thinks she is going home. Cassi is talking to Brendon about last nights cause for Rachel's getting upset. Cassie tells him that there are people telling lies in the house. Brendon tells Cassi that if she thinks she knows the truth she is wrong. Brendon tells Cassi that the the veterans know all the facts. Cassi says that she is taking the brunt of it. Brandon says that he is not one to hold on to things in the game. Brendon tells her that she can only go off of the averages of what you hear in the game, but at some point you have to trust somebody. Brendon says that it all comes down to Jordan. Cassi says she has heard the decision is coming from Rachel, Brendon says no. Cassi that she is not a liar. Cassi says that she did say that eventually they have to put up a power couple. Brendon says we are smart and we shift through all that is said. Brendon says that she would benefit from help from Dominic and they know that. Cassi says that she has accepted the fact that she is going home Thursday. Brendon says good. Cassi says she won't campaign against Shelly. Brendon says if Rachel has gotten all the blame for Cassi going then that's just not true. Cassi says that she swears she never said they all hate Porsche, he will see the footage. Brendon says he in the end will believe Rachel. Cassi says she is not saying she is lying she just mistook what she said. Cassi says that Rachel directed anger at her when she was only explaining things. Cassi says that she has no ill feelings towards Rachel. Cassi says that it is all recorded on tape. Cassi says that she has her suspisions on who lied. Brendon says if she is going to encourage people to put them up then it's the same as her putting them up. Brendon tells her how deals work, and then offers to draw pictures for her to help her see the truth. Cassi tells Brendon to not act condescending to her. Brendon explaining how things are. Cassi says that she has done nothing I am ashamed of. Cassi talking to Brendon in kitchen, says she made a deal w/them and then a week later she is getting back doored.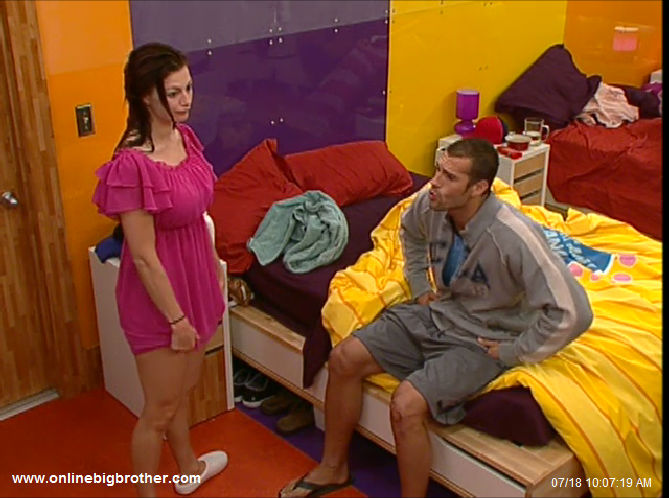 10:10am – 10:30am Brendon goes into the candy room and tells Rachel all about the confrontation he just had with Cassi. Brendon tells Rachel that she can't let Cassi get her mad and that she needs to be strong enough to walk away and come get him. Cassi heads out to the backyard and tells Shelly, Kalia and Lawon about her conversation with Brendon. Cassi says that at least she can leave with her integrety. Cassi says that she told him that he is backdooring her. Cassi says thank god it's all documented. Cassi says that Brendon said that if he is wrong in the end he will apologize. Cassi says that as Brendon walked away she called him a liar. Porsche comes out and joins them on the couch listens for a bit and then leaves. Cassi says that she is ready to go now.. she just wanted to make her peace with everyone. Shelly says that this is a nut house. Porsche goes inside the house and tells Brendon all about what Cassi was saying out in the backyard about their conversation.. Brendon tells Porsche to just let it go. Porsche says that she can't wait until this week is over. They wonder if Big Brother will give them a Twist or Luxury Competition soon.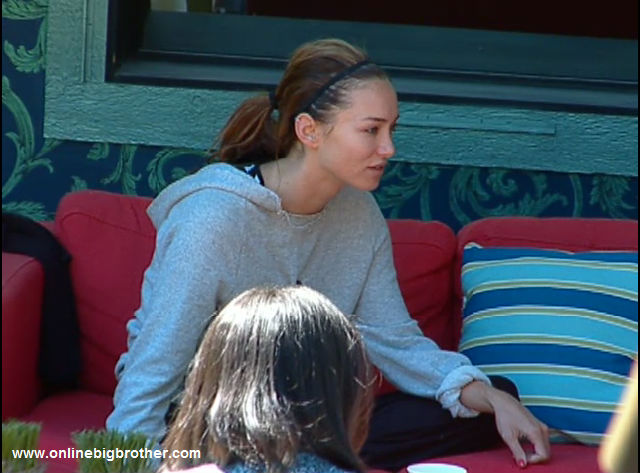 10:30am Lawon and Kalia are out on the backyard couches talking about how catty everyone is being. Kalia says that its sad that this is the way Cassi wants to go out. Adam and Brendon join them out on the couch and they start talking about music…
Share it YO!!
Tweet