Get the BB13 live feeds on your Android and iOS devices. Sign-up for the 3 Day Free Trial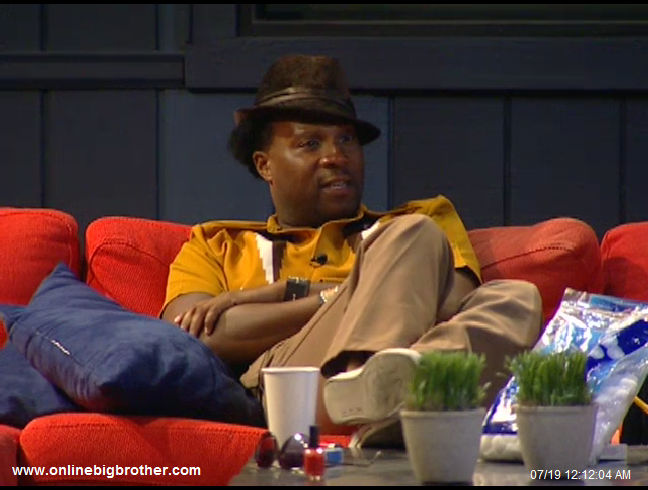 12:10am Cassi and Lawon are talking. Cassi tells Lawon that about two hours ago she decided that she was going home and that she accepts it. Lawon encourages Cassi to keep fighting to stay in the game. Cassi tells Shelly and Lawon that Rachel has been nice to her today. Shelly tells Cassi that Domininc has been hanging out with Rachel a lot lately. Cassi says that she couldn't blame him we certainly know what happens to people that get on the wrong side of her.
24/7 UNCENSORED Big Brother 13 Live Feeds!
Click here for your: FREE 3 Day TRIAL!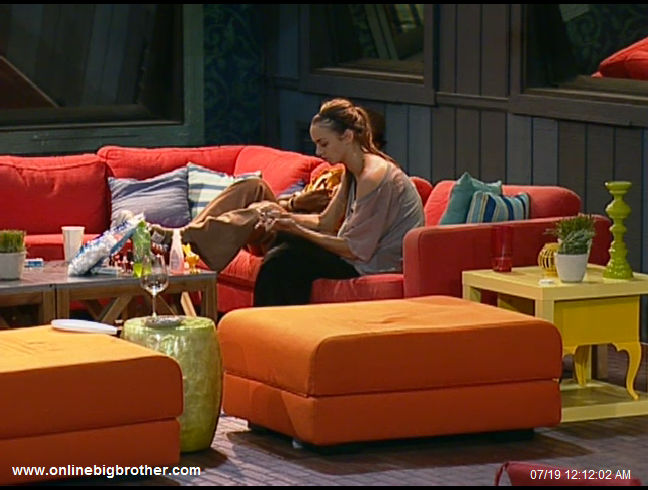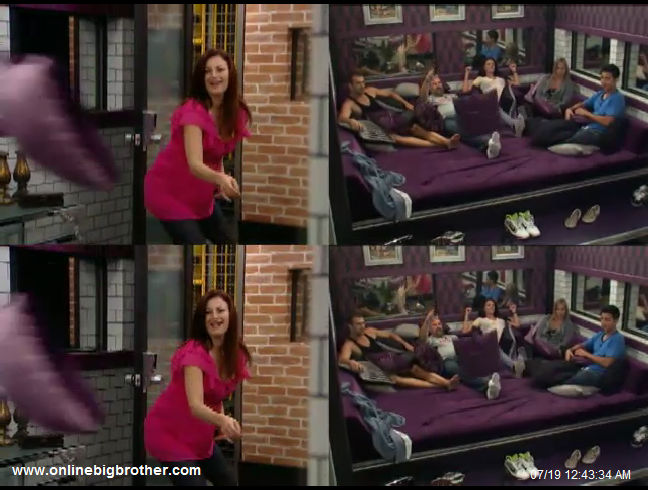 12:40am – 2am Jeff, Brendon, Rachel, Adam, Dani, Dominic, Kalia, and Porsche are all in the lounge room playing and joking around. They are trying to get Shelly and Cassi to come play. The Houseguests are have a pillow fight in the lounge room. One of them knocks over a lamp and big brother tells them to stop that! The houseguests start talking about Thursdays show. They talk about how they will all say gibberish to Julie Chen when they are live. Meanwhile, Cassie and Shelly are having a smoke outside with Lawon. Shelly says that she thinks Dominic will align with Brendon and Rachel and that the vets don't trust her. Cassi says they were so close to making it further and Shelly says she is aggravated. Shelly says that she felt like an idiot in the diary room because she was crying earlier about Cassi going home. Shelly says that she doesn't want her kid to see her crying on TV. Meanwhile, Jordan is out in the backyard doing laundry. Cassi joins her in backyard and tells Jordan to watch out for the pillow fight in the lounger room. Cassie heads back outside. The houseguests in the lounge room are talking and joking around about random things. They start telling scary stories to each other.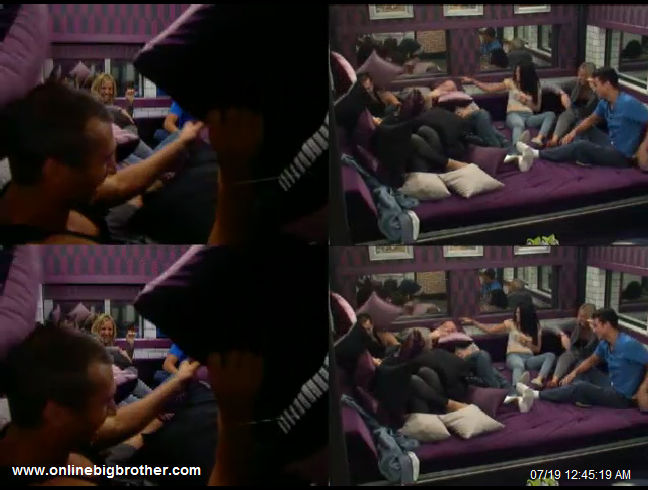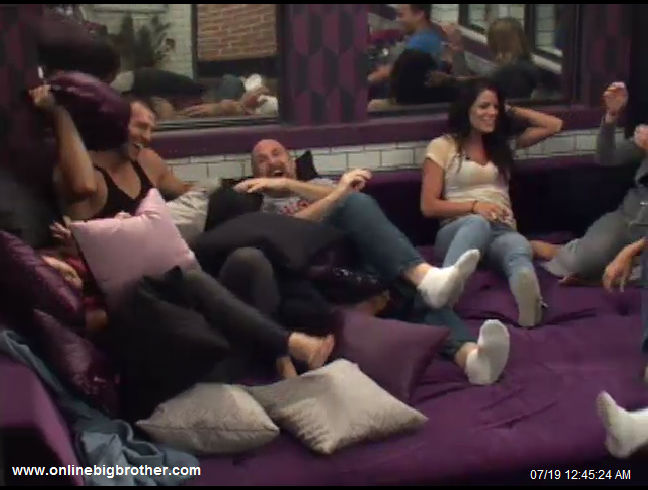 2:10am Lawon and Rachel are talking. Lawon asks Rachel how she feels about the game. Rachel says that she feels she has huge target on her back right now. Lawon says that he doesn't need to talk to her for hours. Lawon says that he knows how him and her roll since day one. Rachel says that she really wants to win HOH. Rachel says that Lawon knows she likes him. Rachel asks Lawon how he is voting. Lawon says that he doesn't know but that he will do what they want. Rachel says that she is thinking of evicting Cassi and she thinks it will be a unanimous vote. Rachel says that she hasn't talked to Jordan about it yet and she'll let Lawon know.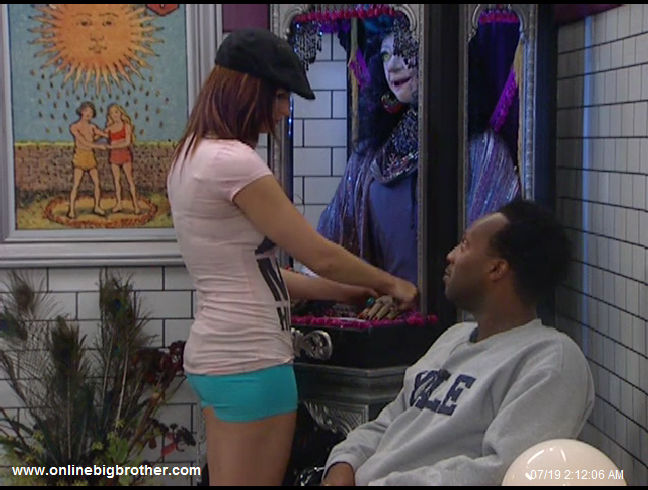 See What They Can't Show You On TV! SUPERPASS – 3 DAY Trial!
3am Out in the backyard, Cassi is on the couches talking to Jordan. Jordan is talking about her and Jeff moving somewhere together. Jordan talks about wanting to move to LA. Jordan says even if she moved to LA with Jeff and he got a job like Around The World, she thinks that she would be left alone a lot. Jordan says that she would feel so far away from her mom, her family and friends if she lived in LA. Cassi asks her if she has ever thought of moving to Nashville and Jordan says that Jeff doesn't like the country music scene. Cassie says that they have a rock scene there too. Cassi and Jordan are coming into the house from the backyard. Jordan goes into the lounge room where the others are still telling scary stories. Kalia is talking about relationships now.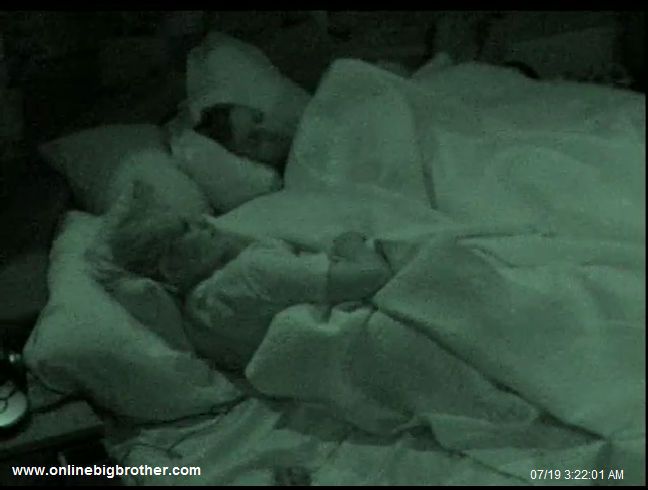 Jordan decides to heads upstairs to the HOH room. Jeff is in bed with the lights out. Jordan gets ready for bed and tells Jeff that she didn't realize that he was up there sleeping. Jordan sits down on the bed next to him and he asks him what's up? Jordan tells him that Cassi asked her if it is even worth it for her to try and campaign for votes. Jordan says she didn't want to tell her no, and says that she told her that it isn't over till Julie tells you it's over. Jordan tells Jeff that if he wins HOH he should put up Lawon and Kalia and then backdoor Dominic and Adam. Jordan says that she is thinking that she should have put Shelly and Cassi up to start. Jordan say that with and then Adam and Dominic wouldn't have been able to play in the veto and they could have put them up as replacement nominations to send Dominic home. Jeff says that he wishes he would have tried harder to win the power of veto so that they could send Dominic home. Jordan tells Jeff that he needs to win HOH so that they can back door Dominic next week. Jeff says that he is disappointed they are sending Cassi home just to give Rachel her way. Jeff says that he wonders if Brendon and Rachel are acting weird because they think Jeff and Jordan could still swing the votes to keep Cassi. Jordan says that she can't stand playing the would you rather or the who would you rather game that they play. Jordan says that's why she went outside with Cassi.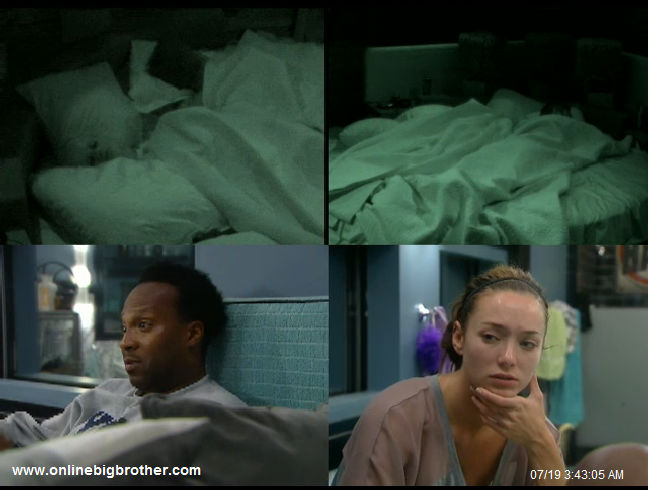 3:30am – 4:15am Cassi heads into the bathroom with Lawon to talk on the bench. Cassie says that she has been wrestling all day with the fine line between staying loyal to Shelly versus her fighting for her life to stay in the game. Laaon tells her that Shelly won't take it personal if Cassi campaigns to stay. Lawon says that his advice to her is to think about how she wants to play when the couple are over. Lawon says that they only have another week of duos. Lawon talks to her about what kind of things she should say to plead her case to the vets to keep her. Lawon tells her that Shelly is not going to campaign against her. Cassi says that she is worried she will feel guilty if Shelly does leave because she campaigned against her. Lawon tells her that if she ends up leaving she'll wish she had tried harder to stay in the house. Cassie agrees. She says that she thinks the minute she walks out the front door of the house she will regret not campaigning to stay. Cassi tells Lawon that she was trying to justify to Shelly going home because she thinks Shelly would be happy to go home. Lawon says that's natural to try to justify your actions to yourself and of course everyone wants to stay but she is a mother and would probably be happy to go home to her daughter and husband.
TRY the Live Feeds for FREE!
Click here for your: SUPERPASS – 3 DAY Trial!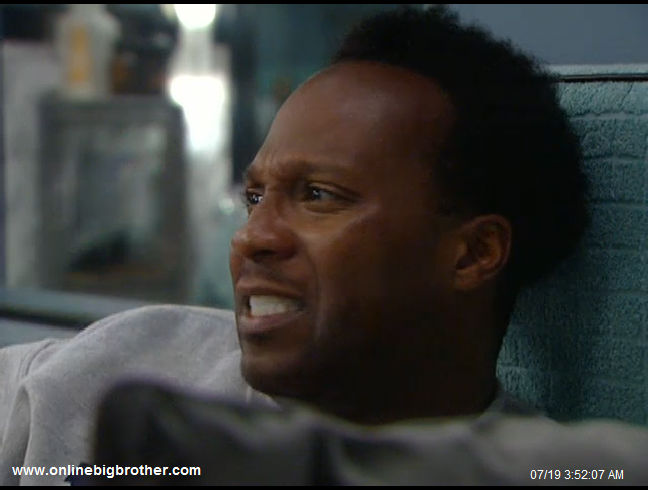 Lawon tells Cassie that tomorrow when they wake up she should go to Shelly and tell her how badly she wants to stay in the game. Lawon tells Cassi that Shelly isn't going to be mad. Cassi and Lawon are talking about how they don't think Shelly would mind being sent home. Lawon thinks that the most important thing she could say to the vets is that she wants to stay and compete. Lawon says that he thinks if she shows that she is willing to fight to stay that she will gain the respect of the vets. Cassi says that Kalia was the one who got her wheels moving about trying to stay because she told her that there is always a chance to stay, she would only need five votes. Cassi says that she never expected to hear that from Kalia and says that she never knew if Kalia even liked her and now she was trying to encourage her to stay. Cassi says that it's not about the money she just wants to be here. Cassi says that she would be fine going home and going back to her life but she thinks her dad would be devastated to see her leave this early. Cassi tells Lawon that its all her parents have to be excited about right now. Cassi says that her brother is in jail. Lawon says that they only has a few more weeks as a couple and then it's on! Lawon says that in two weeks, you're going to say this mother BLANK is crazy! Lawon tells Cassi that if she can get through this week then they only have one more week as duos and then its game on for them. Cassie says that she just wants to get to the jury house. Lawon says that he does too. Lawon says that he wants to have a say in who wins, if he can make it to jury then he's won. Cassie says that she can't wait to hear his speech to the final two on finale night. Cassi says that she would take slop and cold showers for the rest of the game if she could just stay in the house. Both Cassi and Lawon head to the bedroom to go to sleep. All the other houseguests are now sleep…
6am All the houseguests are still sleeping..
7am – 9am Shelly awakes up has her smoke, and then has been cleaning the big brother house inside and out… Then she goes and lays out on the backyard couch. All the other houseguests are still sleeping..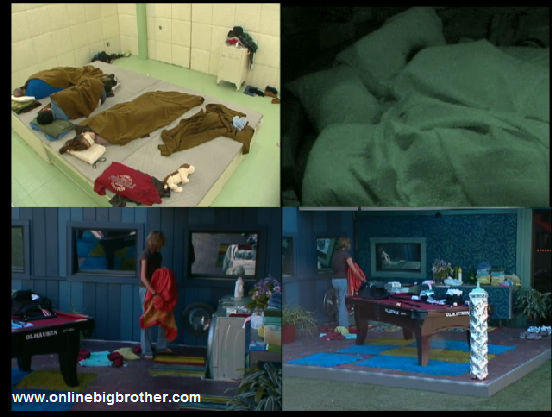 Big Brother 13 Spoilers POLL CAST your VOTE!
BB13 Live Feed Screen Captures , These are being updated every 10 minutes all 4 Cams 24/7
Follow: @BigBspoilers and @Dawgsbigbrother on Twitter for recent crazed out spoilers. Theres also our Facebook page.
If you like this site and want to help us keep it running please consider donating, Your donations go directly to paying the server and bandwidth fees. Donate Link
Share it YO!!
Tweet