10:10pm Jeff and Jordan on Hammock They are talking about Porches doing a lot of cooking around the house. Jordan says that Porsche's been saying that she just started and she wants a cooing show. Jeff says he wants a cooking show but not really a cooking show but a show. Jordan says maybe thats why she's "____" so much here.. "ohh my god i'm such a meanie" ( I think she said "Maybe that's why she eats so much here" Por has been pounding it back)
10:32pm Kitchen Cassi talking to Kalia about the house and life..
10:51pm Bocci ball, Drinks and stupid stories
11:00pm Jordan, Kalia, Cassi there talking about periods, tampons, and getting rashes by leaving your tampon in too long (They really are)
11:15pm They're all drinking it up, Jeff and Brendon are pretty close, Porsche is starting to act Drunk when asked she says "I only had 2 beers i'm not drunk"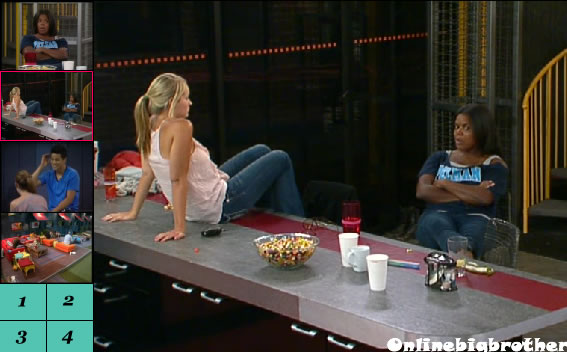 11:19pm Kalia is talking about people in the house starting to go crazy because they haven't "released". Jordan thinks she should hold out on that because you're never truly alone here. Kalia is saying she already promised her boyfriend, she thinks she can resist. Jordan adds that rachel says she was having trouble get a job because of the things that happened in the Big Brother 12 House. Kalia is saying she wishes Cassi would stay because she the only other person they can trust. Kalia is worried that someone she trusted may be going to back door her. She adds that rachel is talking to Dom and acting strange around them all. Kalia ask if she thinks people will vote out shelly? Jordan doesn't really answer.. Kalia adds that she really wants Lawon gone but for some reason Lawon thinks he's "good" with her. Kalia says she thinks Shelly won't mind to go home . She says I hope I win enough for my boob job. Jordan says she'll get them. (LOL) Kalia: "Please Jordan don't put me up when we're in singles" Jordan says she doesn't need to worry. Kalia: "I swear I won't put you guys up"
11:36pm Kitchen Dani, Jeff and Rachel Rachel just made some tea and dumped a bunch of fibre in it. Dani tells her not to drink it it'll make her sick, "Thats why you're so gassy". Dani now offers Jeff her Alcohol tomorrow if he give her his alcohol the time after that. Rachel says that they will only
Dom walks in and Dani and him start ripping on Rachel for having bad gas.. Rachel: "you're lucky he's not offended by that"
Dani: "you'be been strange lately why's that"
Dom: "She's not drinking that's why"
Rachel: "I'm not trying to be all cute and bubbly and get on people nerves"
Share it YO!!
Tweet