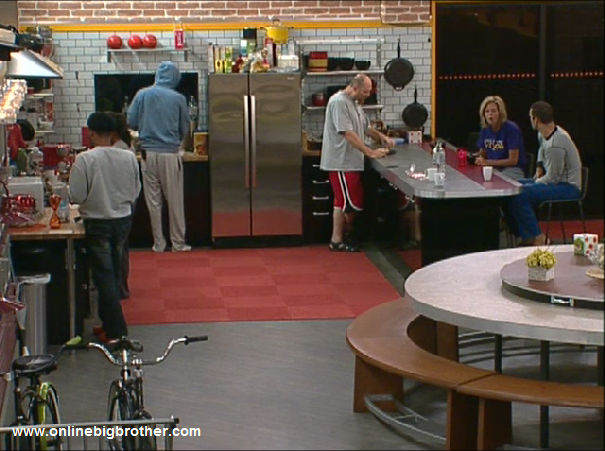 9:10am Adam, Shelly, Brendon and Rachel are awake in the kitchen. Shelly talks about how she was up practicing mini golf but that now the are on an indoor lock down. Adam says I wish you had woken me up. Rachel talks about the dream she had last night about her, Brendon and their dog. Porsche, Keith and Dani join the others in the kitchen. They talk about how live show Thursdays play out, how they will be on HOH lock down for a few hours at least. They discuss getting ready and showering in the HOH room while they are on lock down. Rachel and Brendon talk about who last year Rachel and Ragan went way over board studying the house. Rachel says that they even memorized songs. Brendon tells her that was stupid, they would never do that ..that would be copy right infringement. Kalia and Lawon join then in the kitchen. Jordan and Keith are getting ready in the bathroom. Dani goes into the candy room and tells Jeff that she already called dibs on the HOH bed for the lock down. Jeff says you BLANK! Dani tells Jeff that Rachel said it will be another half hour and they will have to go up to the HOH room.
9:45am – 10:10amShelly and Dani head up to the HOH room to get their spots for the HOH lock down. Shelly asks Dani what she thinks about today. Dani says she thinks everyone is voting out Keith. Shelly says that she has never seen so many people all over the board. Dani says that she thinks Porsche will be better because she once Keith is out she won't have any power or anyone. Shelly wonders if she will go around stirring BLANK up though. Adam, Dominic, Keith and Rachel join them up in the HOH room. Cassi is the last houseguest to head up to the HOH room. Rachel talks about how Dominic isn't a boob man. Dominic says that's leading me down the wrong direction quick. Cassi want to go back down stairs to grab a blow dryer but Big Brother has already locked the HOH door. Cassi goes into the HOH bathroom to get ready. Everyone else in the HOH room are quiet…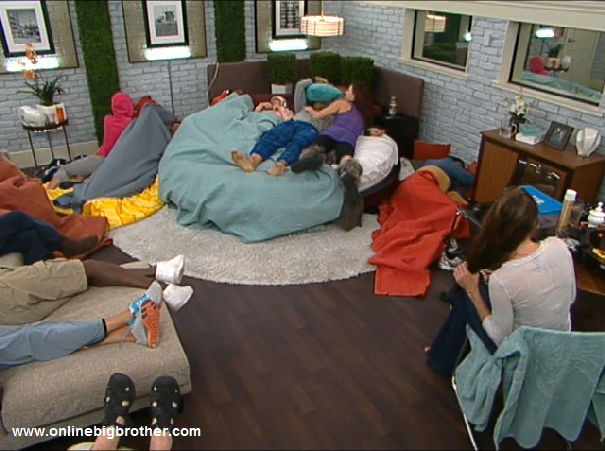 10:15am – 11am Rachel goes into the HOH bathroom, has a shower and starts getting ready for the day. Big Brother cuts the live feeds for about 20minutes. When the feeds come back, Brendon is in the bathroom and wants Rachel to cut his hair. Brendon and Rachel snap at each other a bit. Brendon tells her if she doesn't have time to cut his hair he will ask someone else because he doesn't want her to rush it. Rachel says why wouldn't I have time? We have all day. All the other houseguests are sleeping. Big Brother calls an end to the HOH lock down.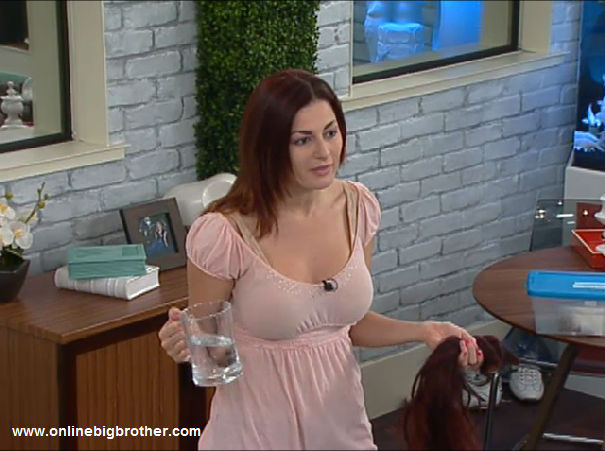 11am Adam, Keith, Dani, Dominic all head back to their own bed to go back to sleep. Adam farts. Dominic says what the hell?!!! Adam says it was Keith. Keith doesn't say a word. All four camera switch to Brendon and Rachel in the HOH bathroom cutting his hair. Jordan comes in and asks if she can poop, she says that she will keep flushing so that it doesn't stink. Brendon and Rachel tell her not to worry. Kalia comes in and they start talking about the votes and about voting out Keith. Jeff comes in and says that they should make a deal to never trust anything that Porsche says …and that the votes won't be five five …they will be eight to two or something like that.. They talk about how Porsche knows Janelle Pierzina. Rachel says don't tell Porsche anything. Kalia says that she is just a dumb player. Brendon says that she doesn't have a very good social game. Kalia leaves and Brendon tells her that at least she is smart and educated. Rachel and Brendon talk about the votes. Rachel says that she doesn't like the way Jeff is playing the game … she wants the votes to be closer to five five …so that the newbies start freaking out about who they can trust and who they can't. Rachel says that she doesn't want people to be scared into voting their way. Rachel tells Brendon to go talk to Jeff and tell him that. Both Rachel and Brendon head downstairs.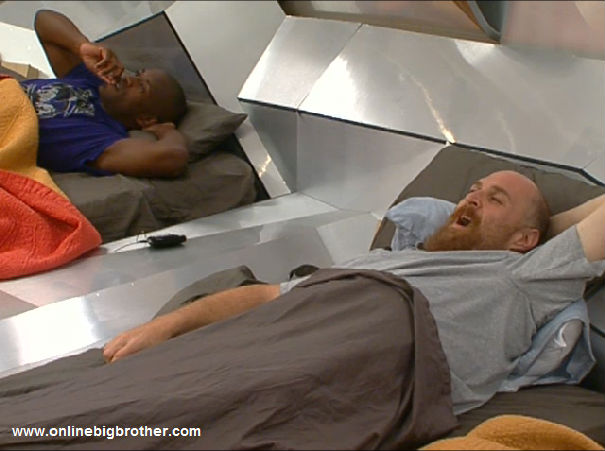 11:20am – 11:30am Adam and Keith are talking in the bedroom. Adam says that maybe they should just have a house meeting without Keith and Porsche and talk about the votes. Adam tells Keith that it is in his best interest for Keith to stay in the house. The conversation switches to talking about past alliances in other Big Brother seasons. Meanwhile, Shelly and Cassi are getting ready in the bathroom while Lawon and Kalia lay on the bathroom couch. In the kitchen, Shelly, Jeff and Brendon fix the vacuum. The houseguests are cleaning up and getting ready for the live show tonight where either Keith or Porsche will be the first houseguest evicted from the Big Brother house.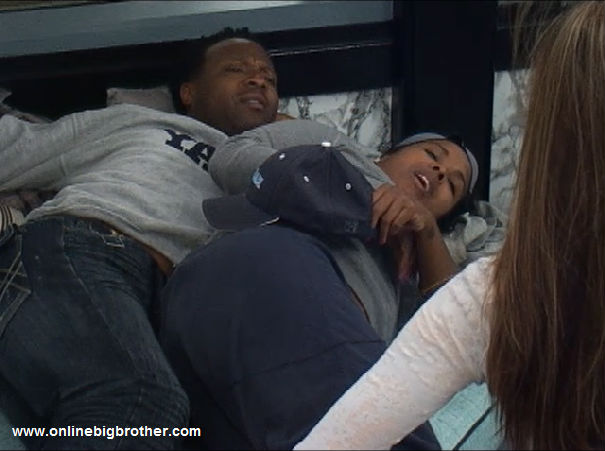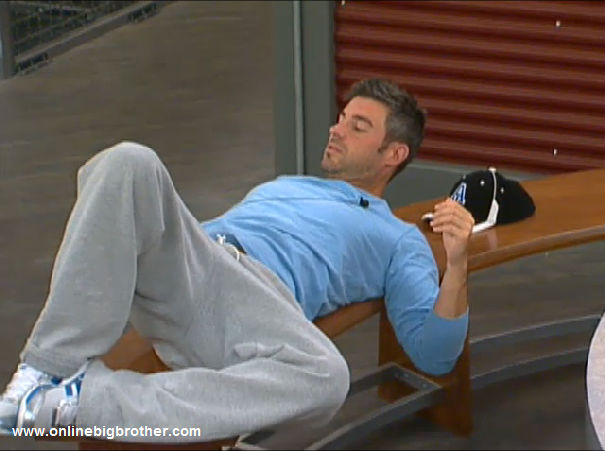 Share it YO!!
Tweet