Get the BB13 live feeds on your Android and iOS devices. Sign-up for the 3 Day Free Trial
Big Brother 13 Spoilers POLL CAST your VOTE!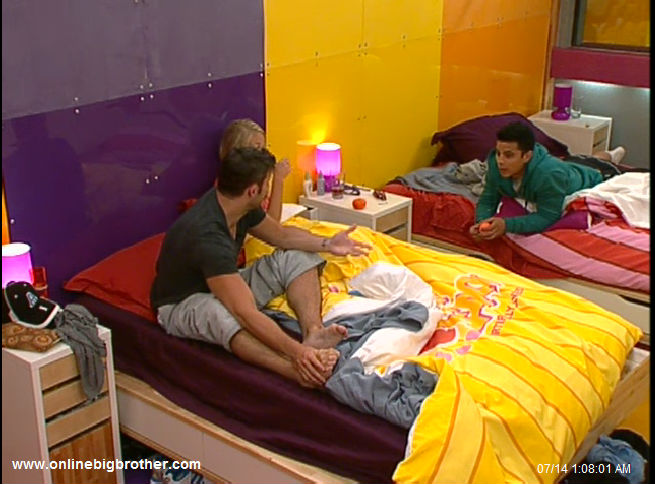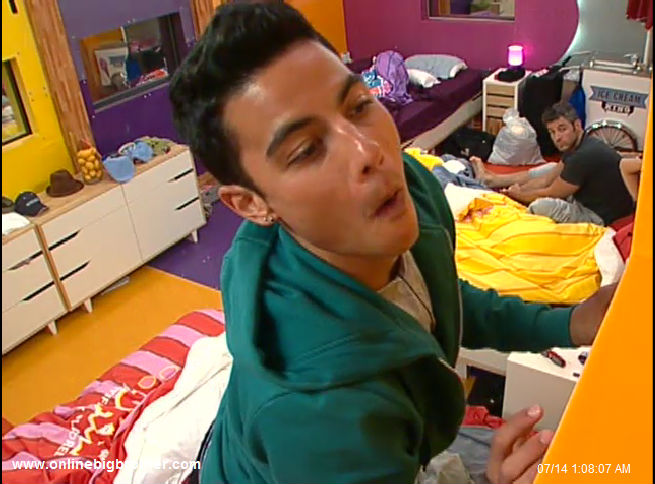 1:10am Jeff, Jordan and Dominic are in the candy bedroom talking. Dominic tells Jeff and Jordan that he never said he would put Jeff and Jordan up if he won HoH. Dominic says that it would be stupid to say that beforehand. Dominic says that there were psychos in the house like Keith who he didn't want to be associated with. Dominic says that Porsche was just stupid but Keith was a psycho. Jeff says that they need to have some mutual trust before the HoH competition. Jeff says that if they made a deal ..then they could make it happen that Dominic would stay over Adam in a vote. Dominic doesn't say much. Dominic says that he didn't want to split a couple up ..like take Brendon out and have Rachel go to jury and have Rachel be mad at him in the jury. Dominic asks Jeff and Jordan who they thought he had a better chance with, Daniele or Cassi? Jordan says Daniele. Jeff asks Oh, to bang? I thought you meant to align with.?! Jeff says although you probably want to align with who you have a better chance to bang. Dominic laughs. Dominic says that question could have more than one meaning. Dominic leaves the room.
FLASHBACK – Don't miss all the drama!
Superpass – 3 Day FREE Trial
After Dominic leaves, Jeff and Jordan start whispering. They talk about what would happen if they got rid of Dominic. Jordan thinks that Cassi might then go to Daniele. Jeff tells Jordan that Daniele doesn't like Cassi. Jeff says that Daniele had the best setup in the house. Jeff talks about how Dominic was feeling them out.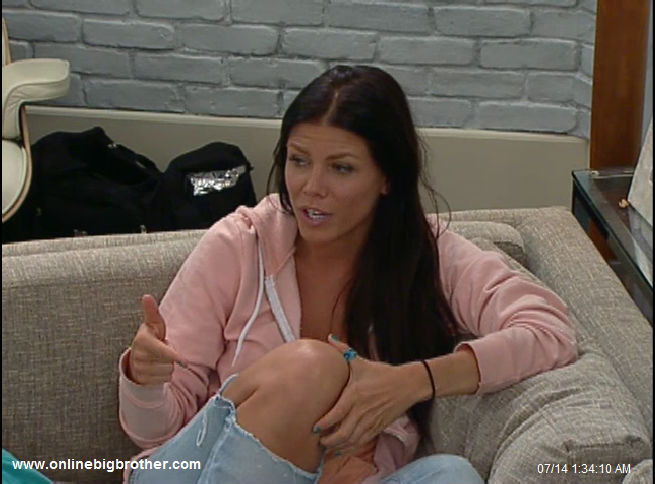 1:30am Up in the HOH room, Rachel, Brendon and Dani are talking. They discuss what the order should be for the HOH competition tomorrow. They decide that it is best that Jordan, Brendon, and Jeff will go last. They talk about how they are concerned that Jeff may mess things up for them. Dani tells Brendon that he and Jeff are coming off a little power drunk and that they don't want the newbies to win HOH and then nominate them. Dani says and to have them say Oh, you thought you had all the power, well guess what? We're HOH now! Dani asks Jeff if he's talked to Shelly. Jeff says no. Dani says tells them that Shelly has been acting sketchy and has made some weird comments. Rachel says that Shelly has been nervous and avoiding her. Rachel and Dani tell Jeff that he needs to cheer loudly and be excited if Dominic and Adam win HOH tomorrow to make everyone wonder what's going on between them.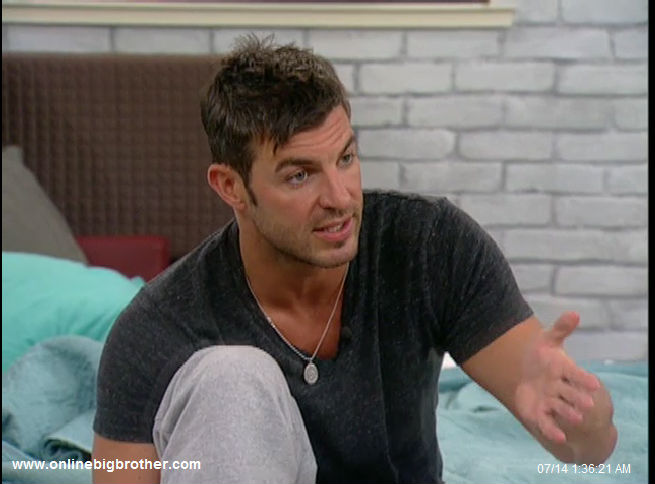 Dani says that Keith told her that Shelly gave him her word that she would vote for him to stay. Jeff tells Dani that he wouldn't listen to that mess …Keith is acting crazy. Jeff says that everyone is acting crazy because they know we want him out. Jeff says just like how Dominic was talking game to me. Jeff says that he told him if the four vets were safe next week that was fine but he needed to show me some type of trust. Jeff says that they are all trying to cover their butts. Rachel says that everyone is being crazy ..especially Cassi.. she has been acting so weird. Dani says that she's just having a day. Jeff says that everyone is playing so hard… when they realized they can't get through with their whole crew …they know they're getting BLANK. Dani says that if Dominic or Adam win, you should totally act like you are so excited, because it'll mess with everyone's minds. Jeff says that's a good idea, that's why I've been talking to everyone over there saying we know what you're doing, just to mess with them. Rachel says that everyone is discussing the deals with Dominic and everyone. Jeff asks so you made deals with everyone? Rachel says yeah, pretty much everyone, but that Dominic was running around telling everyone we had made a deal together. Jeff says the bottom line is that we have to win tomorrow. They talk about how Porsche told everyone she already had the golden key. Dani tries to insist that Porsche pack her stuff up tonight.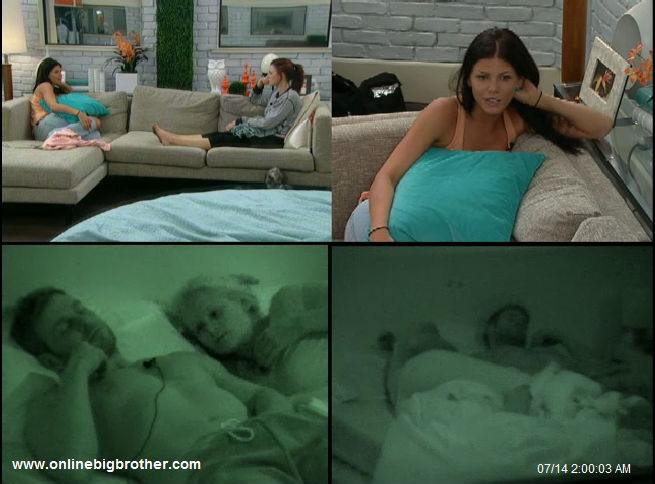 2am Jeff and Jordan are whispering about the conversation he just had in the HOH room. Jeff says that Rachel, Brendon and Dani think that Shelly is acting weird and that she might flip. Jeff says that Rachel and Brendon made deals with everyone in the house. Jeff says that he didn't know they had been talking to everyone and says that he wonders if they might throw him and Jordan under the bus. Jordan says that everyone is acting paranoid.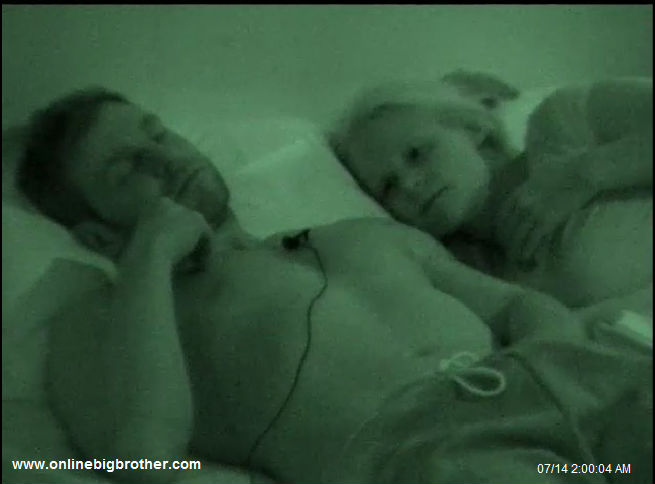 Rachel and Dani are still talking up in the HOH room. Rachel tells Dani that if Cassi is gone, Dani would be able to get Dominic to work with her as a partner. Dani says that she doesn't know about that, but that she thinks she could definitely sway him. Dani tells Rachel that Dominic thinks the couples being in the house can't benefit him. Dani says that she should talk to Dominic and tell him how they could be a benefit to him if they are still in the game. Rachel says to Dani that her and Brendon would possibly take Dani to the final two. Rachel says that she doesn't care if Brendon wins or if she wins, as long as one of them wins. Dani tells Rachel that she wants to keep Dominic in the game.
TRY the out the Live Feeds for FREE SUPERPASS – 3 DAY Trial!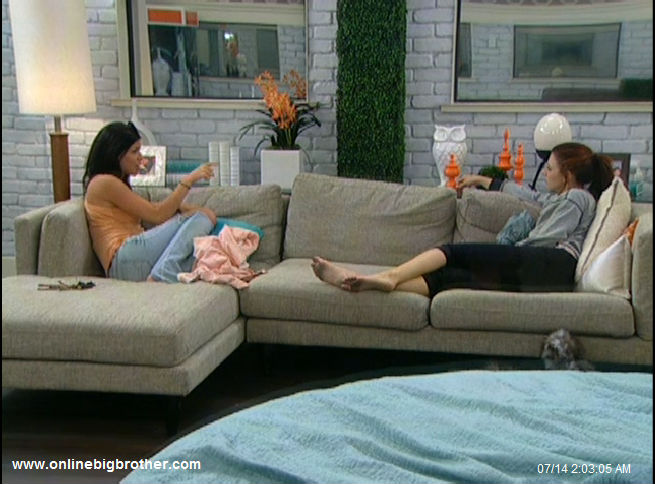 Rachel and Dani continue to talked about Dominic. Rachel says that she likes Dominic and thinks Dani could be his new Cassi, if Cassi gets evicted. Dani tells Rachel that she already told her yesterday she could influence Dominic if Cassie left. Rachel says that she thinks Dominic could be Dani's partner. Dani tells Rachel not tell anyone besides Brendon. They talk about how they will need to figure out a way to make Dominic not feel like he would be lowest on totem pole if he kept the couples together. Rachel says that this is what she was getting at the other day before Brendon told her to be quiet. Rachel says that she didn't want Dani to feel like she was lowest on totem pole either. Dani says that she knows she has to win competitions at the end. Daniele says that she thinks between her and Rachel, they can influence Dominic. Dani says that she genuinely likes having Dominic around. Dani says that Rachel needs to stop saying she and Brendon share the same bank account. Rachel says that by the way when she says that, she doesn't mean she and Brendon would share the money because that's against the rules. Rachel says that Brendon probably really wouldn't share any money with her. Daniele says that if Adam and Dominic go on the block, she would keep Dominic. Rachel says yeah, if Cassi is gone by then. Dani agrees, and says that you have to split up Dominic and Cassi, he loves Cassi. Dani says that Adam is after them too. Dani tells Rachel the vets need to do better in splitting up and breaking up newbie conversations so that the newbies can't talk game. Daniele tells Rachel not to play the girl card when Rachel assumed Cassi wants Rachel and Jordan gone.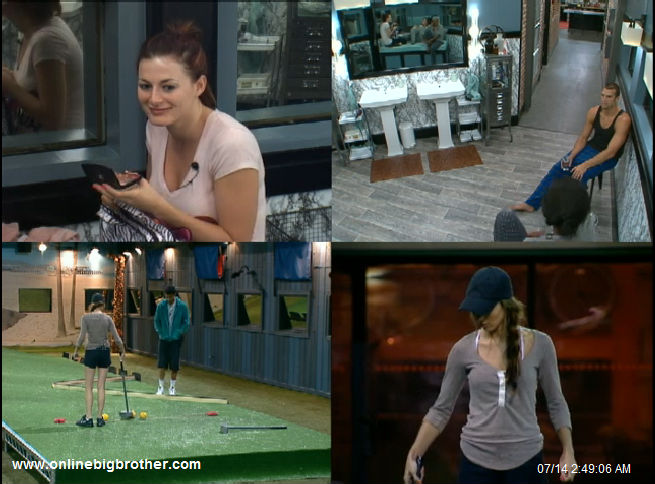 2:30am In the backyard, Dominic and Cassi are practicing the mini golf game. They are doing their best to aim at the colours. Dominic says that he is very colorblind. Dominic tells Cassi that he has a good feeling, and that he thinks Keith is staying. Cassi and Dominic talk about making a deal together, with Dani on board, with other side if the other side wins HoH this week. Dani comes out and is talking to Cassi and Dominic. Dani tells Cassi and Dominic about how they clean on Thursdays. Dominic tries to figure out who to share beds with after have-nots end. Dominic asks Cassi and Dani if they would share a bed with him. Both of them tell Dominic no! Lawon comes into the bathroom and says yes to sharing a bed with Dominic. Dominic says that the perfect bed mate would be Adam. Dominic talks and jokes about how him and Adam would spoon.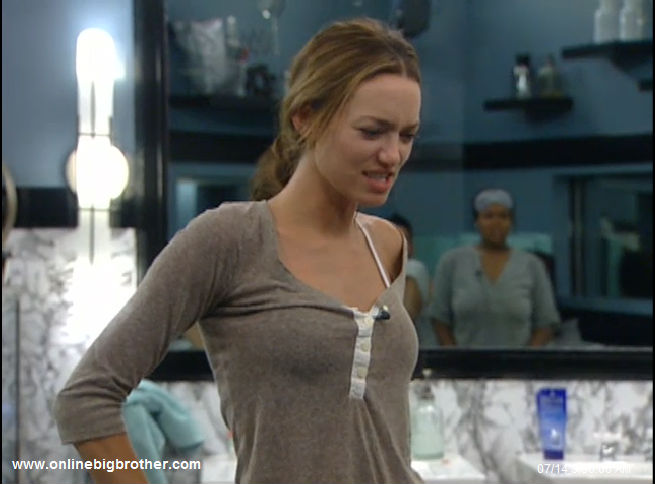 Dominic, Dani and Lawon continue to talk about the live show. They talk about how Lawon will be the best dressed houseguest for the live show. Lawon tells them that he is prepared for this all year so that his wardrobe is intact. Dominic Lawon and Dani laugh about who they think will be the worst dressed houseguest. They think the worst dressed houseguest would be Adam. They talk about having to answer Julie Chen's questions during the live show. Dani says that she is nervous about having to answer questions that have to do with her dad leaving. Dani says that Big Brother tells them no shout outs, and no cursing. Dani says that it is a huge rule not to do shout outs during the live show. Dani then does her impersonation of Adam during the live show giving a shout out saying Farrah I love you, ..Bacon! LaWon tells Dani that she is a reality star. Dominic asks Dani if she thinks of herself as a reality star? Dani says HECK NO! Dominic asks Dani how often she gets recognized by people at work? Dani says it happens a lot! Lawon and Dominic both says that, that sucks. Dani says that she doesn't mind when people recognize her.
24/7 UNCENSORED Big Brother 13 Live Feeds!
FREE 3 Day TRIAL!
4:50am The conversation changes to talking about having to clean the house in the morning. Dominic asks Dani which part of the house is the easiest to clean? They both say that they don't want to have the clean the bathroom. Dani says she just can't, it makes her nauseous. Dominic says goodnight and leaves. Lawon tells Dani that he can't wait until tomorrow, he's so excited. Dani tells Lawon that the live shows are fun and it gives them new stuff to talk about in the house. LaWon says that he wants Shelly to win HOH because she has been down and wants to see her child. Lawon and Dani head to bed. All the houseguests are now asleep..
6:30am – 7am Shelly wakes up for the day, goes to the washroom, goes out into the backyard for a smoke and then starts practicing playing the mini golf game some more….
BB13 Live Feed Screen Captures , These are being updated every 10 minutes all 4 Cams 24/7
@BigBspoilers and @Dawgsbigbrother on Twitter for recent crazed out spoilers. Theres also a Facebook page here .
If you like this site and want to help us keep it running please consider donating, Your donations go directly to paying the server and bandwidth fees. Donate Link
Share it YO!!
Tweet