Big Brother 13 Live Feeds Can be watched on your iPhone and Android Mobile devices sign up -> Watch Big Brother 13 on Your iPhone or Andriod Phone
10:40pm HOH Jeff and Jordan Jordan is saying Rachel is acting weird because she spent so much time talking to Cassi. Jordan knows she brings up Rachel telling her that Cassi is only talking to her because she won HOH. Jordan says all her and cassi really talked about has modelling, country music and Family. Jordan adds that she told her that Adam is not working with them. Jeff wants to make sure that the newbs don't know that Shelly flipped the vote, Jeff doesn't care if they think it was Kalia and Lawon or Adam and Kalia as long as it's not shelly.
Jordan tells him she's sure they don't suspect Shelly.
Jeff warns her to start watching what she says "DON'T BLANK TALK..Well don't you realize what comes out of your mouth. Don't stir Sir up."
Jeff tells her they need to talk to Adam and Shelly again to make sure they go easy on the POV comp. Jeff: "We can't switch that vote" Jordan: "If Dom is saved he's going to war" Jeff: "I don't think Shelly is going to throw anything but it doesn't matter if she does we can work with her"
Jeff is bored, Says that everyone is outside. Tells her they should really try for the POV it will make things much easier. Jeff tells her that it's actually a good idea that Cassi suspects Lawon because now if Cassi wins the next HOH she'll put up Kalia and Lawon.
Jordan: "dani seems like the type that will stab you in the back"
Jeff: "She really hasn't played yet"
Jordan: "I think Dani will turn on Brendon and rachel before us beucase I thin kthey are starting to annoy her"
11:08pm Hammock Cassi, Dom and Dani Chit chatting, playing a bit of would you rather.
11:20pm backyard Cam Brendon Begs for his turtle's return he says its his best friends and he wants him back.
11:25 Backyard Couch Adam picking the beef jerky out of his teeth, Adam: "My morning started with bacon it ended with Jelly beans " Rachel: "And Beef Jerky".
11:32pm Kitchen Shelly and Cassi They are both wondering how Por shoulder injury could be that serious. Shelly: "Oh well she's smarter than us got out of being a have nots"
Shelly says that her hand has been tingling lately. Cassi: "why didn't you talk to the lady when she was here" Shelly: "I'm not talking to those people" (Scowls)
Lawon joins them : "I just gotta remember it's just a game.. I get too emotional.. Its just a game..I'm in it to win it but I know who I can trust"
Cassi says she's getting exhausted with all this talking, whispering and sneaking around.
Lawon: "Can I ask you something.. Whats going on?"
Cassi: i'm not going to lie I've heard things today.. will that affect our friendship no because I won't know for sure until I get out of here
Shelly asks if they want her to leave so they can talk.. lawon says yes.
Cassi is hearing that Lawon voted for Keith to go. Lawon tells her he didn't
Cassi says that at this point every girl but Shelly hates her so she's playing for herself right now and she's cool about that, "I'm like BLANK it i'll do what I need to". Lawon says he knows him and Cassi can play the game and do well and he knows outside the house him and her will be THE BOMB.
Cassi: "you voted for Porsche right?"
Lawon: "No I really voted for Keith to say straight up thats the truth"
Cassi: "you thought I was one of the vote"
Lawon: "yes I did"
Cassi: "well there's nothing I can do to prove it"
They both say you'll see when you get out and see the tapes. Lawon: "well someone lied to my face… Cassi: "same with me".
Cassi: "You think Kalia is good?"
Lawon: "to tell you the truth the more time I spend with her the more I start to wonder if she's the only person I can trust… trust this I never talked bad about you ever once and that's my word.. did I doubt you .. YEAH i did"
Coming into the house Lawon knew people were going to lie about him and spread rurmors. Cassi knew to she teller him that before today she never heard anything abotu Lawon.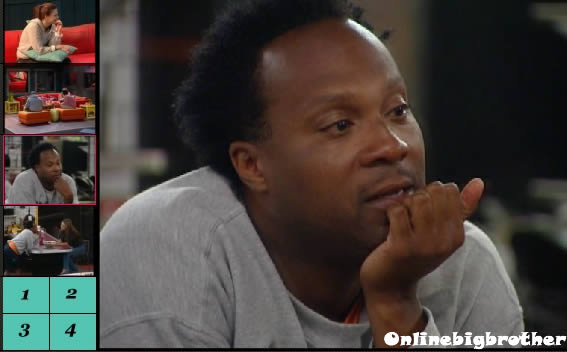 Midnight Hot Tub Jordan and Shelly Jordan is telling her that Jeff was getting snippy with her because she told Cassi that Lawon may have flipped the vote. Shelly tells her there is no way in this game that Cassi is going to put them up so they need to stop worrying. Shelly wants to know how close her and Jeff are to Porsche. Shelly says that Por came up to her and told her "I just want you to know that you're safe with us your cool with us" Jordan laughs. Shelly: "she's got 1 golden ticket she thinks she's the queen". They both agree that Por will be the first one out when they go singles. Jordan says Jeff has said that before to. Shelly says Porsche is so annoying she Idealizes Rachel to. Shelly: "Porsche has baggage we don't know about I just gotta lay off i'm not going to make her feel any worse".."You never know what people have you know what I mean… She told me a lot and it's just.. I know where some of it comes from"
Jordan says it's nice to be able to talk to someone about random things and not have to play this game and that's what her and CAssi talked about. She explained that to JEff but he was still a bit upset even though he said he wasn't. Jordan warns Shelly that Porsche cannot be trusted if you tell her something it "Goes in one ear and out another". Shelly tells Jordan that she will not throw the POV competition but if she wins it she won't use it and if Cassi wins it you need both people in the couple to agree to be able to use it. Shelly adds that she's told cassi they need to dump DOM that she has a better game with him gone and Cassi agrees.
Check out the BB13 Polls
Share it YO!!
Tweet