Big Brother 13 Live Feeds Can be watched on your iPhone and Android Mobile devices sign up -> Watch Big Brother 13 on Your iPhone or Andriod Phone
5:20pm HOH Dani, Brendon and Rachel Dani says that Jeff poop a lots here he's gone like 6 times. Rachel brings up the conversation she had with Porsche when she said she's positive she has the votes. Dani asks if she was cocky about it. Rachel says she was. Rachel: "Have you noticed she is trying really hard to be our friend" Dani: "Well yeah what was last night all about" Dani then says she doesn't like how Porsche acts like a know it all (LOL this is coming from miss know it all her self). Brendon comes in from the HOH washroom. Dani: "That was quick was it already poking out? .. i didn't hear you wipe. " (apparently brendon had a quick poo). They tell him about POrsche being cocky about having the votes. Brendon: "I'll break her down to china town". Dani says she really like Porsche but she's gotta go. Brendon brings up about Porsche saying her dad would get mad at her if she dated a black dude.. he mentions that Porsche said he was from Detroit.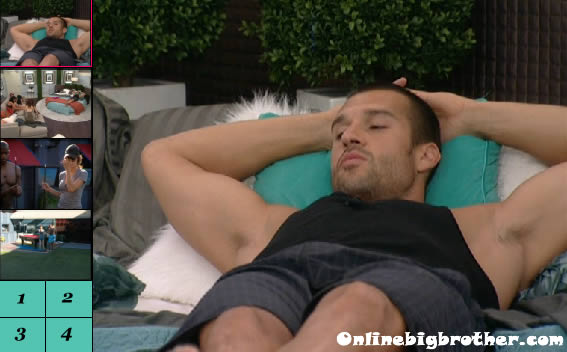 Dani asks Rachel if she is in a fake boob alliance. rachel giggles, somewhere Keith is brought up and Rachel calls him a reality TV BLANK because he's been in 2 reality shows. dani: "Wait what about you two". Brendon starts bashing Cassi, he says her conversation outside with her was painful she keeps dropping names of singers she knowsand places she use to live in. (LOL coming from brendon this is classic) Brendon says that Cassi is probably rich because teenage models can make a lot of money. Dani isn't sure about that. Brendon says he's just going around talking to people trying to figure out if their stories are straight. He doesn't think Cassi's modelling story is correct, she told them she quit at 17 but then later today she told him 18/19… Feeds cut
Rachel: "I was a virgin until I met Brendon" dani: "Yeah right". Dani is shocked that Kalia says she only had sex with 10 guys.. Brendon: "She always talks about sex, She's looking at a pita pocket and she thinks of sex" They can't understand why she would lie about her sex partners seeing as she talks about sex 24/7. feeds cut.. when they come back Rachel: "maybe she is a model and just doesn't want people to hate her guts" Dani: "People think Models are stupid and good for nothing.. I think Adam is a model". they all agree that Dom and cassi are working together big time. Rachel and Dani are positive that Lawon will not vote for Keith to stay .. Brendon isn't so sure. Dani and Rachel are sure. Brendon: "I just hope by the end of the season Jordan can remember my name"… dani:"ohhh ".. Feeds cut
Jordan enters.. they start talking about Adam, the girls think adam and Dom are an alliance. Brendon doesn't think so Brendon: "If Adam is even a remotely intelligent player he knows he's not our target for a long time" dani: "I think you guys are giving adam too much credit he's talking game with Dom all the time" . They all agree that Dom, Cassi and Adam cannot win HO next week. Rachel says Kalia is a super floater and will not even try to win any comps. Dani thinks they should get her scared and make her think the other side is going to put her up so then she fights for the HOH. Jordan is super worried that DOM is going to win the HOH and put her and jeff up.
Brendon tells them they need to study for comps, he points out that last year that's all him and rachel did. (and we all saw how that turned out) They start going through all the comps from BB11 and BB12 Rachel thinks next HOH is the Eliminator comp….
They start talking about the possibility that cassi and Dom get the votes to keep Keith. dani counts the votes "Jeff, Jordan, Lawon, Dani, Brendon, Kalia and Shelly". Brendon :" I promise you all those people down there are chicken shit once they find out we have the votes it'll 10 votes to evict Keith". Brendon: "they will not get shelly to flip shelly is solid Dick was smart to plant that seed in her head"…."Shelly wants to get the hell away from cassi" (In brendon's world they run the house and the vets are going to final 5) They all seem convince that it's elimination. Jordan says it'll be nice if it all 4 of them left and they just through the HOH to them. Dani Leaves… They keep rehashing past BB comps. .. Jordan brings up how boring the live feeds are (LOL when you lot are on the show it is ;) ) they all can't believe people watch the feeds .
Brendon and Rachel are only worried about Adam and Dom and even they aren't much of a threat to them. They tell Jordan that they are basically the best players in the house right now (6:08 Cam 2 July 10th listen for yourself) . Brendon says that he's physically better than Adam and DOM and Rachel is better in the mental then all of them.. (Brendon and rachel are so sure they have this game in the bag.. Jordan isn't she's not as optimistic)
6:00pm Fortune Room Lawon and Dani Lawon is saying he's done with Keith he wants nothing to do with him. There's no way he'll be voting to keep Keith after what he did.. he doesn't play he said she said.. Lawon:" I'm glad the older folks are here like Kalia, adam and Shelly cause i feel like this is high school" Dani: "Yeah totally" Lawon: "good so i'm not tripping" Dani: "No not one bit" He says he usually listens to his gut and his initial feeling was wrong about Keith. Dani understands thats happened to her before. They hug it out and leave the room.
6:15pm Backyard most the houseguests They are all talking about which CD's they requested for their HOH baskets.
6:40pm Houseguests laying around or working out
Share it YO!!
Tweet