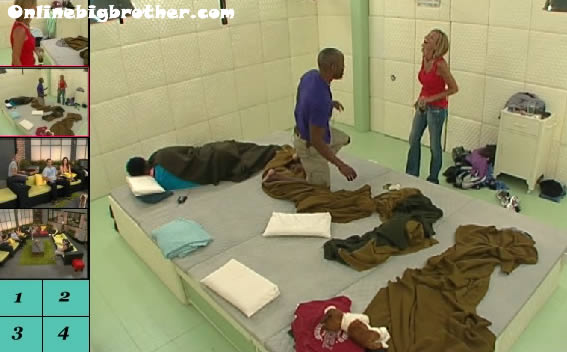 2:50pm Havenots Room Keith, Lawon, and Shelly they can hear a conversation that is going on in the other room between Jeff, Cassi, Rachel, dom and Jordan.
Bascially Dom asked Jeff if he went up with Adam if he had Jeff's vote to stay. Jeff never answers but instead asks dom what he thought of Adam. Dom doesn't answer tells Jeff him and Adam get along but they have never talked game. Dom asks Jeff why they never talk game and Jeff says he's tried in the Hot Tub before but then he started hearing that Dom was going to put him and Jordan up so he stopped trying. Dom denies he every said that but J/J do not believe him they say there convinced that Dom had said it. Jeff tells Dom not to worry they all know what Dom is planning. Dom switches tactics asks Jeff what it will take for him to be save next week if JEff wins HOH. Jeff says and agreement that you won't put jordan and Jeff up if he wins HOH and in return Jeff will promise Dom will not go home but he still might be up on the block. Jeff says they will take Adam out of the game. Dom asks them if Adam has made the same deal with Jeff, Jeff says that he might of he also might not of. (LOL) Jeff explains to Dom that to Dom Adam is 100% expendable but to Jeff he cannot make deals that threaten his partners future in the house.
Keith is telling him that he's pretty sure the he doesn't have the votes to stay tomorrow. He's been talking to people around the house and he's certain that it could be close but because it's not close enough he'll be sent packing. Keith says that The repeats will all vote him out (Dani, Brendon, Jeff, Jordan) and he also thinks Cassi/DOM are going to flip and vote him out. He's feeling good that Lawon, Shelly, Kalia will be voting for him to stay. He's not sure were Adam fits in all this.
Shelly Leaves, Keith tells Lawon that he's done in this game there's no need for people to be sneaking around. He says that Doms conversation with Jeff that they just heard shows you where Dom is playing and he doesn't care about anyone else but him and maybe cassi.
Lawon: "Like I said.. I gots you… I gots you."
Keith: "I trust you.. without a shadow of doubt I do" Keith leaves to tell Adam what he heard
(Keep in mind that the conversation Keith heard while in the Havenots room was very muffled and hard to hear, Jeff was raising his voice at time to make sure certain parts of the conversation were heard)
FLASHBACK – Don't miss all the drama!
Superpass – 3 Day FREE Trial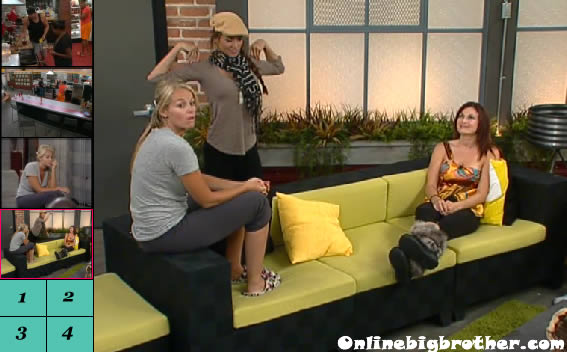 3:30pm Living Room Most the house is lingering around bullshitting. Jeff is telling them a story about his friend back home who is a DJ for Italian weddings. They start talking about disciplining kids, they ask Jordan to pretend she's disciplining her daughter. They all start blurting out scenarios that warrant the Child getting in trouble. Things like coming home drunk, flushing your wedding ring down the toilet etc etc.
Rachel starts explaining when Brendon proposed to her. She says that she knew a ring was purchased because she saw the receipt print outs. He then took her for a "perfect day" they went on a hot air balloon ride, had a nice dinner… Rachel thought he was going to propose to her that night but he didn't until late when they were at the beach. He sat her down and told her that he's never meant any one as wonderful as rachel and he cannot believe they met on a show like BIG BROTHER.
Rachel: "Can I tell them what you did Brendon"
Brendon: "yes"
Adam: "did he pee his pants"
Rachel: "He cried"
Rachel continues the story saying that after he proposed she called her mother to tell her but her mother already knew.
Dom: "you went and asked her parents first.. classy"
Brendon: "Yes I did it all"
Rachel says that Brendon's sisters helped him pick the ring out they were asking Rachel questions for a couple weeks about her favorite ring then they went back and gave Brendon some pointers. Brendon says when he went to pick out the ring he did it by himself because if his future wife should like the ring the husband buys for them. Brendon: "But in all truth she would of liked anything I got her" Rachel: "Yeah"
3:55pm-4:24pm HOH lockdown (all the houseguests are locked in the HOH room while production does something in the house)
Check out the BB13 Polls
Jeff and Kalia fight over Dumbledore being gay
Jeff doesn't think a Gay headmaster for little kids is right Kalia does you decide for yourself who is wrong who is right Here is the Flashback time July 12 @ 6:45pm CAM 1-4 Here is the post covering the event you can view the video on TMZ.com


Share it YO!!
Tweet